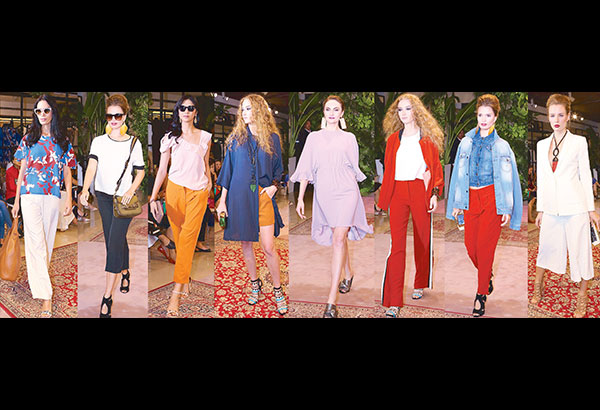 Hot child in the city: Ricardo Preto doesn't want women to suffer in this heat, and creating a breezy summer collection that allows the wearer to move and breathe. Available at Rustan's.
MANILA, Philippines - Portuguese designer Ricardo Preto is a staple at Moda Lisboa and Vienna Fashion Week in Austria. His eponymous ready-to-wear label has been embraced by the stylish, often for its globetrotter-friendly silhouettes and contemporary, sensible approach to trends. Before heading off to present his men's collection for the first time at Paris Fashion Week this June, the designer's Filipino fans were gathered for a pop-up boutique show, featuring his spring/summer collection, designed exclusively for Rustan's.
With this second collection for the collaboration, Preto comes from a perspective that reveals how well he has gotten to know the Filipino woman — and that, cultural differences aside, women want the same things when it comes to fashion. Something pretty, something comfortable. "Women dress to attract love!" he says. "The invitation from Rustan's to create an exclusive line was a big challenge for me because I didn't know what to expect from the Philippines. But I discovered that it's the same woman all over the world. I can be selling here or other countries, but it's always about attracting love and feeling well about ourselves."
Preto injects romance and softness into a collection that's primarily practical. Each piece is wearable and re-wearable, indicating his knowledge of the audience: how "love," to us, may mean success, freedom, power, comfort and even being spared from unbearable heat. "I realized how hot this country is and the women here do the same work they do in the United States or Europe and really, I don't want these women to suffer! So I thought, let's do light fabrics, fluid shapes. The woman has changed so much these past decades. The women works as much as men and I want them to feel very comfortable, to be able to move. That's so important. They're living very active lives. So that's what I wanted to do with my clothes. They must be very pretty, but also very comfortable," he says. "But I can't say I haven't really gotten to know the Filipino woman — I don't even know the Portuguese! But I know the customers that come to my stores. Most of the time, it's these women who give me the directions on what to create. Like, 'If only I had a pocket here….' It's a marriage between my hands and the women's needs."
With his debut in Paris approaching, Preto says it was important for him to create an intimate show for his customers in the Philippines. "Normally I do fashion shows for 150 persons. But now that I'm in the Philippines and with Rustan's, I understood that instead of doing a big fashion show with a strong theme, do a small showcase (30 looks). With this showcase, I can understand who is sitting here, what style gets their attention. So I returned to this boutique fashion show, it's just the mood for this season. This is my first show, so it's important to feel. And 'see now, buy now' is very important. My inspiration is Coco Chanel when she was doing her first boutique, she was doing private shows like this. It's very important. Even the fact that I am presenting the spring/summer collection during spring/summer. It makes sense," he explains.
For his latest collection, his inspiration is simple. "I cannot say the collection is inspired by flowers or bees. Beauty inspires me. I'm inspired by beauty, in general." From this, he creates pieces that, despite their roominess and capacity to catch breeze, still flatter the female form. "I know my customers, I know my cuts, and every season I want to go a step forward," Preto shares. He delivers sharp, straightforward silhouettes with the use of softer fabrics to create a structured flow of lines, creating a perfect fit for its wearer.
* * *
Ricardo Preto Exclusive for Rustan's and U by Ricardo Preto are available at Rustan's Ayala Center Makati, Rustan's Shangri-La Plaza Mall, Rustan's Gateway Mall Cubao, Rustan's Alabang Town Center, and Rustan's Ayala Center Cebu.