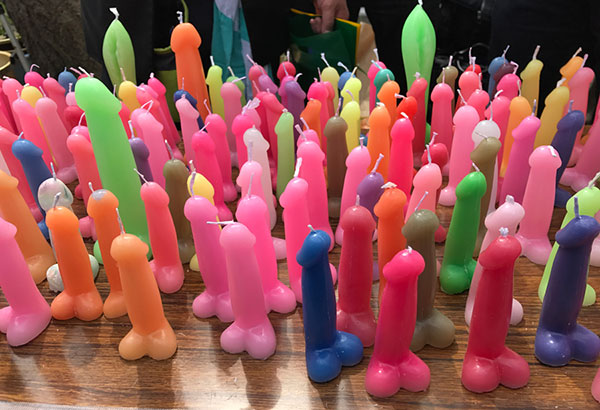 The "Shinto Kanamara Matsuri" or "Festival of the Steel Phallus" — or, more simply put, "Penis Festival" — is celebrated annually at Kanayama Shrine in Kawasaki, Japan.
Dicking about at Penis Festival
I'm not one to make a bucket list because, while I totally believe in manifesting, I don't want to confront myself with a list of things I haven't done and I would rather just do them when I can and when the universe aligns to make things happen easier.
Case in point: The Penis Festival.
It was one of those things you find on the internet and cannot un-see: a festival in Kawasaki, Japan that features jumbo penis floats, penis candles, penis lollipops, penis masks, and people of all ages just celebrating d*ck? I had to go someday.
Fortunately my best friend decided to celebrate her bachelorette party in Tokyo in April this year, so I decided to come a tiny bit earlier to join in.
Shinto Kanamara Matsuri — the actual name of the festival — translates to "Festival of the Steel Phallus" and it began in 1969 to celebrate male fertility and, yes, penises. It happens each spring at Kanayama Shrine, an hour away from Tokyo. The Shrine is actually referred to as a "penis-venerating shrine" where people go to pray for their fertility, a peaceful marriage, and it's also been a site for sex workers to pray for protection from sexually transmitted diseases.
The origin story is from a 17th century tale about a demon with sharp teeth who fell in love with a beautiful woman and basically turned into a jealous freak who hid inside the vagina of the woman, and would keep her to himself and cursed her sex life by biting off the penises of two future husbands after her wedding night. The beautiful girl was only set free when sought help from a blacksmith who forged a steel penis that broke the demon's teeth, vanquishing the demon forever.
It's an all-day event that now raises money for HIV research, which begins with spiritual rituals at the temple. There are carved vegetables in the shape of penises, candle stores and frozen banana lollipops covered in chocolate with icing decoration that looks like ejaculating sperm; there are lollipops, T-shirts and penis-decorated wooden signs on which you can write your wishes and hang them at the temple. The highlight of the festival is the mikoshi (portable Shinto shrine) parade, with each shrine celebrating a jumbo penis. This year there were only three mikoshis, my favorite one being the one with the huge pink penis, carried by the friendliest cross-dressed men you will ever meet who were chanting "Kanamara, Dekkaimara," which means "Steel Phallus, Giant Phallus."
I'm not going to lie — it's a lot cooler online than it is in real life. With my personal obsession with all things sexual and kitsch, I thought that I was going to want to go back every year, but it's really one of those events where once you go once, and you're done. I still had a really brilliant time with many good friends from Paris who had other reasons to be in Japan but timed it to catch Penis Festival again. It was especially fun as we accidentally joined the parade instead of watching it since my friend Yapi was talking to the people who were carrying the mikoshi, then it just started and she was pushed in (I suggest to anyone going in the future to do the same). I do wish that we had gone dressed as vaginas to be the annoying feminists protesting the all-penis festival, but apparently that's been a longstanding issue, which is why there were now vagina lollipops as well. Last piece of advice: those penis-shaped lollipops aren't cheap, so bring cash if you want to partake in the phallic fun.