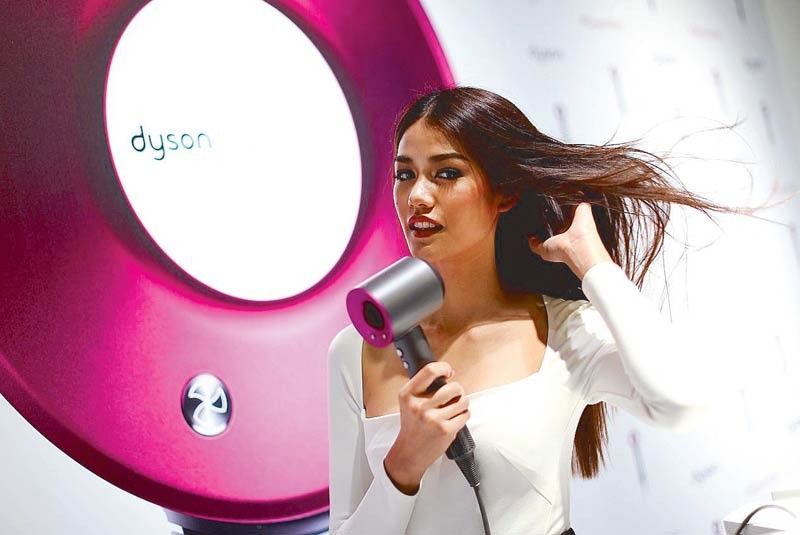 As effortless as it looks: Miss Universe Thailand 2015 Aniporn Chalermburanawon (aka Nat Aniporn) swears by Dyson Supersonic's fast dry and smoothing nozzle combo to straighten her hair even without products.
Did you check in empty luggage?" inquired the lady behind me on my ?flight to Bangkok. We were off to the Southeast Asia launch of the ?Dyson Supersonic — the beauty arsenal addition that has the beauty industry polarized because of its price tag on one side, its sheer brilliance on the other. The last time I was in the Thai capital was six years ago, and I knew better than to not bring empty ?luggage in tow. I'm on a self-imposed shopping ban, focusing on re-selling and? recycling, I replied. The country of Thailand was still in mourning, each establishment had set up a shrine for the late King Bhumibol, but the billboards were slowly returning to business as usual, with a proliferation of one-day whitener creams for girls and boys.
The clothes weren't fit for striped bayongs that don't go by the label Balenciaga, nor were they souvenir shop batiks — anybody who has visited Bangkok in the past three years has witnessed the Thai fashion renaissance. Through government-sponsored programs, Milanese and Florentine artisans have been flown in to impart weaving, designing, dyeing and finishing techniques to modernize and luxe-up generations-old Thai textile companies known for silks and cottons. To encourage production, the government grants fashion designers tax breaks.
Princess Sirivannavari, the crown prince's daughter, a front row fixture at Chanel and Dior shows, and herself a designer, brings select Thai designers to Paris Fashion Week, exposing them to the aesthetic and then introducing them to the style setters of the world by hosting pop-up events that showcase what Thai fashion is today. She knows the struggle, having debuted her label in 2007 in Paris thanks to the invitation of no less than Pierre Balmain, now available at Siam Paragon where other pioneering ready-to-wear success stories (like Amy Winehouse and Agyness Deyn favorite Disaya) hold brick and mortar. In adjacent Siam Center, following its relaunch in 2013 after having been around for 40 years, about 200 local brands and designers, both established and up-and-coming, from casual apparel to formal to leather accessories, flaunted their wares with cool visual merchandising to boot. Actress Araya "Chompoo" Hargate is modern Thai fashion's face to the world with her unapologetic glam, dubbed by US Vogue as "material girl style" in lace-laden Thai label Tohns. On the streets of Bangkok, her influence is everywhere. Men aren't far behind either, mixing lace with prints — or the polar opposite: wearing loose distressed pullovers and jeans with mussed-up hair.
Manila's own style setter and STAR columnist Tim Yap, who joined the event as a key opinion leader (the industry term for "influencers" who have proven credibility, i.e. influence that translates to sales) spilled that this fashion revolution began as far back as a princess — not naming names — taking offense at a certain former first lady's snide remark about her ensemble, the one known for making a uniform out of butterfly-sleeved ternos.
Sarah Arts, Dyson Southeast Asia PR Manager confirms it was these efforts that made the British innovators sit up and take notice. "Across Southeast Asia we recognize there is an emerging beauty industry in Bangkok as lots of creative people are setting up businesses, creating new trends in fashion and design, launching their own lines. Every country in Southeast Asia is distinct in terms of local nuances and taste but everyone has a great appreciation for their beauty routine and now technology can help it."?
And really, what's a fashion look without a beauty look to complete it??
Tech meets beauty
Last year, YStyle was first in the Philippines to break the news of the launch of the Dyson Supersonic in Tokyo. Known for designing and manufacturing vacuum cleaners and bladeless fans, Dyson breaks into beauty with the V9, a motor that spins 110,000 RPM and only weighs 49 grams and, at 20 mm, is smaller than a coin with a microprocessor inside it. It's the innovation that gave birth to the world's most expensive hair dryer, the price paid for being the most drastic upgrade of the contraption in almost 60 years since its invention.?
"Motors have been an enabling technology, allowing us to develop high-performing technology that others simply can't offer. The V9 is our smallest, lightest and most advanced motor yet and, combined with our patented Air Multiplier technology, it has allowed us to put the motor in the handle," said founder James Dyson, unable to join the event, in a press statement. Dyson worked with the Oxford University Hospital Gait Lab to measure the extremes of drying wet hair, and decided to shift the motor to the base of the handle, the center of gravity, for better balance, which makes it much more ergonomic.
European and American media sang the praises of its efficiency, ergonomic quality and quietness — finally, one could style hair at home without the damage or hassle, and the price was right. But how about for coarser Asian hair, which we struggle to keep sleek and shiny, despite heat and humidity?
Back in Dyson's Manila stores, the Supersonic was on the top of every beauty girl's Christmas wish list. Exclusively distributed in the Philippines by Whiteplanet, managing director Warren Sy likened the waitlist to a PlayStation 4. "My wife, however, was skeptical about it because of the pricing at first but since she tried it, she uses it more than I do!" he candidly shares. Dyson has invested £50 million in a four-year period into the development of the Supersonic, testing it on 1,000 kilometers of real human hair, constituting seven hair types.
The Asian factor
Graeme McPherson, Dyson lead engineer and head of haircare product development at Dyson, notes that "Asian hair has a round follicle so it grows coarse, tends not to tangle, is straighter and heavier. Caucasian is oval so the hair is finer. African hair has flat follicles so that's why you get the curl," and then enumerates the key problems the Supersonic solves. "What could damage hair? How to make it glossy? See, light reflects on healthy hair. Damaged hair has holes in its surface, making it dull. Wet hair traps water from the cortex. It dries because the water evaporates."
McPhearson adds that Dyson's labs have confirmed untreated or dyed healthy hair dries in 10 to 15 minutes. (No one in the room had natural, virgin hair.)
"My bleached hair, for example, holds more water so it takes longer to dry," Thai superstar hairstylist Krit Jirakietwattana (aka Kong) commented, himself sporting a bleach blonde middle-parted cut just like the Shinee boys during their late 2016 comeback. "Many men and women get color, digital perm or setting perm styles not only in Thailand but also throughout Southeast Asia, thanks to the influence of Korean artists," Kong says. He got his big break creating hairstyles for Thai comedy horror film Pee Mak Phra Kanong, where he gave Thai wave superstars Mario Maurer an undercut and highlights and Davika Hoorne the sleekest and shiniest middle-parted jet-black mane.?
I got a perm years ago to give my pin-straight locks a lift and minimize the need for blowouts, but the humidity, ironically, made it more high maintenance as my strands were heavier and tangled more; I don't know how the Thais do it. 'Dos disintegrate even at a red light on a tuktuk ride or in any one of Bangkok's multi-story rooftop bars where it's no surprise to find yourself rubbing elbows with Thai wave stars and heartthrobs. Suffice to say, competition — if you want to put it that way — is tough and beauty standards are exceptionally polished and groomed.
This is the Thai beauty ideal: hair is vibrantly colored (even if it is a dark, natural hue), voluminous and shiny with waves to go with porcelain-skinned, false lash-framed circle contact lens-wearing eyes — to decorate the windows of the soul akin to Buddhist values, according to what I confirmed from Thai beauty editors. "Because of the upkeep, it's not unusual for a woman to find her hair damaged here," Miss Universe Thailand 2015 Aniporn Chalermburanawon, aka Nat Aniporn, the hair demo for the launch, comments.
Easy-breezy
Then there's the change in people's lifestyles as standards don't just mean being beautiful nor stylish but also fit. "They exercise, gym, do yoga, so they have to wash their hair daily. Heat styling can be damaging. A hairstyle and color has to last long, no need to come to the salon so often, something that can be managed at home," Kong shares.
His advice? "Without any nozzle, shake dry hair up to 80 percent with hot air. For the last 20 percent, use a styling nozzle to straighten, curl, or lift roots, then finish it with cool air to close the cuticle and give hair shine and bounce. To get results that last all day despite humidity and heat and sweat, up until you meet friends at the club, blasting cool air comes in handy to set the style longer because it closes the cuticle," Kong shares. The Supersonic has an "intelligent control" feature that optimize temperatures, allowing you to go from hot to cool as soon as you press the button.? As for the men, they can use it without the nozzle at first. "The one problem Asian men everywhere have is their hair at the sides always sticks out. It doesn't lay flat," Kong says. "They can use the smoothener nozzle to flatten it. Figure out your hair's growth pattern then go from roots to tips." You can customize your look with any one of three magnetic attachments. One concentrates airflow so hair can dry faster, an attachment with a narrow opening smoothens flyaway hair, and a diffuser penetrates deep?into the scalp of curly hair, natural or otherwise, so it dries without puffing hair up — the easiest way to ruin any look. Weighing only .66 kilos, you don't need extra luggage for this finishing touch.
* * *
In the Philippines, Dyson Supersonic is exclusively distributed by Whiteplanet Inc. at Greenbelt 5 and Rustan's Department Store, Ayala Center, Makati; Century City Mall, Kalayaan Avenue, Makati; Abenson Bonifacio Global City; and SM Mall of Asia, Pasay in three colors (fuchsia, white and silver) and at 220 to 240 voltage with a warranty of two years. Retail price is P21,500.