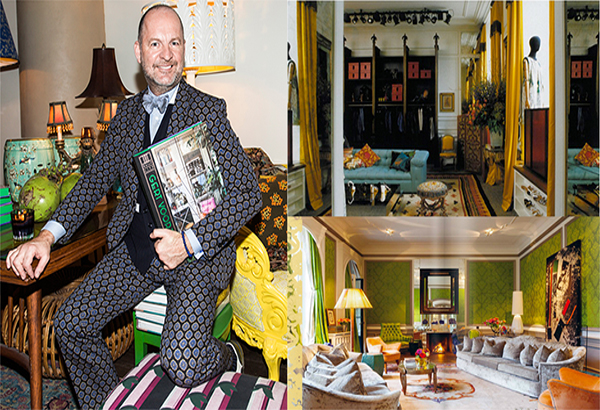 A room inside a renovated consulate residence in Antwerp: "We started with an Aubusson carpet from the '30s based on an 18th century model. All the colors come out of the rug. I like to start from a piece that's very strong and you make a wonderful room out of it. There's a Sterling Ruby to put it on the paneling and not to center it on the middle. We nailed it, chucked it onto the molding. It's such a statement." Photo by REGINE DAVID
MANILA, Philippines - In the Philippines, Daily Life is available in Manila House. Photography is by Tim Van de Velde, text by Thijs Demeulemeester, with a foreword by Hamish Bowles.
You can't talk about maximalism today without referencing the architect and interior designer Gert Voorjans, more popularly known for bringing the aesthetic to the public eye in Dries van Noten after a year-long collaboration unveiled in 1996 in the Belgian fashion house's first flagship store in Aoyama and then in de Quai Malaquais 7 in Paris followed by Quai Malaquais 9, the flagship store for men in 2007 as well as the high-end boutique Joyce in Hong Kong when they redecorated in 2005 and Shanghai in 2007 — and they've been inseparable since.
In 2012, he published his first book, Interior Life, sharing his inspirations, but Voorjans noticed, "People become confused, instead wondering, 'But what is he actually doing?'"
Voorjans comes from a family of furniture traders and carpenters in Meuse and finished interior design studies and art history, inspired by Renaissance architect Andrea Palladio and his principle of the Golden Ratio; Renzo Mongiardino, who harmoniously combined European and Oriental influences; and Sir John Soane's neo-classical style. In 1987, he achieved his bachelor's at Sotheby's Styles & Art. Here, Voorjans began to see sense, where others might see clutter.
"In hindsight, I think the architectural training was particularly useful," he told YStyle during one of his visits to the 5,200-square-meter private members' club Manila House, set to open within the first quarter of 2017. "What it gave me was the ability to focus on the bones of a building, to work with, not against, its essential style." Voorjans spent the first years of his career at the studio of antiques collector and decorator Axel Vervoordt, for whom he worked for seven years.
Context is a word that always comes up in his latest book Daily Life, which opens up 10 residential projects previously unseen to the public. It's an area where he works the most, spending about a year on each project. In the past 15 years, he's decorated his Christmas cards with photos or illustrations of the home he worked on so its recipients and the home's inhabitants are the only people who see.
Flipping through Daily Life, each page bursts with his own unique, exuberant style: from an exotic consulate in Antwerp to a new penthouse in London or a renovated fabulous castle in Bavaria. And there's the "breathing room" space — sparsely decorated in white, like rooms in nothing but wood paneling or mirrors.
"The book spans a timeframe of 20 years of projects so I wanted to offer a wide range and variety of properties. Those different kinds of atmospheres are what I wanted to tap into. The work I do is more of an assemblage in an artistic way, and that's how I ended the book: by featuring my own house, which obviously takes it the furthest in terms of design approach," he says.
Every project starts with maps, whether old (as in the restored Bavarian castle) or new, and with a little history on each house: "All the context where it's standing, otherwise you go from one home to another without a break. I want to show that there is no one solution. For example, when there is a lot of green around you or the sea in front of you, you are in need of another approach, different colors."
YSTYLE: What's the typical consultation process like for you?
GERT VOORJAN: I bring a big white canvas and they add their favorite items, beautiful carpets from their mother for example, whatever they love. It's confronting for the client because they come to me thinking they'll go to me and "Oh, we're fine, we buy his look."
I need the good vibes and — the hardest part — the commitment of the client. I don't do the complete solution. If you like sculpting, even if you think your work is ugly, bring it into your home! At least it's your home! Your chair could be from a flea market, a box could be from a famous sculptor. I don't like price tags. That's better than bringing pictures of people you don't know. That's only money related to show to friends how affluent you are. I want to emphasize and focus on making it personal. I am not an interior designer who comes and dictates exactly what it wants to be; I want to be the conductor of the orchestra.
We can have three meetings and decide to stop. I am inspired by daily life and authenticity. I watch for the tea or the coffee or the cake and how welcome I feel and how we sit and talk. We could have a walk half a day in the city and assemble things from the street. All my clients are in their 40s and 60s and they are dynamic people who also don't like a museum interior; they're not averse to doing something wrong. You can do a crazy brooch and it doesn't have to suit anyone's taste but yours.
Is there a rhyme or reason to how you decorate a space?
I like the modernity of having white space and thinking of what we can hang — a black and white photo, is it this or is it that? When it's not done, it leaves possibility; it's an open gap to dream and wonder and ask someone to paint something on the wall.
Linen stools — this (gesturing to the unfinished state of Manila House's interiors) is really an eclectic overkill, all those chairs together now — so there can be a simple easy chair so it isn't over the top.
I like solid empty walls so there are more rooms that are very full, but here, on the other hand, there are white walls; it's maximalist but there is modernity in the setting. There is no molding.
I don't treat the floor ceiling or wall finish with the same intensity. It can look very contemporary. It's not that maximalist -- with all the space you can still breathe. You can still strike a balance. It's giving each room a story. Not every room has to be a "wow" and another "wow." Sometimes it can be boring after the fifth "wow." The interior designer's job is to bring balance like a conductor bringing it to tune. You can't have the most wonderful doors floors and the most wonderful flooring at the same time. You have to do something to cool it down.
My maximalism isn't about damask on top, clutter on top. With Dries, it's a store where the clothing is embroidered so everything is over the top. But I like the unfinished atelier idea.
What do you find is missing in the design world now?
There has never been so much cashmere and plates and duvet as now — we are human and want to feel cared about. We are going through a period where people are insecure — in clothing, interiors, everyone has to agree; now more and more people need their own. People are going away from the coolness of modernity. While I like it and love it, we are human. Concrete, black leather — it's not warm. We've never sold so many candles. We are not robots living in aluminum.
This might be like asking you for your favorite child, but in Daily Life, which one is your favorite room?
The renovation of the consulate of Antwerp, an official residence in a French 18th century house, but it was really run down. Every three or four years they put in a another official so it ends up becoming like a public room. The basic architecture, structure, lines, I wanted to do something sophisticated so I added a wonderful apple green damask and silver gray. We started with an Aubusson carpet from the '30s based on an 18th century model. All the colors come out of the rug. I like to start from a piece that's very strong and you make a wonderful room out of it. I added a '50s Swedish chair to give it modernity. The peach color and the gray which all comes back to the carpet.
It's already a very big house and if there's so much white, it's wonderful to come into this room. You go through a hidden door, and when you enter, "Wow." It does not always have to be a sortie like that but if you have such a big home you can afford to make some rooms really trimmed.
There's a Sterling Ruby to put it on the paneling and not to center it on the middle. We nailed it, chucked it onto the molding. It's such a statement.
I can see it in Manila House's interiors.
Manila House is inspired by the crafts of the Philippines but it is a challenge because the raw materials need modernity. There's a rustic element I want to get rid of. I like bamboo, banana, but it's all very brown. It needs a facelift. I am painting over them.
What inspires your idea of modernity?
We live for today and, preferably, for the future, too. We can be inspired by history, but I definitely don't want to create a historical room and I don't like nostalgia, I don't like retro even though I work with historic properties a lot. I feel like a certain punch, sexiness and twist need to be present to make the rest more fascinating. It's just that where a visual artist would use paint or bronze, I use furniture or decorative items. They are the eclectic palettes at my disposal. They inspire me to explore new directions, or to experiment with shapes, materials or compositions.
Fashion helps me a lot. Fashion is five, seven years in advance, but it helps how other people think. It is the first step as a design tastemaker, like how perfume and cosmetics are easy introductions to a fashion house.
And your idea of maximalism?
It may sound crazy but, through and through, I want to stay as immaterial as possible. I adore beautiful objects but it's also very easy for me to let them go again. Possessions are only temporary. Let it all go traveling. That creates room for fresh new ideas. I deliberately want to live outside of categories. The rest already exists.