YStyle picks: Manila Fashion Festival S/S 2017
MANILA, Philippines - Get your credit cards ready. The fifth installment of the bi-annual Manila Fashion Festival was a highly documented four-day affair made so for a more shoppable spring-summer 2017.
Our favorite young talents Basic Movement by Esme Palaganas and Gabbie Sarenas are back. AirAsia Runway Ready Designer Search 2016 winner Bea Samson brought home her winning collection. Renan Pacson brought the streets to the runway with some cred to boot in collaboration with indie label Gnarly.
MFF also welcomed seniors JC Buendia, Joey Samson, and accessory designers Rita Nazareno of Zakarias1925, Malou Romero of Joanique, and Tweetie De Leon Gonzalez of TdLG who all made their first MFF appearance joining Rhett Eala and Randy Ortiz. More menswear (notably by Eala and Ortiz) made its way to the runways and it's beyond formalwear.
Here, government organizations recognized fashion's validity as a medium such as National Commission of Culture and the Arts who challenged six young designers to reimagine the traditional garb away from archaic to modern and wearable as a way of keeping the baro't saya and terno alive; Goethe-Institut Philippines tasked eight designers to create according to the concept of sustainability; while the Embassy of the Netherlands closed MFF with a collaboration with Slim's Fashion and Arts School in a fashion exchange program culminating in a collection by three Dutch fashion graduates and three Slim's students and fresh graduates inspired by each other's hometowns. Manila Fashion Festival's very own design competition showed the versatility of Japanese denim in collaboration with Bobson.
In partnership with Samsung and Zalora, there was a clear intention to hold captive an online audience in line with its See Now, Buy Now concept — great news because you won't have to wait until next year for YStyle's top designer picks.

NO GREY AREAS
Anthony Ramirez
The constrict of set boundaries can yield multiple possibilities once creativity and a definitive style and skill is put into the mix, which is what Anthony Ramirez demonstrated for his spring/summer lineup. Ramirez, who has made drapery his trademark, dressed his statuesque "Mademoiselle" in lots of white punctuated with black, its permutations going from a sensual asymmetric frock to a black wide-legged jumpsuit layered with a white backless halter, a classic combination fit for a lady. —MT

SPANISH FLARE
Cheetah Rivera
Picture feminine frills with subtle hints of crimson red accents and Spanish-inspired silhouettes. This was the vibe at Cheetah Rivera's spring/summer 2017 collection at Manila Fashion Festival.
The lineup remained monochromatic all throughout the show but the designer played around with flouncy textures and vibrant floral patterns to break up the monotony of the collection. A crowd favorite of the Bem Bem Maria collection was the finale dress with its frilly tulle sleeve accent and its vivid red flower appliques. We also zero in on the knee grazing neoprene dress with its oversized sleeves and the v-neckline crop top with its matching polka dotted serpentine skirt. —FG

ORIENT EXPRESS
Randy Ortiz
Oriental fashion's history has regal roots and Randy Ortiz is one of today's designers with the vision to take it into "AsiaNow," as he has named his spring/summer offering with bold textile choices with ornate embroidery and beadwork done in the season's on-trend '60s to '70s silhouettes fit for the holidays. Ortiz collaborated with T'Nalak Dreamweavers of South Cotabato who fashioned bibs (which can be worn as a backless halter once temperatures rise) that are styled with sheer embellished tunics. For the boys: batik shirts and embroidery in bomber jackets. –MT

FARM FRESH
Gabbie Sarenas
Dubbed "Pintuho", Gabbie Sarenas' spring/summer wears marry Philippine tradition and contemporary design with powder blue and white styles inspired by Filipino farmers. In this collection, roomy shapes breathe new life into fabrics such as silk jusi (handsewn by artistans from Iloilo using the sinuksok design), Japanese cotton and pale chambray. To demonstrate: the show's finale piece, an outsized gingham trapeze dress with palay and carabao embroidery on the pockets, gets a romantic spin with ruffled silk jusi sleeves. Meanwhile, mules crafted from fur, abaca, and leather (made exclusively by shoe and accessory designer Maco Custodio for the show) are worn with scrunched up socks, lending quirky appeal to the delicately hued looks. —MB

TAILORED TERRITORY
Joey Samson
Joey Samson is certainly no novice in the fashion industry but in his debut show for Manila Fashion Festival, the esteemed designer offers a fresh perspective to his forte—menswear (and menswear-inspired) design. Cases in point: knee-grazing pleated skirts with gathered waists get cheeky with cropped sweaters and duo-tone gloves, double-breasted cape blazers give some structure to billowing trousers, and collarless checked shirts get even more pattern-happy with polka-dotted scarves and wide-cuffed plaid pants. Precise cuts meet relaxed silhouettes, while flashes of checks and color add a playful touch to Samson's spring/summer collection. Leave it to Samson to know exactly what we want; the clothes are easy and effortless, just the way we like 'em. —MB

DENIM RULES
Esme Palaganas
Esme Palaganas proves to be anything but basic. Entitled "En Fin de Compte" (when all is said and done), the collection plays around with the idea of endings and rebirths.
Palaganas dabbles in traditional weaving techniques and Pandi Bulacan custom sampaguita embroidery to give her contemporary designs a customary edge. Key pieces in the lineup were the deconstructed light jackets with denim strips and the woven skirt with the raw hemlines. The contrast of the pieces at Basic Movement only shows the versatility and style of this young designer. —FG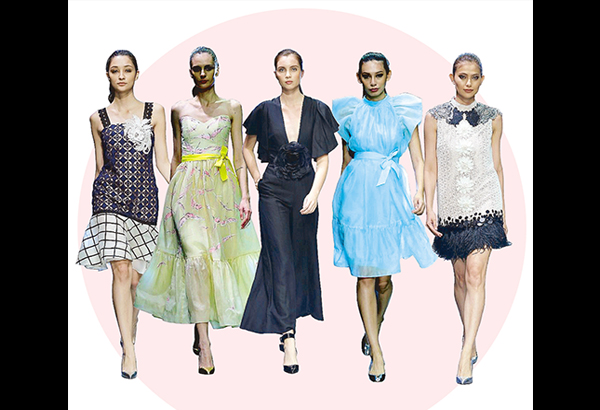 GARDEN STATE
Rhett Eala
For spring/summer 2017, Rhett Eala presents his vision of a blooming sanctuary with a collection entitled "In My Secret Garden." From frothy mint frocks and pale pink birds on midi lemon-colored dresses to ruffled chiffon tops (cinched at the waist with delicate satin bows), Eala offers an ultra-feminine take on summertime dressing. Texture also figures largely into the collection as the designer deftly incorporates a mix of fabrics and embellishments in his designs without overwhelming the wearer. For instance, a lace drop waist dress gets extra zing with a beaded neckline, floral appliqués, and a hem trimmed with high-shine pailettes and feathers. Looks like minimalism takes a backseat this season; Eala's wears are made to be seen (and felt). -–MB