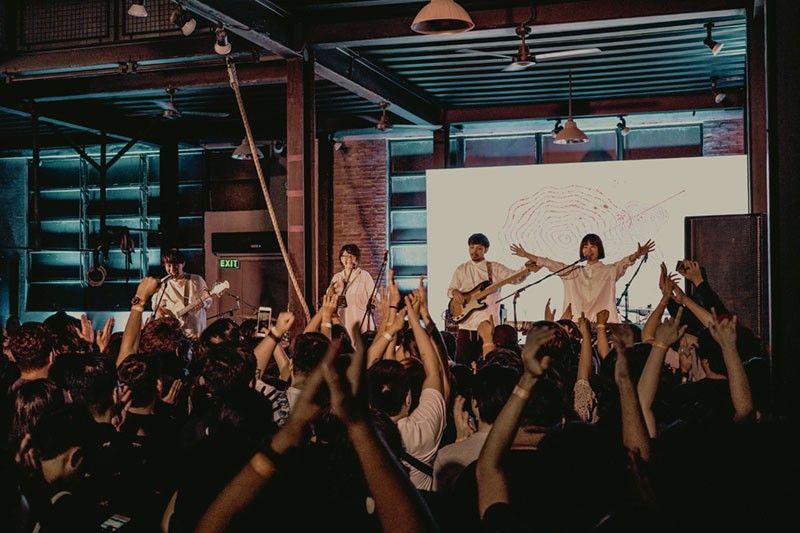 A Spur of the Moment's seventh-anniversary celebration was held in 123 Block with JYOCHO from Japan as the headliner.
Mohd Sarajan
Rockin' in seventh heaven
Kleona Amoyo
(The Philippine Star) - September 13, 2019 - 12:00am
MANILA, Philippines — The number seven represents completeness and perfection. That's exactly what A Spur of the Moment Project's seventh-anniversary showcase felt like. It was the best birthday party in town where we celebrated music and hung out with local and international bands.
The theme for the night was fiere (pronounced fi-yer). But what does it mean? "Spur is known for shows with peculiar words, and fiere means to celebrate. It speaks of the festive without calling it a festival," says producer and label manager Li Perez. She's basically the one-woman team behind the record label A Spur of the Moment Project. "I wanted something that speaks festive, something to celebrate because I feel like it's a milestone that Spur has reached its seventh year. I really wouldn't think that I would be doing this for seven years."
After two silent shows in July and August of this year, ASotMP wrapped up its seventh-anniversary celebration with a label showcase last Sept. 7. The gig was held at 123 Block in Mandaluyong, a very unique location with a gym, a clothing store, a café and a concert venue all in one place! Spur really knows how to throw a party.
The lineup was a mixture of small and well-known local and international bands. But these labels blurred as the bands started playing and giving us what we came for — jaw-dropping math-rock performances. It didn't matter that most of the tracks were instrumental, the crowd was singing (or counting?) along to the beats nevertheless.
The bands were as excited to play as we were ecstatic to hear them. Luncheon, Run Dorothy, Trippy Oh! and January from Thailand warmed up the crowd. Fools and Foes played their hearts out and announced that it was their last gig together as a band. Mutesite from Malaysia crazily head-banged and showed off their knowledge of modern Filipino phrases by greeting people with "Kamusta mga pare?"
The likes of tide/edit and tfvsjs from Hong Kong captivated us with their music. There's something about live instrumental rock that makes a regular rock band seem extra cool — maybe we're so focused on the instrumentation that we appreciate the music even more.
Degs and Gabba's set had the ultimate crowd energy with loud cheers and sing-alongs to every track. JYOCHO from Japan was the headliner for the event. They were all dressed in white and exuded a Zen aura up until they played a song. (The flute player was rocking it more than the guitarist, imho.)
Before the label showcase, I asked the international bands what it's like to be part of ASotMP's seventh anniversary here in Manila. They said it was a mix of excitement and nervousness. Most of them shared it was their first time playing in Manila, and first time playing abroad for others. Anton Fung of tfvsjs said, "We're all a little excited and worried because the standard is pretty good."
For the local bands, they shared that the anniversary felt like a huge family reunion because they were like each other's siblings growing together as artists. They were also excited to see the foreign bands play. "Parang nakita mo yung mga kamag-anak mo galing ibang bansa," Gabba Santiago described what it was like, meeting the international acts. They even dubbed the event "the Grand Eyeball ng mga ka-math rock."
Li didn't think ASotMP would last seven years but she had a vision. "I don't think a lot of people realize (there's) a lot of talent in Asia. Most of our listeners look for Western acts after Filipino acts. That's really my vision — to bring more Asian acts or to get more artists from the other parts of Asia."
ASotMP's seventh anniversary wasn't only made to celebrate the label, but the music and connection it makes with homegrown and other Asian bands. In its seven years, it has formed a growing family where different cultures collide and bond through music.
* * *
Follow A Spur of the Moment Project on Instagram at @asotmproject.