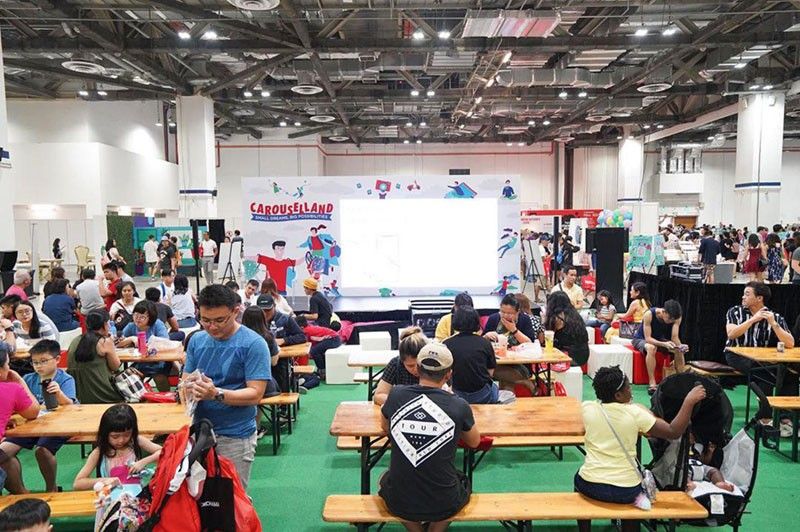 Carouselland was held in Marina Bay Sands in Singapore last Aug. 16-19.
Fiel Estrella
(The Philippine Star) - September 13, 2019 - 12:00am
MANILA, Philippines — A little over a year ago, in a frenzied, probably existential crisis-fueled attempt to rebuild the teen magazine collection I had taken for granted and eventually threw away, I went digging on the app Carousell and found a collection of Candy and Seventeen magazines from 2001 to 2004 — dozens of them. I paid a little over P1,000 for everything, and they arrived at my house in batches, too heavy to be delivered in one go.
There's a lot of "You never know" and "Who'd've thought?" moments in the secondhand marketplace. Because transactions are person-to-person, lives often intersect and one object's individual story becomes a history — and this, according to its creators, is what Carousell is all about.
All of these stories came together IRL at Carouselland, the largest indoor bazaar and flea market event in Singapore. Held in Marina Bay Sands Expo and Convention Halls A & B from Aug. 16 to 19, the event brought together 300 curated sellers, plus Instagram-friendly photo areas, talks and workshops with influencers and creators, games and activities, and contests.
It's about "taking the whole Carousell experience into a physical space," Siu Rui explains. That means great deals, fun finds and knick-knacks alongside practical items, and meetups and community interactions, particularly the app's extensive retro games and board games communities, who play games on-site. The creators of Carousell also unveiled its new branding and visual identity, which also puts the community and their stories at the forefront. "There's diversity, a real reflection of the community. We actually want to encourage interactions."
With six dedicated areas — Craft for creators, Style for fashion, AR for tech and games, Space for home and decor, Balance for fitness, and Speed for automotives — there was bound to be something for everyone at Carouselland.
It was a pleasant surprise for me personally to find sellers that fall under my Instagram Explore interests, including slime, crystals and sparkly resin art. There were also beautiful and kooky ceramics that, much as I wanted to, I had to refrain from buying for fear they'd all break on my flight home. I adored the printed totes from The Everyday Club, the LGBT-themed pins and totes from Heckin' Unicorn, and the intricate sushi-print pouches from Kitama. I also love Vintagewknd, whose stylish retro dresses have been reproduced from real vintage fashion of the '50s and beyond that the owners found on their travels.
I looked through vintage film cameras and action figures, which are some of my common searches on Carousell, and ended up buying the cutest forest green corgi sling bag and cat meme stickers that include my favorite, "It hurts right here in my meow meow." There was even live art (pay for a caricature!), tarot readings, and trendy food like cookie shots, milk tea and praffles (a.k.a. a combination of prata and waffles).
Founded in Singapore in 2012, Carousell, like plenty of start-up projects, was a perceived solution to a problem observed by founders Quek Siu Rui, Marcus Tan and Lucas Ngoo: online marketplace websites took too much time and effort to browse through and buy from. "We thought we had to change that," says Siu Rui. The websites were often difficult to use on mobile, which they deemed not very sustainable, since people do everything on their phones these days. "We said, 'Let's just build it. Let's build the ultimate buying and selling app."
Carousell, which has expanded to six other countries including the Philippines, would eventually codify the mobile marketplace. They describe it as very social: you can take a picture of what you want to sell and list it within 30 seconds, and transactions are as simple as chatting within the app — no need for emails, texts, or phone calls.
"We've learned that it was important to stay focused on your community listen to them," Siu Rui says. Beyond sustainable and environmentally friendly practices and a good way to earn some cash, secondhand buying and selling turned out to be a great way to pay it forward and find purpose. A young girl can further her education or live out her passions with an old laptop, or a housewife can take up candle making as a hobby and turn it into a business.
Carousell, in his words, had become more than just buy-and-sell; it was creating connections and possibilities, and helping to empower people.
"I think that in the next two years we really want to serve Southeast Asia well," Siu Rui says on Carousell's future. "That's, in our view, one of the most exciting markets in the world, but also probably one of the most underserved." Asked why they keep doing what they do, he answers: "We have a passion for problem solving and making an impact in people's lives."
It makes for great stories. "We found all these stories of people forming friendships, developing passions and interests, (realizing) their own dreams and starting their own businesses," Siu Rui adds. "We help each other out. It's really the stories that have kept us going, and it's really what makes Carousell great."
* * *
Download the Carousell app on Google Play and the App Store.