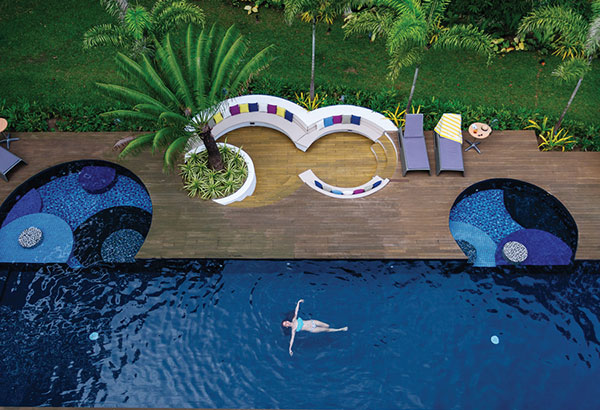 Shades of blue: You can even try mixing work and play by bringing your laptop poolside.
Gaby Gloria
(The Philippine Star) - November 30, 2017 - 4:00pm
MANILA, Philippines — Growing up on Disney Channel Original Movies taught me that an ideal vacation consists of sun, sand, Hawaiian shirts and a fresh tropical drink. I don't know why, but they made lying on a beach towel on a white sand beach overlooking clear blue water and sipping fresh fruit juice look so appealing to me back then. My concept of an ideal vacation has changed over the years, especially now that I'm working. Now, I'd gladly take a night home alone spent marathoning Parks and Recreation over a night out of social interaction.
So when I was told that I'd be spending three days in Palawan with complete strangers, my game plan consisted of avoiding other people. Finally, I thought as I checked the itinerary for free time. Some alone time so I can spend watching anime unbothered.
Those plans were dashed as soon as I arrived at Puerto Princesa. Our itinerary, while relatively chill, was also made in such a way that we ended up sticking as a group almost the entire time. It took all but two minutes (aka the travel time from the airport to our hotel) for me to realize that my ploy to avoid human interaction would be futile.
Thankfully, the folks at Canvas Boutique Hotel made me feel right at home with their hospitality (we came home to a snack spread every night). As its name suggests, Canvas is a space with walls meant to be blank slates waiting to be filled. The entire hotel was decorated with unique murals inspired by Palawan culture and folklore, done by artists Electrolychee, Nice Buenaventura, Hannah Liongoren, Tof Zapanta and A.G. Saño.
No joke — reading about them encouraged me to go out and see what Puerto Princesa has to offer. Though we stopped at a lot of tourist areas during our tour, I found a couple of activities that I'd consider going back for.
With that, I present these introvert-friendly tour suggestions for anyone who's looking for some peace and quiet in and around Canvas Boutique Hotel.
Firefly Watching at Iwahig River
Owl City was right when he sang about 10 million lightning bugs. Be prepared for peace and quiet as you marvel at the fireflies while listening to a guide shout out fun facts about them. Fair warning though: you may find yourself questioning your life choices (a.k.a. why did you agree to ride in a tiny bangka in complete darkness?) at one point along the journey.
Pandan Island
Honda Bay is the main jump-off point for those who want to explore all the different islands. We visited two, but I preferred Pandan because it had individual huts for rent and the seafood was super fresh. Bonus: if you miss your pupper back home, there are a few friendly aspins roaming around. If you give them food or water like I did, they will follow you around and ask to be scratched.
Palaweño Brewery
Our tour guide told us that night life isn't as booming in Puerto Princesa as it is in other cities. Most restaurants and bars close at 9 p.m. and this craft microbrewery isn't an exception. It actually makes it even more appealing for people like me who might pass on the late-night walwalan. They make variations of craft beer like the Hunter (honey nut brown ale), and the Ambog Ale (American amber ale). I suggest the coconut rum, which I heard people have even fought over.
Pasalubong shopping
No vacation would be complete without getting all that pasalubong for your friends and family. All I had to do was cross the street to get to the LRC 908 Market Mall for all the goods, including kasuy butterscotch bars, kasuy tarts and Palawan honey. If I had more time, I also would've checked out all the ukay-ukay shops nearby (and there were plenty) since I heard that they have a lot of good finds.
Relaxation
Though I used some of the allotted "me" time to work, I still got to experience a taste of that #islandlyf thanks to my room view overlooking the pool. WiFi wasn't as cooperative during my stay (connectivity issues are common in Palawan), which is how I discovered that the connection works best at Canvas' in-house restaurant, Painted Table. You can munch on their special cauliflower appetizer or pancit canton while going about your business. There's also the option of working in the pool — a feat which I know is possible thanks to a fellow media person who perched her laptop at the pool's edge while swimming.
* * *
For more information on bookings and tour packages, visit www.canvasboutiquehotel.com.