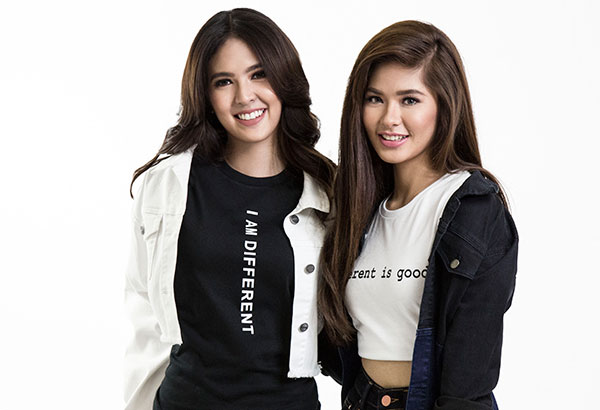 Different is good: Actresses Sofia Andres and Loisa Andalio are two of the local ambassadors of Penshoppe's #IAmDifferent campaign.
MANILA, Philippines — I think we can agree that we know what a bully looks like; it's either we've been bullied or we were the bully. Either way, it's a scenario we can all relate to, and it's never a fun situation to be in. But bullying is largely ignored as a social problem, which is important to address in a time when bashers, trolls and online bullies are rampant on social media.
This is why local retail brand Penshoppe decided to focus on anti-bullying as their advocacy. Through the #IAmDifferent campaign, Penshoppe aims to celebrate people's individuality to emphasize that bullying anyone for being different is never okay. "When we saw anti-bullying being a prevailing issue in the market now, and we did our research, there's no particular organization that addresses bullying," says Penshoppe brand director Jeff Bascon. "So no one's bringing awareness to it, and we wanted this for the youth, because Penshoppe is for the youth."
Aside from bringing in Penshoppe's roster of global ambassadors like Bella Hadid, Mario Maurer and Sandara Park, Penshoppe has designed a series of T-shirts and caps with the campaign statement — "I Am Different" and "Different is Good" — as its logo. As a little extra, each item has a unique serial number, which echoes the campaign's ethos — unique shirt, unique you. Perhaps the best part is that proceeds from this collection will be donated to Teach the Philippines organization, which is developing a program to discourage bullying in school and encourage acceptance among students. Bullying may be a serious problem, but there's definitely a way to make sure it doesn't happen anymore. This is a pretty good place to start.
* * *
Get your own #IAmDifferent T-shirt at Penshoppe stores nationwide.