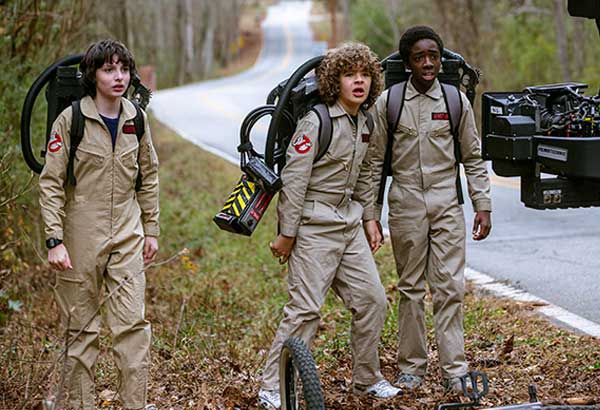 Who you gonna call: The boys dress up as the Ghostbusters in the second season of Stranger Things.
The gang is back together
It was a warm day in May, and around me were familiar rooms: the Wheeler family's cookie cutter home, with a recipe for bread pudding posted on the fridge. "Downstairs" was Mike Wheeler's sanctuary, the basement in which he and his friends would play Dungeons & Dragons. (Right by the door was Eleven's blanket fort, rumpled as though she'd just stepped out to buy milk or flip vans.) The Byer home was in its usual chaos, dark as usual and full of strange scribbles. There was no mistaking that we were in Hawkins, Indiana.
Except, not really. We were actually in a film studio in Georgia, a few minutes' drive away from Atlanta. We were given a set tour of Stranger Things, a Netflix Original series and arguably today's most popular television show, and yet I — and the rest of the journalists in our modest group — were enamored of something else: the many dogs walking around, quite literally stealing the show.
The first was an English pitbull named Rocko, who walked in our interview with Finn Wolfhard, Gaten Matarazzo, Caleb McLaughlin, and Sadie Sink. (The three boys play Mike, Dustin, and Lucas, respectively, while newcomer Sadie plays California transplant Max.) "Bark once for yes and twice for no!" said Finn. But Rocko remained just as IDGAF as he was when he first stepped in.
The next was a cute mix named Bandit, who was sitting around while everyone had lunch at craft services. When I approached him to say hi, his owner asked, "Do you think he could be famous? I'm trying to turn him into a meme." While I simultaneously discussed meme ideas and pet Bandit, a pair of feet approached and someone started petting one side of the dog. He started talking to Bandit's owner about something I didn't quite catch. I suppose your mental facilities partially shut down when you realize that you and Joe Keery (who plays Steve Harrington) are petting the same dog.
This was when I looked at my life's imaginary fourth wall and asked, "Does this make us husband and wife?"
Everybody loves the Demagorgon
Our trip to Hawkins came a day after a 20-hour plane ride. I sat with the two other journalists from Southeast Asia, lamenting over our collective jetlag. But there was no denying that everyone in the group was excited to see Stranger Things up-close. In just one season, the show captured the zeitgeist of 2016, easily seen in the number of Elevens that showed up last Halloween. It appealed to fantasy fans because of its many allusions to Dungeons & Dragons, and to '80s kids because of how well it recreated the period.
Most of all, it appealed to fans of anything good, because that was exactly what it was: excellent writing, sleek camerawork, and a stellar cast. I mean, it stars '80s teen icon Winona Ryder. Any doubt should have ended there.
The attention to detail in this show is quite extraordinary — the props and set team always make sure that everything in every shot is something that would have actually been around in the '80s. This extends to bottle labels, food packaging, and even the lights on their bikes. (The lights on bikes today didn't exist back in the '80s, and it would have made the lighting look anachronistic.) In the new season, the boys bust out their Ghostbusters costumes for Halloween. The boys' jumpsuits will look visibly different from one another to reflect how they would have made their costumes in real life. Mike's nametag is embroidered, Will's is made with duct tape, Dustin's is painted on. And as for Lucas? "Mine's professionally made," says Caleb, with a grin.
It's hard not to be in love with a show that is done with such dedication. Naturally, when the show ended with a huge cliffhanger — "Is Eleven coming back???" — fans became even more invested in what the second season would bring. While Stranger Things creators finally admitted that their resident telepath will, in fact, come back, they were very secretive about anything else. During our interviews with the cast, they coyly kept their mouth shut about details regarding their personal story arcs. Noah Schnapp, who plays Will, came in wearing a hospital gown. "Did you just come from the hospital? Are you okay?" the journalists teased him.
"We don't know!" said Will.
"I'm like a vault," said Millie Bobbie Brown, who plays Eleven. She told us that it's still hard as ever to stay quiet about the show, but she's getting better at dodging questions. She and Noah let slip, though, that the new season will detour from its debut. "It's scarier and darker than the first season," they say, and share that the new season will attempt to explain the backstories of some characters.
The kids will also have new people to contend with — Max and her brother Billy, played by Dacre Montgomery. Upon meeting Sadie (who plays Max) and Dacre, it is unclear yet how exactly they will fit into the existing cast. What they are willing to admit is that this brother and sister tandem are new in town, and that Max might just be the new member of the party. Billy, they say, is a little on the mean side. Imagine Kiefer Sutherland in Stand by Me but more hairspray. How exactly he will terrorize the kids remains a well-guarded mystery.
Even while they allowed us to sit in on a scene, nothing much made sense. We were all huddled in one corner of the soundstage, our headphones on and our eyes trained to the small screen in front of us. I won't explain the scene that was being shot at the risk of sharing a spoiler, but things aren't faring well for the party. Will is still haunted by his week in the Upside Down, and Eleven is still nowhere to be found. What now?
The show's creators and directors, the Duffer Brothers, hope at least that this season will unfold just like the first: a contained story that could function like a mini-series. "We didn't grow up watching much television," said Matt Duffer on set. "We're movie people, we'd just always watch movies in one sitting. I guess we're wired to tell stories that way. And then when Netflix offers you a really great place where you can experience it as one big movie, it's a little bit more like a movie-slash-novel. With the second season, we wanted it to be like the first season where it could be like a standalone season — where it feels like, if this is the end, then people will be satisfied. Like you would for a movie sequel, where you would resolve whatever the main tension is. That's what we're trying to do."
The Duffers are probably one of the few creative teams that have managed to maximize the potential of today's new television format. People want to binge, but they also have short attention spans. Had Stranger Things been created just a few years before, it might not have done as well as it did. "What's nice about TV now is that you don't have to do 20-episode stories, you can do more contained stories," says Matt. "Even if you're successful, you don't have to do seven seasons. 'Cause I don't think we can sustain that. And there's no pressure on Netflix's part for us to do that. So we're going to tell as many stories about this town that feels right. And we get out of there before it starts to nosedive."
The show is certainly far from nosediving at this point, but here comes the risk of continuing a well-loved show: will it continue to be well-loved? Watching the second season ahead of its launch today has given me a new perspective on all the interviews we conducted months ago. Back then, Will's hospital gown and the strange décor in the Byer home were mere props on a set.
What it all actually means, along with the breadcrumbs left by the cast, is that the new season will be a delicate balance of old and new. The first season introduced us to the world of Hawkins and the Upside Down, but the second season will attempt to explain the whys. The universe of Stranger Things is expanding even more, which runs the risk of leaving some character arcs behind in favor of the bigger story.
So will the new Stranger Things titillate in the same way the first did? From what I've seen, it'll be a mixed bag for existing fans — it will feature new relationship dynamics, new characters to love and hate, and lots of creepy moments that are best seen with the lights dimmed. The kids will once again lose a bit of their innocence in this season, learning that the world isn't quite black and white, but that goodness, in any case, exists even in the darkest of places. Oh, and just to reassure you: yes, Steve Harrington's hair is as perfect as ever.
* * *
Catch Stranger Things on Netflix starting Oct. 27.