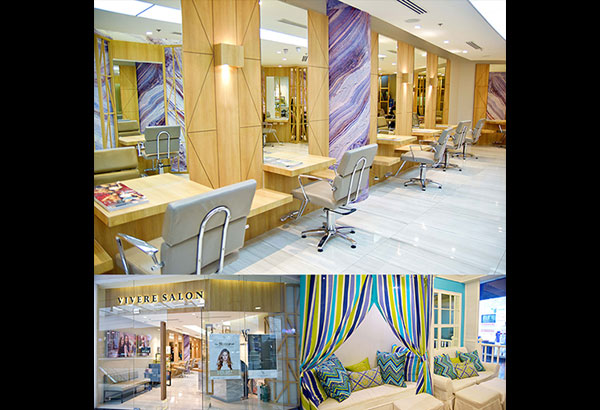 Get your hair did: Vivere Salon and Nailaholics are the place to be for a day of pampering.
In a time when salons are a dime a dozen, how do you find The One? You know what I mean — your regular place, the one you keep coming back to. Because salons and nail spas pretty much offer the same gamut of services, the competition boils down to amazing service and good value. I mean, if you're going to have a nice time at the salon, you don't want to walk out of there with a hole in your wallet, no?
On the search for the perfect pamper place, consider two places: Vivere Salon and Nailaholics. I was able to visit their Glorietta 3 branch on the third floor, and was in for a real treat. While the R2 Group of Companies — of which Vivere and Nailaholics are a part — can be found in various parts of the country, their Glorietta 3 branch stands out. All their other pampering services like Ooh La Lash (a lash extension lounge) and Hey Sugar (an all-natural waxing salon) are in the same block, so you can literally zip through each one and turn it into a pamper day. (Think of it as a scavenger hunt of sorts, and the treasure at the end is a well-deserved glow-up).
My visit to Vivere Salon involved a change in hair color and a nice treatment. The stylists Glenn and JC suggested an ashy blonde, which I'd never tried before. (Hair coloring starts at P1,500.) They also had to bleach my hair, because I still had dyed black hair at the tips of my hair that wouldn't respond to the blonde dye. I'm usually very wary of having my hair dyed, because it often hurts my scalp (especially when they do my roots!) but the product they used was gentle, and my stylists would often check to see how I was doing to make sure I was comfortable. Even the bleach didn't damage my hair; it's been awhile since my dye job and my hair still feels pretty natural. The post-dye, color save treatment might have helped too. It locked in the natural moisture in my hair, which can often get dried-out once colored.
After getting my hair done, I walked a few steps over to Nailaholics, a nail salon and spa. I opted for a simple gel manicure, which is a little pricier than most, but I soon discovered why it could be worth the price. My nail technician, Noemi, was very efficient but gentle with the manicure, especially as she removed my previous gel mani. (Gel mani sisters, ya feel me?) I settled for a brownish grape shade call Figure 8's and Heartbreaks, and it's been holding on very well. I'm tempted to go back just to get that shade — and excellent service again.
Of all the things I managed to do in both Vivere and Nailaholics, one thing really stood out: the people who make it a great place to visit. And their promos are an icing on the cake, like Vivere's 15-percent discount for hair contouring and Nailaholics' Escape To Europe raffle (each pampering package earns you a raffle entry to win a trip to London for two). The truth is, the salon to come back to is the one that feels like it's welcoming you back. That, I think, is how you find The One.
* * *
For more information on location and services, visit nailaholics.com and viveresalon.com.