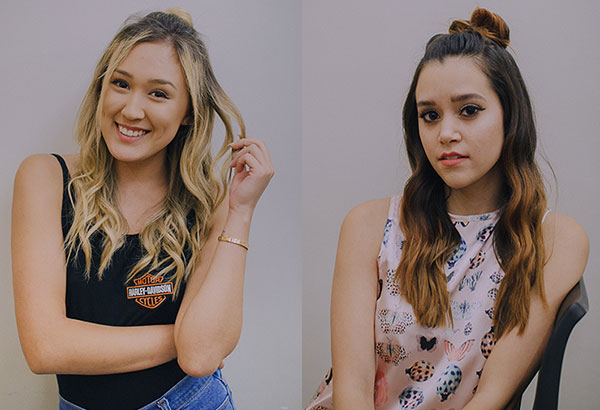 Screen queens: DIY and style YouTuber Lauren Riihimaki and singer-songwriter YouTuber Megan Nicole Flores. Photos by KITKAT PAJARO
Gaby Gloria
(The Philippine Star) - May 18, 2017 - 4:00pm
Let's scoot in a little closer — it's so loud," says Lauren Riihimaki, better known as YouTube sensation LaurDIY and half of the YouTube power couple Laur-Ex. Seated beside her is Megan Nicole, a singer-songwriter who rose to online stardom by posting song covers on the video-sharing platform back in 2011.
The two YouTube sensations are with me to answer a couple of questions before the Manila leg of this year's YouTube Fanfest. Started in 2013, it's become an annual event that gathers YouTubers and fans together for a bunch of activities culminating in a live variety show. This year's sold-out lineup included Lilly Singh, Alex Wassabi and JunCurryAhn.
Lauren isn't kidding about the noise. "Filipino fans are so enthusiastic!" she says amid bursts of screaming from outside. Fans eager to catch a glimpse of their faves IRL flooded the ground floor of the World Trade Center hours before the Fanfest was scheduled to start.
With that many fans, there are always skeptics. In this case, they're the people who tend to roll their eyes at the thought of someone making a living off of song cover videos, weekly DIY videos, and daily vlogs. I had this same thought up until I watched the videos and realized that these people produce everything themselves.
When you think about it, people like Lauren and Megan are their own content creators. They're in charge of doing everything for their videos — from the concept and shooting down to the editing. It takes hours of hard work to get a video out, which is definitely no joke.
Lauren and Megan take a moment to listen to the fans screaming (and chanting, because anything is possible with fandom), grinning widely before kindly answering my questions. Here's what went down during our short Q&A where they shared about their evolutions as creators, influencers, and the future of YouTube.
YOUNG STAR: Lauren, more and more people have gotten into YouTube since you first started. How do you set yourselves apart nowadays?
LAUREN RIIHIMAKI: I think it's more about personality. Because anyone can do a tutorial showing you how to make a flower crown or how to make a pillowcase. But as long as you're adding your own flair and your personality, I think bringing that to your videos is what really sets you apart from all the other DIY and style YouTubers.
Megan, you started with all your song covers, but now you make original music. I noticed that you still keep posting covers nowadays. How do you think the cover landscape has changed over the years?
MEGAN NICOLE FLORES: I think it went from people being able to set up their webcam or camera to now people loving to see more videos. I love storytelling, and I also love creating videos, so I try to do that with my covers to some extent. Find something fun and creative, and make a l'il music video to go along with it. Lately I've been making more stripped down, acoustic live versions of covers. It gives me more opportunity and time to work on my original music as well. Covers are what I started with, and I always want to make sure that I don't discount the people that subscribed to me for that reason.
Lauren, have you ever regretted posting a video, thinking that you shared too much?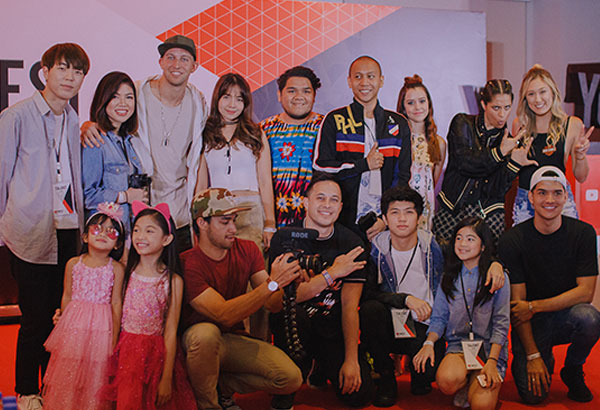 Your faves IRL: This year's YouTube FanFest Manila lineup includes Wil Dasovich (front row, third from left), Alex Wassabi (front row, rightmost), Janina Vela (back row, second from left), Matt Stefanina (back row, third from left), and Lilly Singh (back row, second from right).
LAUREN: No, I don't think so. Sometimes when you're editing, you realize, "Oh, maybe that's something I should share with the Internet." The editing process really helps narrow down, make boundaries, and just give you that second approval process of like, "What should I put out there?" It's not like I'm passing it off to anyone. It's not a livestream or anything. It's where you can refine it and make sure it's audience-friendly for everyone.
Both of you have a consistent kind of image or branding on your social media. Do you ever get conscious about maintaining that image?
MEGAN: I think the most challenging thing for me is finding ways to evolve and grow while still kind of staying true to, overall, who I want to put out there. I think, over the years, it's still stuck with being fun, colorful and possible.
LAUREN: I think pretty much the same thing. It comes naturally to bring that kind of energy and the color to whatever I do. I think as we get older, it kind of grows up with us. It's not like, "Oh, how am I gonna be colorful today?" You know what I mean? It just naturally comes. It's an extension of who you are.
'Cause sometimes, like with reality TV stars, they have completely different personalities from what you see onscreen. So when people find out that that their personalities are different in real life, they get bummed.
MEGAN: Yeah, totally different. YouTubers, I feel... It's never like that.
Lauren, you mentioned in your Coachella video that you don't like the word "influencer." Why not?
LAUREN: I feel like the word "influence" is always just used in a negative connotation. So it's always just like, "Oh, you're under the influence," or "You're a bad influence." The first thing that comes to my head when I hear the word "influencer" is that you're influencing someone to make a decision that they're not consciously making. It gives me a bad feeling. We're creators, we're YouTubers—there are so many other names that can be more properly applied to what we do.
MEGAN: I agree with (Lauren). At the end of the day, we're just people who are sharing things that we're passionate about, and I just feel so lucky to have so many people who are able to connect to what I do and relate to it. I hope that along the way, I can make the world a little bit of a happier place.
What do you think of the future of YouTube?
LAUREN: Five years ago, the things that we have now we didn't have then. Who knows? I think every YouTuber is planning for YouTube to be a home base for them for as long as possible. But you obviously can't predict the future with digital because it's so quickly moving.
MEGAN: Right now, I think it's gonna continue to grow. You see more and more people turning away from TV and going to internet. That's kind of their means of media. It'll be interesting to see. I don't think anyone's gonna predict what's gonna happen. I don't think anyone could've predicted that we'd be where we are today, and that being a YouTuber would be a thing. So we'll see.