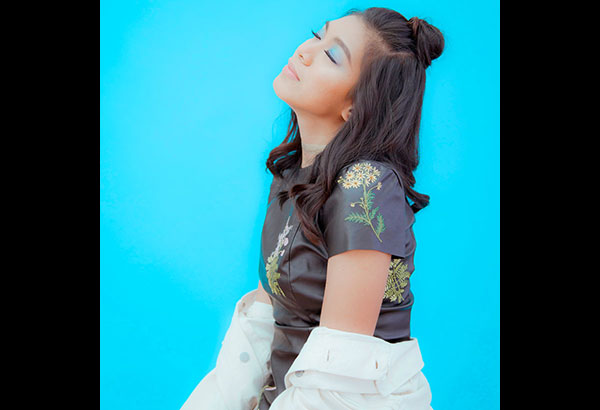 Sky's the limit: Alyssa wants to get more young people playing sports and following in her volleyball footsteps.
MANILA, Philippines - Even if you're not a big follower of sports, or have self-diagnosed yourself as allergic to anything that involves balls and people running around, you've probably heard the name Alyssa Valdez. It's impossible not to — outside the relatively quiet world of women's collegiate volleyball, where basketball still reigns supreme, Alyssa's name still holds its own. She's been credited by many a court-side reporter as singlehandedly bringing back general interest in the sport, a feat only achieved by a select few.
The word you probably often hear associated with Alyssa is "phenom," and it's not hard to see why: a quick YouTube search (for the sports-allergic) plays out her towering jumps and ground-shattering spikes. #Alyssanity, they call it. Other scenes include Alyssa being swarmed by fans at every chance. Sometimes it's hard to tell whether the arena is shaking to Alyssa hitting the ball or to the rumbling and screaming of thousands of fans. Thanks to her athletic prowess, she's managed to reach a level of celebrity usually reserved for artistas, with a cool million followers on Instagram (she passed the 1M mark just last week), and her Twitter fan club just under 900,000. It's also not surprising that she's been selected by online credit card company PayMaya to be one of their ambassadors for their campaign, "Millennials Beyond the Selfie." But it's not just her skill that's caught the attention of legions of fans and PayMaya alike — it's her charm, humility and advocacy that people gravitate towards like bees to a flower.
We see this firsthand when she walks into the shoot. Alyssa is unassuming and seemingly shy, with a painfully sweet voice and demeanor that betrays her towering frame of five-foot-nine. She greets everyone with a little wave and manages a "Hello po" that sounds like what cotton candy would be if it were turned into words. There's only a slight hint of her quiet confidence, and for a moment you forget that the young lady has helped win back-to-back championships for Ateneo, and bagged three MVP trophies in her collegiate run.
But that's not all she has to her name. Since graduating from the Ateneo with a degree in psychology, Alyssa has crossed over to playing volleyball professionally. She currently plays for the Creamline Cool Smashers, which has reunited her with some of her collegiate teammates, along with some new blood. And before that, Alyssa also played in Thailand for two and a half months with 3BB Nakornont, the lone Filipina on the team.
Alyssa has been playing sports for as long as she can remember. The only girl of the family played with her brothers: "Different sports; basketball, volleyball, badminton, lahat talaga I play it." She can't pinpoint a certain time where she fell in love with volleyball, but she remembers liking the sport because she gained girl friends in her teammates. "I was, siguro, falling in love onti-onti with the sport," she recalls. But at this point, she still wasn't sure why she even listened to her coach: "Siguro dahil 'yun 'yung tinuro sakin ng parents ko, to always just listen sa mga nakakatanda. That's why I always listen (to my coach)." And despite not being sure why she kept on playing, the discipline her parents gave her eventually paid off. "'Di ko naisip sa sarili ko na I loved volleyball back then. It was just later on; ngayon ko lang na-realize na it's really part of my life."
It's this discipline that keeps Alyssa grounded and focused on being an athlete. Ever since she started playing, her focus has been on only two things: volleyball and her academics. Keeping her focus has helped her stay on track, despite being away from her family most of the time since she was in high school. When she was 12, an age where most kids are hanging out with friends at the mall and living in the comfort and guidance of home, Alyssa had to strike out and move to Manila on her own, away from her family in Batangas. She was scouted to play for UST High School, having to make a life all by herself. "Super lame talaga nung high school life ko, (but) I didn't regret anything," she shares. This period of her life also allowed her to transition to college life more smoothly. Her training — both on the court and in life — helped her get through college, earning a degree and defying the stereotype of athletes not paying a lot of attention to their studies. When asked about how she balanced the two, she says matter-of-factly: "You just really have to know your priorities."
But now that she's out of school, Alyssa has more time to think about other things outside of volleyball. It's not uncommon to think of professional athletes always having their heads in the game, but Alyssa is already planning for the future: "Hindi ka rin naman forever magiging athlete, so you really have to start as early as possible para maging stable." She plans on playing volleyball for as long as her body will allow her — but there's always a limit. "I'm giving myself siguro ilang years kasi ayaw mo rin naman isagad 'yung katawan mo." She's started venturing into business, investing with her friends in Ally's All Day Breakfast on Malingap Street, Diliman. Alyssa and her partners are launching another restaurant soon, this time right on the Maginhawa strip. "With PayMaya, I can conveniently pay and shop online, and book flights even without having a credit card. I can also use it to pay our partners or suppliers at Ally's All Day Breakfast without the need to carry cash which is hassle and a bit risky," she says.
Apart from her business ventures, Alyssa is also focusing on something closer to her sport and heart. She's giving back to the volleyball community by conducting volleyball camps all over the country, called the AV Skills Camp, now in its third year. The camp encourages kids to play the sport with topnotch coaches and, of course, Alyssa. It's a way of paying it forward, she says. "Ako kasi nung bata ako hindi ako nakakapag-camp; wala akong means and hindi rin ako pinapayagan ng parents ko." It's also a way of reaching the grassroots and giving opportunities to those who wouldn't otherwise have the opportunity to play. "Kasi dun din natin makukuha yung future (players)."
There's a certain shine in Alyssa's eyes when she talks about these camps, and it's not hard to see why she's adamant about getting more kids to play the sport. It is, after all, along the lines of how she got her start. It's only fitting that when she was selected to become one of PayMaya's ambassadors, she would be introduced as the "Phenom with a Purpose." This is the legacy that Alyssa wants to leave behind, and when talking about her long-term plans, all she wants is to get more people into the sport, in the same way she has grown to love it and has been willing to sacrifice for it. "More than for myself, it's also for the volleyball (community) and for the next generations to come, na sila na 'yung magiging face ng volleyball."
When asked about what she's looking forward to the most in the near future, Alyssa pauses for a second to think. There's not a lot to think about for herself, she says, except for taking a break once in a while and spending time with her family and friends. But after a second, she goes back to the kids. "'Yung moment that they would say 'Thank you' to you, and smile." And even though these kids are still far from reaching the level of Alyssa, she remains selfless about what's next: "For myself, wala naman. Wala pa naman." And that's when we see that what makes Alyssa such a phenom is not just her skill and athletic ability, but her true, genuine love for the sport and its future.
Photos by SHAIRA LUNA
Styled by SAM POTENCIANO
Hair and make-up by MURIEL VEGA PEREZ
Hair and make-up assisted by GRACE SALVADOR
Produced by MAINE MANALANSAN,
NEAL P. CORPUS, and TIN SARTORIO