(The Philippine Star) - April 14, 2016 - 10:00am
MANILA, Philippines - Madrid Fusion Manila was arguably this year's biggest and most hyped gastronomic affair. Last weekend, MFM 2016 definitely brought its A-game. Last year's inaugural Madrid Fusion wowed attendees and introduced chefs and foodies from all over the world to our native cuisine and ingredients. This year, things got hotter, cooler, and tastier as chefs churned out everything from mais con yelo with uni to Drunken Sago't Gulaman. Safe to say that with its second go, Madrid Fusion Manila got better and made our tummies bigger.
While everything at MFM proved to be fantastic, here we present five of the things we found the most interesting.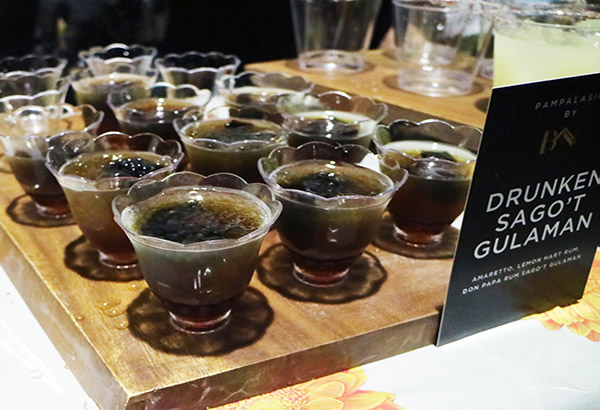 1. The Moment Group's Drunken Sago't Gulaman
The Moment Group, proprietors of some of the hottest restaurants in Manila (Ooma and Manam to name a few) definitely stood out on the third day with their Bank Bar Booth. Designed to look like a street vendor's stall with a colorful umbrella and large plastic containers for their drinks, Bank Bar embraced the Street Food theme while incorporating their own creative twists on our favorite Filipino drinks. Their Drunken Sago't Gulaman, an ingenious creation that captured the hearts (and sobriety) of everyone lucky enough try at least one shot, balanced an all-out "alcohol-ization" of ingredients—they had sago and gulaman made of Don Papa Rum and an over-aged rum in place of the familiar arnibal flavor--—while still managing to keep the classic taste of everyone's favorite sago't gulaman.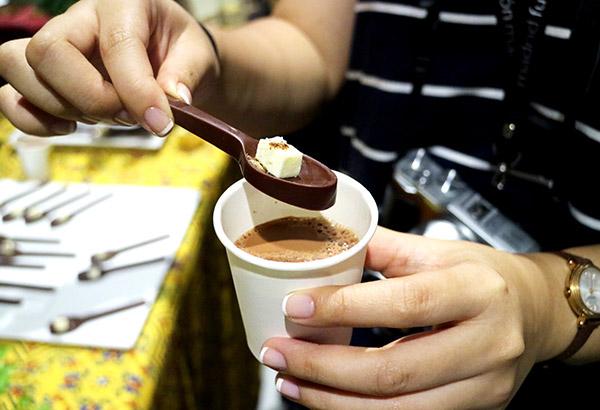 2. Risa's Chocolates' Tsokolate with a chocolate spoon
No one takes their chocolate more seriously than Risa's Chocolates-—and we love them for it. For the second day of MFM they rolled out a drink that proved to be a chocolate lover's fantasy—a steaming cup of tsokolate made of the best local chocolate with a piece of chocolate carefully shaped like a spoon. The idea behind this was to sweeten the tsokolate using the chocolate spoon while drinking it (of course, each component could be ingested separately). The spoon came with a small cube of kesong puti, which wasn't intended to melt and, instead, acted as a kind of marshmallow for the hot chocolate. Needless to say, the combo made for a beautiful and delicious chocolate marriage.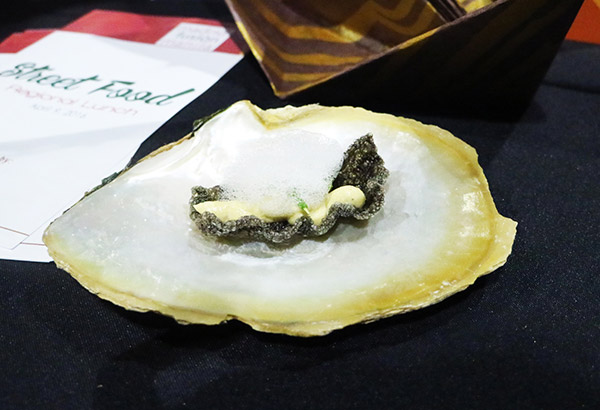 3. Your Local's Balut
Your Local's version of balut took all the street food's familiar flavors and fits it into one delicious — and admittedly less daunting bite. It played with different textures to imitate the feel of eating a real balut, bones and beaks and all. The base was a cracker made of uni, prawns, and the sisiw flavored with two kinds of contrasting vinegar and apple caviar presented with some foam on top for that extra kick. The way it captured all the essential flavors of a balut — the crackle of the carcass and the creaminess of the yolk — in one solid bite was definitely something to remember.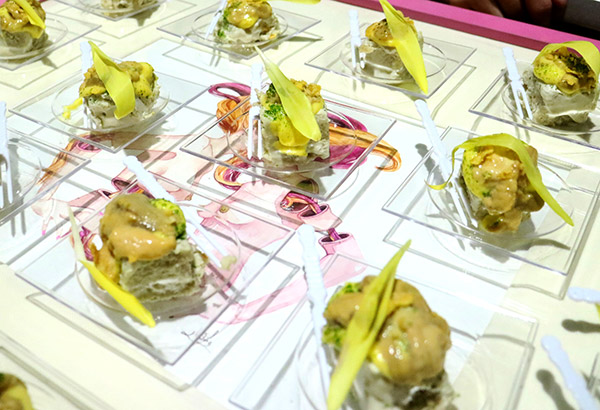 4. The Girl + the Bull's Mais Con Yelo
A classic mais con yelo typically only has three things — ice, milk, and corn. It's a no-fail go-to dessert on a scorching hot day on this tropical island. Gab Bustos, the famous bull behind The Girl + The Bull duo, found a way to add more life to the familiar mais con yelo without losing its comforting taste with interesting ingredients that made you do a double take. The base was a piece of sourdough soaked in cereal milk — they used corn flakes to further emphasize the corn flavor — overnight and frozen. They topped it with corn puree and uni —yes, uni. Coming from a Japanese background, Gab knew that corn and uni was a winning combination, and took a chance by incorporating that into the dessert — and it definitely worked.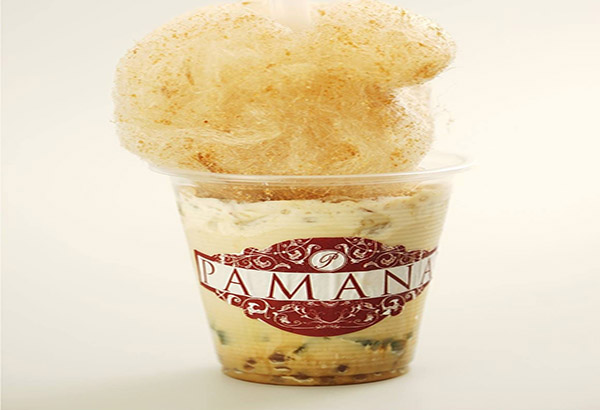 5. Pamana's Guinumis Smoothie with Panucha Cotton Candy
This smoothie took the first day of MFM by storm. It took over the the regional lunch and Instagram feeds alike with its unique twist on the traditional Filipino drink. The stall alone turned heads with its cotton candy machine churning out servings upon servings of panucha cotton candy. Of course, paired with a smoothie that was both a looker and a taster, the Pamana stall was swarming with people lining up faster than they could serve up drinks. The success of this dish speaks for itself.