(The Philippine Star) - November 12, 2015 - 9:00am
MANILA, Philippines – Chances are you have /that/ friend who regularly reposts gig posters captioned "Solid lineup!!!" with the appropriate emojis, and you see familiar names, artists you've heard on Soundcloud, or that band you heard about in a passing conversation that you feel like you'd dig that would make your day if only you heard them live. There's a reason live music outfits and productions held in legendary bars are a great way to have some fun, and the regulars are great part of it. Here are the people you'll definitely see:
1. Music Photographers
Picture this: you're at the front, thinking your friends are bobbing their heads to the music behind you, and you turn around to dance with them –– but instead you're face to face with a DSLR and the eager person behind it. A staple of every production, there's always that one guy or girl snapping away at the band on stage, or your sweaty face. They usually have a dedicated Instagram or page dedicated to live music photography, and are the distinctive sources of the profile photos of your musician friends.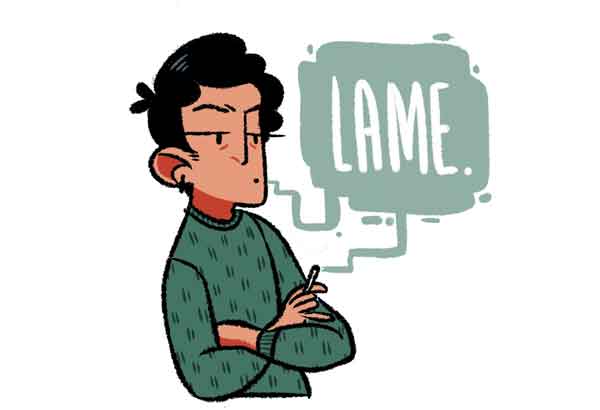 2. Cigarette Critics
Immediately after (insert favorite band here)'s set is over, they usually go outside for a smoke with like minded people, raving about that one riff, dissecting the difference of the live version of a certain song, talking about a band's old, definitive album, or how their new stuff isn't up to par. You won't miss the click of cigarettes and the clink of bottles outside.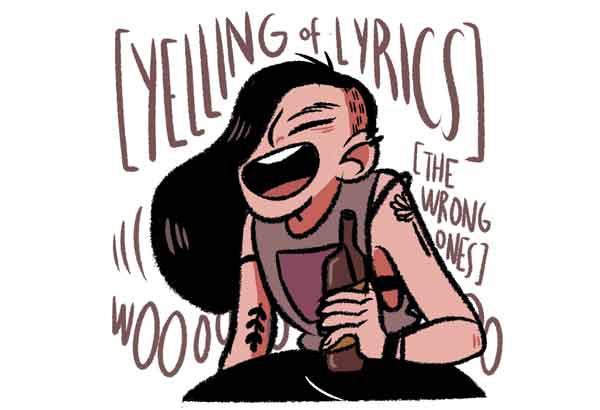 3. Wasted Watermelon Moshers
They appear later in the night, usually on their fifth beer, thoroughly wasted, watermelon-ing their way to mouthing all the words of the chorus. If you're open enough to very claustrophobic dancing, they are your new best friends.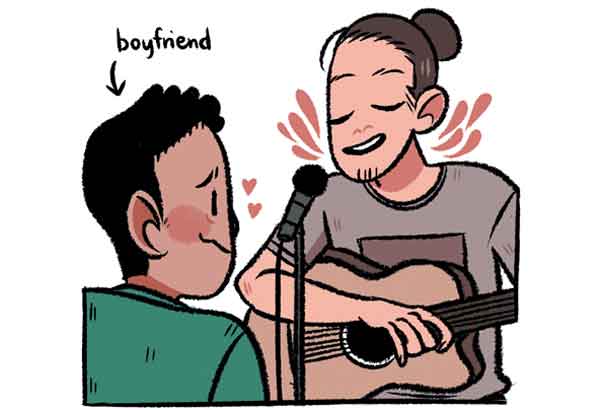 4. Shotas x Jowas
A very persistent and endearing cliche ––– they're with the band, literally. The usual recipient of free passes and free drink stubs, the boyfriends and girlfriends club are latched and inseparable from their musician loves, and you'll usually find them taking the "thank you for coming" photo post on their smartphones, cheer-yodeling after every song.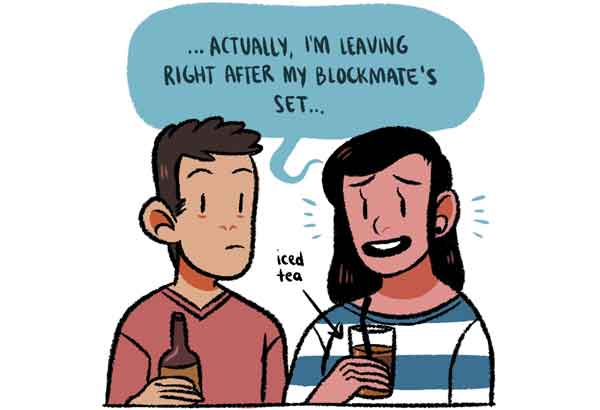 5. Gig Virgins
An emerging band's support system –– their college blockmates, high school friends, cousins, and maybe you, if you feel like googling what's happening at Route 196 or SaGuijo next week and feel like seeing it for yourself, and if you get used to the atmosphere, you might just end up as one of the above.