Malaysia celebrates Michelle Yeoh as first Asian to win Oscars Best Actress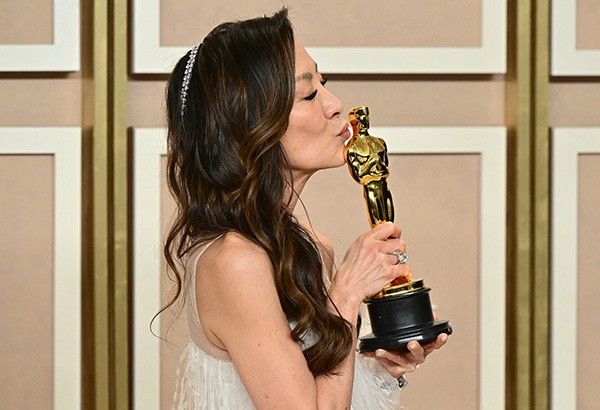 KUALA LUMPUR — "Malaysia boleh!" cried Michelle Yeoh's mother in a video chat with her daughter minutes after her historic Oscars win was announced -- citing a popular slogan that loosely translates into "Malaysia can do it!"
"I'm very happy... I'm proud of my daughter. She is very hardworking," Janet Yeoh told reporters after her daughter became the first Asian woman to win the Academy Award for best actress.
"I'll call her to come back (to Malaysia) and celebrate very soon. Next month is my birthday."
She and other relatives and friends of Yeoh's were gathered at a live screening of the awards ceremony at a Kuala Lumpur cinema, where there were loud cheers, embraces and tears of joy the second the announcement was made.
"It was such a jaw-dropping moment," Yeoh's niece Vicki said.
"I was speechless, I cried. Everything was, it happened so quickly. We are so happy that she won, that our auntie won...
"We kept telling her: 'You will win... You're going to stand on stage with the golden man," she said, referring to the Oscar statuette.
'Pride of Asia'
The 60-year-old Malaysian actress won the award for her role in the sci-fi film "Everything Everywhere All at Once," beating Cate Blanchett who had long been favorite to win a third Oscar for "Tar."
"Everything Everywhere" follows a Chinese immigrant laundromat owner locked in battle with an inter-dimensional supervillain -- who happens to be her own daughter.
Emily Ng, a Yeoh fan, said: "She is the pride not just for Malaysia, but she is the pride of Asia as well."
The former Bond girl was born to Malaysian-Chinese parents in 1962 in the city of Ipoh, 200 kilometres (125 miles) north of Malaysia's capital, Kuala Lumpur.
She embraced dance as a child and specialised in ballet, which she studied in England.
On a vacation while visiting family, her mother entered her in the Miss Malaysia contest without consulting her.
"I agreed to go to shut her up," Yeoh, who went on to win the beauty pageant, told a talk show.
A back injury made her give up her dancing career, but by the mid-1980s, she was using the body control she had learned in ballet to appear in action films alongside the likes of Jackie Chan.
Yeoh was awarded the title of "Tan Sri" by the Malaysian king in 2013, one of the country's highest honorifics bestowed upon civilians.
Meanwhile in Hong Kong, where Yeoh worked for a decade before becoming a Hollywood star, Secretary for Culture, Sports and Tourism Kevin Yeung congratulated Yeoh, calling her a "shining star with impressive achievements".
"This is a testimony to the strong potential of Hong Kong's talents and film industry," he said.
RELATED: Michelle Yeoh makes history as first Asian to win best actress Oscar