3-D animation art at the Lucap Wharf welcome visitors to the Hundred Islands National Park in Alaminos City, Pangasinan.
Contributed photos by the Public Information Office-LGU Alaminos through Ramil Rapues, Ruben Pacis, Kristine Tolentino and Susan Yadao
Hundred Islands – for real and in 3-D
ALAMINOS CITY, Pangasinan, Philippines – The Hundred Islands National Park (HINP) welcomed guests again starting July 1.
Miguel Sison, city tourism officer, said the HINP would initially welcome 1,000 guests daily, or 50 percent of its original capacity, but only from the first district of Pangasinan up to Aug. 31.
By September, the HINP will be opened to the whole province of Pangasinan and, by October and November, to others from Region 1.
Depending on the situation by December, it might be open to tourists from all over the country, Sison said.
Vistors are advised to bring proof of residence like ID card and other requirements under the guidelines set by the Inter-Agency Task Force to ensure safety of guests and employees and prevent the spread of the coronavirus.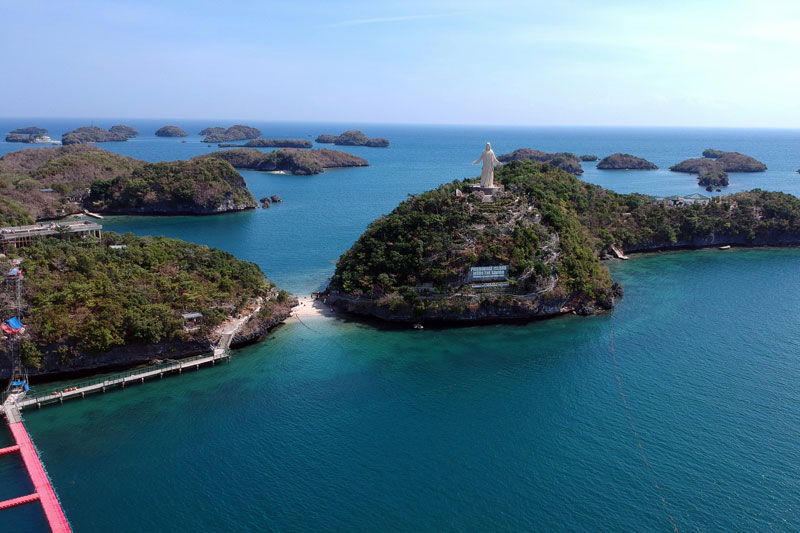 Also on July 1, the 3-D animation floor tile art at Lucap Wharf, the jump-off point to the HINP, made by five young visual artists from Alaminos City was inaugurated.
Five artists of the Tanghalang Sandaang Pulo Visual (TSPV) led by James Ison began working on April 29, when the country was placed under community quarantine.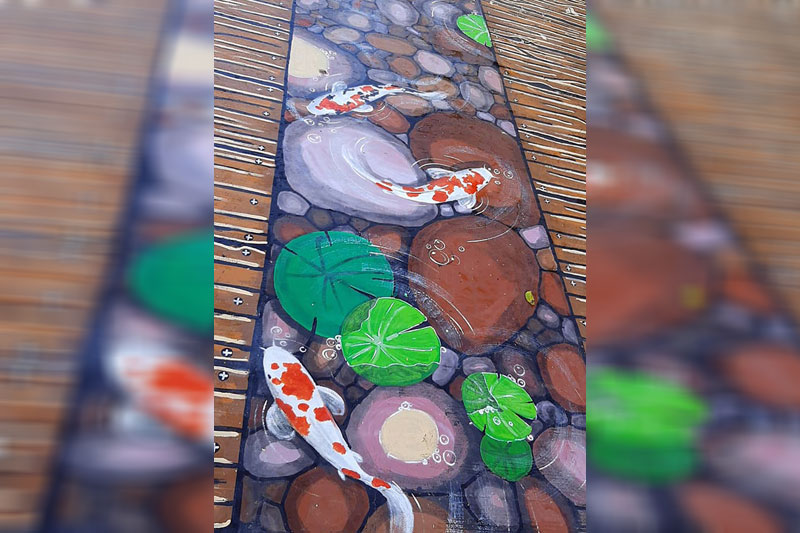 TSPV is a sub-group of Tanghalang Sandaang Pulo Cultural Group Inc., of which Ison is project director.
The artworks feature three islands out of the 100 islands at the HINP – Quezon Island, the most developed island; Pilgrimage Island which features a 56-foot Christ the Savior image and life-sized Stations of the Cross sculptures and the newly-named Sandal Island.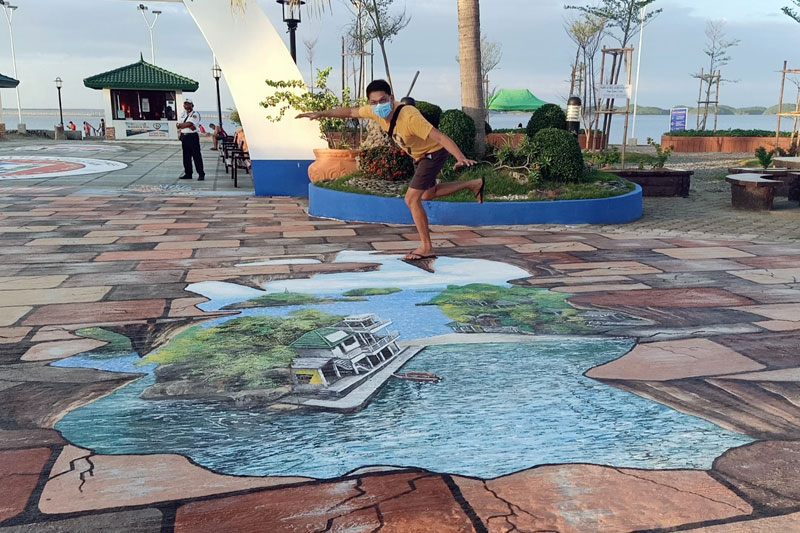 Standing beside the 3-D images, an illusion shows cracks and sunken islands on the ground.
"It's like you're underground seeing the islands, it's like the floor was broken," Ison said.
Ison was joined by his two younger brothers, Ulysses Ison and Melquisedec Ison, and their groupmates Zaldy Alvis and Marx Paywan. It is a community project done in collaboration with Mayor Arth Bryan Celeste, who met with them for possible projects that would entice more visitors once the community quarantine is lifted.
The paint used was sponsored by Nippon Paint Coatings Philippines, courtesy of De Vera Paint Center.
"It gives us a great feeling that as local artists, we are able to give even a little happiness to the people that despite this crisis we are facing, there's still so much joy and color in this life," Ison said.