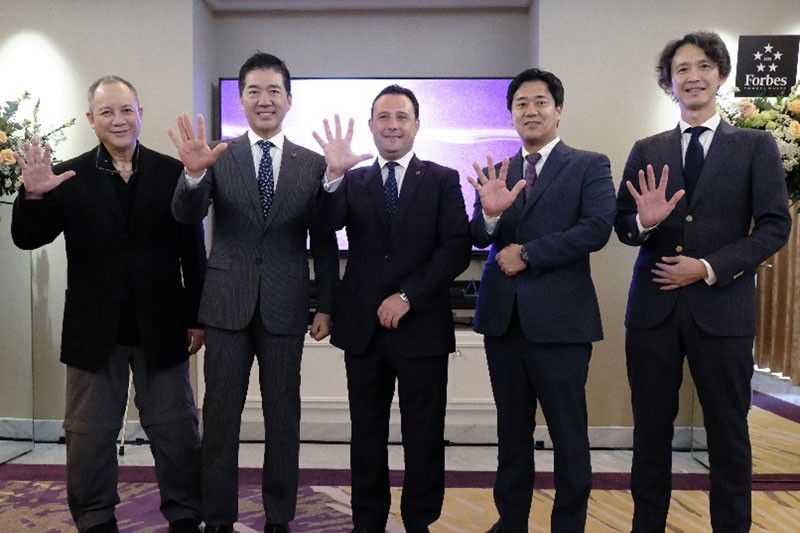 GETTING FIVE (left): Okada Manila vice chair Tony Cojuangco, co vice chair and president Takashi Oya, SVP for hotel operations Ivaylo Ivanov, SVP for food and beverage Koji Fujishiro, VP for corporate marketing and communications Noritada Shimizu.
Philippines properties in Forbes Star Awards
MANILA, Philippines — The country continues to gain recognition from the international travel community as four new Philippine properties have been included in this year's Forbes Travel Guide Star Awards.
Among these properties are hotels Okada Manila and Shangri-La at the Fort, which landed the 5-star and 4-star rating, respectively.
"One look at Okada Manila and it's apparent why the opulent hotel is called 'Manila's Grand Icon'," Forbes Travel Guide said, referring to the 993-room hotel.
"Divided into the Pearl Wing and Coral Wing and connected by a golden skybridge, the building has marble interiors that are lavishly adorned with jewels, precious stones and vibrant shades of plum and blush, giving it a warm sense of welcome and easing you into an enjoyable and luxuriously relaxing stay," it added.
Forbes cited Okada's The Fountain, the the largest multi-colored dancing water feature in the world, as one of the hotel's offerings to look out for.
"Taking up the equivalent of 50 Olympic-sized swimming pools, it has more than 700 high-powered water jets, 23 high-fidelity speakers and thousands of vivid lights – all performing in sync to pop songs or classical pieces," it added.
As for Shangri-La at the Fort, Forbes identified its Kerry Sports, an exclusive 86,111-square-foot sports and leisure club, as among the features to look forward to at the hotel.
"It has an NBA-grade indoor basketball court, two tennis courts, two indoor squash courts, an outdoor lap pool, top-of-the-line gym equipment and exercise studios for yoga, Pilates, spinning, boxing and mixed martial arts," Forbes said.
Forbes also cited the hotel's retail and food offerings.
"Squeeze in some retail therapy when you browse the more than 30 shops found within Shangri-La at the Fort. Afterward, take a stroll down One High Street to peruse a collection of exclusive restaurants, including the only non-US branch of LA's iconic Pink's Hot Dogs," the travel guide said.
Aside from the two hotels, two Philippine spas also made it in this year's awards, namely Nuwa Spa Manila and The Retreat Spa at Okada Manila, landing in the 5-star and 4-star rating, respectively.
The Nuwa Spa Manila is located within the Nuwa Manila at the luxury integrated resort City of Dreams Manila entertainment complex.
"Here you can rejuvenate, refresh your senses and relax your body with world-class services accentuated with warm Filipino hospitality," Forbes said.
It added that the spa suites are ideal for those who want to max out their hours of relaxation and/or for guests who want a fun activity with friends or romantic partners – one could easily while away the day in one of these large, beautiful and peaceful spaces.
Meanwhile, Forbes dubbed The Retreat Spa as the city's newest and grandest center for relaxation.
"The Retreat Spa aims not just to work out your kinks, but to pamper beyond measure. Just think of a bespoke barbershop where you get to enjoy a glass of premium whiskey while getting a haircut or shoe shine, a salon to cater to all your glamorizing needs and a healing, rejuvenating spa," the travel guide said.
With the inclusion of the four new developments, there are now 15 Philippine properties included in the Forbes Travel Guide Star Awards.
Among the other properties cited in the previous editions of the awards are Conrad Manila, Fairmont Makati, Hyatt Regency Manila City of Dreams, Makati Shangri-La Manila, Marco Polo Ortigas, Nobu Hotel Manila, Nuwa Manila at City of Dreams, The Peninsula Manila, Raffles Makati, Sky Tower at Solair Resort and Casino and the Sofitel Philippine Plaza Manila.
"Forbes Travel Guide scoured everywhere from the Spanish Colonial Revival-style buildings of Santa Barbara to the sparkling waters of the Seychelles to find its 2020 Star Award winners, an elite group of the world's most luxurious hotels, restaurants and spas," the travel guide said.
It added that it ventured to 16 countries – Antigua, the Bahamas, Cambodia, Egypt, Fiji, French Polynesia, India, Jordan, the Maldives, Mauritius, New Zealand, Russia, Saudi Arabia, Scotland, the Seychelles and South Africa – for the first time.
"To uncover the most outstanding properties, Forbes Travel Guide's incognito inspectors check into a hotel for a minimum of two nights, posing as ordinary guests and paying their own way," Forbes Travel Guide editor Jennifer Kester said.
"Then they test up to 900 objective, exacting standards – including whether a staff member greets them curbside within 30 seconds of arrival, whether clothing left around a room is folded neatly or draped and placed within immediate view after turndown service and whether the staff uniforms demonstrated exceptional design," she added.
Kester added that the ratings tabulate 75 percent of a hotel's score based on its service, while the remaining 25 percent is determined by the quality of its facilities.