Genting dream: A weekend at sea
December 22, 2019 | 12:00am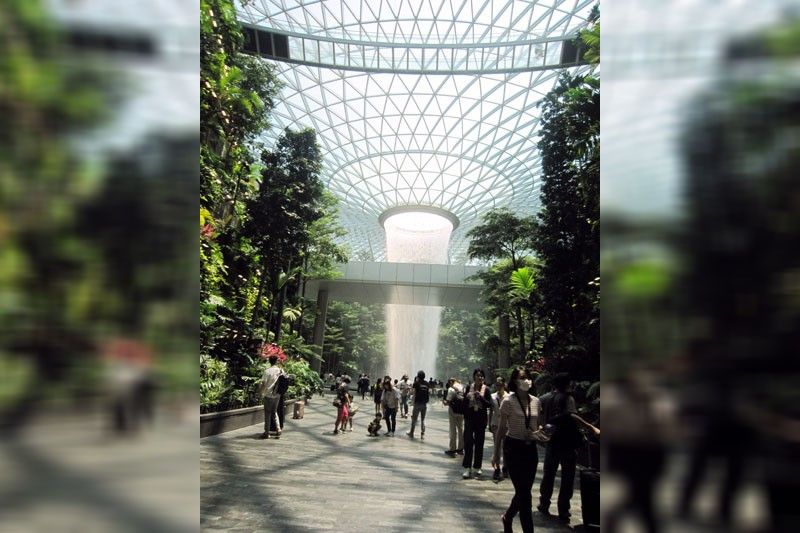 If a weekend is all you can spare from your busy schedule, two nights aboard Genting Dream could very well be the magic pill that you need to revitalize your weary spirit and get you recharged and ready for another busy week ahead. Think of it as a floating staycation with an upgrade, what with the luxuries and amenities on board, plus an option to take an escorted shore excursion to boot.
Genting Dream, the first luxury cruise ship of the fleet of Dream Cruises of Genting Hong Kong, sails on a series of two-, three- and five-night cruises from her homeport in Singapore.
We took the early Friday morning Singapore Airlines flight from Manila to Singapore and experienced their special FlyCruise Transfer Service package sponsored by Changi Airport. The package allows passengers "seamless convenience from the airport onward to the cruise. It includes an end-to-end luggage transfer, lounge access, cabin key card collection at the airport, and one-way ground transfer from Changi to the Marina Bay Cruise Centre." How convenient. You can feel your stress-filled work week starting to melt away already.
It is not difficult to see why Singapore Changi Airport has been rated as the World's Best Airport by Skytrax for the seventh consecutive year since 2013. And as if still not satisfied with the accolade, they've added Jewel Changi to the complex, a nature-themed entertainment and retail complex that is linked to three of the airport's passenger terminals. Its centerpiece is the Rain Vortex, said to be the world's tallest indoor waterfall at 40 meters high. With its indoor gardens, leisure facilities and attractions as well as more than 300 retail and dining facilities within its 10 stories — five above-ground and five basement levels — you will hardly notice the time pass until it's time for you to proceed and embark on the ship for your luxury getaway.
Genting Dream was purposely built in Germany for the Asian market with luxury in mind. Over 70 percent of the staterooms feature private balconies, with over 100 connecting staterooms, ideal for extended families and large groups.
The Palace is "a ship within a ship" with two floors of lavish suites featuring European-style butler service as well as VIP facilities including its own swimming pool, spa, gym and dining venues.
There's a wide variety of restaurant and bar concepts including the popular Singaporean nightclub Zouk, as well as Bar 360, whose first outlet can be found in Resorts World Manila. Exquisite Chinese and fusion dishes are served at the Silk Road while Umi Uma features premium Japanese cuisine, a sushi bar as well as teppanyaki prepared by seasoned Filipino chefs. Blue Lagoon serves Asian hawkers favorites. The inclusive buffet restaurants Dream Dining Room (upper and lower) offer a Chinese menu while The Lido offers international as well as Indian and Halal buffets.
We cruised in calm waters overnight and woke up to a clear sky as we neared our port of call in Bintan Island, Indonesia. The first stop on our shore excursion was the Gurun Pasir Busung sand dunes, an abandoned mining site that now somewhat resembles an Arabian desert, a great photo op for Instagram. Telaga Biru or Blue Lake, a crater filled with rainwater, looked like an oasis in the middle of the desert.
At the Sangharama Temple can be found the statue of the Chinese God of War, standing 16 meters tall, said to be the largest in Southeast Asia. Opposite the temple entrance we saw the Giant Turtle Statue facing the sea. The turtle is believed to symbolize long life.
Lunch was at a local seafood restaurant. There was a sudden downpour that stopped just as suddenly as it started. We proceeded to the Trily Resort Center Mangrove Forest and took a leisurely stroll on the elevated boardwalk along the mangrove. Final stop was at a local souvenir store for pasalubong shopping.
The entertainment onboard is something that Genting Dream takes great pride in. No wonder. A lot of effort and energy has gone into the creation and performance of every show. "Our main strong selling point is the production show and the theater itself," says Genting Dream cruise director Mathew Joseph. "We have two production shows."
These are "Sonio: A Tale of Two Dreams," which features dancers and acrobats, about the life cycle of a child who grows up to be a teenager struggling to get his freedom. "It's aligned with our ship's brand, the Dream brand itself," Joseph remarks. "'Sonio' is a continuation of 'The Voyage of Lover's Dream' which we had before, which was about an astronaut and a mermaid and how they meet. We carried this show for more than a year and it got many good responses."
"Some Like It Hot" features ballroom dances with a live band. "Our shows are multimillion-dollar productions, from the costumes to the props and the lights," adds Allan Bernardino, assistant cruise director. "Apart from that, among our entertainers are international award winners and even a Guinness World Record holder."
"We have a shore entertainment team based in Hong Kong and in Manila as well," Joseph explains. "They recruit the dancers and acrobats. They are the ones coming up with the concept of the show, the planning and the costumes, lights, music, choreography. The rehearsals are done onboard the ship. It's like a three-month period of production preparation."
The nightly shows are presented at the Zodiac Theater which features high technology sets including a revolving stage as well as special effects.
Besides the production shows, the cruise director together with his team plan the entire entertainment and program of activities onboard Genting Dream. "We plan the lineup of programs according to the kind of customers expected in the cruise," Joseph explains. "So we do a survey of the nationality as well as age breakdown about three to four days prior to the start of the cruise. And based on that, we basically know what they would like to do."
He continues: "If there are more teenagers, for example, we will do more challenges, more pool activities. There are the ropes courses and zip-line, rock-climbing wall, giant water slides and swimming pools, mini-golf, bowling, even a jogging track. For senior citizens, there are dance classes, Bingo, and trivia game shows. There's also a 24-hour karaoke room.
"We also do a lot of activities for the kids so the parents can have their own time as well," he adds. "We have a junior bridge officer activity where the kids can go up to the bridge and they get a chance to meet and talk with the captain. They can do the junior butler where they dress up like a butler and we bring them to the Palace lounge where we do basic classes like greeting class and normal table etiquette classes. They can experience being part of the housekeeping crew. They can attend pizza-making as well as sushi-making classes."
Meanwhile, the parents can spend their time at the fitness club, beauty salon or barbershop. The ship has the largest reflexology spa at sea. Or they may just want to wander around the ship, visit the art gallery or shop at the duty free stores and boutiques.
Something to look forward to are the fireworks on the final night. "We are the only company which has a license to do fireworks on the sea," Josephs says.
"We have close to 20 different nationalities working on the ship — Indonesian, Malaysian, Chinese, Vietnamese, Japanese, Indian, Philippines," he shares. Of the 1,200 crew on the ship, about 40 percent are Filipinos. "The guests will be more comfortable with their own. We understand their needs and what they expect. We are very flexible."
For Joseph, Genting Dream is all about the experience: "Inspirational journeys at sea that's Asian at heart and international in spirit. That's what we aim to deliver at an international level but with an Asian hospitality touch. It's a magic touch that you don't get everywhere. That's something which makes our brand Dream Cruises stand out, that's different from all the others."
* * *
For information, call 8836 6080, Jan Lynch Imbat 0917-637- 0794 or email [email protected].