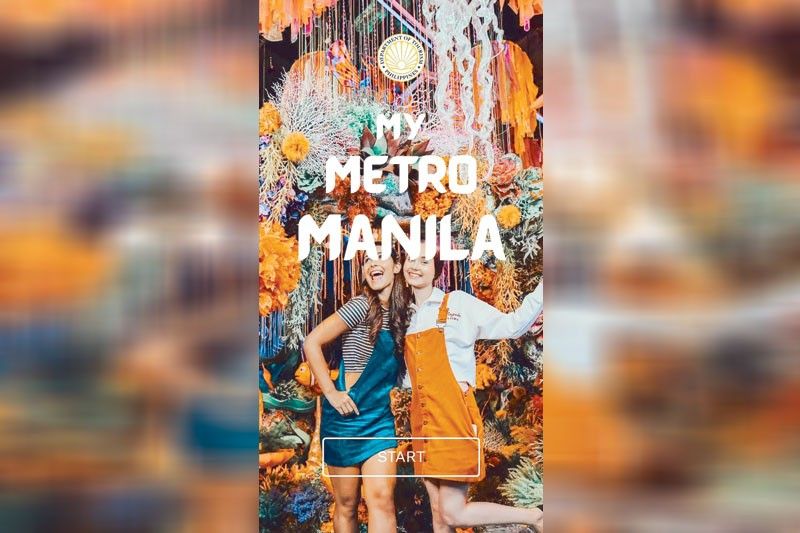 Eat your way around Metro Manila
The National Capital Region (NCR) unit of the Department of Tourism (DOT) launched Metro Yummy Picks, a guide to the iconic food and restaurants of Metro Manila.
"Through this guide, the DOT-NCR sends an invitation for local and foreign visitors to sample Metro Manila's delicious dishes and restaurants," DOT-NCR regional director Woodrow Maquiling Jr. said.
Around 10,000 copies of the Metro Yummy Picks food guide have been printed and will be distributed across the country.
In addition, an online version of the guide is available on the MyMetroManila app. The app is currently available for download on Android and will be available in iOS next month.
"When it's a mobile app, it can reach even a million people across the globe," Maquiling added.
Some cities have been known as food destinations for a long time, while some towns are getting recognized by travelers and those seeking adventure through their restaurants and food spots.
For instance, Lugawan sa Tejeros has become synonymous with Makati City, located in Barangay Tejeros, near the office of the Philippine Racing Commission.
Ethel de Vera, one of three owners of the family-run business, used to cater to residents living near its store since it was established in 1965. "It was more of masa, kasi malapit lang sa kanila (it's near them)," she told The STAR.
When her family took over years back, they reinvented the menu, with the addition of lugaw with lechon kawali, a Filipino rice porridge topped with bits of deep-fried pork, chives and a whole hard-boiled egg, priced at P45.
"Dati along the street lang ang customers namin… Nga-yon mga office-based, mga professionals na ang pumupunta sa amin," she said.
Lugawan sa Tejeros would even receive customers from as far away as Cavite and Laguna. "Kung may event sila rito sa Makati, they normally come here, sakay ng mga van-van."
They now also accept bulk orders. "Nakilala ang Lugawan sa Tejeros kasi nakadikit na sa pangalan ng Makati (We're known because we're synonymous with Makati)," she said.
It has opened a branch in Signal Village, Taguig City, and is set to open another in Sta. Ana, Manila by next year.
Meanwhile, most people equate the town of Pateros with balut, or undeveloped duck egg, and duck dishes like caldereta.
This was what couple Marlyn and Edwin Acosta exploited as they ran a school canteen for 13 years.
Now running a catering business for almost four years, they added more dishes like adobong balut or balut bibingkang abnoy, and ice cream blended with a local sticky rice pastry called inutak.
Aside from duck delicacies, Pateros is also known for alfombra or footwear with carpeting, Marlyn shared.
The City of Mandaluyong has been home to Adelina's Ham, which has been selling sweet-glazed hams for 64 years.
Customers from all over the metropolis, even balikbayans, line up at its store along Gen. Kalentong street to grab its famous honey-cured bone-in or boneless whole-leg hams that can cost up to over P1,000, said Dindo Sanchez, sales manager of Adelina's. The late Adelina Homo-uy, who owns the business, was his mother-in-law.
"Ang mga balikbayan ginagawa nilang pasalubong ang mga ham (Balikbayans give ham as gifts)," he added.
Customers can also get to taste Adelina's boneless hams through its ham pandesal.
Meanwhile, Muntinlupa City has its own recipe for suman – rice cake wrapped in banana leaf – thanks to the ingenuity of suman maker Malou Enriquez.
What makes the suman ng Munti different from other kinds of suman, she said, is that her suman is filled with both fruity and savory tastes.
All kinds of fruits – jackfruit, pineapple, banana, strawberry – in season are used in their suman, she told The STAR. They also have ube, asado and even arroz ala valenciana fillings.
Enriquez started her business in 2005, after her recipe won in a food festival in China with support from the city government, she recalled.
The city government would also purchase her suman as welcome food for the city's local and foreign visitors.
Since her suman carries the name of Muntinlupa, it is also her way of introducing her city to visitors.
DOT-NCR partnered with Explora.ph to create the MyMetroManila app, which shows tourists sights to see, places to eat and other relevant information about Metro Manila, aimed at making traveling within the city easier and more convenient.
In addition, the mobile app also comes with a real-time messaging feature enabling interaction between its users and DOT-NCR representatives.
"Travelers can now have a local travel buddy in the app ready to answer queries and make every trip within the city a memorable one," the DOT said.
Moreover, the app will soon feature DOT-accredited tours and accommodations, through which users can immediately make bookings.
Maquiling said future versions of the MyMetroManila app will include other languages aside from English.
The DOT-NCR is targeting to launch the food guide in other parts of Metro Manila such as Alabang and Quezon City.
The regional director added that more editions of the food guide will be released in the future.
"This is the first edition, certainly there will be more coming, considering we have to go to other LGUs because I think there are other iconic dishes that were not included but should be part of the second edition," Maquiling said.
The DOT-NCR's program, part of the DOT's "Kain Na!" culinary tourism program, "puts the spotlight on the National Capital Region's diverse foodscape," DOT secretary Bernadette Romulo-Puyat said.
"Food is the only resource that brings people together," she added.
She also believes that Filipino food "is not just a trend or the next big thing, but is already 'the' thing."
Puyat also said that Filipino food "is not encapsulated by a single dish."
"The thing about Filipino food is its complexity and diversity… Filipino food does not impose a particular taste or presentation, but it adjusts to foreign palates," she said.
"Filipino food is the eloquent testament to the Filipino brand of hospitality," she added.