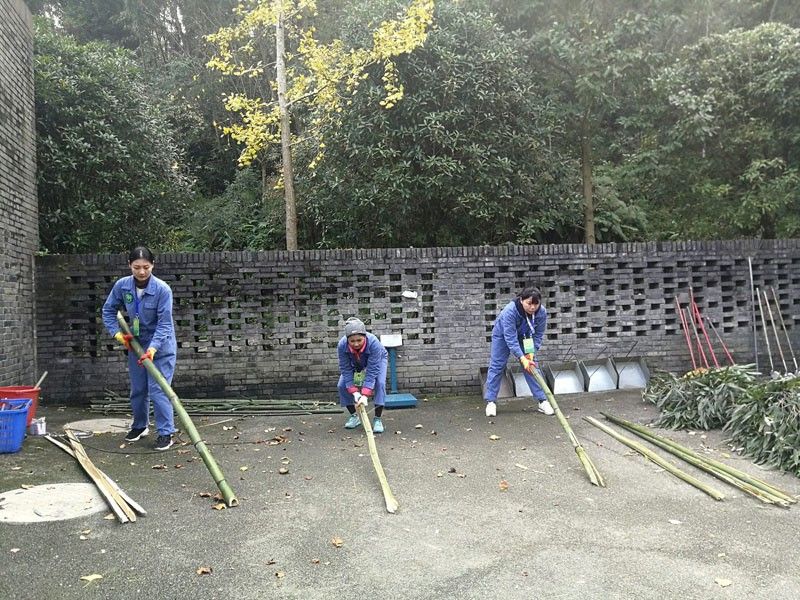 Bamboo poles are beaten on the concrete ? oor to make them chewable.
Panda Volunteer for a Day
MANILA, Philippines — Centuries ago, thousands upon thousands of them freely roamed the mountains of Beijing and the Himalayas. In the 1980s, their numbers dwindled to a disquieting 1,500 plus. The alarm bells kept conservationists and the Chinese government scampering to save the rare, shy and gentle giant pandas, China's national treasure. We look at them as cute and cuddly attractions in some zoos. But behind every adorable panda is either a heartwarming or an amusing anecdote, while some stories could pass for tearjerkers, except that the main star is a placental mammal.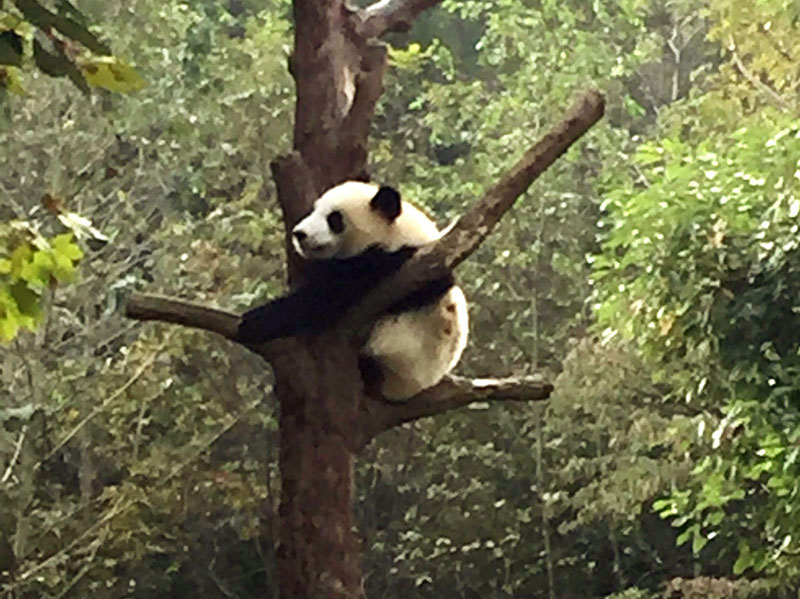 On a recent trip to Chengdu, the capital city of Sichuan province in southwest China, I enlisted as a panda volunteer for a day at the Dujiangyan Panda Base, home to more than 40 pandas. Our duty called for an eight-hour work starting at 8:30 am with breaks in between. After the orientation that highlighted the rules and safety requirements (I jerked at the reminder to beware of snakes under the bushes), I slipped on a blue jumpsuit, the prescribed working clothes, put on a pair of safety gloves and a beanie to keep my head warm.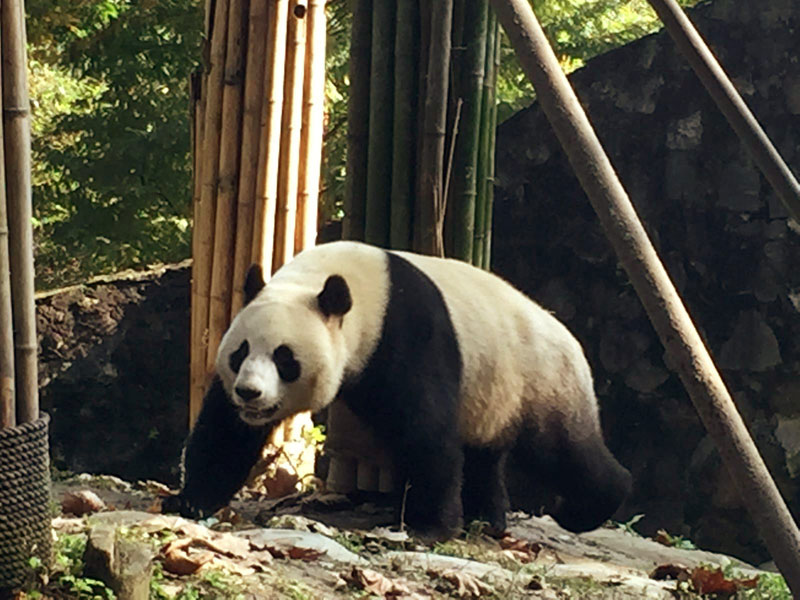 It was a lovely autumn day. On our hike to an enclosure where our first duty would begin, the morning sun beamed and impeccably blended with the chilly fall breeze. The golden leaves of ginko biloba trees lining the road danced along. Panting from the trek and excitement, I imagined us being introduced to our lovable ward for the day. Instead, the panda keeper, in a very straightforward manner said: "Now you can start to clean the garden. Make sure to separate the poop from the leaves," as she demonstrated the proper way of scooping out manures with a ladle-like implement and a dustbin. Surprisingly, panda poop, the shape of an oversized mango, is not smelly at all. While they are carnivores, pandas eat a special kind of bamboo, some fruits, vegetables and panda cake. The reason their droppings are kept in large bins is they are recycled into paper including the ones used for painting. No wonder, many years back, while in a Chinese painting class in Hong Kong with my son, we asked our laoshi (teacher) why the paper smelled differently. I still remember her impish smile when she said because it's made from bamboo.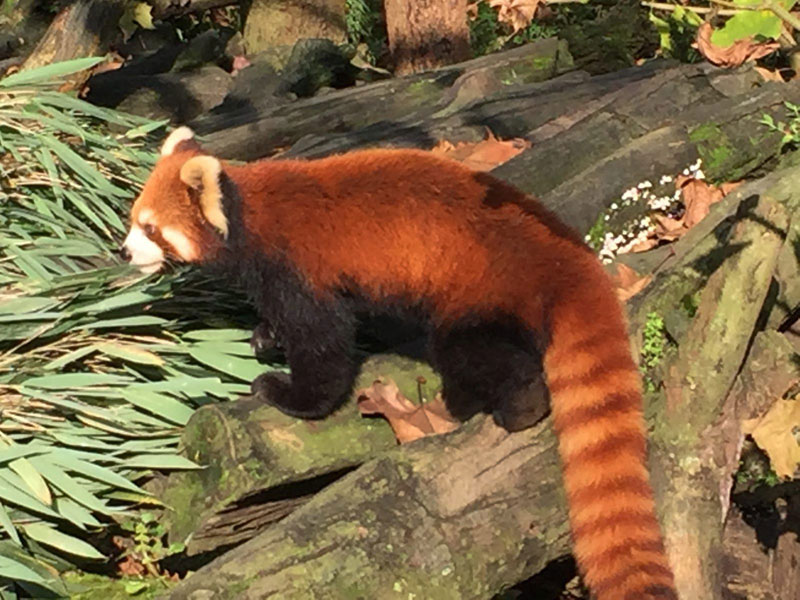 After cleaning the garden, our next job was to prepare the bamboos. With very tight grip, we slammed one by one -- on the concrete floor until they split into chewable pieces a pile of two-meter long bamboo poles, about two-three inches in diameter. (This task was fun but quite challenging. A week after I left Chengdu, my shoulder blades still hurt.) Then we brought the ripped bamboos to the garden and spread them into a ledge and implanted the fresh leaves in holes on the ground. This way, it's easy for the panda to reach for his food. In a moment we heard the clanging of the pen door and there appeared Tai Shan, our ward for the day! Tai Shan is a 14-year old male panda born on July 9 in Washington Zoo in the United States. He was returned to China (pandas have to be given back to their original home) and is now one of the residents of Dujiangyan base.
While Tai Shan enjoyed his breakfast, the remaining tasks were divided among us, three volunteers. I opted to clean Tai Shan's pen (about the size of a studio type condo unit), first again by gathering his droppings then washing the area with flowing water using a long hose then drying it up with an absorbent foam tool. By around 10:30 am, we were done with the first three chores and given an hour to visit parts of the 51-hectare reserve to have close encounters with other pandas.
Born on November 20, 1993, Yue Yue is active and playful despite her age (pandas can live up to more than 30 years). She loves to tumble and roll around her playground. Seemingly aware of tourists taking her picture or video, Yue Yue would often show off by standing up to reveal her height (senior pandas can be more than1.3 meters when standing) or would attempt to quickly climb up a tree. The youngest pandas are twins Nian Nian (female) and Zhi Lu (male) who were born over a year ago at another panda base, the Wolong Shenshuping. Unlike Yue Yue, the twins prefer to sleep more. Pandas are solitary and their daily routine is to eat, sleep and play. We, volunteers daydreamed of how nice it would be to live like a panda even for a day or two.
Just before winding down our break, we visited the compound of a unique specie called the red or nine-day wolf panda. Larger than a cat and with a long tail, a red panda looks like more of a raccoon. We also dropped by the place of two black bears, a couple named Xiong Da and Xiong Er who were rescued from Ganzi District in Sichuan Province. Finally, we stopped by the grave of Pan Pan, whose bust imposingly stands in a prominent side of the camp. It is said that a good number of pandas in the base are Pan Pan's offspring, thus earning him the title, "Hero Panda." He died at a ripe panda age of 31.
At exactly 11:30 am it was time for Tai Shan's lunch. He appeared thrilled with his next meal: slices of carrots, apples and panda cake. It was a chance for us to see our ward up close inside his pen but with steel bars in between. Unlike professional panda keepers, volunteers are not allowed to cuddle or go very near the pandas sans safety barriers. They can be aggressive to strangers we were told. Still, it was amazing to look into Tai Shan's dreamy eyes and hand him slices of carrots, which he gobbled up in seconds. As we took turns in doing the chore, we all smiled at how charming the encounter was.
With the pandas' breakfast and lunch taken care of, it was time for us to join the park's security guards, drivers, attendants and keepers for our own lunch at the employees' canteen. Holding our stainless steel tray, bowl and wooden chopsticks, we queued up for servings of rice, steaming hot radish soup with pork, smoked tofu and sautéd vegetable loaded with red chili cooked Sichuan style. The meal was a treat for famished workers like us!
Female pandas have very narrow chance to mate: two days in a year. Spring is the breeding season for pandas. Male pandas attract females through a distinct bleat. When pandas are born, they only weigh from 80 up to100 grams and are pink in color. When a panda gives birth to twins in the wild, the other one is usually left to die. A mother panda is capable to take care of only one cub. If they are born in the conservation site, the keeper takes care of them. They are kept warm in an incubator and nursed by the mother panda, with the keeper doing the trick of alternately bringing the cubs to the mother every after two days for six months. All these and more we learned from a one-hour documentary. It was amazing to know about Dr. Zhang who devoted more than 30 years of his life in his tireless effort to breed pandas. Though still endangered, the number of pandas had since grown to more than 2,000. The story of Tao Tao, a panda born in a semi-wild environment, touched us. With the dedication of keepers like Merry (she's been working at the panda base for 13 years now), Tao Tao was raised to learn ways of survival for almost two years. Merry and her team researched on and used several techniques of panda parenting to prepare Tao Tao go back to his real home. Like all goodbyes, Tao Tao's release and separation from his mother was emotional especially to Merry who trained and nurtured both mother and cub. Poignant as it was, Merry knew Tao Tao had to go back to the wild where he belongs. Seven years after his release, Tao Tao remains in good health. Trained and committed personnel at the China Conservation and Research Center for the Giant Panda (CCRCGP) keep track of him through a chip implant.
We spent the rest of the afternoon doing the same chores we did in the morning except for the penultimate one, which was to prepare panda cakes made of corn flour, honey, some salt and sugar. After shaping them into circles they were kept inside the fridge for four hours before baking. We all wondered how panda cakes taste like.
Walking back to the center after my duty, I pondered on why I first wanted to volunteer and what I gained from the program. It guided me to a greater understanding of the distinctiveness of the pandas and the urgency to protect and preserve them. It led me to a deeper appreciation of the laborious effort of patient keepers and persevering researchers who have dedicated their lives working in the base. It allowed me to recognize why the Chinese government and private entities spend millions of dollars for undertakings aimed at preserving their national treasure. I simply wished to see the pandas face to face in their natural habitat. But my whole day, enriching experience as an "honorable keeper, panda nutritionist, love feeder" other monikers for panda volunteers gave me more than what I wished for.