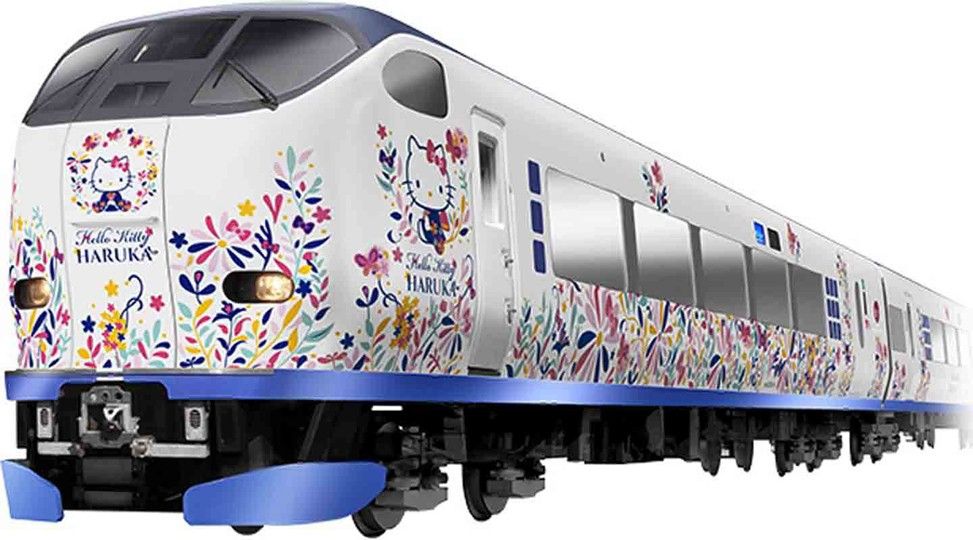 Klook, the world-leading travel activities and services booking platform, lets travelers book train and JR West Line rail tickets bundled with tours and attractions. (Right) A popular train is the cute Kansai Airport Express Hello Kitty Haruka. Photo from jr-hellokittyharuka.jp
Osaka, Hiroshima and escaping a typhoon on the Shinkansen
CRAZY QUILT
-
Tanya T. Lara
(The Philippine Star) - November 10, 2019 - 12:00am
When the strongest typhoon since 1958 is about to hit Japan in the same week that you are there, plans are bound to change. In the days leading to typhoon Hagibis' landfall, whenever I posted a picture or story on Instagram, friends would message me: "Are you all right?" "Is it very bad there?"
Osaka was spared from the terrible damage that Hagibis wrought upon the greater Tokyo area, which had to cancel over 1,600 flights in its two airports while trains were either running late or cancelled.
We were in Japan on a media fam tour with Klook, the world-leading travel activities and services booking platform, spending a few days in Osaka and Hiroshima. Founded in 2014, Klook is now in over 100 countries with over 100,000 activities and services. Klook allows travelers to book tickets for train, tours, SIM cards, theme parks and other attractions in more than 350 destinations.
If Klook existed when I started traveling solo almost two decades ago, my life would have been a lot easier! What used to take several websites to book tickets for tours and attractions can now be done on a single platform.
Even before we — journalists from Southeast Asia — left our respective countries, we had already booked tickets online with Klook's partner, JR West Line, which offers packages for train and attractions.
In October, our five-day JR Kansai Hiroshima area pass included tickets to Universal Studios Japan (USJ) and Harukas 300 Observatory. This month, it's a Kansai Hiroshima area pass and Setoda free pass combo package. These packages are available in the Philippines, Indonesia, Malaysia, Singapore, Thailand and Vietnam.
Anyway, back to plans changing during a typhoon. That Saturday, Oct. 12, we were scheduled to travel on Japan's Shinkansen from Osaka to Hiroshima, but because it was a long holiday weekend (Monday was Health Sports Day) and the typhoon had made landfall, train stations were packed with travelers. We managed to change our reservation of non-reserved seats, which allows you to sit only in particular cars on the train, to reserved seats on the JR West Line, and redeem the tickets on vending machines.
Leaving behind a wet Osaka on the Shinkansen traveling below its 300 km/hour and a bento box for lunch, the experience couldn't have been more Japanese.
THE QUIET BEAUTY OF HIROSHIMA
If all the pictures from that day when the US dropped the atom bomb on Hiroshima in 1945, the one that hit me the most was the picture of a woman with half her back bare and burnt. The bomb exploded 600 meters from the ground, but the heat was so intense that the dark-colored portions of her kimono pattern were burned into her skin.
The Hiroshima Peace Memorial Museum, located in the park where the ruins of the Atomic Dome stand, is a somber reminder of the horrors of war — but it is also a reminder of how a city can rise, literally, from the ashes. The park is beautiful with a river dividing it, it is lively with music, people, dogs being walked, and above all this is a certain kind of quietness. Perhaps out of respect for those who died, for the city that was decimated.
In a dimly lit room in the museum and laid on black exhibit tables are clothing, shoes and hats worn by people in Hiroshima that day.
In contrast, on the ground floor where sunlight streams through glass walls was a special exhibit of drawings by survivors, first collected in 1974 after a 77-year-old man walked into a radio station and showed what he had drawn, his recurring nightmare three decades after the bomb dropped. In 2002, the radio station again called for survivors to submit and they now total 3,500.
There are drawings of corpses floating in the river, of people fleeing the flames, a father carrying the body of his son wrapped in a straw mat — but because they are made with colored pencils and crayons, we are reminded of what that day left behind as if through the eyes of children.
Seeing these, I loved Hiroshima even more and felt like I was there for the first time.
Outside the city is a town called Takehara, which is often compared to Kyoto but with fewer tourists and a little quieter. Houses from hundreds of years ago still stand, many of them converted into restaurants, boutiques, bakeries, shops that sell souvenirs and teach you to make bamboo windmills (a tip: bring cash, they don't accept credit cards).
A ferry ride away is Rabbit Island where the rabbits outnumber the people living there by 300 percent (there are 30 human residents and 1,000 or so rabbits). The rabbits are all over, sleeping, playing with each other, waiting for tourists bearing food and cameras.
OSAKA SO FUN
If Tokyo has Shibuya, Osaka has Dotonbori — this crazy fun district of restaurants, cafes, shops and the neon Glico Running Man. On Dotonbori bridge there's always that one person holding a sign for "free kisses" and a hundred more taking pictures with the neon billboards in the background.
What really amuses me about this area are the extravagant signs on the restaurants — a giant octopus for takoyaki, a cow for yakiniku, giant sushi and sashimi — you don't even have to look at the menus to know what they're serving, you just have to look at what's dangling above your head.
To see just how sprawling Osaka is, head to Harukas 300 Observatory (ticket was included in our JR West package). Best time to go is late afternoon to catch the city in daylight, sunset and nighttime from the 60th floor.
Then there's Universal Studios Japan (USJ), which is unlike any other Universal Studios in the world just because of the Japanese's love for dressing in costumes. Halloween was three weeks away when we were there but I had never seen so many people wearing headbands of a cleaver slicing their heads or a shark eating them.
USJ has the Wizarding World of Harry Potter, so set aside a full day to enjoy it all. Don't miss Harry Potter and the Forbidden Journey, which is ranked as the World's Number One Ride for five consecutive years. With ultra-realistic images of your fave characters, it feels like you're in Hogwarts alternately playing Quidditch and battling Dementors.
The Three Broomsticks restaurant has two kinds of Butterbeer — frozen and regular (the frozen gets my vote). Choose to dine al fresco because you have the lake and Hogwarts Castle in the background.
It was a long fun day in the park and when others wanted to stay on till closing time, it was easy for me to get back to Namba alone. I had my ICOCA card and, as Hermione would have me do, I waved a wand and alohamora'd (unlocked) my way back to the city.
* * *
For more information and to book tours and attractions, visit www.klook.com.
Visit the author's travel blog at www.findingmyway.net. Follow the author on Twitter and Instagram @iamtanyalara.