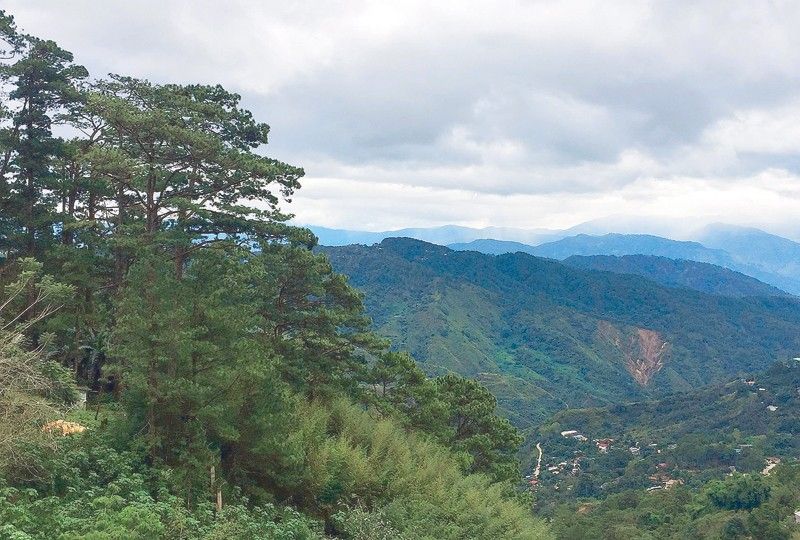 Enamored still with Baguio
Except for the mist that eclipsed our view from the car window, there was something – rather, a few things – amiss in that uphill trek. I longed for the tranquil scene of fresh towering pine trees and their crisp scent wafting from a window ajar. Even the fiddly sense of dizziness as the vehicle gradually negotiated the zigzag road and the eerie feeling of looking down at cavernous cliffs were gone.
I imagined admiring the pockets of houses accessible only through a hanging bridge safely nestled along the mountains and hoped to see the gigantic lion head that seemed to loudly roar "Welcome to Baguio!" Even that we missed, as we had to pass through a different route.
All I had in mind was the Baguio of old. The once serene summer getaway is now obscured by modernity. But in my heart I knew, the Baguio magic was still there. I had my expectations but I chose to put them aside for that particular trip. A weekend getaway we called a celebration of 30 years of friendship, our own version of "Otherhood." For me specially, it's a coming back of sorts – to the city I once called home, where I spent my freshman and sophomore years as a curious student at the Baguio campus of our State University.
Starving from a four-hour trip along seamless northbound expressways, our first stop was a late lunch at Café by the Ruins, which at 3 p.m. was still packed with guests queuing up for a table. It was worth the 30-minute wait for a variety of comfort food laid before us: bagnet sinigang, pinakbet and an heirloom recipe of steamed bamboo shoots with shiitake mushrooms, homemade ham and steamed chicken served with red rice. We sealed the meal with the irresistible house specialty, Lola Lou's ensaimada con chocolate or brewed coffee and justified the extra orders as merienda, not dessert.
It's been more than a decade since I visited Baguio. The commercial has taken over from the familiar. But I opted to focus on the latter: balmy mornings, afternoon rains, chilly nights and memorable places in the warm company of three soul sisters.
The unpredictable weather is what makes Baguio constantly charming. It is perhaps for this reason that people flock to the city for brief weekend holidays or long summers. How pleasant it is to watch couples, families or group of friends stroll along the expansive Burnham Park, blend in with the residents as they go up and down the stretch of Session Road or dine at cozy cafés, all garbed in hoodies or winter clothes with matching beanies or scarves. Where else in the Philippines can one experience almost all the four seasons except in Baguio?
Sipping coffee from our balcony on a sunny Sunday, we saw the cathedral's spire and set it as our first stop for the day. I used to climb to church via Session Road and would oftentimes count the steps up to the entrance. On that weekend, there was a citywide event, Session Road was closed to traffic, the churchyard was overflowing with mass goers and on one side of the grounds was a throng of busy shoppers. We nevertheless did what was customary –a group photo with the cathedral as background, attended mass then stopped for pasalubong shopping of sweets, chips and the usual Baguio take-home – a back scratcher.
What's a trip to Baguio without a stop at one of its famous landmarks, The Mansion? For some it may just be a nice and popular backdrop for photo ops but historically speaking, the summer residence of Philippine presidents has served as a venue for significant events by agencies of the United Nations. In lieu of Mines View Park, we went instead to the Shepherd's Gallery of the Good Shepherd Convent to gaze at a more unobstructed view of the mines. It felt different but we consoled ourselves that there still was a view, we could still smell some fresh hint of pines and drop by the shops for take-home delicacies. It's just a pity that strawberry and ube jams were not available then.
Camp John Hay used to be densely filled with lush, soaring, verdant pine trees and pine cones were scattered almost everywhere. On that visit, this scene was reduced to a memory. While the towering trees were still there and attractions such as the Bell House, its nearby amphitheater and the queer yet amusing Cemetery of Negativity still exist, they obviously all need a facelift. These destinations are fixtures and popular spots for Baguio visitors; upgrading them will certainly help bring back the charm and glory of the ever-enchanting city.
New restaurants and cafés have sprouted all around Baguio and we have tried one or two. Yet we still opted to dine at more familiar ones, the Hill Station at Casa Vallejo being one of them. We relished the tomato and pumpkin soup, Mediterranean and Hill Station salads, linguini with sundried tomato and a fish dish. Our post-lunch destination was the public market where we enjoyed shopping for fresh vegetables, queued up for variants of ground coffee and beans at Garcia's House of Coffee and sometimes haggled for souvenir shirts, trinkets and breadbaskets.
We entered the market with only our cross body bags; we left the place with a sack bag each, bigger than a carry-on luggage and had to hire one of the comboys or local porters to transport our goods in his cart to our car. Just when we thought we bought all that we needed or wanted, one of us somehow regretted not being able to get another one-of-a kind Baguio finds – the ubiquitous walis tambo or soft broom with the bold "Baguio City" label on the handle. With this, we all had a good laugh!
Looking at what we have stashed, recalling the new places we have discovered, the old ones we have revisited and the loads of wonderful memories we shared on that trip, the four of us were all of one heart and mind in saying that despite what the city has become, how it is regarded as a picture of urban decay, for us, the Baguio magic still remains and we are still enamored with it.