Lose yourself and discover Manila at Amelie Hotel
November 1, 2019 | 12:00am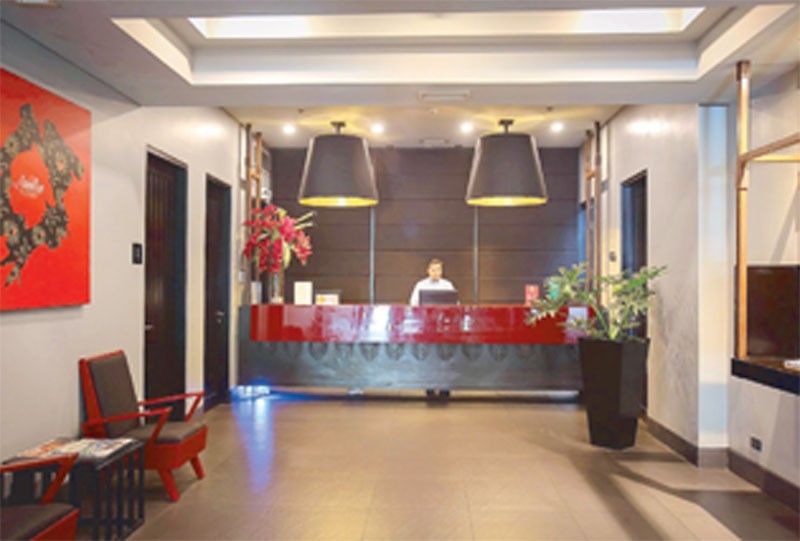 MANILA,Philippines — It can be overwhelming at times, and it would be easy to lose yourself in this place, the nation's capital and home to millions of stories waiting to unfold. But to be lost in the city is to truly discover Manila. And to discover Manila, stay at Amelie Hotel.
Located along J. Bocobo street in Malate, Amelie Hotel has the good fortune of being positioned less than 200 meters away from the area's most prominent shopping mall. For those who like to walk it's even better. There are a ton of sights and tourist spots in its immediate four-kilometer radius rich in Philippine colonial history, unique food discoveries and entertainment.
The hotel exudes a warm but colorful vibe, reflecting the artsy atmosphere of its decidedly bohemian locale. From the lobby's locally-produced wooden chairs and miniature Spanish galleon, to the art deco-inspired lobby floor and streetmap of Malate on the elevator doors, one can extract the spirit of Old World Manila mixing with the new. Hallways are enveloped in that same old world aesthetic but sprinkled with a dash of art featuring many interpretations of classic Filipino attire.
According to the hotel's brand director Mark Abellon, inspiration came from the 2001 Jean-Pierre Jeunet film, Amélie, with the title character played to perfection by Audrey Tautou.
"Amelie is independent and artsy," Abellon said. "So, I think along those lines, we kind of fit those characteristics as a hotel."
Independently-owned, Amelie Hotel aims to show travelers that there's more to the Philippines than just its history. "There are other perspectives from local artists here. And we kind of wanted to expose (guests) to that, even if just a little bit," he said.
"I think what really draws people here is the location," Mark continued. "There are facets of Manila, old Manila, that you can kind of see throughout the property. But it's really a base for people to discover Manila."
Robinsons Mall is less than a few minutes of a Billie Eilish song away. Shopping and groceries can be done there, but there are certainly many other retail and food options scattered along the many streets of Malate.
"When we travel, you walk. I think as a traveler walking is something that you would expect to do. That's how you kind of discover little things," he said.
Tourists, if they decide to stay in Manila, can really witness the fabric of the city. Mark sees the advantage. "You see the street vendors, you see the tricycle drivers, which you don't see if you stay in Makati or The Fort," he asserted. "Yes, there's traffic. However, as a traveler and if you're really interested in culture, there's a lot of eye candy here. A lot of things to look at. That's what we can offer here."
Amelie Hotel has partnered with a handful of tour groups ready to take guests on historic walks around the walled city of Intramuros; or on food trips to Binondo, the oldest Chinatown in the world.
"For the more adventurous, some of these tour operators go to the Muslim quarters of Quiapo, which a lot of people don't know about," Mark added. "So, I think there are a lot of things for people to discover."
The conversation inevitably goes back to the hotel, which has its fair share of comfortable and convenient features for travelers expecting a great hotel stay.
Available for the intrepid Manila adventurer – or professional on business – are three room types, well-appointed with relaxing queen-sized beds and all the amenities for a comfortable stay.
The standard Deluxe 1 room is good for one or two guests and has one queen bed. Deluxe 2 can accommodate up to four persons with two queen beds, and the Executive only has one queen bed for up to two guests but a large floorspace to accommodate a sitting area with a sofa.
All rooms have bathrooms with all the amenities: hair dryer, toiletries and warm and cold showers. A mini-bar and safe are available. Guests can choose rooms that look out on either J. Bocobo or Adriatico street.
Cross the beautifully designed hallway adorned with artwork from local artists and take an elevator to the roof deck, where a conference hall, lounge area, gym and swimming pool are offered exclusively to guests.
Hotel operations manager William Castro says that the 100-sqm indoor area can fit up to 80 people, with the additional 40-sqm lounge able to accommodate even more.
Going back down to the lobby, guests can explore classic Filipino comfort food at the hotel's Braska Restaurant. A section of the restaurant's wall is made completely from wood, rescued from the owner's ancestral home which stood right where the hotel is, back when J. Bocobo was known as Nebraska street.
The classics are well-represented with crispy pata, pan-grilled Norwegian salmon, pork sinigang and the restaurant's signature kansi – an Ilonggo-style sour soup. Don't forget to ask for the sans rival or salted egg-flavored macarons for dessert!
Braska offers specials for guests throughout the work week. On Happy Mondays, it's buy one, take one on beers or cocktail carafes. Tuesdays, it's 20 percent off on the menu. At the mid-week it's 12-peso Wing Wednesdays with a minimum order of 12 chicken wings. And on Thursdays and Fridays it's Karaoke Nights, updated with various food and drink specials for groups of friends.
Aside from that, the restaurant also offers a buffet breakfast at P399 for hotel guests and walk-ins alike.
Whether you need a convenient place to stay for business, or are looking for a cool place to drop your bags, Amelie Hotel, like its film namesake, takes you by the hand and guides you through the sights, smells and sounds of a Manila in resurgence.
For more information, visit www.ameliehotelmanila.com