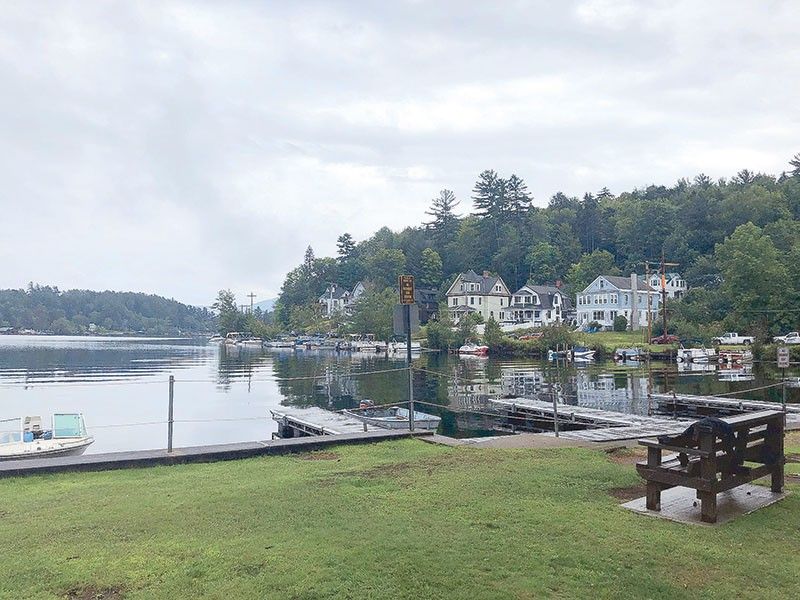 The serene and picturesque Lake Saranac.
Saranac and Placid: More than just lakes
Edu Jarque
(The Philippine Star) - October 13, 2019 - 12:00am
MANILA, Philippines — We were ecstatically cocooned in our rustic four-bedroom cottage in the middle of the woods by a river at the end of a dirt road. It was a nippy morning and we smelled the fresh crisp air. There was dew on the ground and we literally heard a nearby river flow.
We were in the outskirts of the mountain town of Russell, New York, which in the past was often described as Upstate. But today, it is more appropriately known as the Northern County, some 350 miles from the pulsating island of Manhattan.
Unannounced, Glenn, my Cebu-based brother-in-law, who was on a holiday in his ancestral home built in the 1860s just a stone's throw away from us, dropped by to announce like the wildcard that he is, "Hate to do this to you, but we're all going on a road trip today!"
One and a half hour away was Lake Saranac. In the midst of such spectacular scenic beauty of forested mountains and tributaries of rivers, we ambled around downtown, which reminded us of a movie set. This popular heritage tourism hub, considered one of the best small towns in New York, has likewise been named as part of the Dozen Distinctive Destinations by the National Trust for Historic Preservation.
Our first stop was the Saranac Laboratory. Erected in 1894 and running till 1964, it was the first structure in the country exclusively dedicated to tuberculosis research and to discover its possible cure. Today, it has transformed into the Saranac Lake Museum.
Dr. Edward Livingston Trudeau, an American physician seriously ill with the dreaded disease, visited the area in 1873. It seemed the mountain climate significantly improved his health. So he settled and established the locality as a world-famous health resort and became a pioneer in medicine, continuously conducting research.
The present-day museum is a reflection of the laboratory and a significant part of the resort of yore, which mirrored the routines of the patients. Though most were bedridden, they were transported on their reclining "cure chairs" in and out of the veranda to benefit from the curative properties of the mountain air.
Among the hopeful patients exposed to the treatment by this wonder of nature were W. Somerset Maugham, author of the novel Of Human Bondage; Stephen Crane, best known for his Civil War novel The Red Badge of Courage; Bela Bartok, a Hungarian composer and one of the greatest of the 20th century; and Garry Trudeau, American cartoonist best known for creating the Doonesbury comics.
What caught our eye was a white brick wall which bore names of those who spent time in the region. Of note were former Philippine president Manuel L Quezon and literary great Robert Louis Stevenson.
Out of curiosity and, of course, self-imposed nationalistic duty, we asked more information on Quezon. But they could only point us to a booklet which had a short writeup of each patient.
There were more stories on Stevenson, author of Treasure Island and Dr. Jekyll and Mr. Hyde, which sparked our drive to the Robert Louis Stevenson Cottage and Museum, where the respected writer inked some of his most iconic works. Though there were potted flowers in full bloom on a tidy tiny veranda overlooking a well-kept garden, the place hosted various manuscripts, memorabilia and even personal belongings.
The entire abode was well-preserved, thanks to the Stevenson Society of America, that it felt as if the genius of letters and words himself was still present.
There, we chanced upon a book entitled Cure Cottages of Saranac Lake: Architecture and History of a Pioneer Health Resort by Phillip L. Gallos published in 1985, which celebrated the compassionate community and the preservation of the buildings that were utilized in this struggle.
We read an excerpt that President Quezon, accompanied by his Secretary of Information and Public Relations Carlos P. Romulo, lived in a house owned by Alfredo Gonzales in 80 Park Avenue as part of a group of Spanish speaking patients.
The search was on. Due to the torrential rains, we almost gave up; however, we chose to soldier on for more clues.
Crisscrossing the drenched yet picturesque town on a slow-roaming vehicle, we finally stopped at a two-story red brick structure which was President Quezon's "cure cottage," where he spent some days to recuperate.
Though there were parked cars and children's bicycles in the backyard, we rang all six doorbells in the six-apartment residential home. Sadly, no one answered. We were left wondering which of the units he had stayed in.
We investigated for more leads. We found out that Quezon, as the head of the Philippine government in exile in America during World War II, was invited by US President Franklin Roosevelt to Camp Massapequa, first in June 1943 and again in June 1944, when he contracted TB.
Feeling triumphant on the discoveries of the day, we took a quick drive to Lake Placid – by the Adirondacks mountain range – a village with several art galleries, wide range of restaurants and more spas than the usual. We heard that the area promises great outdoor activities, with countless trails which stretched to thousand of miles.
Proudly displaying flags of competing countries, the Lake Placid Olympic Center was the only North American complex to have hosted two separate Winter Olympics: in 1932 when 16-year-old prodigy Sonja Henie won a gold medal in figure skating and in 1980 when the US men's hockey team routed their Soviet Union counterparts to win a gold medal, a thrilling match best remembered as the Miracle on Ice.
As we circled the coliseum, we hopped from rink to rink and spotted skaters showcasing figure and speed skating skills, perhaps in preparation for future competitions.
Nearby was the US Olympic Training Center, which continuously assists in the development of Olympic and Paralympic athletes. Even on an ordinary day, youthful energy abounded as they encouraged each other to keep on with the hard work. It was a refreshing and inspiring sight to witness.
We ventured by the Lake Placid Winter Museum and were immediately in awe at such memorabilia as the bobsled 1932 gold medal which was missing for over half a century, mementos of the memorable Miracle on Ice encounter and even the Olympic Torch which traveled to the US for the 2002 Winter Olympic Games in Salt Lake City. We even stood on the illustrious Winner's Circle as we relived the adrenaline-pumping moments of yesteryears.
By the end of this particular day, we had taken long walks, watched the sun set, played fun games, built campfires together, counted the stars as darkness crept in while family and friends slowly settled down for the evening after yet another home-cooked dinner, making for even more wonderful memories.