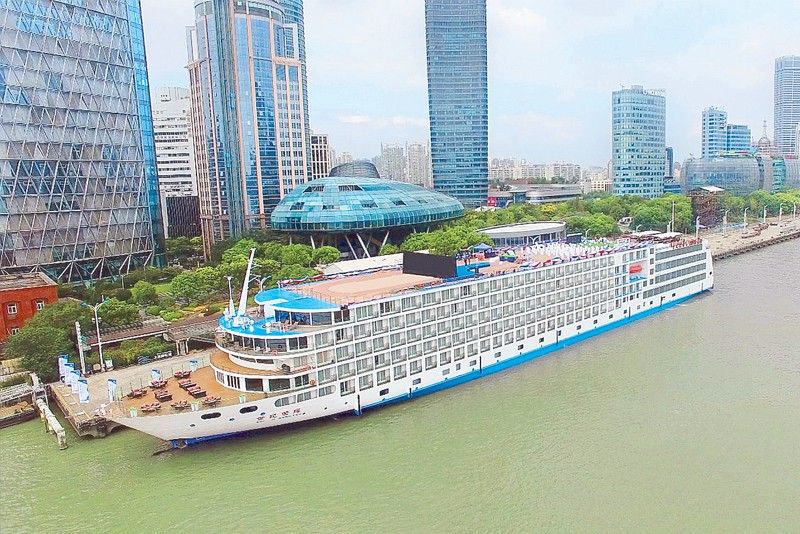 Century Glory docks in Shanghai for its inaugural voyage to Nanjing, Yichang and Chongqing through the mighty Yangtze River.
Doreen G. Yu
(The Philippine Star) - September 29, 2019 - 12:00am
With much fanfare, Century Cruises launched earlier this month its newest ship to ply the popular Yangtze River-Three Gorges Dam route, from Chong-qing in northwestern China to Yichang in Hubei province.
MANILA, Philippines — The 15,000-ton Century Glory is the cruise line's newest and largest ship that can accommodate 650 passengers in 5-star luxury. The RMB300-million ship has five levels of cabins, each one with a private balcony. Cabin sizes are spacious, from a minimum of 26 sqm for Deluxe and Superior cabins to 34 sqm for family suites to 71 sqm for the Glory suite and 85 sqm for the Presidential suite.
The cabins have amenities comparable to 5-star hotels, from bathrobes and slippers to in-room safe and refrigerator to ship-wide WiFi and thick, fluffy towels from Cotton USA.
The cabins are all situated in the front of the ship away from the engines, eco-friendly hybrid engines which are quieter than previous generations of engines. The company introduced the propulsion system and rudder propeller system in 2013, which resulted in less noise and less vibration on the ships. The Century Glory is built with a double hull for greater safety; 300 on-board monitors are directly linked to their headquarters in Chongqing so that all aspects of the ship's operations are closely watched.
Multi-level scenic restaurants offer daily breakfast, lunch and dinner buffets of Chinese, Asian and Western cuisine; a specialty restaurant offers hot pot and a la carte dining. In-ship entertainment include videoke rooms, a spa, gift shop, library, a 2,000 sqm roof deck, a 220-seat theater, themed activities like calligraphy and tai chi lessons, as well as performances by international artists (the inaugural sail featured two Filipino singers).
The Yangtze River-Three Gorges Dam cruise is one of the most popular river cruises. The 4 days/3 nights (5 days/4 nights for the return cruise) takes you through breathtaking scenery. Explore the majestic three gorges – Qutang Gorge, Wu Gorge and Xiling Gorge – as well as the Lesser Three Gorges and Fengdu Ghost City, a large complex of shrines, temples and monasteries dedicated to the afterlife.
The Three Gorges Dam is the largest hydroelectric dam in the world, with a capacity of 22,500 megawatts generated by 32 turbines. The dam, 2,335 meters long with a maximum height of 185 meters, reportedly cost RMB203 billion (about $31.76 billion). A system of locks was used to get ships up and down the dam and took up to four hours; a new lift that started operation in late 2016 now raises and lowers vessels in about 40 minutes. Experiencing this engineering marvel is definitely a highlight of the cruise.
Century Cruises, which owns Century Glory, is one of the great entrepreneurial success stories in China. Pang Jianhu used to be a tour guide, then ventured into selling cruise packages. He teamed up with Liu Yan (she is president of Century Cruises) and Alex Yue – which explains Century Cruises' logo showing three stylized figures – and in 2003, they launched their first ship, the Century Star. It was the first river cruise ship in China with cabins that had private balconies, introducing a new standard for the industry.
That same year, international cruise line Viking River Cruises came looking for a partner in China to run cruises on the Yangtze River which, with the Three Gorges Dam, have become increasingly popular with Western tourists. That started a partnership between Century and Viking that continues to this day.
With their success, Century Cruises added ships to their fleet in quick succession – Century Sky in 2005, Century Sun the following year, Century Diamond in 2008, Century Emerald in 2010 and, in 2013, their flagships Century Paragon and Century Legend, each with capacity of 392 persons. All the ships were built in Chongqing.
Another ship with the same 650-person capacity as Century Glory is expected to be launched in late 2020, while five other ships of the same capacity – already named as Century Victory, Century Voyage, Century Galaxy, Century Oasis and Century Dream – are slated to be built.
Richard Xie, deputy general manager of Century Cruises, told The STAR that while the current Chongqing-Yichang and back routes are very popular, they are seeking to maximize the value of their ships by exploring the mid and lower reaches of the Yangtze River, from Shanghai passing by places such as Yangzhou, Nanjing, Jiuhuashan, Lushan and Wuhan. These areas have tourism potential, but docks and piers are inadequate, as are the facilities in some of the attractions. Thus, local officials of these areas were invited to Century Glory's launch voyage from Shanghai to Nanjing, so that they may see and experience first-hand a luxury river cruise and discover how this can benefit their communities.
Century Cruises is looking beyond the Yangtze and is considering cruises along the historic Grand Canal and the Qiantang River in Zhejiang province.
But the company is setting its sights on even greater endeavors – tapping the huge number of Chinese travelers visiting Europe. Last year, Xie told The STAR, about six million Chinese visited Europe, 95 percent of them touring by bus. But river cruising in Europe – specifically the Danube and the Rhine – is gaining popularity among Chinese, especially seniors. Last year, Century Cruises chartered two ships for 200-plus Chinese tourists. Thus, the prospect of Century Cruises ships sailing along European rivers is bright indeed.