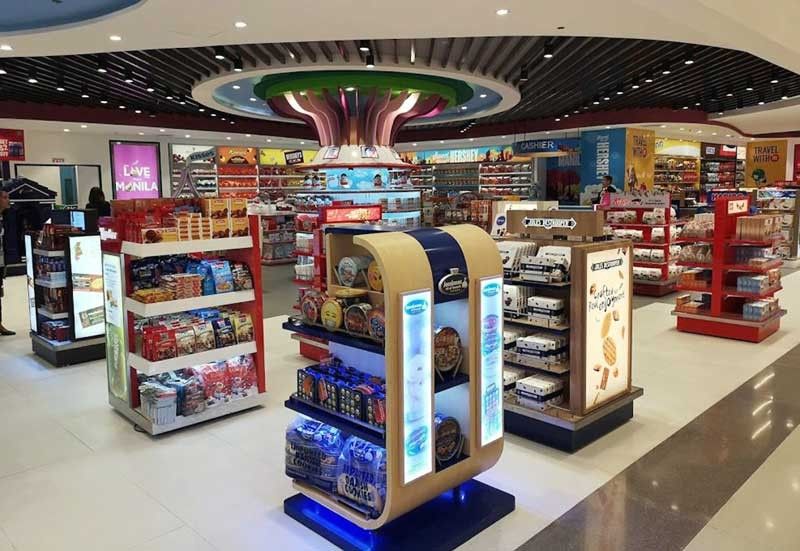 Shop for groceries at Duty Free's new supermarket at NAIA 3.
Duty Free supermarket opens at NAIA-3
MANILA, Philippines — Duty Free Philippines (DFP) has opened its first supermarket inside an airport located at the DFP Arrival Mall, South Arrival Lobby, Ninoy Aquino International Airport (NAIA) Terminal 3, making traveling and shopping much easier.
The over 800-square meter supermarket boasts a complete section of grocery items such as laundry detergents, shampoo, condiments, canned goods, frozen foods and snacks. It also has shelves for cereals, baby care, pasta and noodles, cheese, yogurt and other items.
According to DFP COO Vicente Pelagio Angala, "We came up with this idea to raise the bar of the Duty Free pasalubong shopping experience. Instead of buying grocery items abroad that will add to their baggage fees, they can shop the same brands when they arrive at the airport at a duty-free price."
DFP is targeting to hit $220 million in sales this year. Sales for 2018 reached $217 million. Based on data from DFP's Merchandising division, Filipino tourists, balikbayans and OFWs remain the company's top source market, followed by Americans, Chinese and Canadians.
Chocolates was number one in terms of sales at all DFP outlets, with 30 percent share in the total consolidated sales from January to June 2019.
The confectionery category is led by Toblerone, Cadbury, Hershey, Mars, Nestle and Lindt. These top six brands have a combined share of almost 65 percent of the total sales under the said category.
Currently, there are about 100 chocolate brands from premium to traditional chocolates sold at DFP. First-class chocolates include Godiva, Valrhona, Neuhaus, Munz, Goldkenn, Swiss Dream, Belgian Ritter Sports, Anthon Berg, Ferrero and Guylian.
Driving growth is the pasalubong packs (chocolates sold in bags) that have been the consistent bestseller among overseas Filipino workers (OFW) and balikbayans.
"We're finding pasalubong packs working exceptionally well, people want the larger packs for its value and exciting freebies," said Angala.
For every purchase of three pasalubong packs, a customer may choose from a wide selection of freebies such as luggage, electric fan, rice cooker, toaster, a toy car, air bed and others. Customers are also entitled to a raffle ticket for a chance to win mac notebooks, iPad, Bose wireless headsets and iPhone XS Max.
With the increasing popularity of online shopping, DFP's exclusive pasalubong packs can now be purchased online through dfp.com.ph.
When purchasing online, customers' flight details are required. Shoppers are allowed to buy up to $1,000 worth of items 48 hours upon arrival and their items will be prepared for pick-up at the airport.