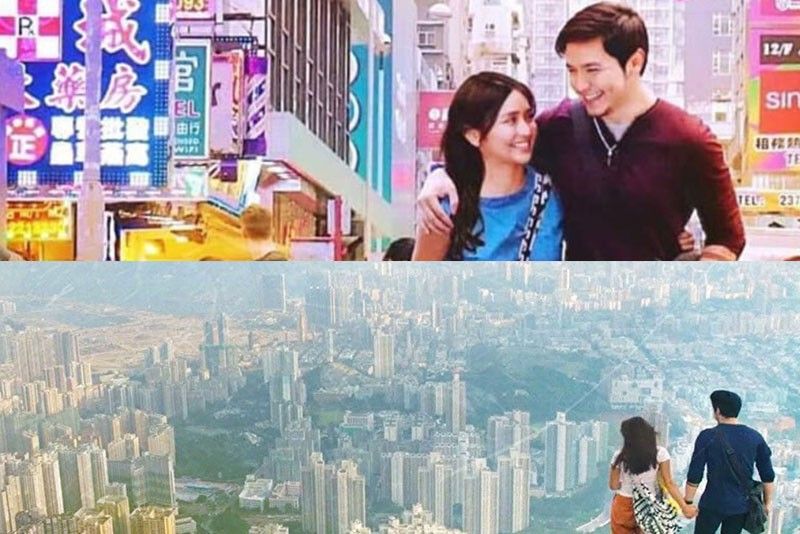 Scenes from "Hello, Love, Goodbye" featuring the Central area and mountains of Hong Kong
Instagram/Star Cinema
Tourism official: Hong Kong still safe for travelers
MANILA, Philippines — Planning a trip to Hong Kong but scared of the protests?
In an exclusive interview with Philstar.com prior to the screening of the Star Cinema movie "Hello, Love, Goodbye" last Wednesday, Raymond Chan, Hong Kong Tourism Board (HKTB) Regional Director for Southeast Asia, assured Filipino travelers that it is safe to travel in the urban hub despite the ongoing protests.
"Hong Kong is one of the safest cities in the world. Given the current situation, the tourism attractions in my opinion are not impacted, and transportation is still operating as it should," Chan said.
He guaranteed that "Hong Kong is an ideal getaway for lots of Filipinos" and one can still go there "anytime of the year."
Chan, however, advised that it is better to visit during winter or "Ber" months.
"To me, I would definitely advise Filipino travelers to try to visit Hong Kong during winter because… in just 90 minutes, Filipinos can experience to really get away from the corporate heat and experience cool weather and second thing, Christmas is a big thing for people in the Philippines and in Hong Kong as well and it's really festive in Hong Kong," Chan narrated.
"Hello, Love, Goodbye," starring Kathryn Bernardo and Alden Richards, was entirely shot in the former British colony.
According to Chan, half of the movie was filmed in Wan Chai, SoHo and Old Town in Central, as this area has been known for its bars and hidden gems like antique watches, which were included in the movie's plot.
Some of the film's romantic scenes also had Hong Kong's mountain views as backdrop. The financial haven also boasts of parks and outdoor getaways.
Apart from Disneyland and Ocean Park, among the new attractions to look forward to in Hong Kong is the gameboard-inspired theme park Monopoly Dreams, slated to open at The Peak this year, said HKTB Marketing Manager Suzanne Lim.
"Besides a lot of shopping, the lightings in Hong Kong are pretty amazing!" Chan vouched. "And don't forget about the New Year countdown in Hong Kong!"