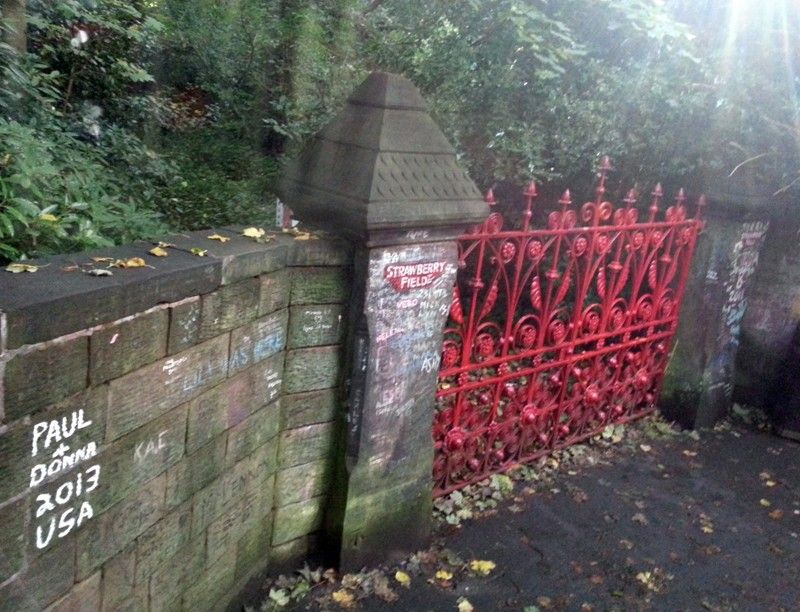 Let me take you down: The site of Strawberry Field, the old Salvation Army headquarters in Liverpool.
Liverpool: Yesterday… and today
People will go to great lengths to believe in yesterday.
Recently we saw Yesterday, a romantic musical comedy in which a struggling musician gets bonked on the head during a global blackout and wakes up in a world where the Beatles never existed, except for his persistent memory of their songs.
Well, imagine there's a town that acts like the Beatles never left, never grew up or grew old, never died? As though they're somehow still comingled in the spirit of the place, like mischievous sprites or something?
That would be Liverpool, circa forever, a place that lives off the legacy of the Fab Four until it occupies almost every pore of the town's being. At least, that is the illusion convincingly offered up to tourists and visitors.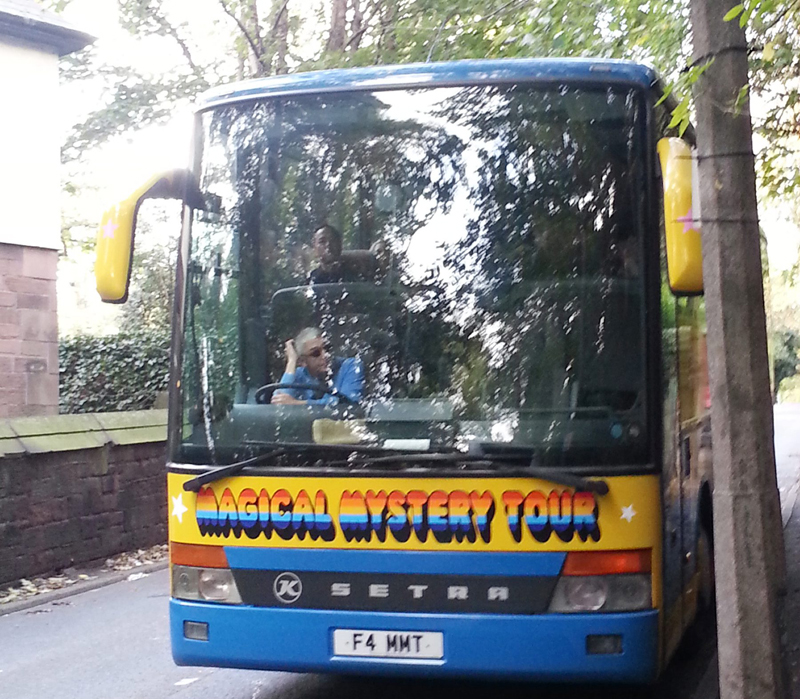 On Trafalgar's "Insider Experiences" tour, we saw how Liverpool stays Beatle to the core.
In fact Jack, the character in Yesterday, pays a visit to Liverpool to help jog his memory on forgotten Beatle lyrics. He visits Strawberry Fields and Penny Lane and the tombstone of a certain Eleanor Rigby.
I didn't need lyric reminders, though, because my experience of Liverpool was in the company of "Beatles expert" Philip Coppell, a John Cleese lookalike who possesses astonishing reams of knowledge about John, Paul, George and Ringo. In fact, he literally holds a master's degree in "Beatles Studies." It was all part of Trafalgar's "Insider Experience" tour back in 2013, a day spent exploring all things Beatlemania.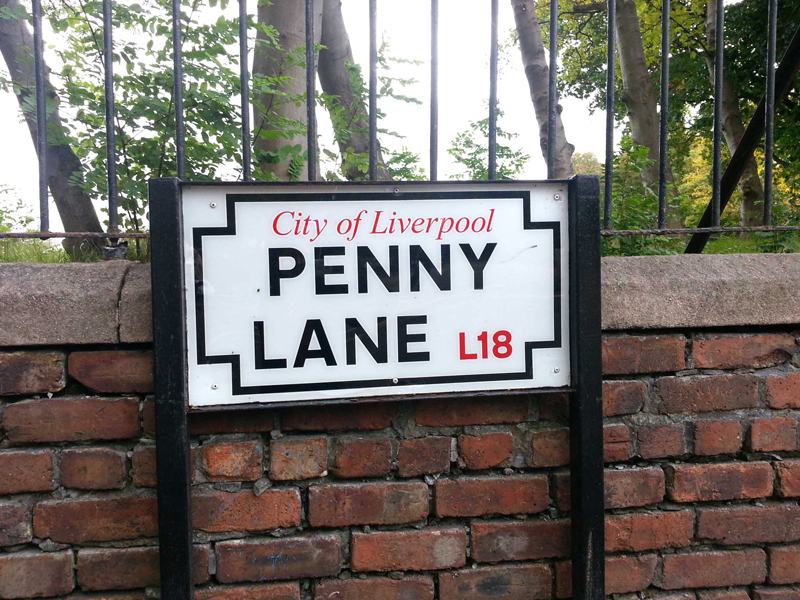 In Penny Lane, there is a barber, a church, a banker, and a fire station.
In truth, Liverpool is probably much like other seaside British towns, where people have to think about work and paychecks and family troubles and drunken uncles and hooligans and the like; except it's done up — thanks largely to millions of pounds pumped into its regeneration from the EU and the UNESCO World Heritage Foundation — as a living, breathing museum devoted to the Beatles and their brief time spent growing up in Liverpool.
That means it's easy to believe in yesterday here: you can believe Liverpool has always had sparkling-clean parks and rustic cobblestones and shiny-brass town squares. Ever since John, Paul, George and Ringo popped up here, anyway.
Philip Coppel, self-described "world's authority" on the Beatles.
This is not the only place in the world that has been transformed into a monument to people's fantasies, of course. Each June 16, for instance, Dublin, Ireland turns into a living, breathing embodiment of James Joyce's Ulysses, with people walking around in Leo and Molly Bloom costumes and reciting pages from the stream-of-consciousness novel out loud. And it's not quite as funny as a place like Dubrovnik, Croatia, whose complicated thousand-year history has been reduced, by TV tourism (and perhaps to the annoyance of locals), into the place where Cersei Lannister did her "Walk of Shame." And then there's New Zealand's Hobbiton, which is about as convincing an illusion of wandering through J.R.R. Tolkien's Shire as you'll find on God's green earth (thanks to savvy location scouting by Peter Jackson's people). So people will go to great lengths to believe in yesterday.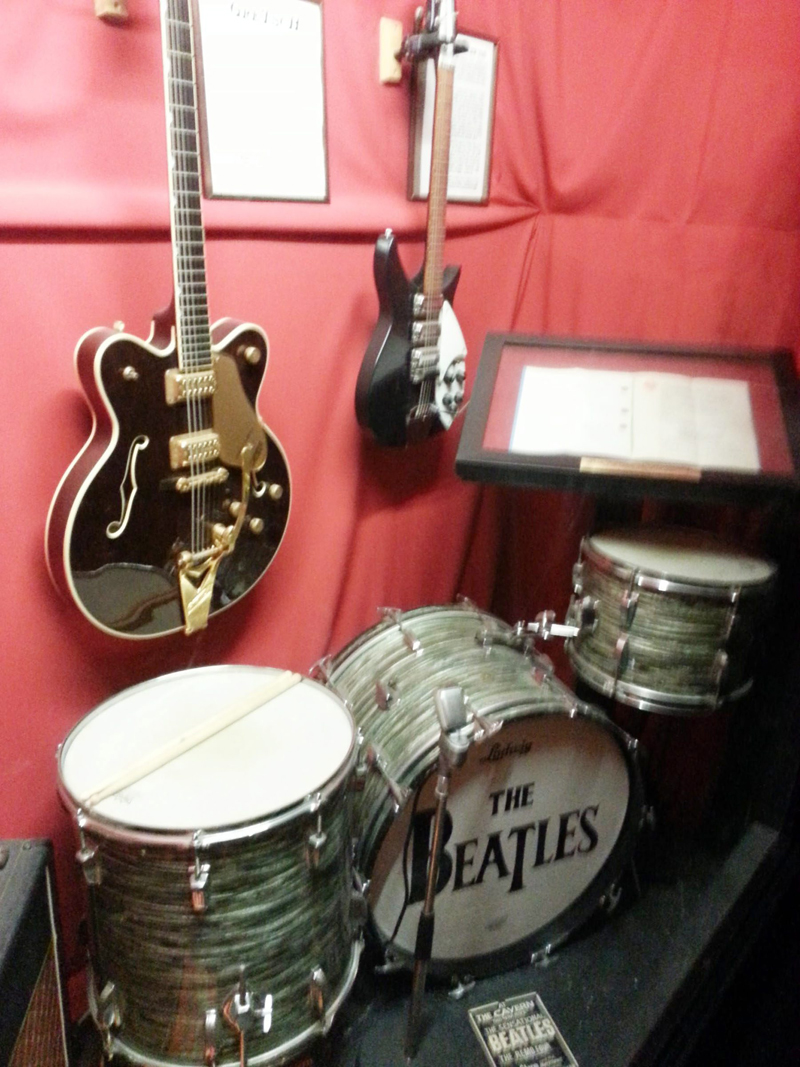 The rebuilt Cavern houses Beatles relics, like these instruments.
Liverpool's reputation precedes the Beatles, because it was a world-class shipbuilding port during Britain's period of "global influence." (Fun fact: Liverpool was where the ill-fated Titanic was first launched.) The open port is reportedly how John, Paul, George and Ringo managed to get hold of imported American records by Ray Charles, Elvis Presley, the Everly Brothers and others that greatly influenced their early sound. Even today, you can spot the Mersey Ferry, immortalized by Gerry and The Pacemakers, and ships still line up in what is a well-scrubbed rendition of Liverpool harbor circa 1910. Except more selfies now.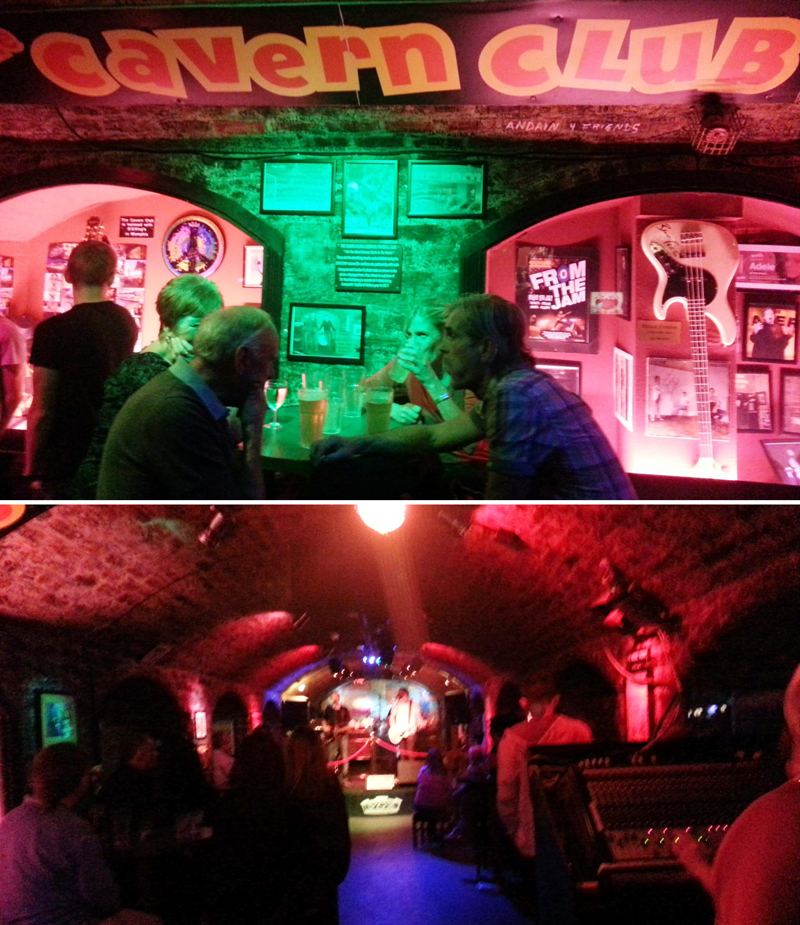 The Cavern was the famous venue where the Beatles got their start.
But there's really no escaping the Moptops. Our tour bus passes by the Liverpool Institute of Performing Arts, which managed to expel both Paul and George, and the John Moores Arts University, where John performed "dismally" (he once said, "The only thing I got out of that place was a couple of amplifiers I stole when I was there"). Of course, there's now a wing named after him — "The John Lennon Art & Design Building" — which would no doubt amuse the bespectacled musician greatly.
What fan doesn't want to walk in the Beatles' footsteps? Who doesn't want to stand at the red-painted gates of Strawberry Field, the old Salvation Army headquarters, now decorated with hundreds of scrawled messages from Beatles fans? Sure, it's a "replica" of the original iron gate, and you can't go inside (Jack did in Yesterday, though. Spoiler: there was nothing but a pile of rubble.)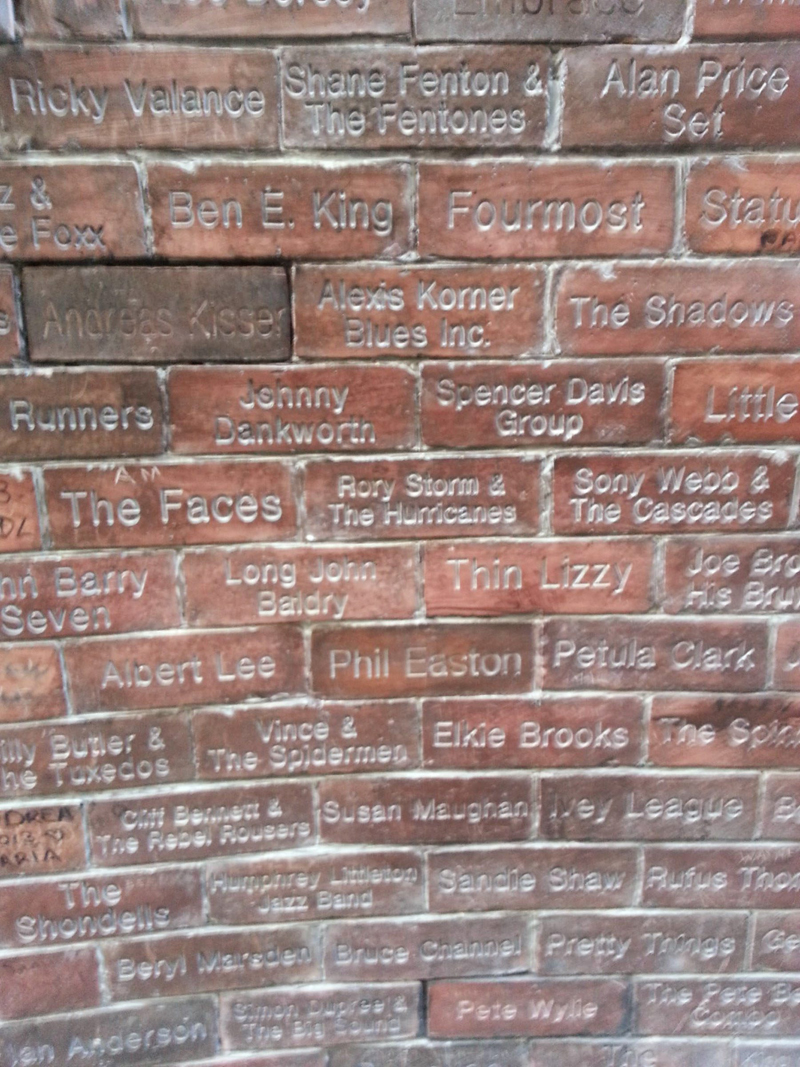 Pretty much every famous band that's played at The Cavern since the Beatles are stamped on this wall outside.
How does it feel to ride a bus down Penny Lane and take in the very sights and shops that inspired Paul McCartney to write his song based on a leafy Liverpool street? There's a barbershop, a roundabout, a bank, a fire station. Sadly, no pretty Nessie selling poppies from a tray, but it's a genuine, immersive kick to pass by these sights on a sunny day, on a bus that's playing Penny Lane over the loudspeakers.
And that's pretty much the point of Liverpool, for most tourists now. To partake of a little bite from history, to ingest its DNA, and breathe in the same air as our pop heroes. Our bus takes us down a leafy lane to stop in front of 252 Menlove Avenue, a preserved domicile that turns out to be the "Childhood Home of John Lennon." This is Aunt Mimi's house! This is where John was raised after his dad disappeared into the merchant marines and his mum couldn't handle being a mother anymore. This is probably right across the street from where his mother was run over by a drunk driver one night, shortly after reconciling with John when he was 17. There's a lot of tragic undercurrent to Liverpool, if you dig deep enough.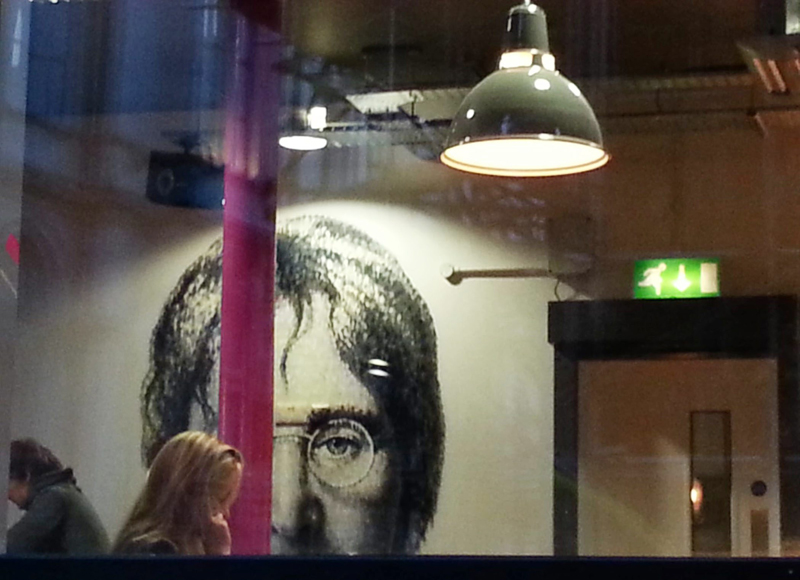 Liverpool is one of those places where the Beatles never left.
We look across the street and there's a big open park. Across the park, maybe a kilometer away, is 20 Forthlin Road, where Paul McCartney lived as a kid (the house is now a National Trust site that allows visitors by appointment. It's where James Corden went to visit and brought Paul along on one of his viral videos.) Upstairs, there's a room where Paul and John collaborated on their first song — I Saw Her Standing There. Our guide Philip informs us it was cheeky John who suggested changing Paul's line, "She was just 17 and a true beauty queen," to "and you know what I mean."
Philip has a way of supplying details that put you right on the ground. He points to a spot, near Aunt Mimi's house. "John lived across the golf course from Paul's house, he used to cross it on a bike, tearing up the turf with his tires — he was a naughty boy."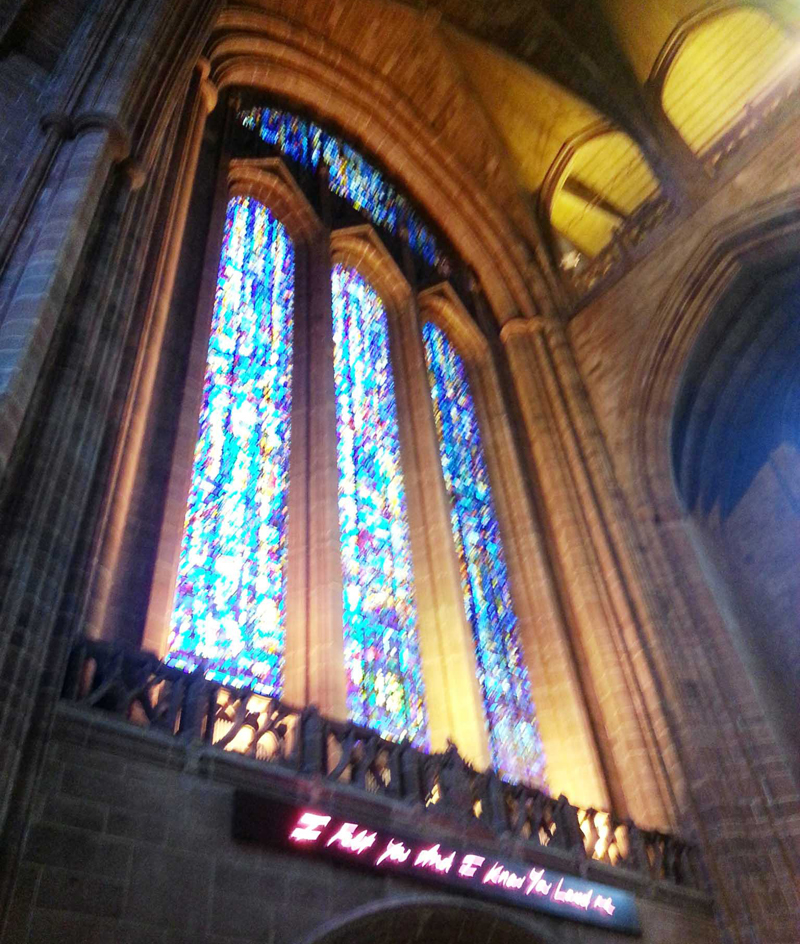 Liverpool Catholic Cathedral didn't accept Paul as a choir boy — but he still recorded his Liverpool Oratorio here with its boy's choir.
It's striking to think that all this songwriting genius existed within such a small area of Liverpool — just a bike ride or a stone's throw away from one another. It was probably inevitable that they would meet and form a band.
Philip's a bit like a police detective: he digs around for the facts, crosschecks people's stories, because, at the end of the day, "Everybody says they were there the day Paul was introduced to John," and many claim to have made the introductions. "But nobody really knows."
Despite the fascination with Beatle lore, Liverpool has only managed to preserve two Beatle homes. Aunt Mimi's home was saved because Yoko bought it and donated it to the National Trust; Paul's was preserved because it's a legitimate historical example of a 1950s council house; George and Ringo's homes were not so lucky: they've been demolished and replaced by new buildings, because, apparently, simply "being a Beatle" isn't enough.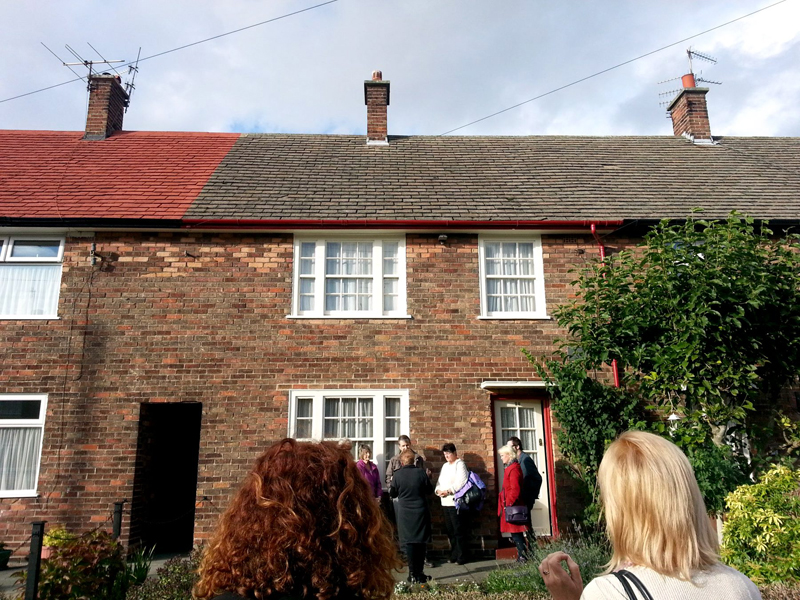 Down on Forthlin Road, visitors flock to Paul McCartney's childhood house.
Our guide explains the strong musical strain among Liverpudlians probably comes from the flood of immigrants who flocked to this port to work during the early 20th century. "It's a combination of influx of Welsh and Irish, during the 1930s Potato Famine, who both brought musical tradition and heritage with them." So don't ever say immigrants add nothing to society. In fact, Liverpool is still in the Guinness Book of Records for producing the most number one pop singles — everyone from the Beatles to Cilia Black to Frankie Goes to Hollywood to Echo and the Bunnymen.
But the Beatles' success wasn't necessarily inevitable. In Outliers, Malcolm Gladwell famously writes how the band wouldn't have become "great" without the 10,000 hours of hard gigging they put in at places like the Indra Club and Kaiserkeller in Hamburg — and of course, The Cavern Club in downtown Liverpool.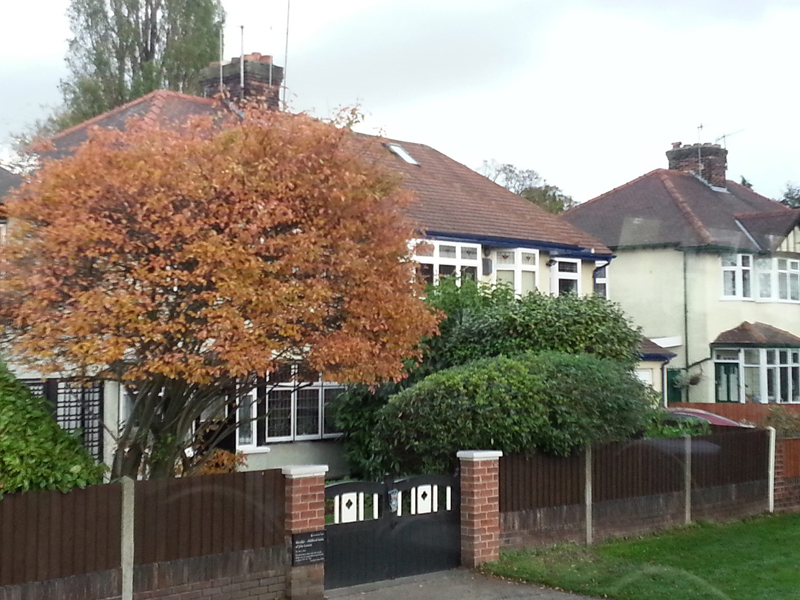 John Lennon grew up here in his Aunt Mimi's middle class home on Menlove Avenue. It's one of only two Beatle homes still preserved in Liverpool.
Travel down cobblestoned Matthew Street with all the other Beatles-besotted tourists, and you find yourself at a stairs leading down to a former wine cellar where the Beatles got their start onstage. There's plenty to remind you of the Fab Four, including a shrine of their instruments, lots of souvenirs and pasalubong (guitar picks, drumsticks), and a stage where each band feels genetically obliged to, at some point, perform a Beatles cover. Along the curved walls tourists take photos and down pints of lager, taking in the cave-like ambience of a place where not only the Beatles, but The Rolling Stones, Jimi Hendrix, The Who, The Kinks, The Faces, Thin Lizzy and even Ed Freaking Sheeran have since played.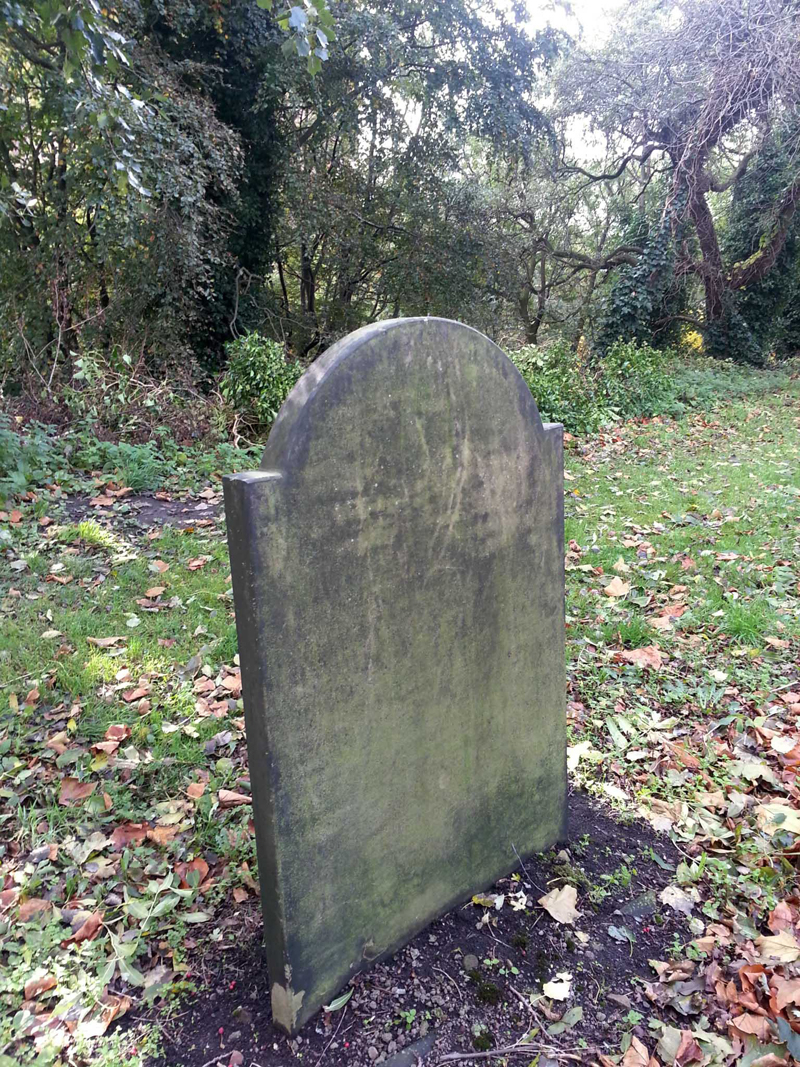 No, it's not Eleanor Rigby's tombstone. But you get the idea.
True, The Cavern is not the original Cavern — it's a rebuilt version from the original bricks — and that Strawberry Fields gate you passed is not the original one; and no, that gravesite of Eleanor Rigby is not the same girl immortalized in Paul's song. But still… standing next to the empty stage after the band finishes its set, taking in the mystery and thrill of fandom, you can't deny the special electric hum inside: it's the inner knowledge that hey, the Beatles actually played here! Right in front of me!
Magical.
* * *
Follow @scottgarceau.