Driving Mr. Murphy: In Season 11 opener of Netflix's Comedians in Cars Getting Coffee, Jerry Seinfeld ferries around Eddie Murphy in a Porsche Carrera GT.
Behind the wheel with Jerry Seinfeld
MANILA, Philippines — As much as Jerry Seinfeld wants to link three "C" words in his successful web series-turned-Netflix production Comedians in Cars Getting Coffee, those three concepts are as seemingly different from one another as Elaine, Kramer and George Costanza.
Though Seinfeld does try, in the Season 11 opener, where he ferries around Eddie Murphy in a Porsche Carrera GT 10-cylinder and attempts to connect the "perfectly designed lines" of the Porsche with the carefully constructed jokes in a standup routine. No need to try so hard, Jerry: most fans will just enjoy looking at the really stunning cars, and hearing the stories behind their birth, and then sit back and enjoy as the host trades quips with guests like Murphy, Seth Rogen, Jamie Foxx and Ricky Gervais. The setup for Comedians in Cars Getting Coffee Season 11 is the same as always — Jerry introduces the car they'll be riding in, then picks up a comedian, then they mostly talk about comedy and pivotal life experiences, before settling down for coffee somewhere, where they talk more about comedy and pivotal life experiences — and it's a winning formula with no need for redesign.
Proof that the formula works is the surfeit of ripoff shows out there — which Seinfeld slyly alludes to in the show's teaser, including Carpool Karaoke, Alec Baldwin's Love Ride, Funny Uber Rides, Caraoke Showdown and dozens more. (Actually, if we're being honest about which came first, it was the Steve Coogan/Rob Brydon BBC series The Trip, two years earlier in 2010, which proved that two people killing time talking in a car or awkwardly in restaurants could be a hoot.)
Still, it's a cozy, shoot-the-breeze kind of setup, and Seinfeld is a master at acting comfortable with his own success. Smug sometimes, yes. But we knew that.
Driving around in luxury cars offers him an opportunity to comment on homeless people around him. "Whenever I see two homeless people talking," he riffs to Eddie Murphy, "I think, one of them is giving advice to the other guy." The implied gag is, Who is a homeless guy to be giving advice on life choices? and it leaves a somewhat metallic taste.
This season, there's also this undercurrent of talking about Bill Cosby, whose reputation among comics will forever be consigned to before/after the rape charges. They talk about "the last time I saw him," like he's gone to the beyond. Or rather, like he's a ghost, forever haunting the world of comedy.
Between it all, there are those glamour shots of cars, and of course, porn shots of coffee: beans cascading from bags into grinders, dripping through espresso makers or flowing into white porcelain coffee cups in slow motion.
Seinfeld picks up Seth Rogen in a beat-up 1975 Dodge Royal Monaco, which looks like the typical metro police cruiser after a few hundred high-speed car crashes. "It's kinda like the Blues Brothers car," Rogen observes. "You can't kill this car," Seinfeld notes.
Between the banter, there are hidden gems, things the comedians in each episode probably didn't mean to say. You're surprised they didn't edit it out. While driving around Ricky Gervais in a 2018 Rolls-Royce Dawn, Seinfeld makes a joke about Chinese people looking the same; Gervais claims he also thought of saying the same thing, but didn't because it's not PC. Rogen, meanwhile, reveals he knew about Cosby's rapist reputation for months before it became public… and nervously admits he did nothing about it.
But the real gems come in the simple, observational humor that erupts between host and guest — whether it's Matthew Broderick, Melissa Villaseñor, Bridget Everett, or Martin Short — because it's basically pairing two smart, funny people who still find life interesting and letting them free-associate. Hell, Season 11 is worth it alone just to hear Eddie Murphy explain why The Wizard of Oz is the same story as Planet of the Apes.
Streaming on Netflix.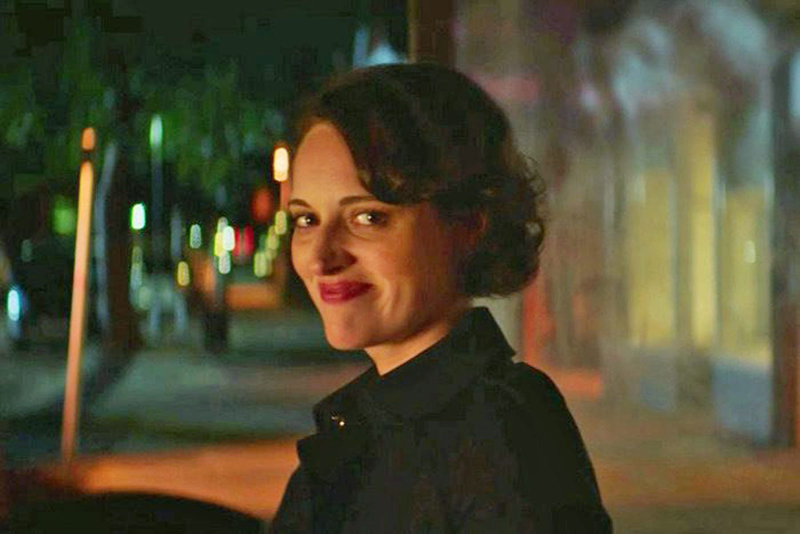 Grin and bear it: Isobel Waller-Bridge breaks the fourth wall again in Season 2 of Fleabag.
'Fleabag' shatters fourth wall
There is a particular way that Isobel Waller-Bridge breaks the fourth wall in her BBC show, Fleabag, that's different from other wall-breakers you could name like Bridget Jones, Sarah Jessica-Parker in Sex and the City (talking to the camera in a chatty, explaining kind of way) or even her hubby, Matthew Broderick, breezily outlining his day's activities in Ferris Bueller's Day Off, back in the day. No, Waller-Bridge, the no-name character in her own breakdown of modern sexual and social mores, simply throws the camera an ironic side-look and a knowing grin. Or else she supplies the missing, subtextual word that the people in the room are too polite to say, but Mr. Camera gets to absorb all the nitty-gritty. Whether she's exploring her carnal needs or struggling with soon-to-become-evil-stepmother Olivia Colman, or her guilt over a friend's death, the titular character is committed to giving herself up to the camera, warts and all.
Waller-Bridge, who transformed an Edinburgh Fringe Festival monologue into a sharply-written TV series, has a knack for plunging viewers from richly comic moments to dark irony to complete human tragedy in the shift of an eyebrow. Season 2, the final season, picks up a year after things left off — which is pretty much in the gutter. An air of self-loathing and despair clings to Fleabag. Random sex is self-medication. The titular character, who's estranged from her sister and father, tries to grin and bear it. There's the welcome appearance of Andrew Scott (Sherlock, Black Mirror) as a "sweary priest," the reappearance of a Guinea pig affectionately named Hillary, and a deeper dive into the past of a character whom viewers will know only as "Fleabag."
Shown on BBC3.