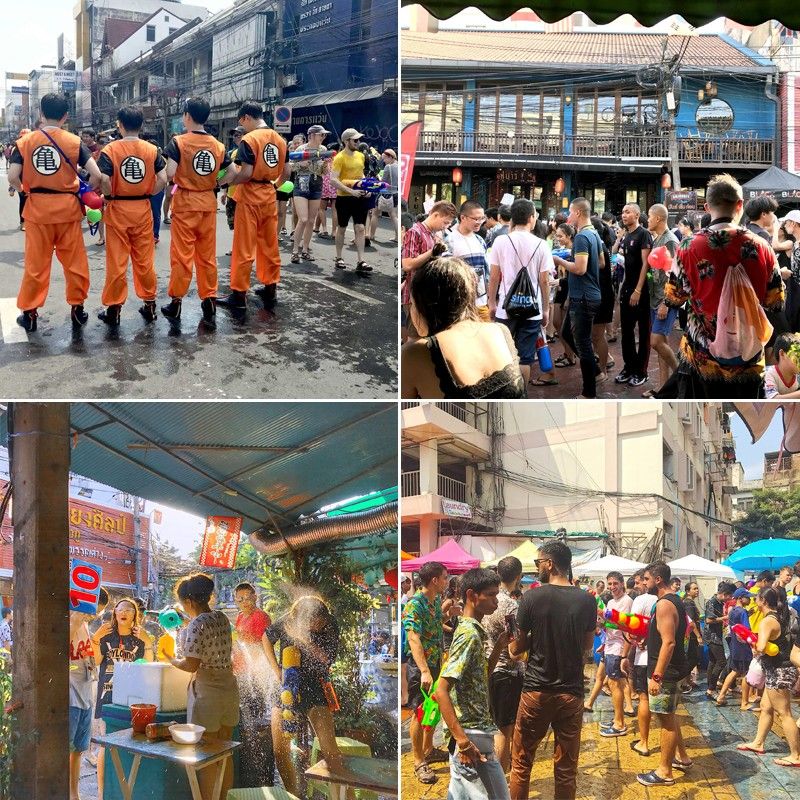 Hundreds of thousands of tourists flew to Thailand for this year's Songkran water festival, in time for the first year of Tourism Authority of Thailand's new campaign, "Open to the New Shades," which encourages travelers to experience the country with an open heart and mind.
Bangkok's Songkran Festival is an LGBTQ party
BANGKOK, Thailand — "I've never seen so many gays in one place," my gay friend said. We were at the police barrier at Khao San Road, about to have our first Songkran experience. Empty kiddie water guns in tow, we joined the single file that led to the entrance, realizing with every step we took how unprepared we were. A man in a floral top and skinny shorts walked past us carrying a fire hose. A woman in a bikini top, drenched from head to toe, refilled her intimidating bright orange gun with ice water at a food stall. A couple in matching raincoats and goggles hurriedly dragged their luggage through the busy street, dodging aggressive Songkran-goers. Once I crossed the barrier, a child no taller than three feet shot water at my face. Boy, did his gun pack some serious pressure. He turned his back and I saw that it was actually attached to a plastic backpack, Ghostbusters­-style — I retaliated and shot water at him, but my gun couldn't match his and I ended up getting beat by a kid. All this took place not more than five minutes after entering the street, which was closed for the Songkran Festival for three days. There, every man, woman and child was armed with some kind water-shooting weapon, and it was very, very silly of us to think we would somehow make it out to the other end dry. Heck, at that point, my sneakers were already squishy, and we were barely a few feet into the crowd.
The Songkran Water Festival is one of the country's biggest festivals, held every April 13 to 15 to mark the start of the Thai New Year. During these days, it would be wise to wear something that repels water, as the entire city is in on the fun. Random people on the street carry guns and shoot water at each other; they don't really care about collateral damage. But most travelers visiting Thailand on these dates already know this — because they come exactly for this reason.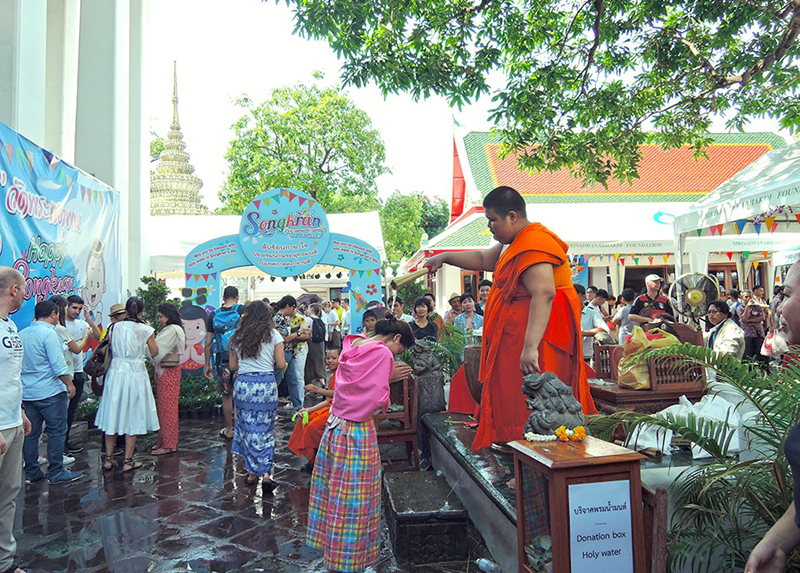 Water blessings are everywhere on Songkran dates, which is usually until April 15, but is extended for a week to accommodate travelers and locals returning from other parts of the country.
Over the years, Songkran has become an unofficial LGBTQ festival in Thailand. Clueless heteros like myself, of course, do not know this. It's not really mentioned in the more mainstream travel websites, which only tell you repeatedly to "prepare to get wet." If my friend was shocked, imagine my surprise. Every man on the street was good-looking and ripped. An active gym membership seemed to be a requirement — Shawn Mendes, Ross Butler, even Henry Cavill lookalikes (at least from the neck down) were a dime a dozen, and according to my expert calculations about 90 percent of them were gay. A friend of mine told me they actually prepare for Songkran by going to the gym months before the occasion, and — thank goodness for cut-off shirts — it showed.
It's the perfect festival for window-shopping if you're a woman, to be honest. Have fun with your group. Shoot at somebody's butt. The most they'll do is smile at you, say, "Oh, honey, you still look fresh!" and shoot water at your face. Somewhere in the middle of Khao San, the street got flesh-to-flesh crowded; we almost swapped faces with each other, but not once did we get harassed in any way. There was no brawling, either. The gays are much too sophisticated for that. We got into a "shootout" with another group and it was most polite face-off I've ever seen.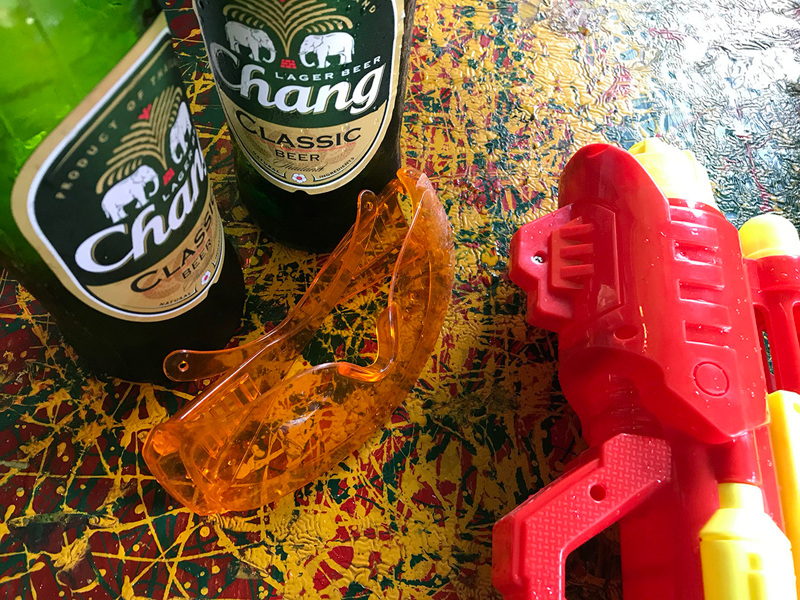 Songkran essentials: If you are going to Khao San Road on Songkran dates, wear slippers, breathable clothing, and carry your valuables in a waterproof bag. Don't forget your water gun — get one with a little more pressure than a child's toy, a pair of goggles, and of course, something to cool you down like Chang beer.
Flanking both sides of the street were bars and restaurants, all open for business and ready for Songkran. At some point in the bottleneck, Firehose Guy emerged from the second floor of a bar and started hosing people on the street with short but deliberate bursts of ice water. Bar owners carried their water guns and had barrels of water at their storefronts, for refills. Fifteen Baht for room temperature water and 20 Baht for ice water. So if you're looking to meet someone who will take you out on a nice date, go for the ice water guys. If they're not scrimping at Songkran, they can probably afford Gaggan.
All fun and games aside, the Songkran Festival has been a huge tourism draw for Thailand in the past years. According to their Tourism and Sports Ministry, over 500,000 tourists visited Thailand during Songkran season, generating 24.65 billion Baht. Meanwhile there were 3.1 million local trips between April 12 to 16, which were the official Songkran holidays this year. This Songkran-induced tourism boom comes in time for Tourism Authority of Thailand's (TAT) new campaign, "Open to the New Shades," which asks visitors to open their minds and hearts to new experiences in Thailand. The campaign covers food, nature, arts and crafts, and Thai culture, as well as promotes the country as a Halal-friendly destination, but it also references the rainbow, a universal symbol for the LGBTQ community.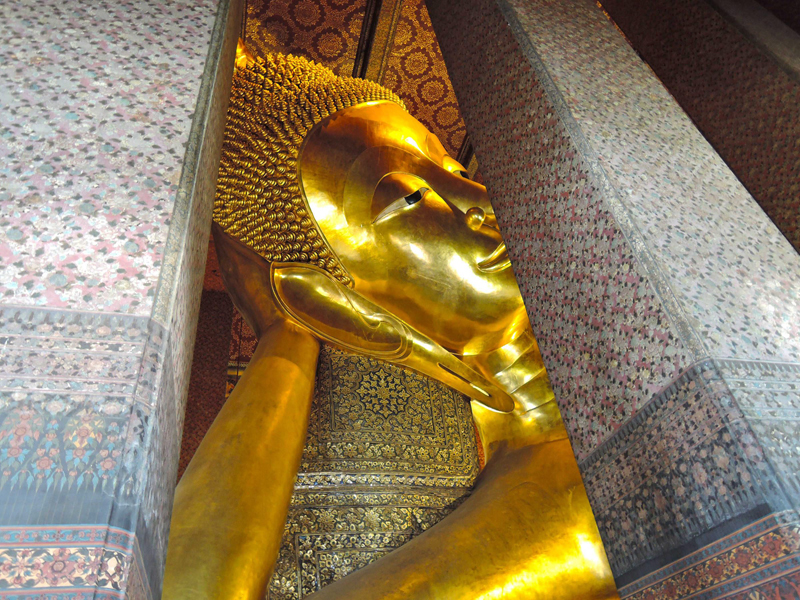 Songkran Festival starts every April 13 with an opening ceremony at Wat Pho, where Buddha images are bathed with fragrant water.
While Thailand has long been known as LGBTQ-friendly, the new campaign promotes the country as a safe and respectful destination where travelers can experience diversity without prejudice in a fun and mainstream setting. Songkran definitely hits the spot in this case, drawing millions of tourists from around the world to the one-of-a-kind festival.
More than wild partying, tourists can also experience the more traditional side of the occasion at Wat Pho, or the Temple of the Reclining Buddha, where the opening ceremony is held on the 13th. On the 14th, we visited the temple and witnessed locals and tourists pour fragrant water over Buddha images, a Songkran tradition. Some tourists lined up to get a blessing from a young monk. These events continue until April 15th, New Year's Day, simultaneously across Thailand, including Chiang Mai, which is home to the biggest Songkran celebrations in the country, and Phuket. If you're planning to experience Songkran 2020, it would be best to book your tickets and accommodations in advance because it's shaping up to be a busy season.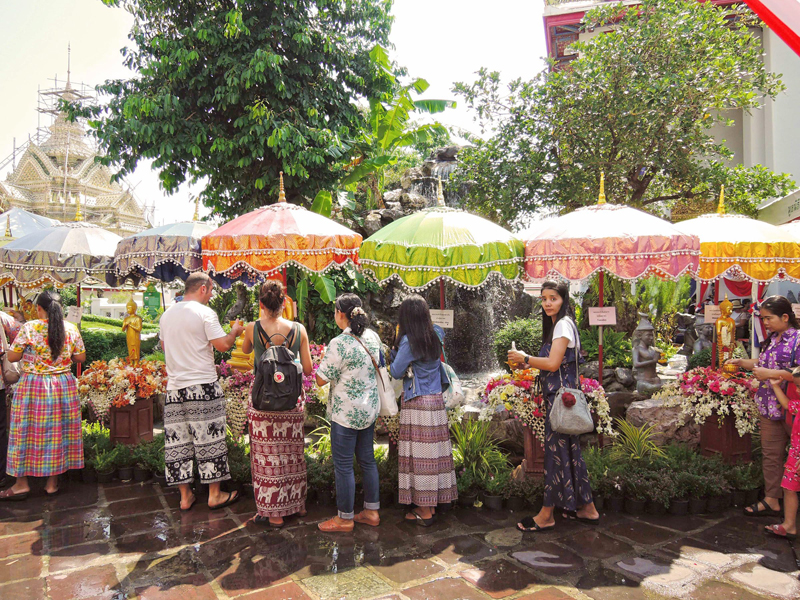 Locals and travelers line up to pay their respects and say their prayers at the Temple of the Reclining Buddha.
Upon returning from Bangkok, someone commented on my Songkran Facebook post: "You should go to San Juan, it's the same thing." It's really not. The Songkran experience had me wishing we could make our Metro Manila festivals more organized and safe, so that everyone is in on the fun and not victims of it, and promote them on a larger scale to attract tourists. It would also help if they had gym membership requirements, too. Imagine raking in the equivalent of P39 million in tourism income. That amount could very well solve our current water crisis — not that I had to worry about that while on a water-throwing spree in wet and wild Bangkok.