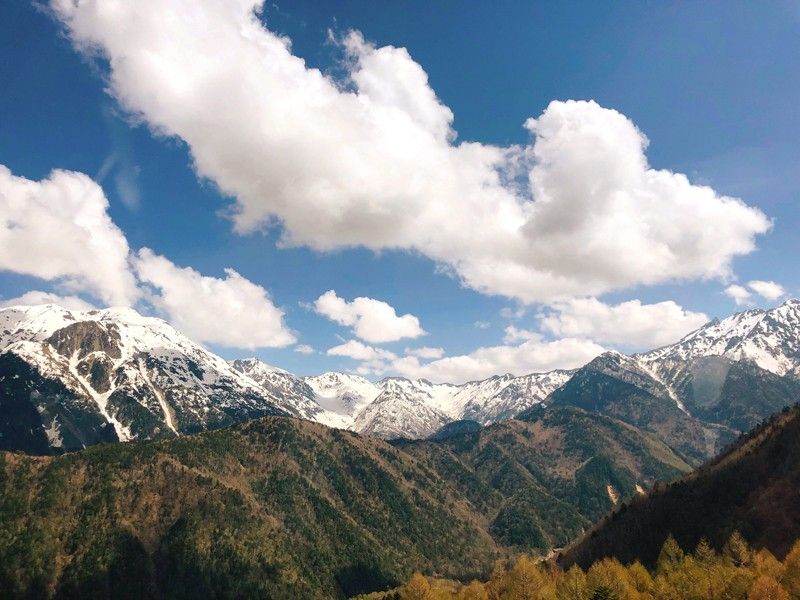 Japanese Alps: You can reach the top by taking the New Hotaka Ropeway for spectacular view.
Okuhida Onsengo: A cure for burnout
Japan is a familiar place to the avid traveler. But hidden in plain sight, amidst thousands of bustling tourist sports, is a tranquil piece of paradise.
Feeling burned out now feels like part of the human experience. It's become so commonplace that it follows us everywhere, even on the best of vacations. Ever come back from the airport and flop on your bed thinking, "I need a vacation from this vacation"? And then you dread the moment you have to open your inbox. Yes, that feeling. It's real. And I'm beginning to think that it's because we've chosen for ourselves a vacation that might just be as stressful as actually staying in the office to do overtime.
This is why traveling overwhelms me now. I'm no longer keen on the holidays, because I'm already thinking of how it all ends. If I spend three days ignoring my work messages, will I have to clean up a nuclear disaster when I come home? So should I just work throughout my trip? Or should I just find a way to teleport into another dimension?
We were headed to Japan, though. It was enough to spark a bit of hope in me, that perhaps I shouldn't be as pessimistic as I've become about being a tourist. Our trip would take us to the region of Okuhida Onsengo, a part of Japan that is just as beautiful as any other — but may not have been getting as much as attention as other tourist destinations within the country. Organized by Japan Travel Kids, a local tour operator, the tour has been labeled as an Off the Beaten Path itinerary, and took us to multiple cities close to the Okuhida Onsengo. Even as I rattled off the itinerary to frequent visitors of Japan, a lot of them had no clue where those places were: Takaoka, Toyama, Johana, Inami, Gokayama, Takayama, Okuhida Onsengo, Shirakawago, and Kanazawa. It felt like a quest of sorts; perhaps I was to discover an elusive part of this country that few are privy to.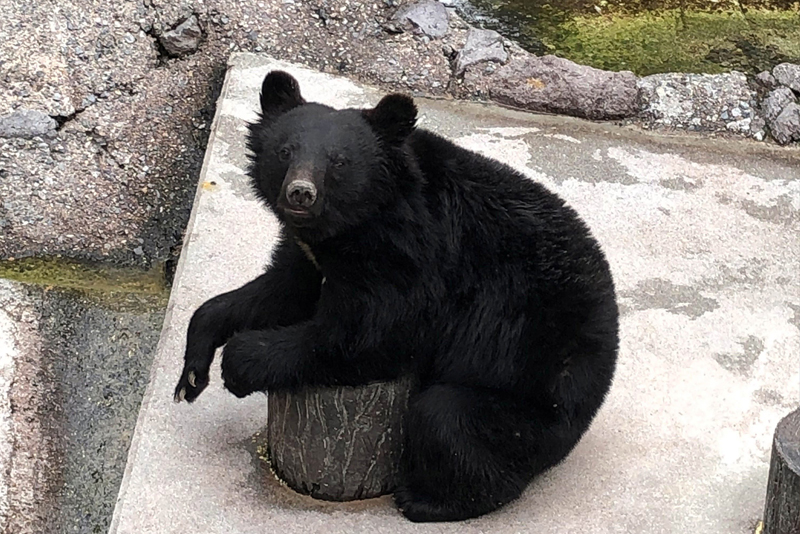 Okuhida Bear Park, where you can feed the cubs
We began our journey at Haneda Airport in Tokyo via Japan Airlines. As Haneda is its homebase in Tokyo, JAL travels from Manila to Haneda (and vice versa) every day. And to head to Okuhida Onsengo, JAL makes it easy for passengers to transit between Manila, Haneda, to Takaoka (via Komatsu Airport). Frequent travelers I know have told me that they prefer JAL for their service and their schedules. Their Manila-Haneda flights leave late at night, which means you arrive in Haneda early in the morning. (You get the most out of your trip this way, so you don't waste a day just traveling.) The Haneda-Komatsu flight is conveniently timed, so you don't wait long for your next flight. It's also convenient because JAL will take care of your luggage even until your domestic flight. You simply need to clear immigration at Haneda and switch terminals for the mid-morning flight. (By then the shops at the airport are just opening, so it's the perfect time to sneak in your first Japanese meal.)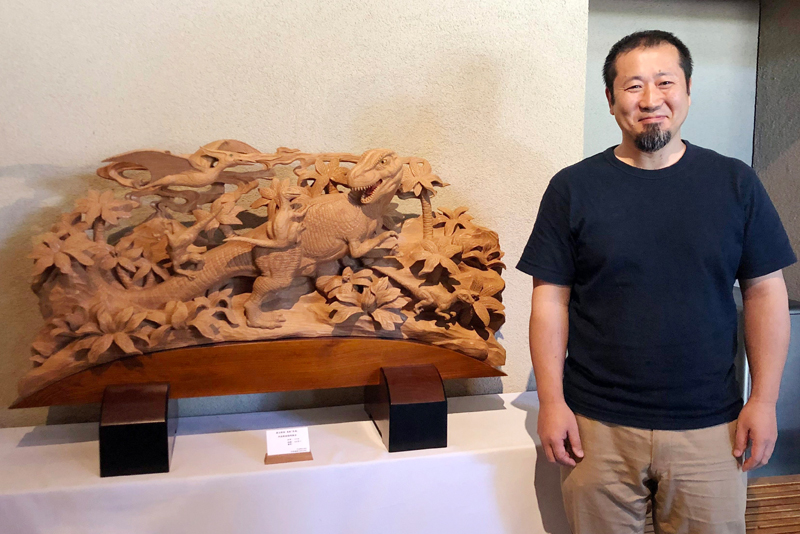 Inami Wood-Carving Cooperative
If you were to follow the Japan Travel Kids itinerary by heart — which we did — it will feel overwhelming. I've done multiple city tours in other countries, and I'm familiar with the roll-on-roll-off system that happens when you're trying to hit multiple spots in three to four days. It's never fun (cue: vacation burnout!). But I was surprised to find out that our Okuhida Onsengo itinerary felt full, but not tiring. Our guide Koshika-san had made sure that our daily stops would not take more than two hours in between. Our coaster was comfortable, WiFi-ready, and had charging ports, so we were never in want of diversions.
When we did get off the bus, I got the feeling that each location felt deliberate and well-thought-out. Take note that this tour featured few of the usual trappings that you'd find in your typical Japanese vacation. There were no outlet malls, no bright lights, and no giant Godzilla mascots poking from the top of buildings.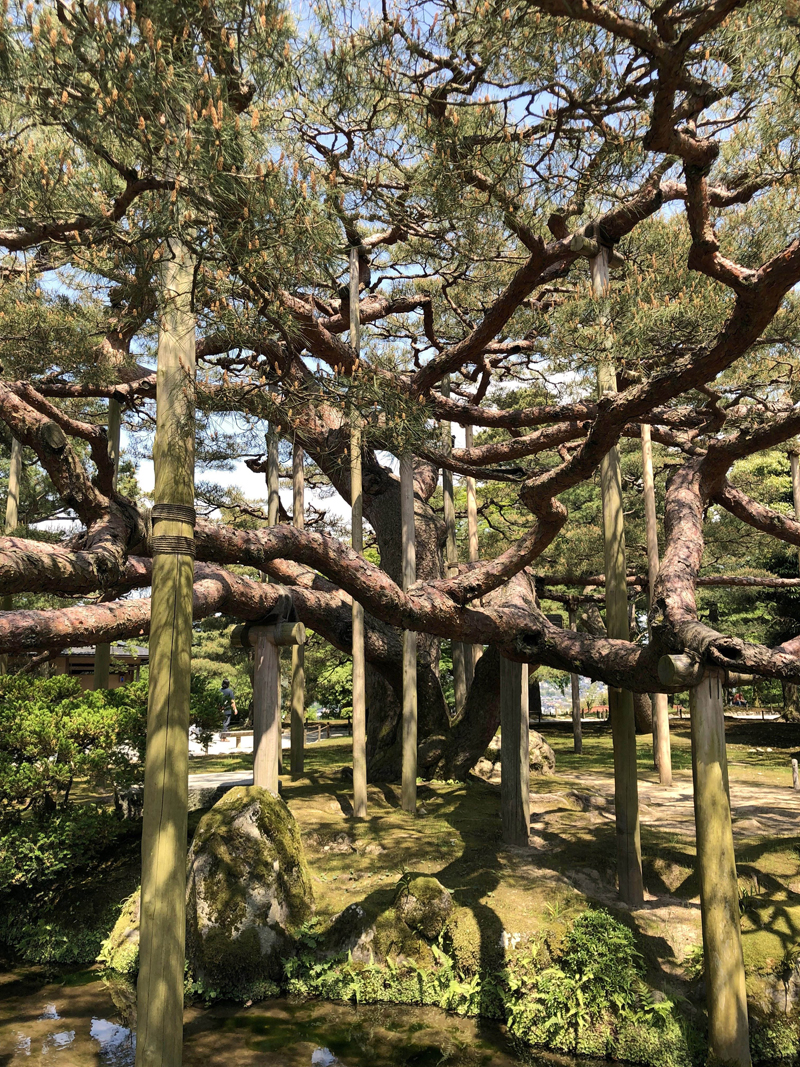 Kenrokuen Garden
Our itinerary included places like the Zuiryuji Temple in Takaoka, a national treasure for the Japanese people. Among its breathtaking architectural features is the Buddha Hall, which has shingled roofing made of lead. According to the local guide, they used lead for the roofs so that they could easily melt it to use as weapons, in case a war ever erupted. When the zombie apocalypse happens, you know where I'm going.
We visited the Matsuri no Mori Festival Museum, which houses some of the festival floats used during the Takayama Festival. The museum itself was actually carved out of a mountain, and so it makes you feel like a Lord of the Rings dwarf. (Fair warning: bring a jacket. Turns out dwarves have beards for the cold.) We also had encounters with the local bears at the Okuhida Bear Park. There were a number of bears in captivity that you could feed from a safe distance. It just required a bit of a climb up (approximately six flights of stairs), but having a moment to feed the cubs — totally worth it.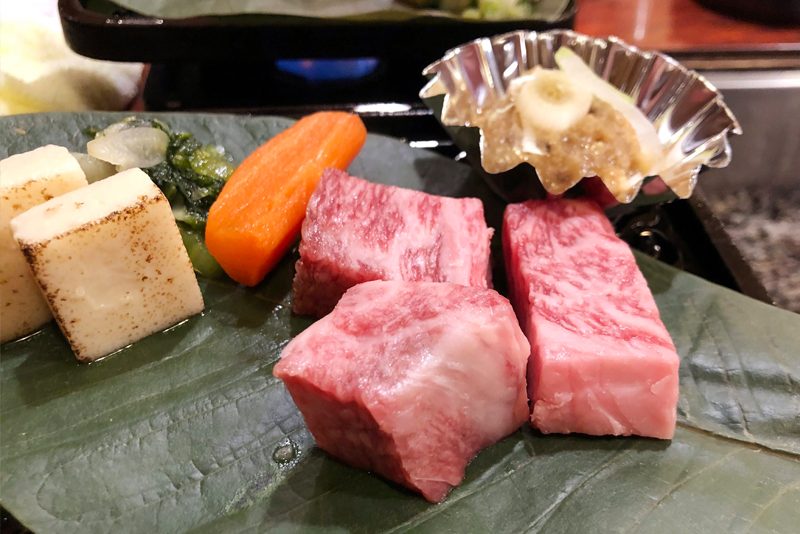 Hida beef at a traditional kaiseki resto
And if you'd really like to experience the cold, the Japanese Alps are certainly up there — literally — which you can climb via the New Hotaka Ropeway. At the top, you can sightsee to your heart's content, and enjoy a view, I must say, that's a sight for sore eyes. Our guides had said that the Japanese love to hike up the Alps, and I'm not surprised. I'd be the Tenzing Norgay of the Japanese Alps, given the chance.
Eating and onsen
The food, by the way, is no slouch. In fact, I would say everything we ate during the trip has been among some of the best food I've had in my life. I don't eat fish, but the freshwater fish we were served felt so, well, fresh. At Johana, we had a French-Japanese fusion dinner at the Sakuragaike Kuagarden. The mix of the two cuisines felt like such a strong clash, but from the freshly baked bread to the wonderful blend of Japanese seafood with French-style cooking — good lord, how are the Japanese so good at everything? It truly boggles the mind.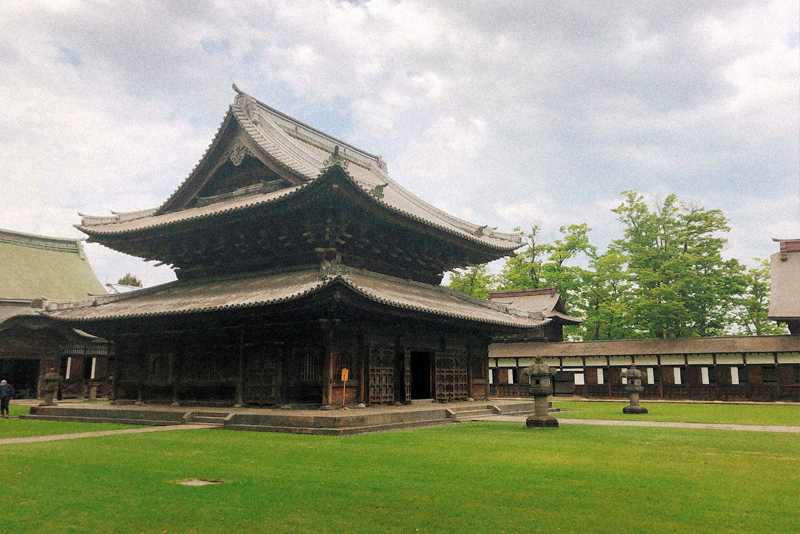 Zuiryuji Temple features a lead roof that could be melted down to make weapons, if need be.
In this part of Japan, the truly special feature is its abundance of onsen. There are a few onsen spas in the Philippines, but here — of course — they've got the real thing. Every hotel we visited during our tour featured onsen of various sizes. Some were purely outdoor onsen, some had a mix of indoor and outdoor baths. But what is common to all of them are their strict rules, which they maintain for cleanliness and order. The onsen baths are separated by gender, and all users are required to take a shower and be totally nude during the baths. A lot of people who had used onsen before assured me that it was a totally chill place; for Japanese people, public baths are incredibly common, and so seeing a bunch of naked people — no big deal. But I had very little chill about the whole situation. I was with a lot of (very nice) people whom I hardly knew, and while the thought of running into nude strangers was weird enough, imagine someone with whom you're on a first-name basis. You must admit, the thought feels a little strange.
It was our last full day on the tour when I woke up at five in the morning at our last hotel, the Toyota Shirakawago Institute. We had already been to two other hotels that featured beautiful onsens of their own; and each night I gave myself some lame excuse to sleep instead of visit the onsen. But there was something about the Toyota Institute, a calming presence that gently pushed me in the direction of the onsen. Perhaps it was the vast expanse of nature we were surrounded by, or the woodsy interiors. In that moment, more than ever, I felt relaxed — no thought of deadlines, of responsibilities. Just a calm but sure sense of being.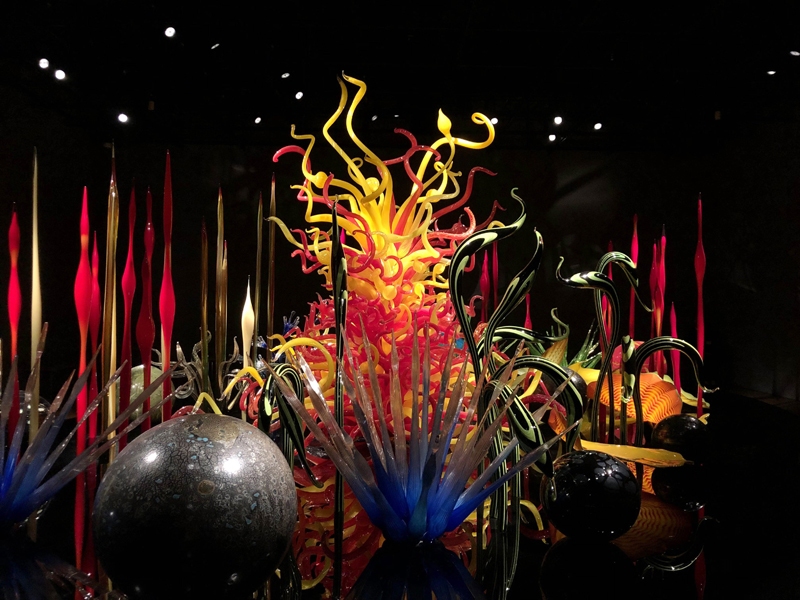 Toyama Glass Art Museum
And as if destiny orchestrated the whole thing, my visit to the onsen was solitary. I had it all to myself. I took the necessary shower, and dipped my toes in the indoor pool. The spring water is hot, scorching almost, but after a few seconds your body will acclimatize. They even had water dippers (Filipinos: tabo) so you can wet your hair without diving in.
I eventually moved to the outdoor pool, which was done up in smooth stone. I waded around for a bit, not once begging for distraction. I had no phone, no music, no one to talk to. I had to be content with my own existence. And when I turned the other way, I caught a glimpse of the mountains. Tall, calm and enduring. For a moment, I thought that, somehow, this is a message from the universe that I need to hear.
It was eventually time to pack up and leave. Our guide Koshika-san gave us bubbles to commemorate the end of the trip — they are called Travel Kids — and the wonderful people at the Toyata Eco Institute waved goodbye at our bus until we were out of sight. What a wonderful way to go. It was finally time to go home.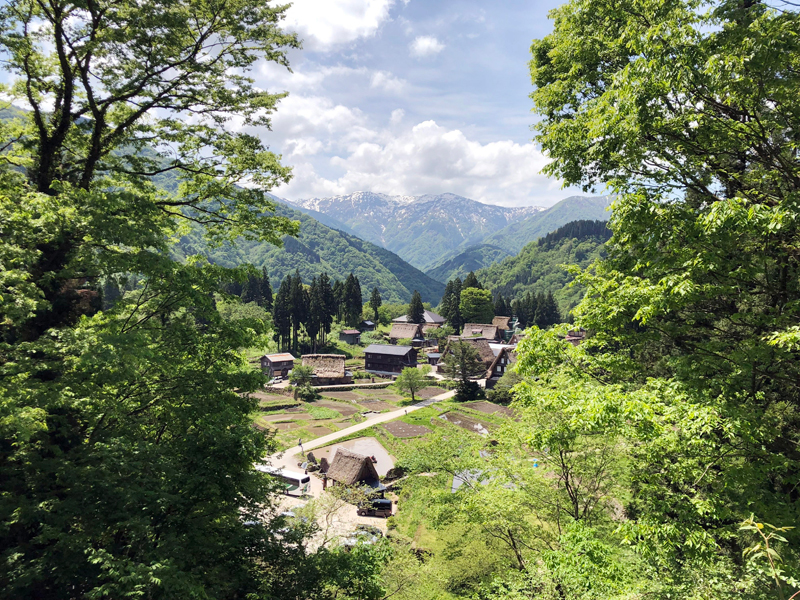 Ainokura Village
* * *
For more information on flight schedules for Japan Airlines, visit /www.jal.co.jp/en.
For information about tours and packages for Okuhida Onsengo and other nearby cities by Travel Kids Co. Ltd, visit travel-kids.co.jp/.