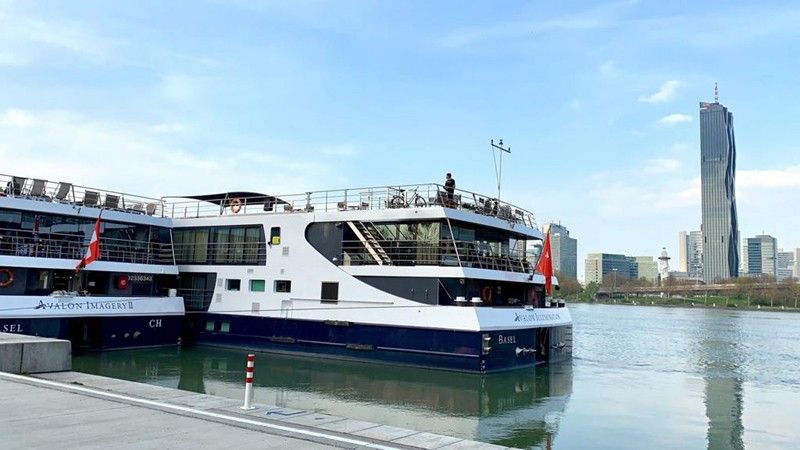 Avalon Waterways' Illumination and Imagery against the modern skyline of Vienna
Three ships on the Danube fly Filipino travel agency's flag
No travel agency had ever chartered three river ships in the history of Avalon Waterways — until Gigibeth Santiago of Airspace Travel and Tours organized a trip for entrepreneurs.
It's quite a sight standing on the banks of the Danube River and seeing all these ships docked near famous landmarks. In Budapest they dock across the Great Market Hall; in Vienna it's against the backdrop of the city's modern skyline; in Bratislava it's right under the UFO-looking top of the Millennium Bridge.
In the spring just past, last April, three Avalon Waterways ships carried three flags: the Swiss flag, which is the "nationality" of the cruise company, the Avalon flag, and the flag of Filipino travel agency Airspace Travel and Tours, co-owned and managed by Gigibeth Santiago and her business partner Ed Alea.
No travel agency had ever chartered three river ships for one sailing in the history of Avalon Waterways, with each ship having a capacity between 100 and 130 passengers. While travel companies abroad have chartered an entire ship or two before, they usually combine their passengers from different parts of the world (or states in the case of the US) who choose the same itinerary.
But last April, Avalon Illumination and Avalon Imagery, and then Avalon Illumination again — after the two ships completed the same itinerary that started in Passau and ended in Budapest — sailed in the reverse route with a third batch of passengers. The passengers were all Filipinos, and they were all entrepreneurs from Luzon, Visayas and Mindanao with the last having the most number of passengers.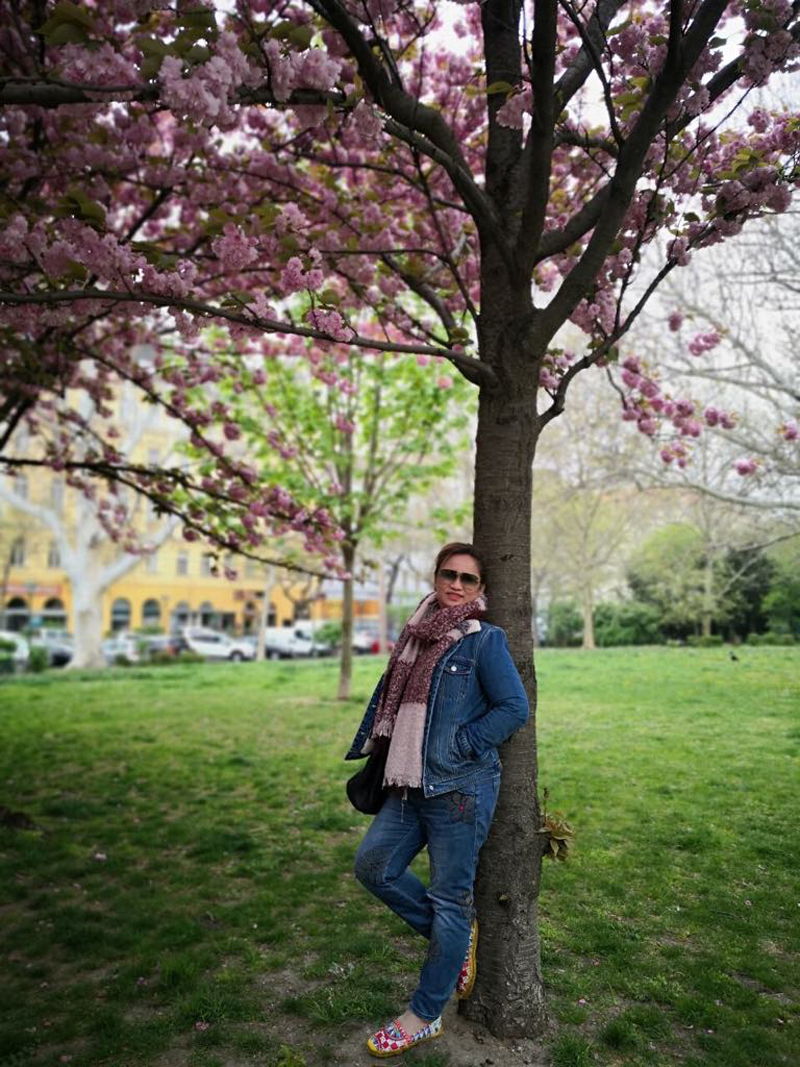 Viennese waltz: Airspace Travel and Tours co-founder Gigibeth Santiago, an expert in creating itineraries and organizing trips for big groups.
The woman who made this happen was Gigibeth Santiago, a travel industry leader who started her career when she was 21 years old, a fresh grad of Business Administration from PSBA in 1990.
The way she is now — warm, kind, inclusive, caring, sophisticated yet down to earth and very funny — has always been her personality as a young travel agent for one of the biggest travel agencies in the 1990s. I haven't known Gigibeth that long, but when we met for the first time, we hit it off immediately and it's because of the kind of person she is.
"To be honest, I started without knowing anything in the travel industry. My sister-in-law resigned from her agency (Four Seasons) and she brought me to work there."
There, Gigi's clients were mostly Chinese businessmen and in the next 10 years her accounts grew to include Johnson & Johnson, Kimberly Clark Philippines, Philip Morris and other MNCs.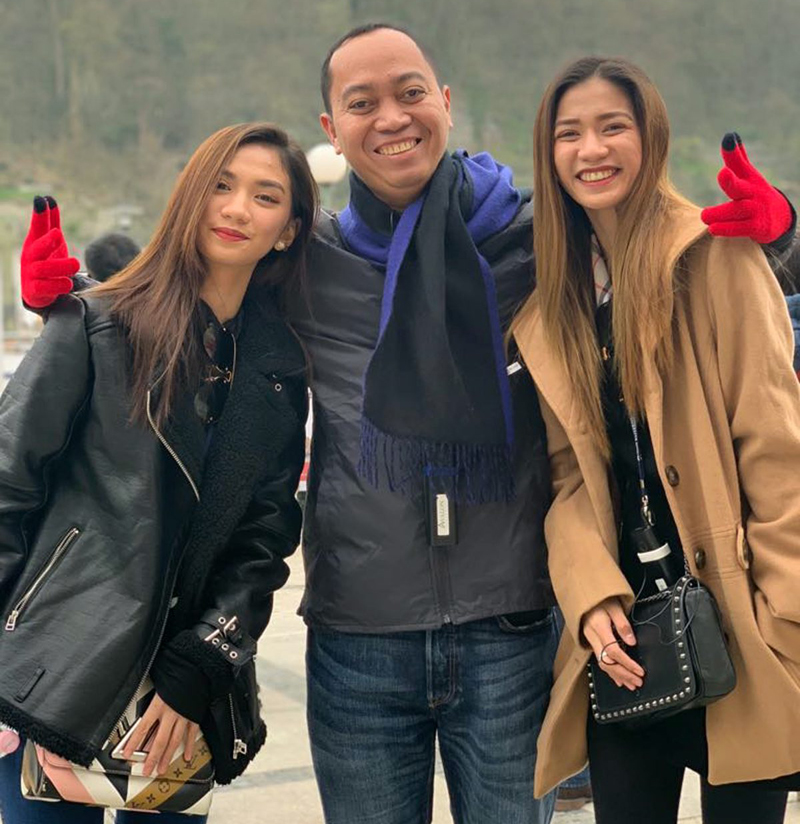 Bea Santiago, Augustus Ata of Bayer and Meryl Santiago
There, she also met industry veteran Wally Cervantes who mentored her. "Sir Wally was a great mentor, he taught me a lot," Gigibeth says. "He was so good especially when it came to sales reports and proposals. Ateneo siya, kaya ang lalalim ng English niya, ako simple lang. Tinataasan ako ng kilay minsan, but I would tell him, 'Hayaan mo na, sir, ang dami ko namang nakuhang cliente," she adds with a laugh.
Nearly 10 years later, she left the travel agency and partnered with her former boss Ed Alea in establishing Airspace Travel and Tours. "Sir Wally and Edd and myself left at the same time. I did not take any of my clients with me, my plan was to be a freelancer. Then I found out Ed was establishing a travel agency and they had included me as industrial partner."
Airspace Travel and Tours started, literally, with one table where they did all the transactions. Gigi's first was for a group of 250 people traveling to Paris.
Were her new partners surprised at such a big account? "They were expecting that from me," she says, laughing.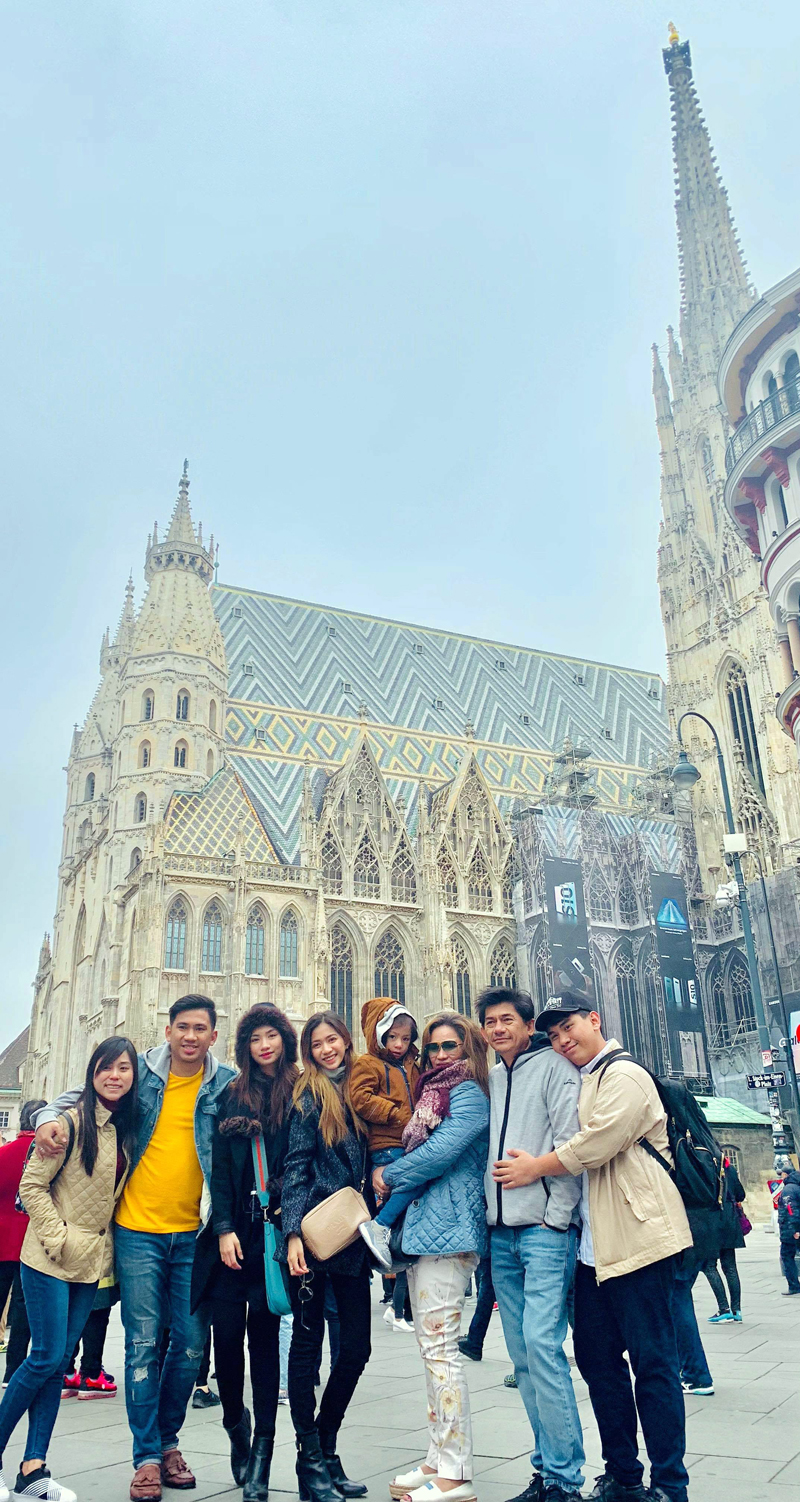 Airspace Travel and Tours' Gigibeth Santiago with husband Dennis and daughters Bea and Meryl
Fast-forward to this spring, Wally Cervantes is currently senior vice president of Baron Travel Philippines and, coincidentally, Baron is the GSA of Globus Family of Brands of which Avalon Waterways is one, so Gigi knew she could rely on an old friend — as well as on Baron GM for foreign tours Mary Elaine Villados — to organize this massive undertaking of chartering three ships.
If it's not challenging to organize, Gigi's talents would be wasted. She has brought groups in the hundreds across the Canadian and US East Coast; from London to Edinbrugh in a convoy of buses; she once compressed what was originally a 13-day itinerary into seven days without exhausting the participants; tweaked set itineraries to accommodate everyone's wants.
"I almost gave up on this one because walang available na ship to accommodate the passengers for the dates and itinerary they wanted, but somehow it all worked out. I called Wally and said, 'Let's do this the other way around, give me an itinerary that's available and I would enhance it.'"
Entrepreneurs onboard
Iiinas Lao of Bayer with Antonia Ting and entrepreneurs from Luzon, Visayas and Mindanao
Walking through Avalon Imagery and Illumination and seeing the all-Filipino passengers was heartwarming enough. Now imagine being on a ship full of entrepreneurs, distributors and dealers of Bayer Crop Science products, and hearing their stories.
Over lunch while we were passing through the beautiful town of Linz, I spoke with Joy Reyes from Guimaras. A former OFW, she decided IN 1999 to open a rice store with a capital of P20,000 in her province and eventually she included agricultural chemicals and products.
"When I was growing up, I would walk five kilometers to school," she says. "Now I'm in Europe."
In her voice was wonder and awe not just of the place but of where her life journey has taken her — from Guimaras to Hong Kong as a domestic helper and then back to Guimaras, and now sailing the waterways of Austria.
For the four sisters from Isabela — Alyanna, Jara, Chrissy and Marie Kuh Uy — it was originally their grandfather's ricemill that started their business, which their parents grew into a distributorship and which they are now helping out in different capacities.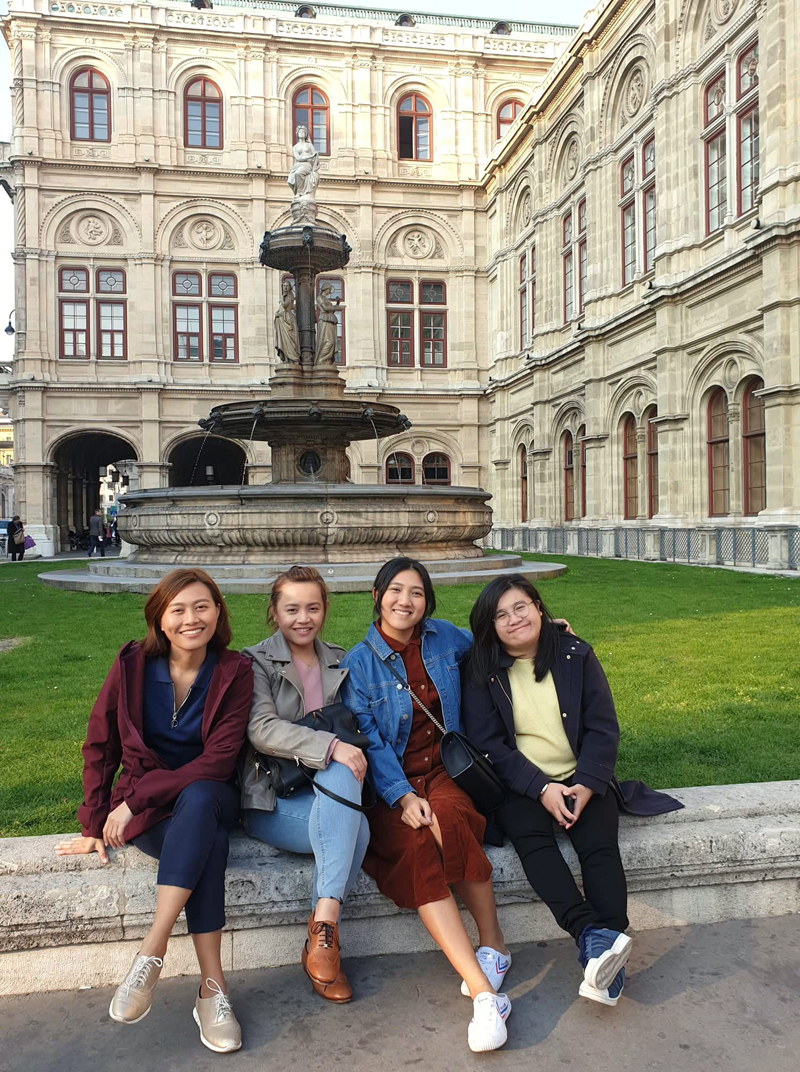 Sisters Alyanna, Jara, Chrissy and Marie Kuh Uy are third-generation entrepreneurs from Isabela.
The four girls are armed with business degrees and they say that last year was a difficult time because of calamities — if it wasn't drought, it was too much rain.
"Working together has made us tight knit as sisters even though we see each other only once a month because we have different roles and we also have a hotel in Santiago, Isabela called Oryza Hotel, which we manage."
Odifer Calma of Davao del Sur started his business in 2009 after spending many years as an agent. His wife Marcel, a nurse, quit her job to help him out. "We started with a capital of P1 million, and at the time it was already very competitive. We've had to work hard to do well."
From Talavera, Nueva Ecija, Antonia Ting started a small store in 1983 with P300,000 as capital. Her husband Leonard Ting worked for Metrobank in Cabanatuan City for nine years before quitting to help his wife with the growing business. The Tings are now one of the biggest distributors in the region.
If there is a lesson to be learned from them, it is that no matter how big or small you start with, you can grow your business with the right products and the right attitude — and that taking a break once in a while is a must.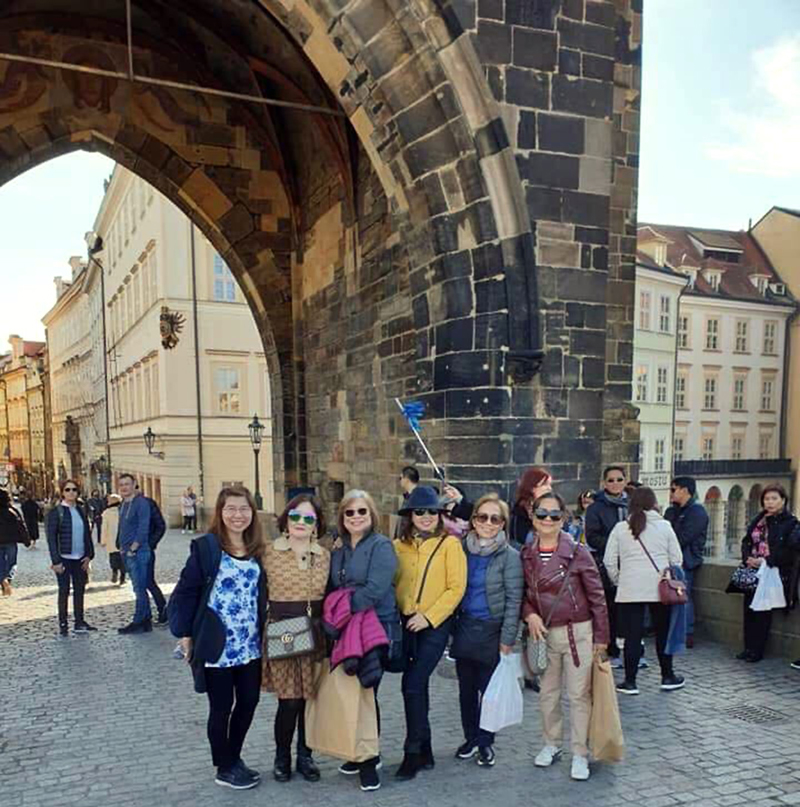 Diane Te, Antonina Ting, Virginia Samonte, Virginia Sim, Nancy Pabustan and Fe Rosario
For these entrepreneurs, this trip that Airspace Travel and Tours organized was their first river cruise and the best itinerary they've been on.
A Bayer executive tells me "We've always had a close relationship with our customers and we wanted to find out what resonates with them, and it's a trip like this. We see them working hard and growing their numbers double digit."
When I ask them how they feel about this trip they all say, "It's so relaxing." They also appreciate the fact that even though they are going from one city to another, they don't have to pack and unpack because the ship is like a moving hotel. When the Avalon ships are docked in the evening, they dance to a live band, sing with a karaoke machine that Gigibeth arranged beforehand, they have meals with their friends.
Distributor Ruth Cuenca says, "We all travel with our families, but it's nice being here because we get to enjoy the company of our friends. Also, the places on the itinerary are not that touristic. It's our second time to Europe and our first time to these countries."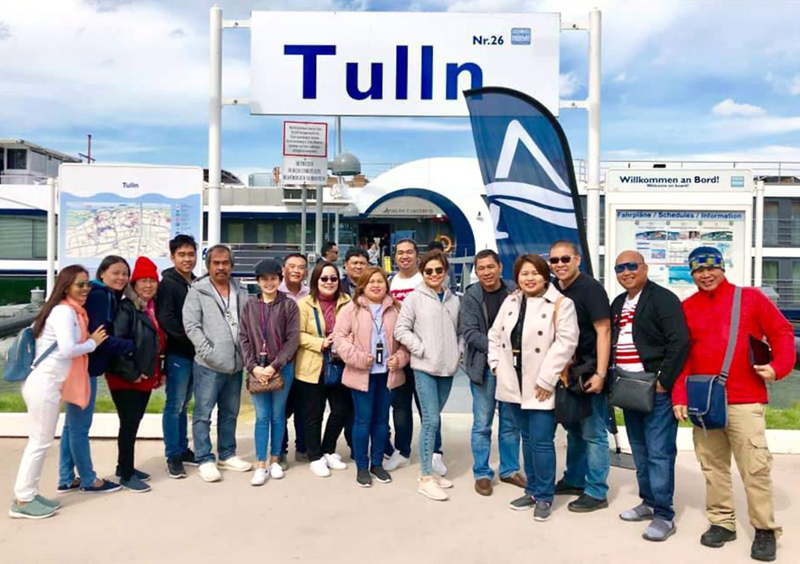 In the historic town of Tulln, Lower Austria. Tulln is one of Austria's oldest towns and has the Nibelungen fountain based on the epic poem Nibelungenlied.
Most of the time, the Avalon ships are docked side by side, meaning you have to go through the other one's lobby to get off the ship and onto the bank.
Docked in one city, we finally catch Gigibeth and have drink with her. But she wouldn't sit still — she couldn't. Everybody wanted to have a chat with her.
Instead she pulls the passengers from their seats and leads them to the dance floor as the band starts another song.
* * *
Airspace Travel and Tours is located at 2153 A. Mabini St., Malate, Manila. For inquiries, call 522-3267.
Visit the author's travel blog at www.findingmyway.net. Follow her on Instagram and Twitter @iamtanyalara.