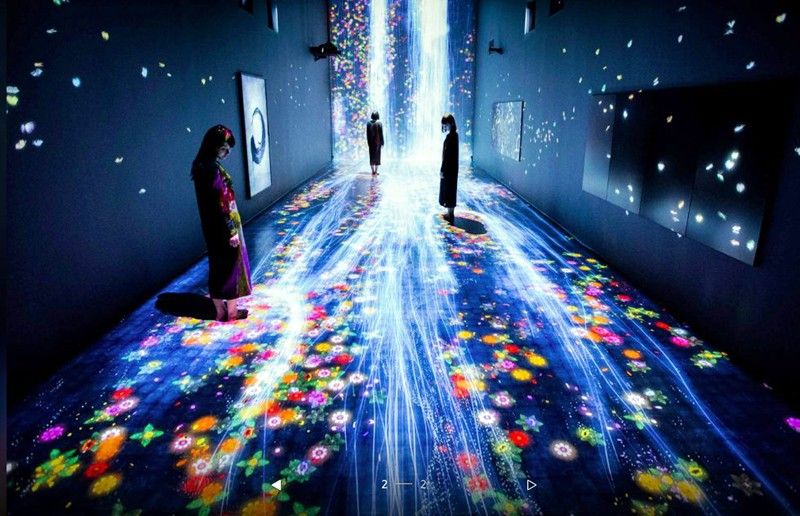 Oscar-worthy: Opening later this year, the Academy Museum of Motion Pictures will exhibit "Teamlab: Transcending Boundaries," an interactive installation by Tokyo-based art collective teamLab.
Star wars: Galaxy's Edge & other travel excitations in California
Many are drawn to California with big dreams, whether it's chasing gold, stardom, or the next big tech innovation. Just think of pioneering geniuses like Walt Disney and Steve Jobs.
If you're a Filipino kid raised on Disney movies, though, your main aspiration might be as simple as going to Disneyland.
My mom took me there when I was 12, where I lived my preadolescent dream of riding Space Mountain and getting a photo with Mickey Mouse.
Now that I'm middle-aged and have brought my own daughter to Disneyland, it's funny how my ambitions haven't progressed too far from my 12-year-old self's. Last year, when I heard from a Disneyland tour guide that they were opening Star Wars: Galaxy's Edge in the summer of 2019, I knew I had to go, even if I had no idea how or when that was going to happen.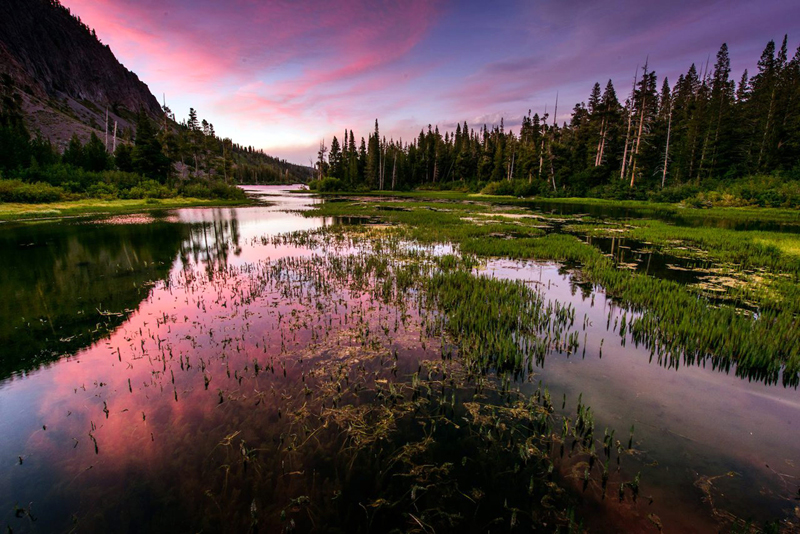 Road-trip republic: Visit the Mammoth Lakes in California, like Lake Mary in Mono County.
Well, as the Disney saying goes, when you wish upon a star, your dreams come true.
The opening-night event of US travel trade convention IPW (International Pow Wow) 2019 was held at Disneyland in Anaheim, California — a mere two days after Star Wars: Galaxy's Edge opened — and the park was closed to the public so that IPW's 6,000 delegates (500 of them media, many of whom flew in on travel partner Delta Air Lines) from 70 countries could have an early, exclusive look at the attraction.
"Disney's president (Bob Iger) made Galaxy's Edge happen in time for IPW," proudly announced Jay Burress, president and CEO of Visit Anaheim.
Why does IPW have that much leverage? The travel fair has the capacity to generate $5.5 billion in direct spending in the US in the next three years, according to Roger Dow, president and CEO of the US Travel Association. "Last year the United States was losing international market share: America's share of global long-haul travel dropped 11.7 percent from 2015 to 2018," he noted. "Lots of people would like to lay this at feet of our president, but I met with him face-to-face this fall, and talked about how important travel is to the American economy."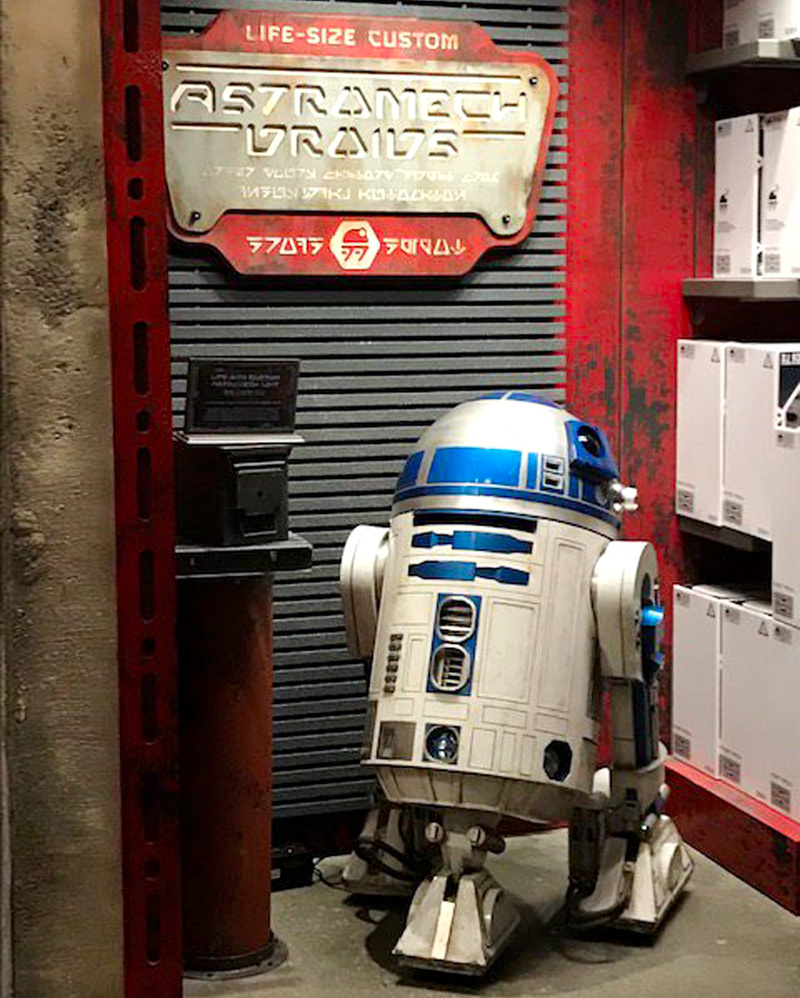 Beloved droid: A life-size R2D2 thrills fans at Star Wars: Galaxy's Edge.
With international travelers spending $140.6 billion in California alone, the Golden State is the No. 1 destination in the USA. From its theme parks like Disneyland to its national parks and cultural attractions, "California has the diversity of experience the US has to offer," says Chris Thompson, president and CEO of Brand USA.
In the sun-kissed state of good vibrations and California girls (legendary band The Beach Boys serenaded IPW delegates the next day with a lunchtime concert of their sunshine pop and surf hits), here are the major excitations travelers should put on their bucket lists: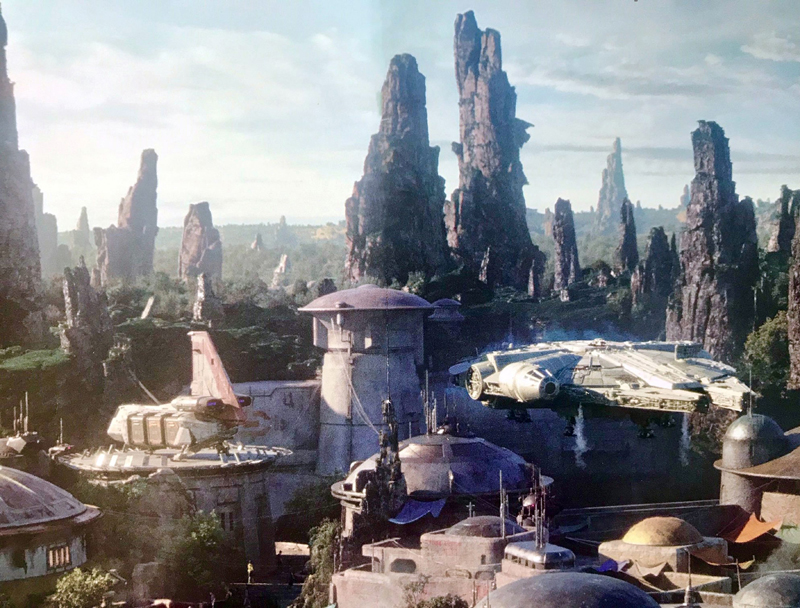 Another world: Star Wars: Galaxy's Edge is a six-hectare "city" within Disneyland where you can pilot the Millennium Falcon in the ride Smugglers Run.
• Visit a galaxy far, far away at Star Wars: Galaxy's Edge in Disneyland.
Spanning six hectares inside Disneyland, this otherworldly "city" is like being transported to Mos Eisley, minus the danger of that "wretched hive of scum and villainy." There's a Cantina — Oga's — that serves drinks for all ages (lightsaber bar brawls are optional). Beloved characters like Rey and Chewbacca wander around for photo ops, and Kylo Ren and his Stormtrooper bodyguards might accost you in a dark alley. Built to scale, Ren's Command Shuttle serves as the stage for dramas of the First Order, though the piece de resistance is the magnificent Millennium Falcon, which you can board for the ride Smugglers Run. In this ride, you are sent on a smuggler's mission and can get one of three jobs: pilot, gunner or engineer. Each has different responsibilities during the ride, and your ending can be different if your crew doesn't do its job well. (A second ride, Star Wars: Rise of the Resistance, will open later this year.)
If you're not lining up for Smugglers Run, there's a lot more to see and do at Galaxy's Edge. A lantern-lit bazaar offers galactic goods, from Jedi robes to Porgs. At Savi's Workshop, you can customize your own lightsaber. If droids are more your speed, you can build your own R2 unit or BB-8 at the Droid Depot.
Curious about the blue milk Luke Skywalker drank on Tatooine? Order it at the Milk Stand, or try the green milk he was subsisting on in The Last Jedi. Ronto Roasters offers grilled sausages and pork wraps, while Docking Bay 7 Food and Cargo features galactic grub served in a hangar.
Disney spared no expense (reportedly US$1 billion), and didn't overlook a single detail in creating Galaxy's Edge. (The Disneyworld Orlando version of the attraction will open Aug. 29.) It's captured the imagination of Star Wars fans like me and I'll definitely be bringing my family with me next time to round out that Smugglers Run team.
Thrill ride: Hang Time at Knott's Berry Farm, the first dive coaster in America with a 96-degree drop.
• Experience the Old West at Knott's Berry Farm, and ride all the new attractions at theme-park capital Anaheim. Next to Orlando, Anaheim is the theme-park capital of the world, and every year its parks boast new attractions to draw visitors in. Universal Studios has refurbished its Jurassic Park ride into a bigger Jurassic World, Legoland has built Duplo Playtown for tots, Seaworld is offering the new Tidal Twister, and Knott's Berry Farm's latest thrill ride is the Calico River Rapids.
Knott's, which hosted the closing event of IPW, started as a small berry farm in the 1920s and got famous thanks to its down-home, fried-chicken dinners. The theme park still serves up an authentic slice of Americana with its Old West Ghost Town and workers dressed as cowboys and frontierswomen. (I felt like I was on the set of a benign Westworld.) In contrast, the rollercoasters and thrill rides are as modern as they come: HangTime is the first and only dive coaster in America, and the new Calico River Rapids is a whitewater-raft ride through a land of thrilling water effects.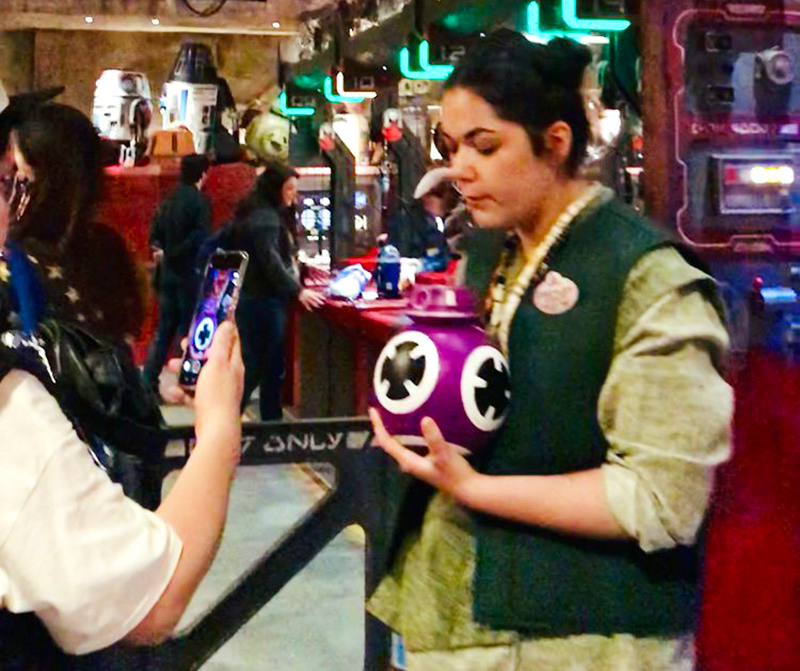 Build your own BB-8 at the Droid Depot in Galaxy's Edge.
• Shop till you drop at South Coast Plaza and The Outlets at Orange. Once a lima bean farm owned by the Segerstrom family, South Coast Plaza is now Southern California's premier shopping destination, with 250 boutiques and 30 restaurants over 2.8 million square feet of retail and dining space. You can find all the top luxury brands there, from Louis Vuitton to Lanvin, Marni to Miu Miu. I headed straight for beauty mecca Sephora, and department stores Nordstrom and Macy's, where the "Last Chance Rack" offers amazing bargains on designer wear.
There's also great food to be had at South Coast. The garlic noodles at AnQi by House of An are insanely good, and Top Chef finalist Amar Santana is opening his The Hall Global Eatery in the mall, which will have bars for coffee, juice and cocktails, a Middle Eastern deli and full-service restaurant featuring the chef's global cuisine.
For discounts of up to 70 percent off, go to The Outlets at Orange, also located in the OC (Orange County). There you'll find the factory stores for Polo Ralph Lauren, Gap, Banana Republic, Ann Taylor and Bose, plus over 100 other outlets.

Foodie destination: The Anaheim Packing District is a food court with 50 artisanal vendors in the heart of the city.
• Eat at foodie destinations in the state that invented the "farm-to-fork" lifestyle. Michelin is launching its first Michelin Guide California 2019, encompassing 657 restaurants in 110 cities. The first female chef in the United States to earn three Michelin stars is Dominique Crenn, whose restaurant, Atelier Crenn, is located in San Francisco. The world's only two-star Mexican and Indian restaurants are also located in Frisco (Californios and Campton Place, respectively).
Foodies in Anaheim should check out the Anaheim Packing District, a food court with 50 artisanal vendors in the heart of the city. Try speakeasy The Blind Rabbit for local craft brews, while Georgia's Restaurant serves delicious chicken and waffles.
The city of Berkeley, home to organic food pioneer Chez Panisse, is emerging as a young, hip foodie destination. Youthful Fil-Am chefs Jan dela Paz and Bobby Punla are spreading the gospel of Pinoy food through their pop-up kitchen Likha, and the area around the University of California is rife with interesting spots to get morsels and sips: there's Third Culture Bakery, home of the mochi muffin, The Rare Barrel for Belgian-style beer, and Iscream for seasonal, small-batch organic ice cream. (Go to the Food & Drinks section of www.visitberkeley.com for all the details.)
Travel tip: Want to see a redwood forest up close? Forget the touristy Muir Woods; UC Berkeley's Botanical Garden boasts beautiful Mather Redwood Grove right on campus.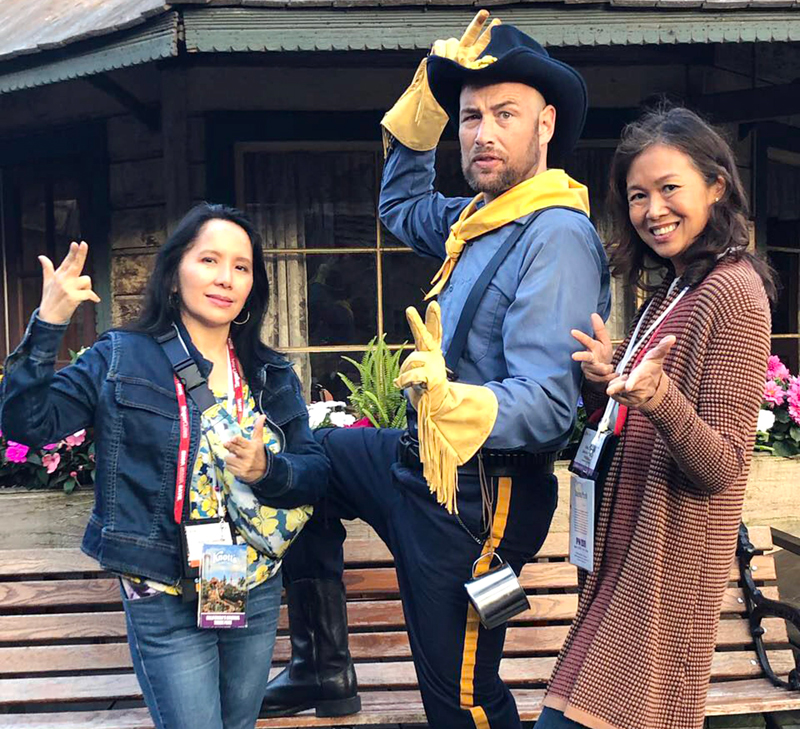 Authentic Americana: Gina Campos, general manager of Delta Air Lines GSA (right), and author Therese Garceau get a taste of the Old West at Knott's Berry Farm.
• Go inside the movies at the Academy Museum of Motion Pictures and the Comic-Con Museum. Opening at the end of this year on Wilshire Blvd. in Los Angeles, the Academy Museum will be Hollywood's first movie museum backed by the Academy of Motion Picture Arts & Sciences (yes, the same one that holds the Oscars). Galleries will hold a permanent exhibition that traces the history of moviemaking, as well as temporary exhibits and an Oscar experience dedicated to Academy Awards history. Two movie theaters have the capacity to screen films in their original formats, from 70mm to nitrate, an extremely rare medium. Imagine: a director like Steven Spielberg could premiere his latest film there and speak about it afterwards. The first exhibition is already dedicated to Hayao Miyazaki of Studio Ghibli fame (for more info, visit Academymuseum.org).
Meanwhile, comics fans shouldn't miss the Comic-Con Museum in San Diego's Balboa Park, a venue where fanboys and –girls can geek out year round about their particular passion, whether it be The Avengers, X-Men, or every superhero in between.
For families, the Cayton Children's Museum opens on June 29 in Santa Monica, offering the finest in play and edutainment for kids (Caytonmuseum.org).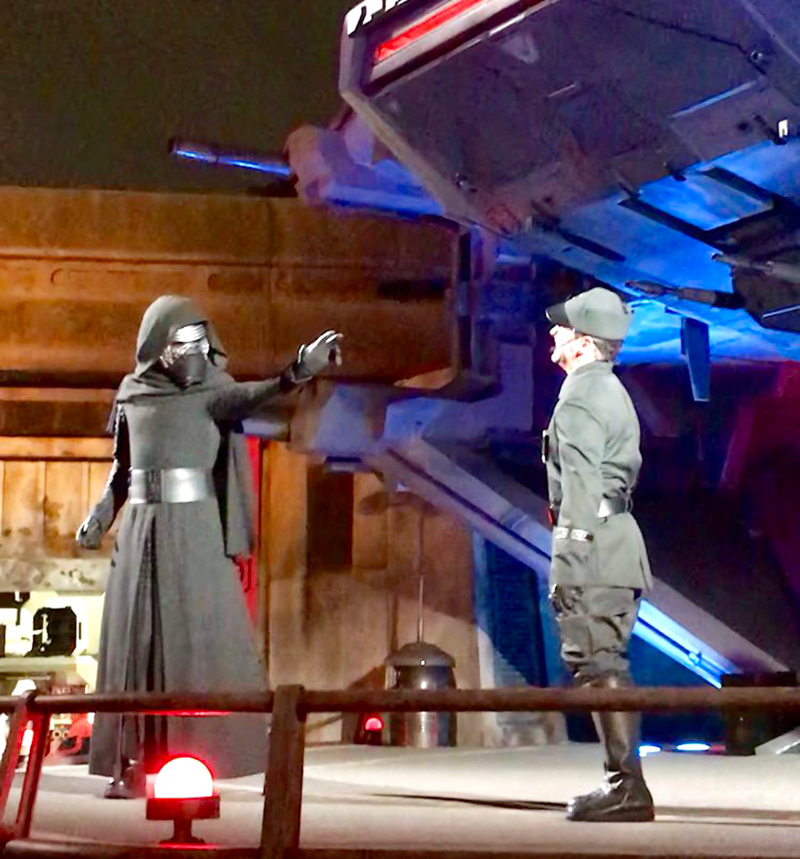 Drama of the First Order: Kylo Ren uses the Force on an officer in Star Wars: Galaxy's Edge.
• Be a sport. America is a sports-loving destination, and California has an upcoming slate of sporting events sure to excite the most avid fans. In September, the Chase Center in San Francisco will serve as the home court of the Golden State Warriors, where you can root for a better outcome for them in next year's NBA championships.
In 2020, the Major League Baseball All-Star Week will be held at Dodger Stadium in Los Angeles. That year also sees the opening of the Vans Off the Wall Skatepark in Huntington Beach near LA.
Super Bowl LVI will be played at Los Angeles Stadium in 2022, the FIFA World Cup in 2026, and the Summer Olympics in 2028, ensuring the world's attention will be focused on the Golden State in the coming years. Play ball!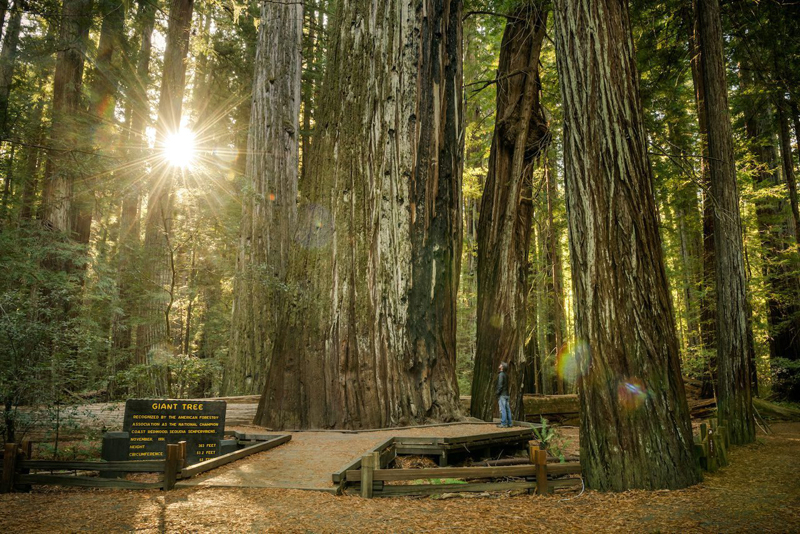 See redwoods: Drive on State Route 254 in northern California and you'll pass through Avenue of the Giants, which runs through the Humboldt Redwoods State Park.
• Get your kicks on Route 66, aka take a road trip. With 400,000 miles of roads and 800 miles of coastline, California is the ideal state to see by car, and tourism org Visit California has seen a 79 percent increase in international travelers wanting to do the Great All-American Road Trip. Consequently, they've deemed CA the "Road Trip Republic" in 2019 and curated 50 "Life-Changing Adventures" to get your motor running, like Undiscovered Wine Regions, the Central Valley Foodie Road Trip, SoCal Stargazing, the Craft Beer Trail and the Rock 'n' Roll Road Trip. For more inspo on the highly Instagrammable itineraries, go to VisitCalifornia.com/Road-Trips and use their hashtag #RoadTripCalifornia to document your adventures.
* * *
Follow the author on Instagram @theresejamoragarceau and Facebook: Therese Jamora-Garceau.