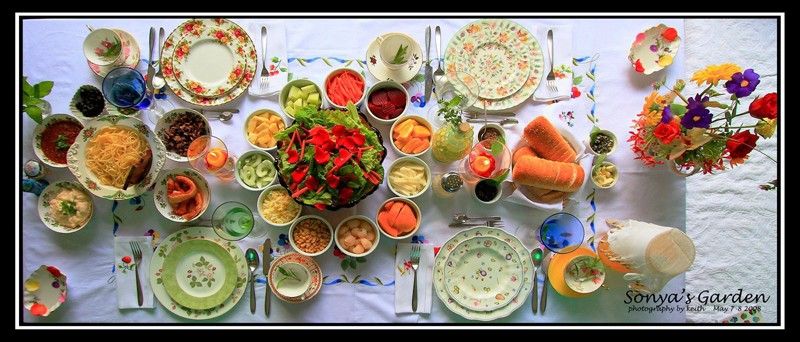 Sonya's organic garden salad.
Photo courtesy of Sonya's Garden
Filipino Bed & Breakfast for everyone
The true measure of success is when one is willing to share one's passion and knowledge so others may benefit from them. Success unshared, after all, is in itself a failure.
The success of Sonya's Garden Bed & Breakfast in Alfonso, Cavite — its style, its elegance, its sumptuous feel, and everything in between — can be replicated anywhere, anytime. And who better to transfer the knowledge than Sonya Garcia herself, the "royal innkeeper" of Sonya's Garden.
"Sonya's Garden has been in the business for more than 20 years now, and I want to share my blessings and all the lessons that I have learned with others who share my passion for a clean, green and healthy country lifestyle," says Sonya, ever the gentle, gracious and generous soul. (She gives housing and livelihood to her staff; and to their children, a scholarship from grade school to college.)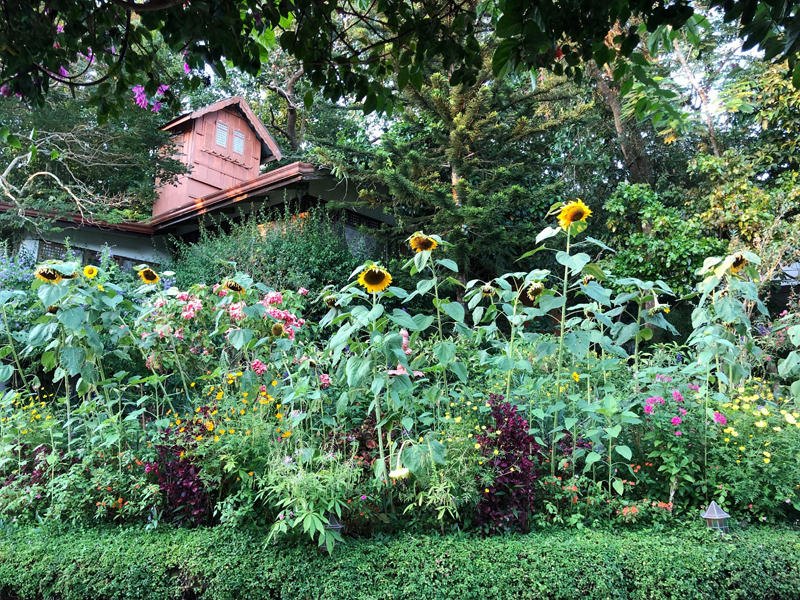 Anytime of the year, the gardens are abloom at Sonya's.
It's an undeniable fact that Sonya is the "mother" of the classy and comfy concept of B&B in the Philippines. I consider it a blessing to be one of the first to write about Sonya's Garden when all it had was one cozy restaurant with to or three tables, a staff that I could count on my fingers, and a "dumbwaiter" amidst a serene garden planted to a flurry of bougainvilleas and other blooms.
Ever since then, Sonya's Garden has always been my family's healing place, our happy place. When Mom and Dad passed away in 1997, 20 days apart of each other, my siblings and I found comfort in each other when we would drive up to Sonya's Garden from our log cabin in Tagaytay Highlands. No visit to Tagaytay would be complete without us tasting Sonya's salad with the mouthwatering secret dressing drenching our plates of romaine, lollo rosa, arugula, slivers of ripe mangoes, jack fruit, pineapple, cashew nuts and, yes, rose petals.
When my sister Michelle Soliven battled and won two bouts with cancer in 2007 and 2010, Sonya's Garden was the de facto healing place.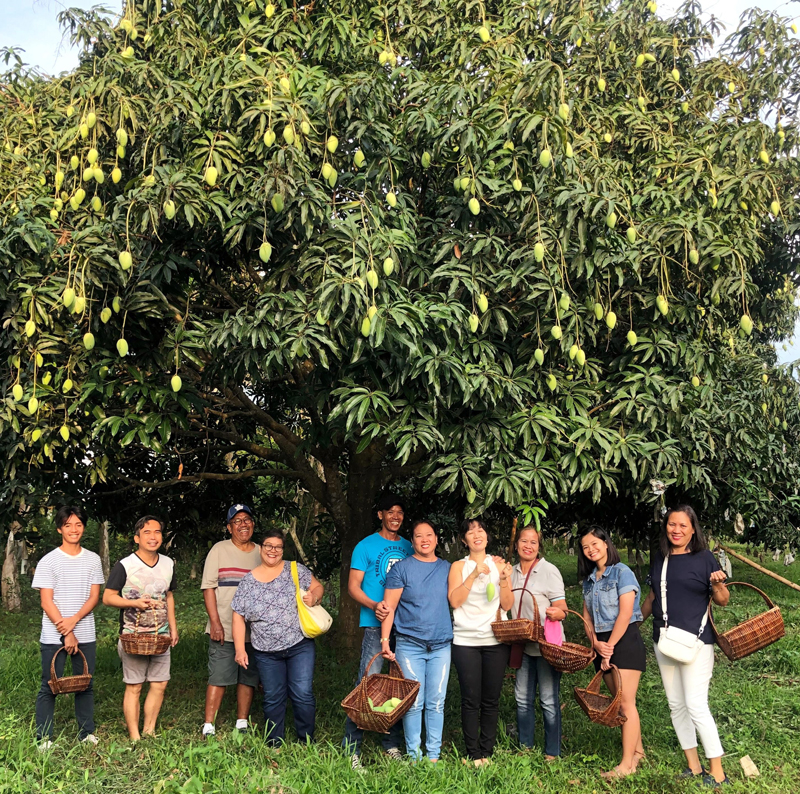 Bum Tenorio (second from left) and his friends from Gulod enjoy picking mangoes at the two-hectare orchard, which is also a property of Sonya's Garden barely 15 minutes away from the B&B. Sonya's Garden also promotes farm tourism. Others in photo are (from left) Jay R Liad, Greg and Janeth delo Reyes, Erwin Layco, Ma. Remedios Aldueza, Marifi Barba, Emily Tatad Liad, Jemima Kesia Liad and Rowena Serrano.
When my best friend Bum Tenorio lost his father in 2010, Sonya's Garden was the first place he visited to ease his pain.
Sonya's B&B is so entwined with us that, for every birthday and hallmark occasion in our lives, Sonya's Garden will always be a great part of it. In times that call for celebration, Sonya's Garden comes top of mind.
During our frequent visits to Sonya's (my best friend Bum and I, with our dear family friend former Supreme Court Justice Elo Santiago, make sure to visit at least once or twice a month), we always hear Sonya talking about her desire to help the Philippines through Filipino Bed & Breakfast. We will hear more about Sonya's desire for a Filipino B&B through her very good friend Clang Garcia, who is also highly passionate about the project. (Our dear friend Clang, who hosts a show on Cignal TV and is an advocate of promoting Filipino cuisine, is also known as the Jeepney Queen of the country for starting the novel and innovative concept of air-conditioned jeepney with karaoke inside.)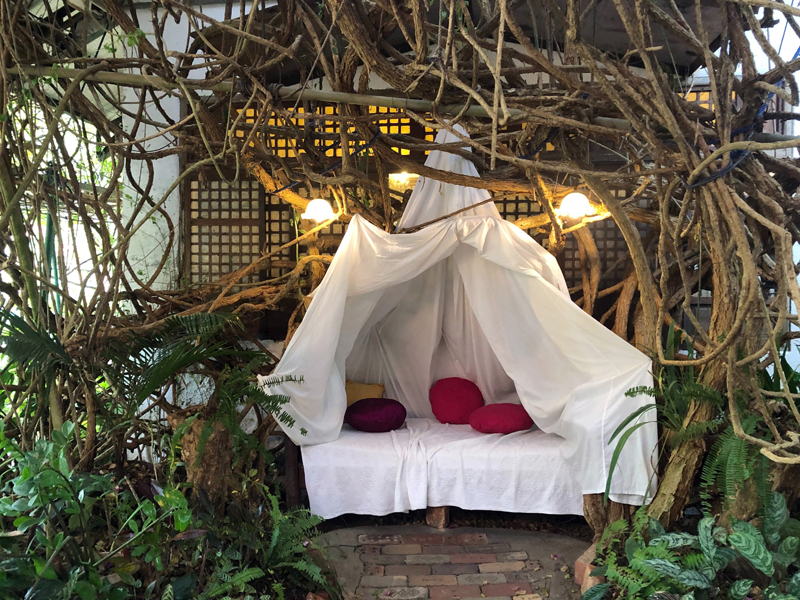 Lazy nooks are aplenty in Sonya's Garden. But this spot, by far, is the most photographed.
"Our government is constantly trying to find ways to make growth more inclusive so that the benefits find their way to the bottom half of our society," says Sonya. "The Filipino Bed & Breakfast is a perfect mechanism for promoting this kind of growth because it requires very little capital and it builds on the Filipino's innate and natural brand of hospitality."
How will Sonya transfer her creative and technical know-how of the B&B business that she has beautifully mastered? Answer: through a three-day master class on running a Filipino bed and breakfast to be conducted by Sonya Garcia herself.
Highlights of the three-day sessions will include: the evolution of Sonya's Garden; Farm Tourism Development Act; community empowerment; Roadmapping: How to Set Up a Filipino Bed & Breakfast; management; operations management plus F&B; sustainability principles; organic farming; income sources; sales and marketing; a lecture on the rise of experiential travel; cooking demo from farm harvest; and a tour of Sonya's Garden and surrounding farms.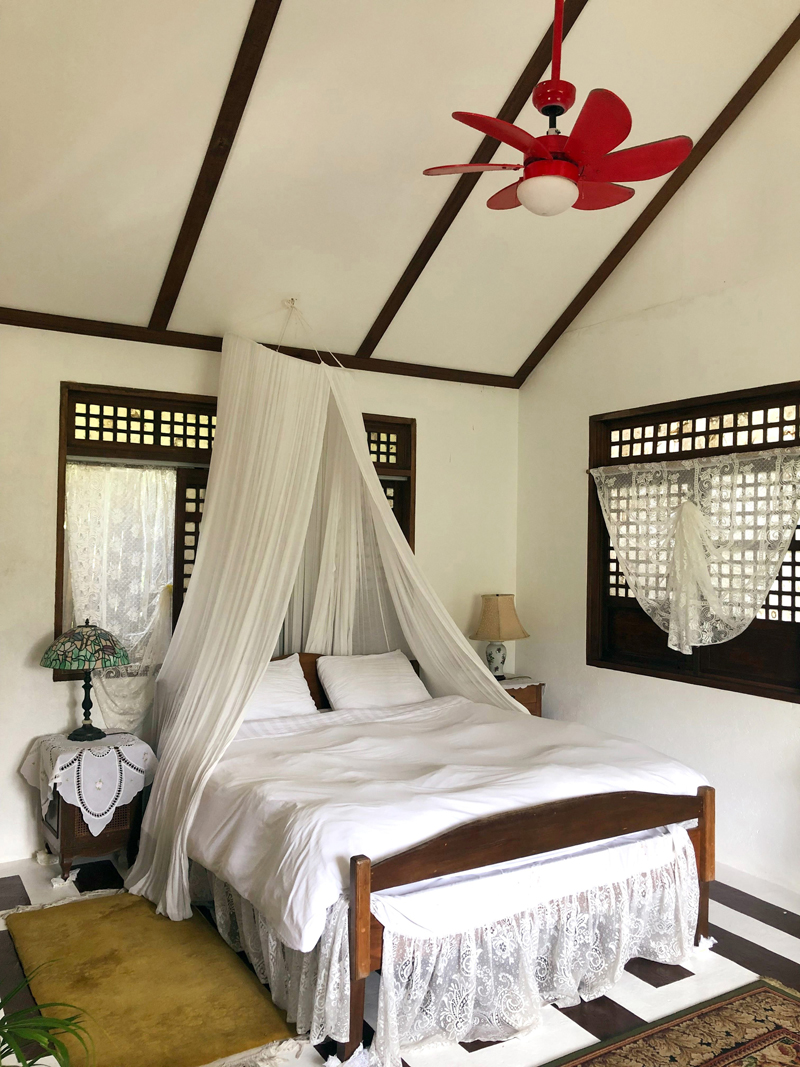 Peace and quiet, simplicity and elegance reside inside a cottage at Sonya's B&B.
The three-day master class is scheduled every second week of the month, Friday to Sunday, starting July 12 to 14.
Sonya also says that Sonya's Garden will also be offering a three-day Monthly Farm Tourism Seminar every fourth Friday to Sunday, starting July 26 to 28.
True to the values of advocating natural healing, Sonya's Garden will also be offering a two-day Wellness Fetreat starting July to be supervised by functional medicine expert Dr. Oyie Balburias, who is European Board-certified in Nutritional Medicine. There will also be a two- to four-week custom program on Regenerative, Restorative, Reshape and Reparative Vacation at Sonya's Garden. The length of the program may vary per guest.
To support the country's medium-term development plan, Sonya says, "We need to develop the rural areas; provide support services to small farmers to improve their productivity; promote agricultural processing; and promote agricultural tourism."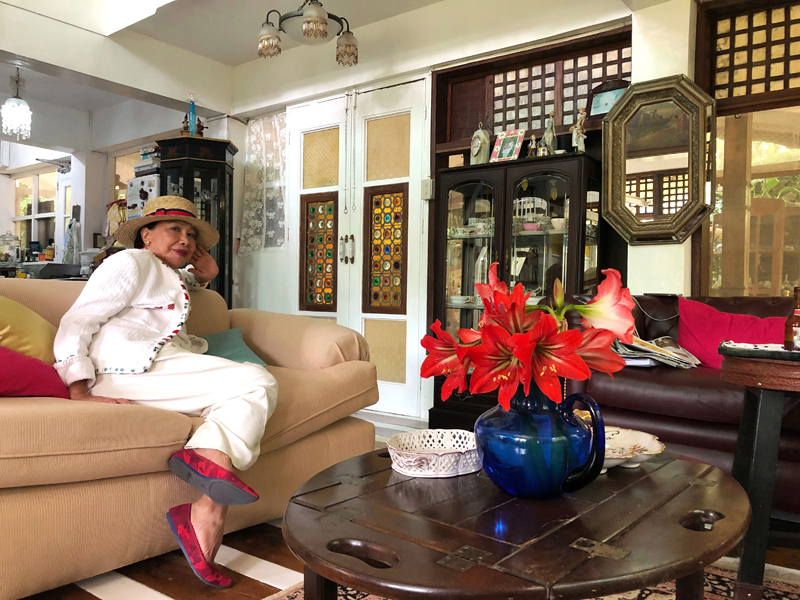 Sonya Garcia, the gentle, gracious and generous "royal innkeeper" of Sonya's Garden.
Sonya recognizes that tourism is a major pillar of Philippine growth. "I belong to the tourism sector and every day I see the tremendous potential of the B&B industry as one of the most effective drivers for the growth of Philippine tourism," she says.
Starting a B&B, according to her, requires "a very low capital." "Any family who has a decent, clean and preferably traditional and secure abode can transform their living area into a lucrative family enterprise, which can grow over time on its own steam."
She adds, "Because of its low capital needs, a B&B can be established in nature tourism spots, which are yet unspoiled by standard tourism infrastructure or in areas that have seasonal attractions that make it uneconomical for the big chain hotels to operate in."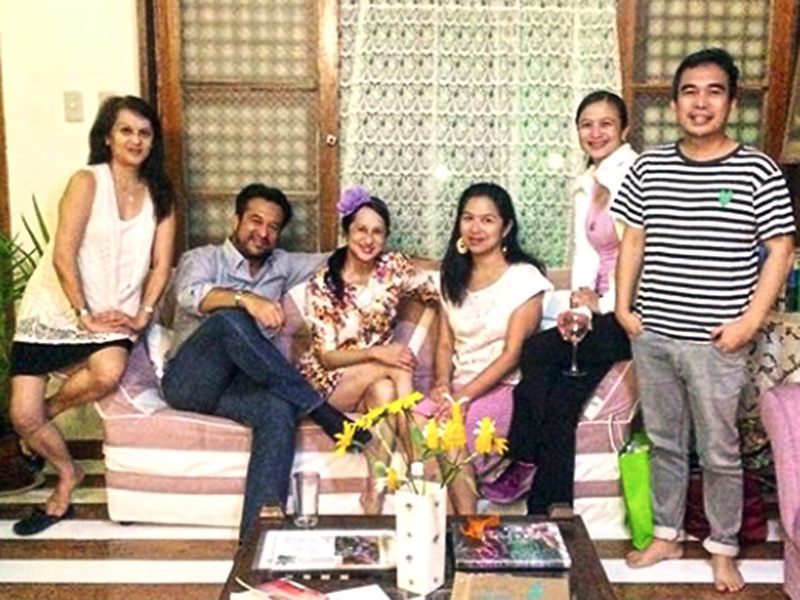 For my siblings and me, Sonya's Bed & Breakfast is a happy, healing place. Enjoying the Lavender cottage are (from left) Jaqui Boncan, Mark Dayrit, the author Christine Dayrit, Michelle Soliven, Yvonne Romualdez and Bum Tenorio.
Since B&Bs are best managed by families or communities, Sonya says they provide the perfect mechanism for promoting inclusive growth. Revenues and job opportunities can be generated in medium- to low-income areas with minimal government intervention.
The B&B concept, she notes, capitalizes on the Filipinos' greatest asset: hospitality.
"What better way for the world-famous Filipino hospitality to be expressed than to welcome the weary traveler into the comforts of a traditional Filipino home and to be refreshed by traditional Filipino cuisine?" says Sonya.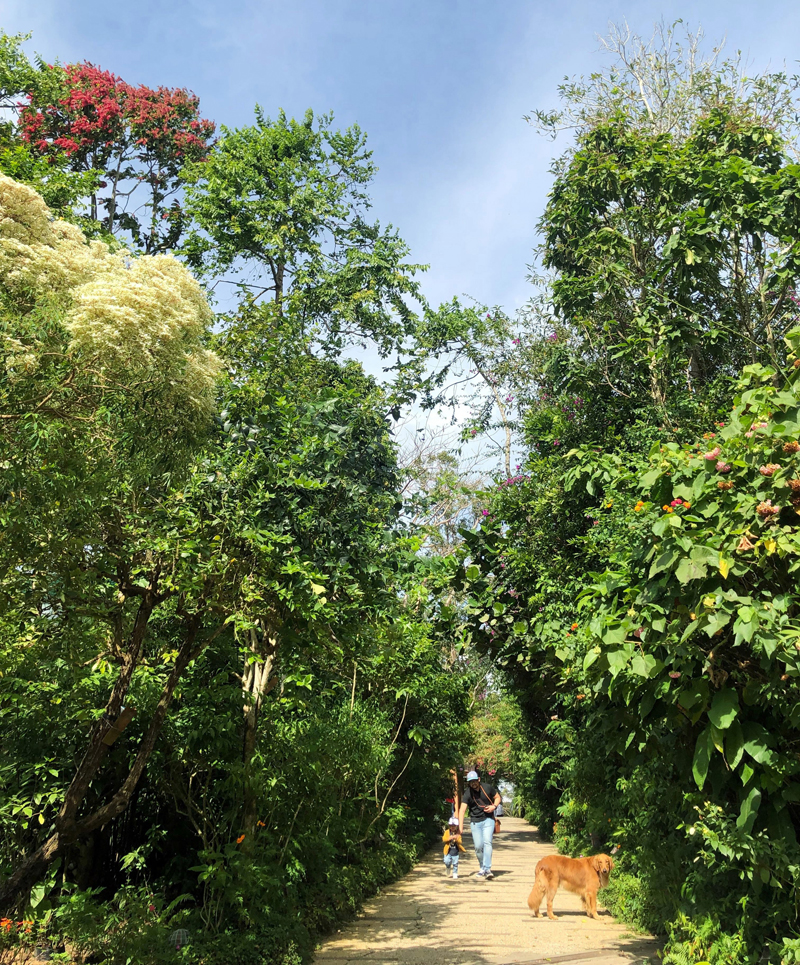 Flowering trees like palo santo are telltale signs of paradisiacal living at Sonya's.
"There is a growing breed of travelers who shun the expensive run-of-the-mill hotels and prefer to stay in off-the-beaten-path traditional homes — which provide more local color and by far a more rewarding experience of blending with people, the community and the culture," Sonya notes. "For the balikbayans, there is no better way to reestablish their roots than to be in a traditional Filipino home."
As far as we can remember, Sonya has been promoting the Filipino Bed & Breakfast concept to us. She has been "indoctrinating" Bum to turn his piece of property into a B&B.
Sonya is realistic, noting that a Filipino B&B needs just a little push for it to head in right direction. The following are needed, she says: 1) An organization, possibly part government and part private; 2) a system of accreditation, standardization and classification to be administered by the organization; 3) government incentives to help new entrepreneurs to get on their feet like management training, access to soft financing and other tax incentives; 4) dedicated Filipino entrepreneurs who would function as ambassadors of their heritage and culture by opening up their homes to foreign and local travelers.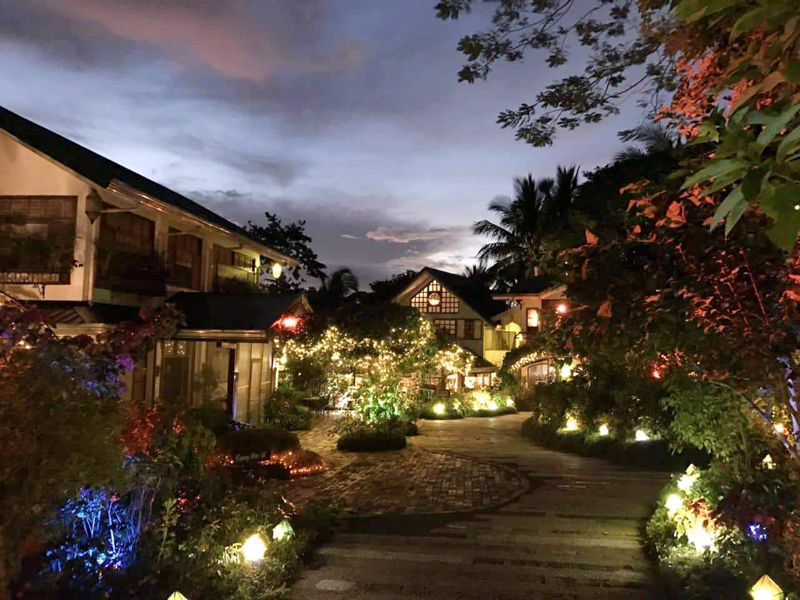 At night, romance envelops Sonya's Bed and Breakfast as it is bathed in lights and serenaded by crickets. (Photo by Clang Garcia)
"I always believe that we are all travelers on this earth, and that we should leave it a little better than we found it. This is the legacy that I want to leave behind," says Sonya. "Very few people know that I started this business with a just a piece of land and a dream of having my own small corner where I can create my own garden. There are lot of people in our country who have the same thing and they have yet to realize the potential of having their own tourism enterprise similar to Sonya's Garden."
Her beautiful heart and unparalled vision are the elements that have made Sonya's Garden grow into a successful and sumptuous endeavor. These are the same elements of generosity that Sonya Garcia wants to share with the Filipino people.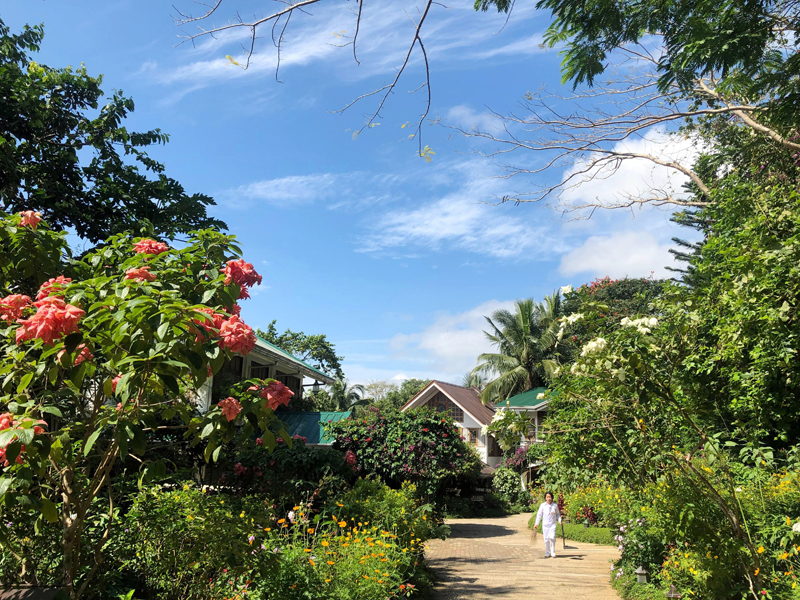 Even in its stillness, Sonya's B&B is alive, a unique find.
* * *
For more information about the three-day master class on Filipino Bed & Breakfast and other activities at Sonya's Garden, visit www.SonyasGarden.com. You can also e-mail bedandbreakfast@sonyasgarden.com, call 0917-5335140 or like its Facebook page.
Email the author at miladay.star@gmail.com.