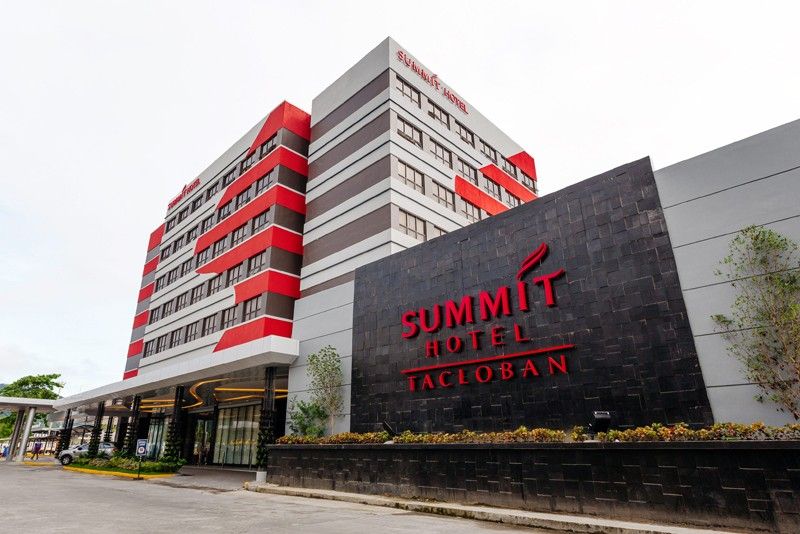 Summit Hotel Tacloban is now the biggest hotel in Leyte's capital. The seven-story hotel boasts 138 rooms, a ballroom and function rooms for its corporate clients and MICE guests.
Infinite escapes await from Summit Hotel Tacloban
The newly opened Summit Hotel is your jump-off point to paradise. From here, you travel to Palompon town where Kalanggaman island is only 45 minutes away by boat.
Famous for its crystal-clear waters, lush palm trees and beautiful sandbars on both ends, Kalanggaman Island is a piece of paradise you've always dreamt of.
This relatively unspoiled island in Palampon, Leyte, draws in local and foreign tourists because there's basically nothing much you can do here — aside from swimming and snorkeling — but to soak in the beauty of nature.
The beautiful sandbar opens up like a bridge, a narrow path that leads you to a tranquil place. However, the sandbar gets buried during high tide but reappears immediately after.
Staying true to its promise of a quiet weekend getaway, there are no establishments or privately owned resorts on the 753-meter island, no restaurants and no vendors.
For international tourists, the entrance/conservation fee is P500 per person. Non-Palompon tourists like us paid only P150 each.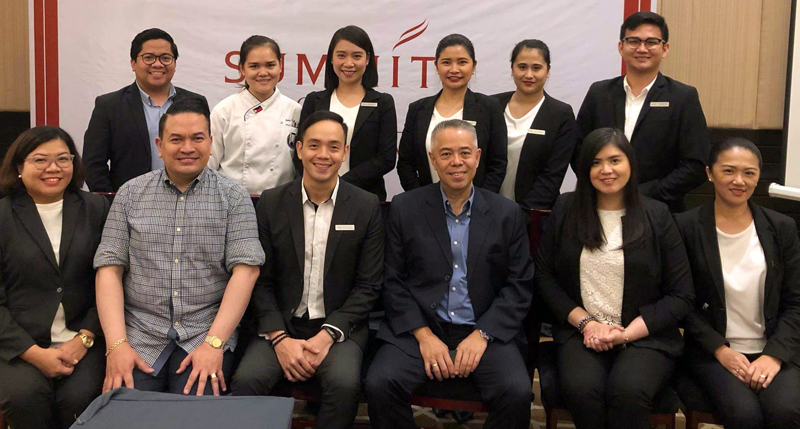 Team Summit Tacloban: (First row, from left) Robinsons Hotel & Resorts senior marketing manager Lisette A. Arena, Summit Hotels & Resorts hotel general manager Jose Marie Ouano, officer in charge for general operations Drixel M. Ortega, Robinsons Hotels & Resorts general manager Arthur G. Gindap, sales director Rowena Samonte, Summit Hotel Tacloban hotel manager Cindy Gidal; (back) Empresario Food Group's Maji Macasil Celerinos, Jannica Mae T. Algallar, Summit Hotel duty managers Jameslyn Navidad, Kareen C. Caduhay, Alyssa Myrr C. Bertulfo, senior sales executive Mark Eugene M. Agullo
Glamping is the only way to spend the night at Kalanggaman. And tents can be rented at the Palompon Eco-Tours.
Our tour package came with a buffet-style lunch, which featured grilled fish and meat items, fresh seaweeds (lato), dried danggit, veggies and fruits for dessert. Yum!
There are many ways to get to the island, but the fastest would be to fly direct to Tacloban if you're coming from Manila.
I was part of a boisterous mix of lifestyle writers from Manila invited by Robinsons Land Corporation (RLC) director for corporate public relations Roseann Villegas for a staycation at the newly opened Summit Hotel Tacloban, your jump-off point to paradise.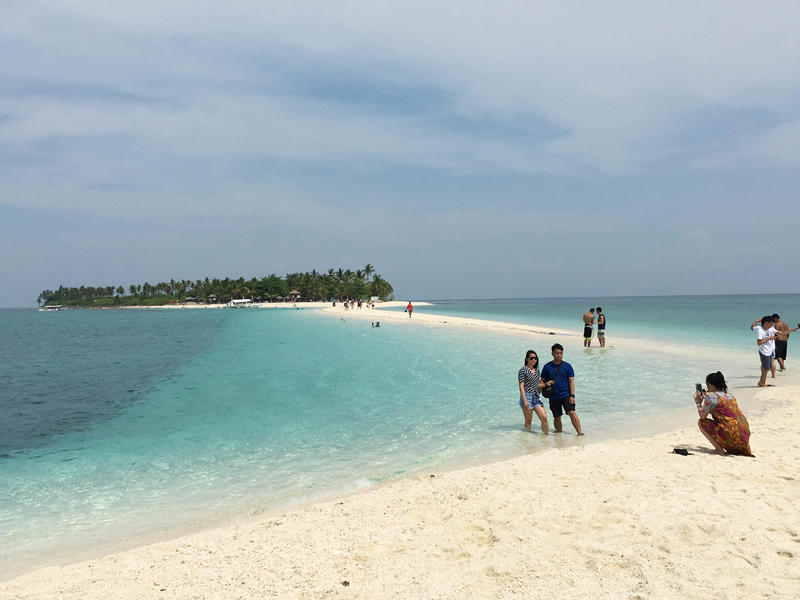 Enter sandman: Kalanggaman Island's beautiful sandbar opens up like a bridge, a narrow path that leads you to paradise.
From the hotel, we traveled 2 1/2 hours to Palompon town. From there, Kalanggaman is only 45 minutes away by regular boat.
Touted as the regional hub for Eastern Visayas, Tacloban City serves as a gateway for the region, for people traveling to Leyte and neighboring provinces of Biliran and Samar.
"There are a lot of reasons to escape here in Eastern Visayas," said Bing Lumber of DOT Eastern Visayas.
The region has been aggressive in promoting its tourist sites through its "Infinite Escapes" campaign like the Langon-Gobingob Caves in Calbiga and the world-renowned Sohoton Caves and Natural Bridge in Basey, and the pink beach in Northern Samar.
At the heart of it all is Summit Hotel Tacloban, which is a few minutes away from the airport. From the hotel, which, by the way, is a paradise in itself — having the comfiest beds and pillows, a swimming pool, a pool bar, and a food and beverage department run by Patron, a local player; and its #superstaff that delivers impeccable service — "infinite escapes" await.
Mice to meet you at the summit
Summit Hotel Tacloban is now the biggest hotel in Leyte's capital. The seven-story hotel boasts 138 rooms, ballrooms and function rooms for its corporate clients and MICE (meetings, incentives, conferences and exhibitions) guests.
"As one of the largest hotel groups in the country, we identify possible areas we might come in. Sometimes we will enter when the market is a bit more mature, but you don't want to be early and you also don't want to be too late," said Robinsons Hotels and Resorts senior vice president and business unit general manager Arthur Gindap.
As Eastern Visayas' regional hub, Tacloban continues to attract tourists and investors, especially after the devastation caused by super typhoon Yolanda in 2013.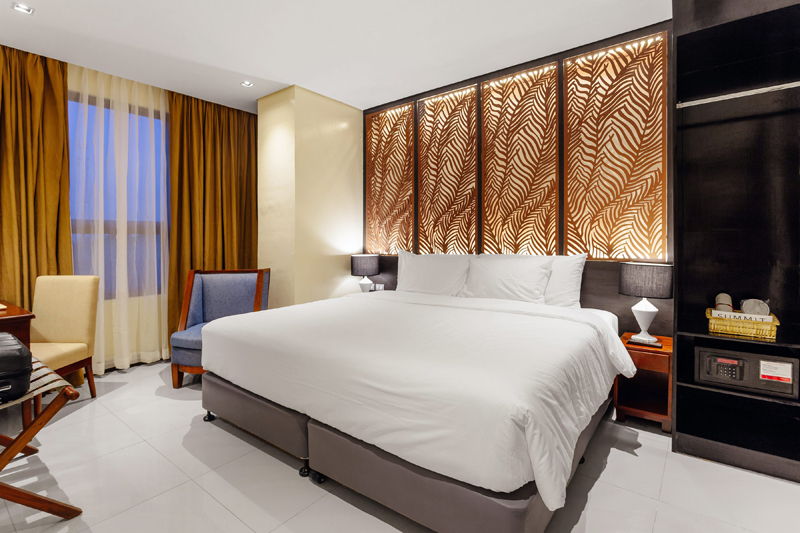 Suite yourself: Summit Hotel Tacloban's Lubi Lubi Suite encourages guests to cocoon.
"Robinsons Land Corporation has so much confidence in Tacloban. We have two malls here and two hotels (Summit Hotel and Go Hotel)," enthused Gindap. "And since more businesses are investing in the city, especially in the tourism and hospitality sector, Summit Hotel Tacloban fills in the full-service hotel gap in the city. Filipino tourists' expectations are now higher. Our standards are higher as we become a prosperous nation. They aren't just looking for any accommodation, but a full-service hotel that can cater to their needs. Before, we would settle for crappy accommodations. Well, not anymore."
According to Gindap, RLC is also considering building convention centers.
"Why only have one in the game?" he said. "Here in Tacloban, we're the largest facility for MICE in a hotel."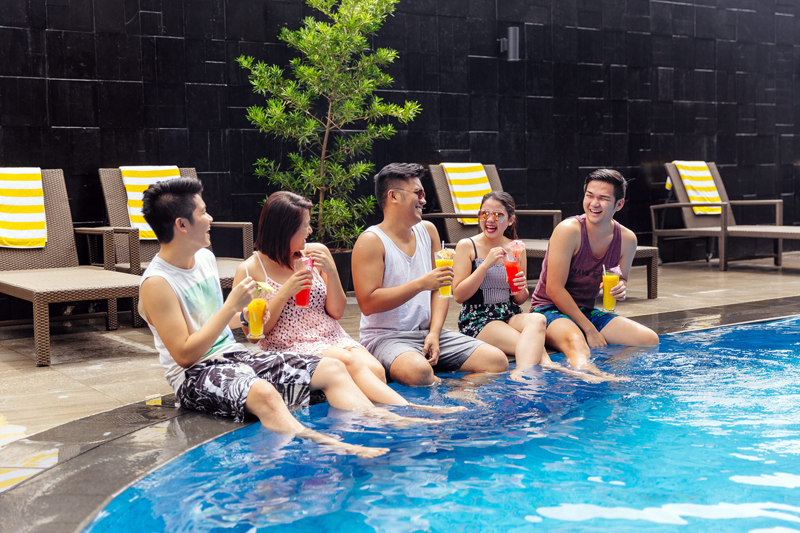 Take a dip and have a drink at Summit Hotel Tacloban's pool bar.
Since it opened last year, Summit Hotel Tacloban has welcomed foreign and domestic tourists, as well as corporate clients in the MICE market.
"Our future for Summit is to have a MICE component. We're moving toward full-service and MICE and convention," he revealed.
Summit Hotel Tacloban boasts the Leyte Ballroom, which can accommodate 600 persons, and the Samar and Tacloban meeting rooms, each having up to 40-pax capacity.
The suite life
Situated beside Robinsons Place Tacloban, Summit Hotel Tacloban is your home away from home when vacationing in Leyte. It is the ideal "base camp" for exploring Eastern Visayas' island destinations that offer diving and whale shark interaction activities, the famous Canaan Hills Farm and the Honey Garden in Biliran, a neighboring province that was once part of Leyte.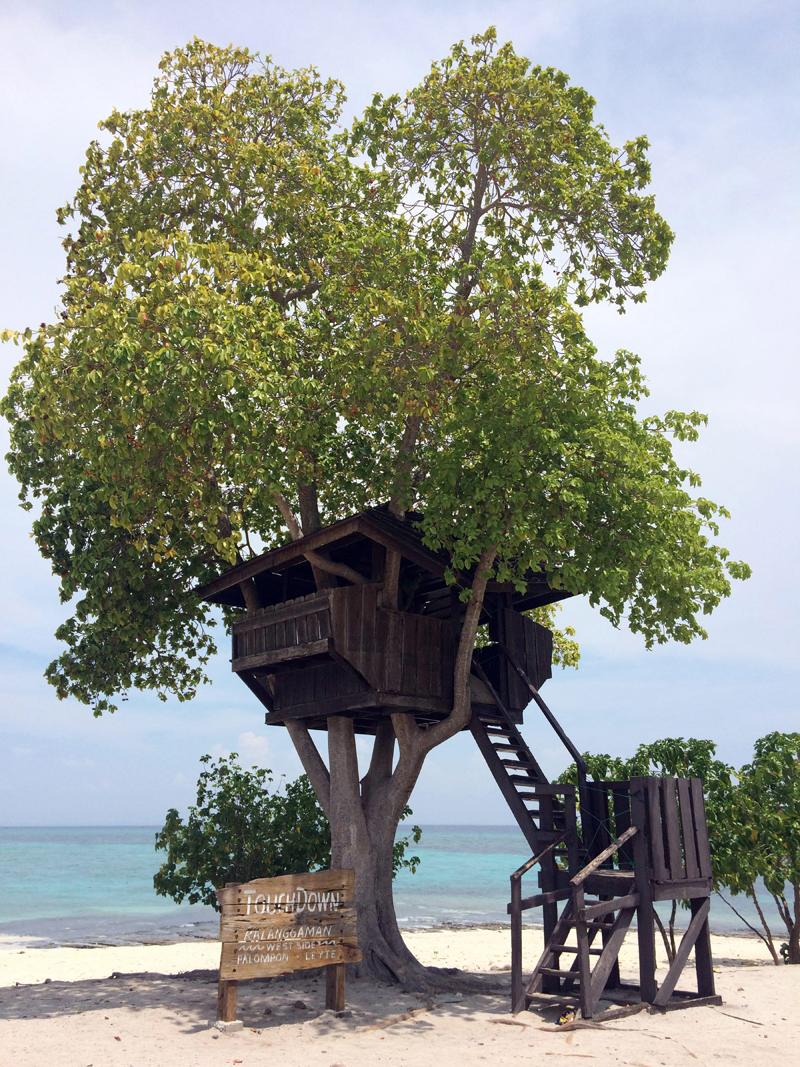 Just got bitten: The lone tree house on Kalanggaman Island
The hotel has everything your weary body needs to recharge. It boasts 138 tastefully done-up rooms, all equipped with individual Wi-Fi router, separate shower room and toilet, chiropractic-designed beds in layers of high-thread- count linens for maximum comfort, which are standard fixtures in every Summit Hotels and Resorts property.
Unlike other hotel rooms that are made for sleeping and freshening up, Summit Hotel Tacloban encourages guests to cocoon.
Summit Hotel Tacloban is the hospitality company's fifth hotel in the country.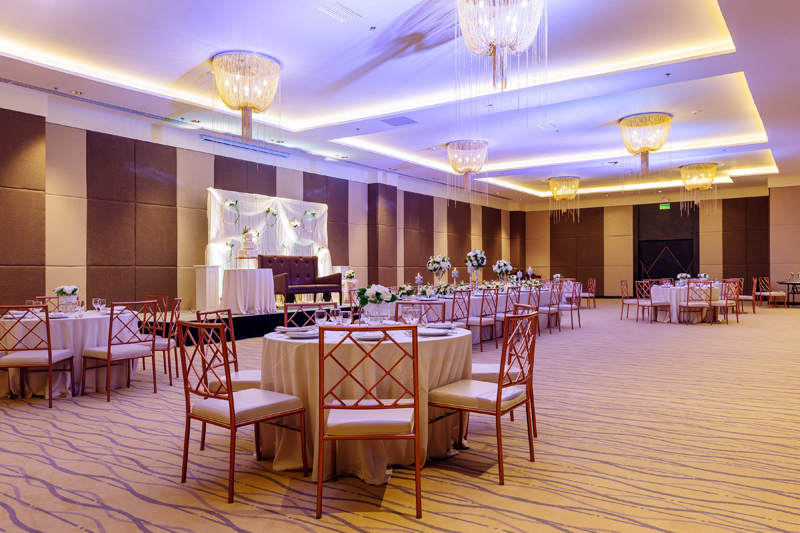 The Leyte Ballroom can accommodate up to 600 guests.
* * *
Summit Hotel Tacloban is right beside Robinsons Place Tacloban, 77 Marasbaras, Tacloban City, Leyte.
Booking is made eaiser and faster by booking direct through www.summithotels.ph or call (053) 832-9949, SMS 0998-8407356.