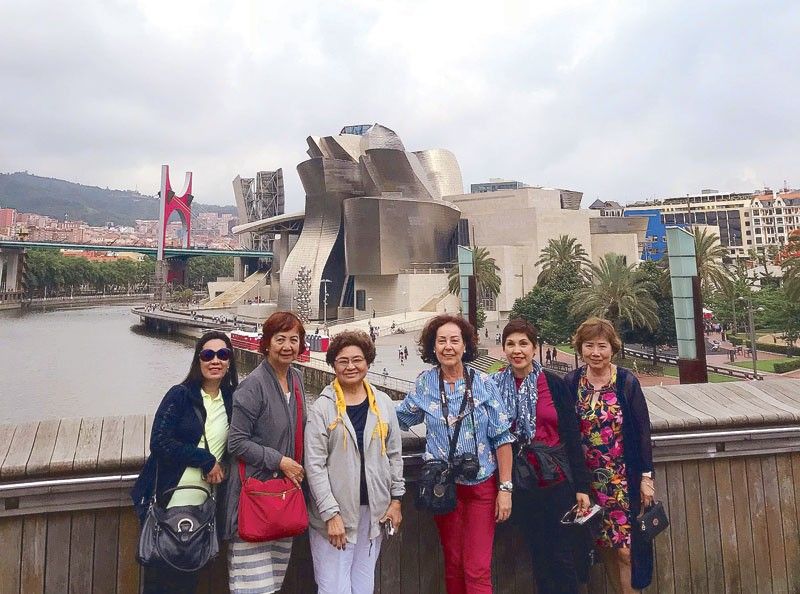 At the Guggenheim Museum in Bilbao, Spain are (from left) Rosalie Heo, Dionne Cu, Rosalind Wee, Betsy Tuason, Totelle Dimson and the author.
Diaries of the sisterhood of pilgrim golfers
MANILA, Philippines — Four courses and seven cathedrals ago, the Sisterhood of Traveling Golfers, conceived in Tagaytay Highlands and dedicated to having fairway fun, cruised the French and Spanish Rivieras to craft another golfing narrative.
After ticking off St. Andrews, the Mecca of golf, from their bucket list two years ago, six of the Sisterhood of 12 suited up as pilgrim golfers in summer 2018.
Throughout their golfing "career," the Sisterhood has singularly and collectively whacked their way through the greens of the Philippines, Thailand, Singapore, China, Hong Kong, Japan, Australia, USA, Canada and Scotland.
A golf cruise curated by Azamara with PerryGolf incentivized six of the Sisterhood to expand their golf geography to PGA famed courses along the French and Spanish Riveras. The six – Dionne Cu, Totelle Dimson, Rosalie Heo, Betsy Tuason, Rosalind Wee and myself – further configured a sanctified golfing adventure, adding land tours to visit the sanctuaries and cathedrals of France, Spain and Portugal. Our mantra? EAT PRAY GOLF.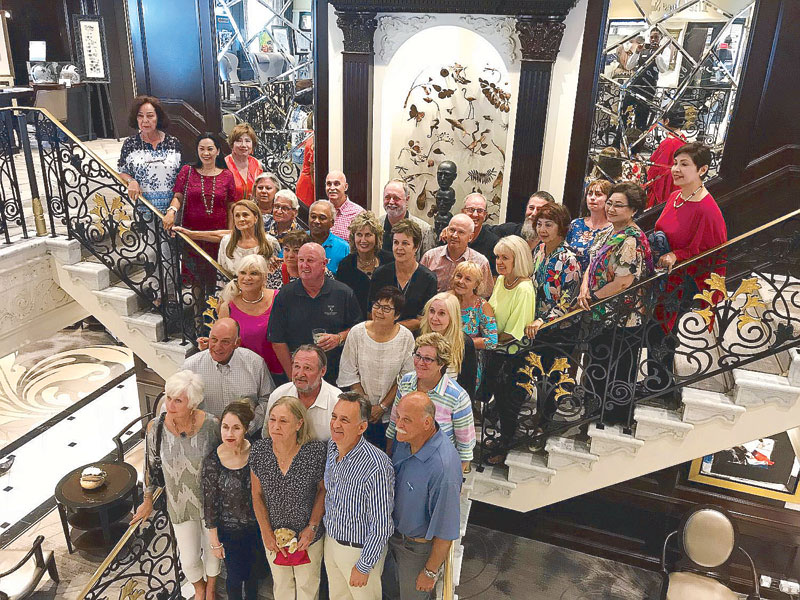 All for the love of golf, they came from the Philippines, Hong Kong, Indonesia, Ireland, Australia, the US, England, Scotland and Canada.
With enough Hail Marys from our first pilgrim stop – the Basilica at Montserrat of the Black Madonna fame – in Catalonia's serrated mountain, the golf cruisers dropped anchor at Terra Blanche Golf Resort and Spa. Nestled between Provence and the French Riviera, the luxurious course was a fête of topnotch golf spa and resort once owned by "James Bond" Sean Connery.
"Oolala!" exclaimed Rosalind, wife of Philippine Ambassador to Indonesia Lee Hiong Wee. "What a beautiful, beautiful course. Such a blessing to play wherever I can." President of various business and social organizations, Rosalind is referring to her legally blind condition resulting from a surgical extraction of a golf-ball sized brain tumor lodged in the crosshairs of her optic nerve some 20 years ago.
Voted France's best golf course in 2017 by Europe's LeadingCourses.com and UK's Golf World as Best Golf Resort 2017 in Continental Europe, Terre Blanche has two 18-holes. Together with some 30 cruisers from other parts of the world, the ambitious six played Le Château championship course through challenging water hazards, jagged-edge bunkers and carpet greens spread through 7,235 yards.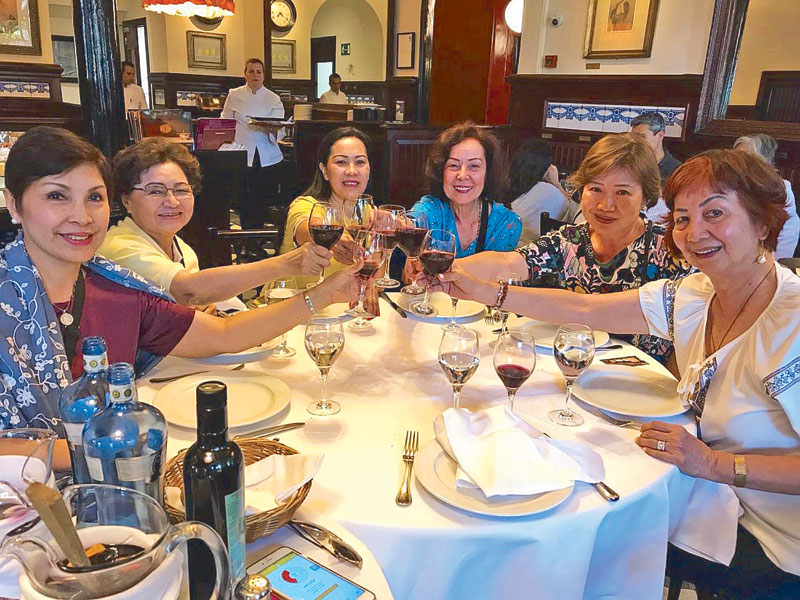 The sisterhood from Manila wait for their paella at 7 Portes in Barcelona.
"It is really such a thrill to play different courses in different countries," enthused Totelle. "It sharpens one's mental and golfing skills." Like all Philippine golfers spoiled with caddies, Totelle and the girls easily adjusted with a 14-inch GPS tablet clipped into the golf carts guiding them to strategize and not be distracted by the endless stunning views unfolding at every turn. After all, they are in the IG worthy region south of Côte d'Azur.
Naturally, après golf, it was dining in the glam coastal cities of Monaco, Cannes and Saint- Tropez.
From the fairways of France, the six cruised to the "crown jewel of Spanish golf" – PGA Catalunya Golf and Resort in Palamós, along the Costa Brava. Another eye candy originally planned to be a Formula 1 racetrack. Now owned by Irish telecom billionaire Denis O'Brien, the luxury golf destination boasts of Spain's golf pro Sergio Garcia's first Junior Golf Academy and the first Spanish Golf School of short game guru American Dave Pelz.
"A super unforgettable experience to play in this Spanish gem," said Dionne, a proud grandmother of two. "I have been playing golf since I was a kid and this championship Stadium Course blows me away," added the former garment manufacturing executive.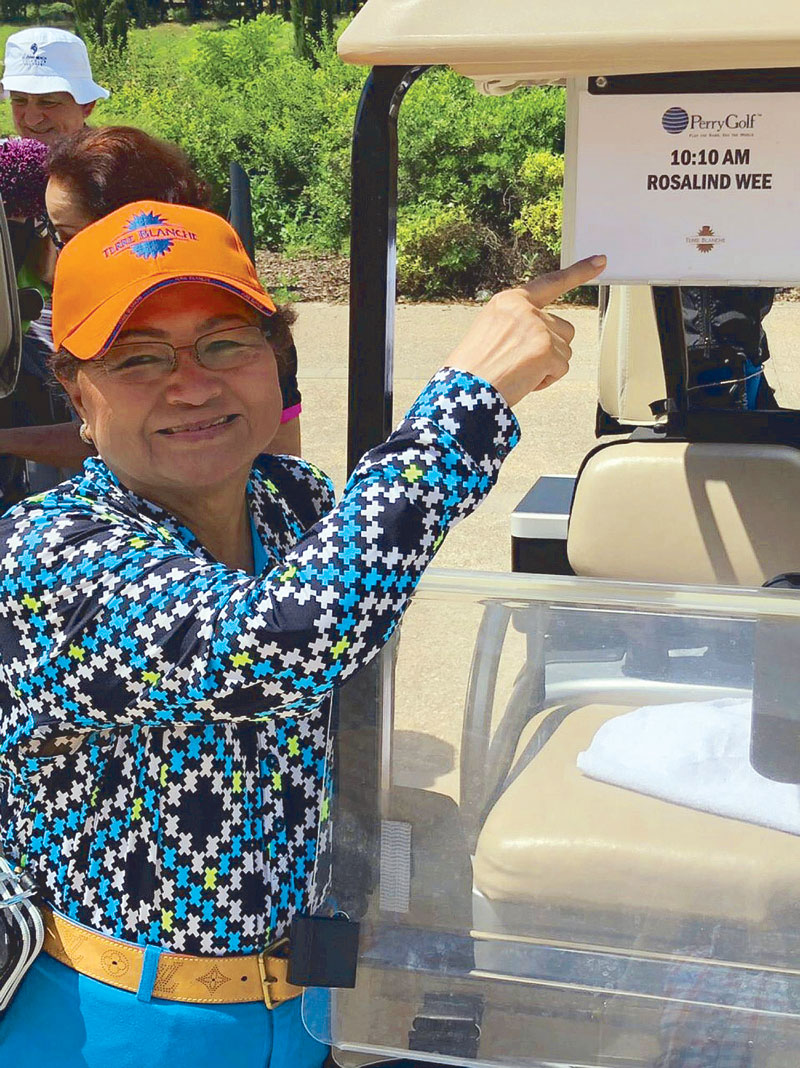 Rosalind all set to tee off at Terre Blanche in the Coté d'Azur in the French Riviera.
Betsy chimed in, "The signature 13th hole, wow! With the Pyrenees Mountains as a backdrop, it's nothing but a corridor of green to the pin. My son (golf pro Nick Tuason) pushed me to join this golf journey. And am so glad I did."
"Simply spectacular," said Rosalie, the group's ace golfer. "I love the challenges of this course. Undulating fairways amongst trees of pine, cork and oak. So many bunkers. Elevated tees. Fast greens. Island greens. I love it!"
Day after, the cruisers played Alcanada Golf Club, a Robert Trent Jones Jr. designed 18-hole course situated right by the sea in the Mediterranean island of Mallorca. Another challenging championship course, Alcanada is fairly young, built in 2003 on a stretch of 7,107 yards blended into the Mediterranean landscape of pine and olive groves. A landmark lighthouse can be seen from any sea-facing fairway.
The Scotland-based golf cruise organizer, PerryGolf, handled all golf bag transfers including fairway snacks and sponsored a one-day stableford tournament amongst the 30-some international cruisers in this magnificent course.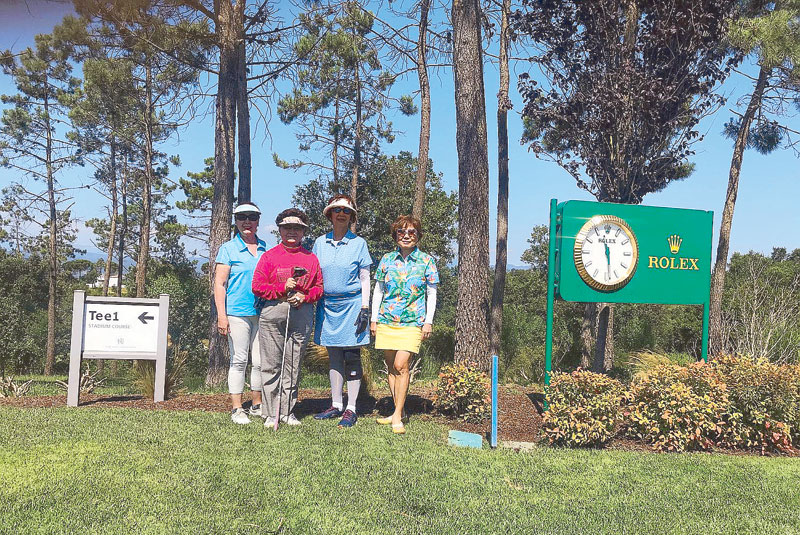 Foursome at the PGA Catalunya Golf and Resort at Palamos, the crown jewel of Spanish golf.
Set in a centuries-old mansion refurbished with modern facilities, the clubhouse terrace offers 180-degree fairway and bay views with cool coastal breeze. "Awesome! Awesome!" place to unwind and discuss scores.
The golf divas from Manila invited the worldly cruisers to play across the oceans on the 45-hole Tagaytay Highlands and Midlands, reminiscing the breathtaking views of Taal Lake and the volcano within a volcano.
Rosalie and Totelle won top honors and received awards from the ship's Captain Carl and PerryGolf founding director Colin Dagleish.
After a day of eating in Valencia, the fourth golf cruise destination was the 45-hole Greg Norman designed course, Real Club de Golf El Prat Barcelona. Just 35 minutes from the city, it hosted the Spanish Open ten times, the latest in 2015. Considered one of the 125 Platinum Clubs of the world, the 5-star private club was granted "Real" or Royal status by King Alfonso XIII.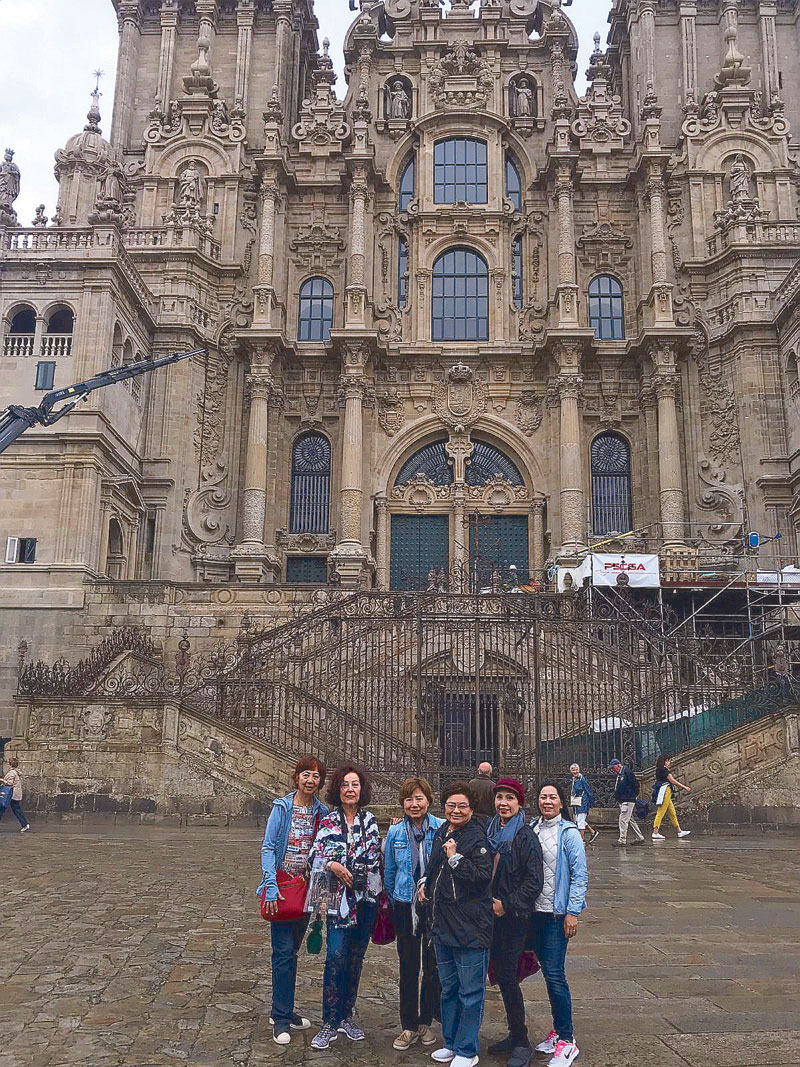 Finally, the golfing pilgrims reach Santiago de Compostela.
With roots dating back to 1912, the pedigreed El Prat didn't stir up oohs and ahhs from the women busy chattering between swings and reserving restaurants, conjuring images of tapas and cava in foodie heaven.
The cruising, golfing and eating experience morphed to a pilgrimage of sanctuaries – cooling off with Holy Water from the flowing spigots of Lourdes, France, then tackling the Camino Frances via a chauffeured van, stopping in the cathedrals of San Sebastián, Burgos, Leon, on the way to Santiago de Compostela, Spain. EAT PRAY EAT.
And the grateful pilgrim golfers continued their Mediterranean journey to Our Lady of Fatima in Portugal with a two-night stop in Porto, visiting the Lello & Irmão Bookstore of Harry Potter stardom and azulejo tiled churches, searching for the best pastel de nata, dining by the Duoro River lined with restaurants and Port wineries.
EAT PRAY GOLF!
Cheers to the Sisterhood of Traveling Golfers!