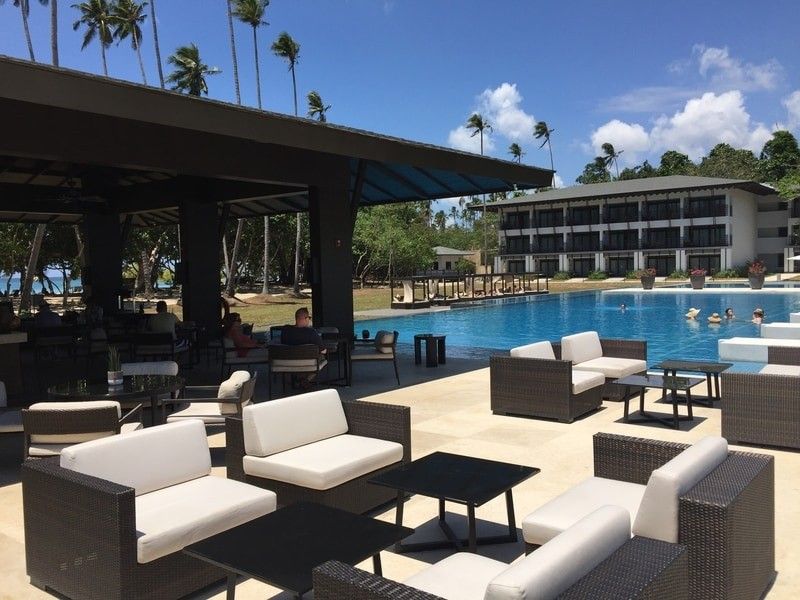 The Seda resort was built and designed with environmental conservation in mind. No building was constructed to be taller than the tree-line and there was minimal cutting of trees.
Philstar.com/Matikas Santos
Preserving paradise: Balancing tourism and the environment in El Nido
EL NIDO, Palawan — The sleepy town of El Nido on the northern tip of Palawan province has around 41,000 residents but saw over 186,000 tourists from all over the world in 2018.
Its 45 islands and islets, famous for fine white sand beaches, limestone cliffs, and coral reefs, have received global recognition over the past few years resulting in a booming tourism industry that is already putting a strain on the local environment.
While the Department of Environment and Natural Resources has previously implemented policies and regulations hoping to cushion the negative impact of tourism, one major private establishment has taken bigger steps in implementing sustainable practices.
Lio Tourism Estate, owned by Ayala Land, was designed and developed as a "masterplanned, integrated resort community" that it says is "guided by principles of sustainability and inclusive growth ensuring least impact to the environment."
Only 45 percent of the entire 325-hectare estate is developable, leaving the rest of the land as forest and nature preserve. The biggest development in the estate is Ayala Land's homegrown brand Seda Lio resort with 153 rooms and sits right in front of the beach.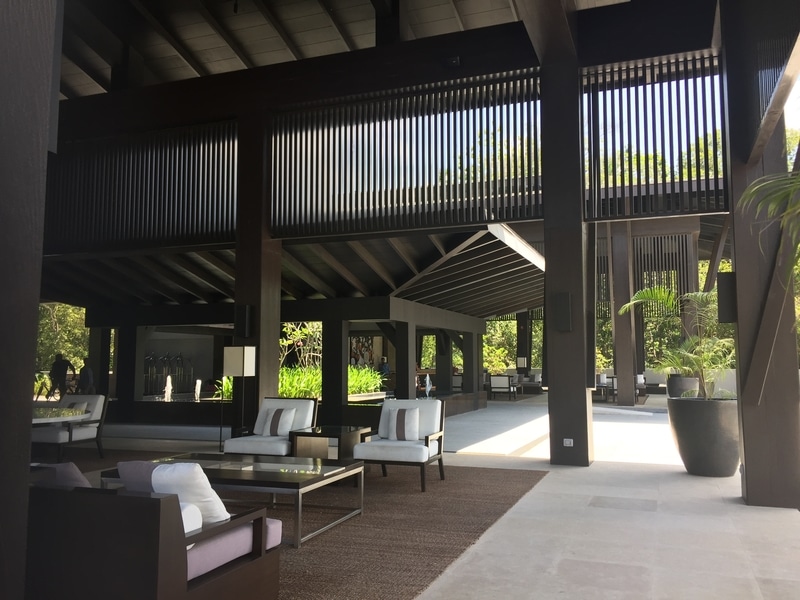 Seda Lio's lobby is open to nature and was constructed from mostly local materials. Philstar.com/Matikas Santos
Following a soft opening in August 2018, Brett Hickey, Seda Group General Manager, has been running Seda Lio's operations and he takes pride in the sustainable practices that help manage waste and protect El Nido's natural environment.
"The shortest and easiest route [to development] is not necessarily the best route [for the environment]," Hickey said in an interview with journalists flown in for a familiarization tour of the hotel and the estate.
"It's difficult to build a sewage treatment plant onsite and get the proper approvals from the DENR. That's difficult. What's the easy route that everyone else does is they build secret pipes to go and drain to the ocean," he said.
In the past several months, the government has been cracking down on polluters in Boracay Island, also a popular tourist destination in the Philippines, and Manila Bay that were found to be dumping waste into the surrounding waters.
"If you're willing to do those extra steps, pay the extra money, work with them, really be forward-thinking about it, I think that's the challenge," Hickey said.
The Seda resort was built and designed with environmental conservation in mind. No building was constructed to be taller than the tree-line and there was minimal cutting of trees.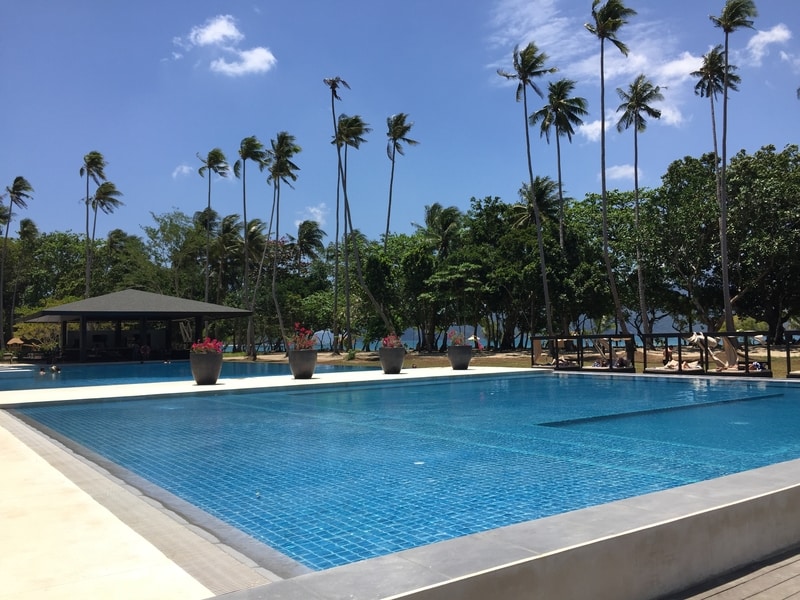 Seda Lio's pool and bar is 40 meters away from the shoreline and is surrounded by native trees that were retained from the area when the resort was constructed. Philstar.com/Matikas Santos
They also built 40-meters away from the shore line, which is double the standard set by the government, and buildings were constructed using locally-available materials.
"When we built this resort, even when I opened the resort on the first day, it was difficult seeing the ocean [because of trees in the way]," Hickey said.
"I think nine out of 10 other companies that's going to come in, they are just going to bulldoze the trees down and make way for the view. But we kept every single tree we could. So we spent a lot of time cutting down branches but all the trees are still standing," he said.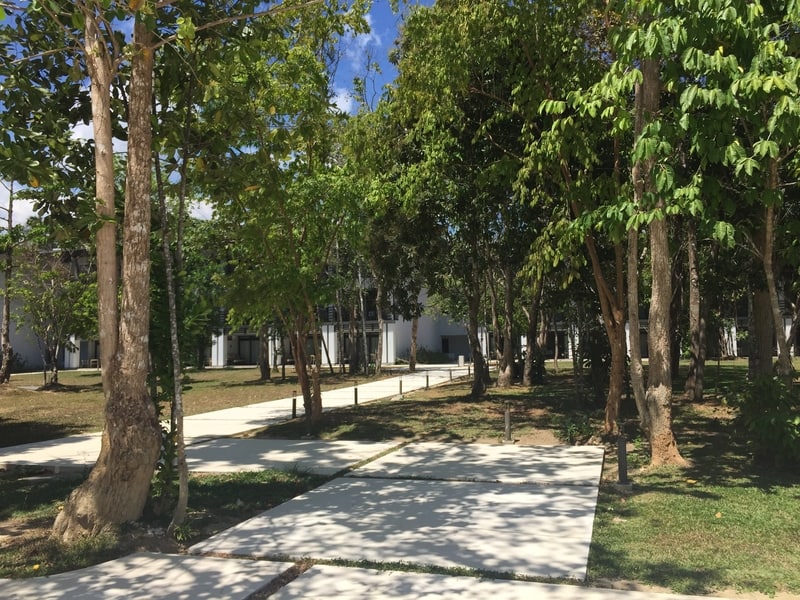 Native trees can be found all over the Seda Lio resort and also throughout the Lio Tourism Estate. Philstar.com/Matikas Santos
The entire Lio Tourism estate has a strict No Plastics Policy and has also banned plastic straws.
It also developed its own farm which produces fruits and vegetables, nursery which grows seedlings for landscaping, and material recovery facility where biodegradeable waste is taken and turned into compost for the farm and nursery.
Hickey emphasized that they have also done a lot of consultations with the locals when they started developing the place.
"The kind of things we [asked] the locals were 'what kind of jobs would you want to be in if you weren't a fisherman? What kind of things do you want to be doing 10 and 20 years from now? If we want to keep you in this area working for us, how could you see that happening?'" he said.
"We want to employ the locals. Eighty percent of my workforce here is from El Nido. It's really engaging the local population to come and buy into what we are doing," Hickey added. "I think we are enriching the lives of the local people. Giving them options, enriching their life and giving them more opportunity than what they have had before."
Tourism Influx
A report from El Nido Municipal Tourism Office showed that there was almost 200,000 tourist arrivals in El Nido in 2017.
The rapid growth has prompted the DENR-Protected Area Management Board to implement regulations on the island hopping tours
"We value El Nido's contribution to the economy of Palawan and of the country but we also worry that the magnitude of tourist activities in El Nido is already way beyond its carrying capacity," DENR-Mimaropa regional director Natividad Bernardino said back in February 2018.
El Nido has been recognized by Condé Nast Traveler's list of "20 Most Beautiful Beaches in the World" and also called by CNNGo as the "Best Beach and Island destination in the Philippines."
The El Nido-Taytay Managed Resource Protected Area is home to endemic species of birds, dolphins and the dugong, turtles, and also several land mammals.
A bird's eye view of one part of El Nido town shows how crowded the town has become. A local tour guide says that many of the developments in town only happened in the past couple of years. Philstar.com/Matikas Santos