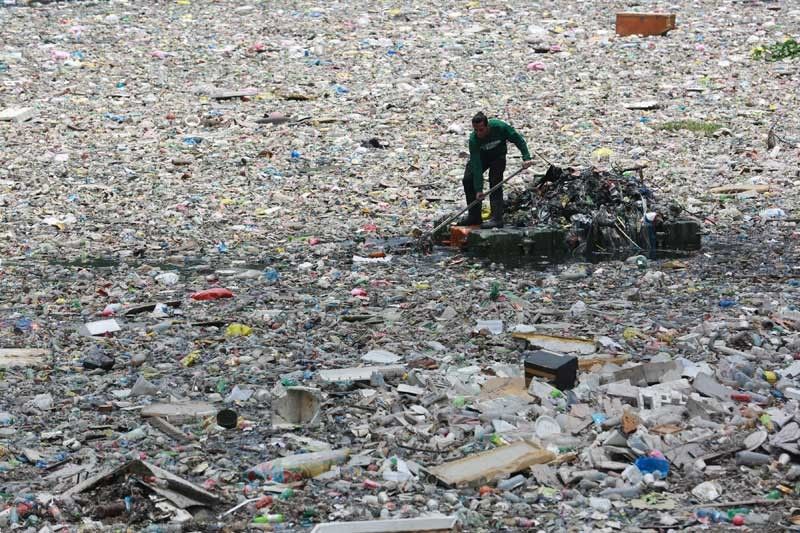 A recent report by the Global Alliance for Incinerator Alternative flagged the "shocking" amount of single-use plastic in the Philippines, including nearly 60 billion sachets a year.
Michael Varcas
Consumer safety rules pose challenge in Philippines' fight vs plastic pollution
EL NIDO, Palawan, Philippines — A 2016 study that found there will be more plastic waste in the sea than fish by 2050 if the problem is ignored has put plastic pollution to mainstream discussion. And in the Philippines, there are efforts to help turn the tide on global plastic waste.
However, strict quality assurance and regulatoryguidelines imposed by authorities are preventing some groups in the country from going full throttle in their fight against waste plastic.
"We're ready to face the trouble," said Dave Albao, co-founder of Negros-based USAID project Sea Waste Education to Eradicate Plastic (SWEEP).
Albao, who was joined by SWEEP co-founder and marine biologist Kaila Ledesma, was speaking at one of the sustainability talks held last week on the sidelines of the third Lio Beach Festival in El Nido, Palawan — an annual revelry that seeks to put environment front and center.
Environmental groups have tagged the Philippines as one of the world's biggest ocean polluters due to its reliance on single-use plastic, killing wildlife like whales and turtles that ingest the waste.
Funded by USAID's program to reduce municipal waste entering the seas, SWEEP aims to create awareness by doing coastal clean-ups as well as information, education and communication trainings throughout the Negros province.
SWEEP has also partnered with local government units and several sari-sari store owners to effectively implement environmental policies and pilot-zero waste stores across all their sites.
Just recently, SWEEP opened "Wala Usik: Tiangge + Kapehan" — the first zero-waste store and coffee shop in Bacolod City that seeks to "revive the old times" by requiring customers to bring their own containers and bottles when buying goods to reduce plastic packaging from consumer products.
To spread the Wala Usik (local term for "nothing wasted") model, SWEEP early this month released pictures of prototypes of zero-waste sari-sari stores. According to the group, the prototypes are now undergoing synthesis after rounds of testing and several feedbacks from different stakeholders, and will be funded for implementation with the selected sari-sari store owners.
The first Wala Usik sari-sari store is expected to open on April 1.
Regulations
While their advocacy to cut demand for plastic is gaining headway, SWEEP's Albao said his group's target to establish sari-sari stores that dispense fast-moving consumer goods without single-use packaging may face some roadblocks ahead.
"When we started this project, we wanted to reach out to big names and see if they're willing to do research about—you know if they can dispense their products in an alternative way," Albao said.
"So there are [Food and Drug Administration] rulings, for example, that [say] you can't dispense products because you might compromise quality. For example, the container that people will bring might be dirty," he added.
"There's actually some ruling against that kind of dispensing. So like me and some friends are like, 'What's gonna happen? Is FDA going to go after us?'"
In the Philippines, the Food and Drug Administration has stringent regulations on consumer awareness and safety.
Under Republic Act 3720 that created the FDA, the agency is mandated to ensure that containers for goods are free from contaminants and have proper labels.
'Product integrity' issues
Last week, consumer goods maker Unilever opened refilling stations where customers can bring in their old shampoo bottles (dry and clean) for a refill and pay for the weight of the haircare brand that they are restocking.
However, bottles that do not match the brands and variants on offfer at the refilling station are not accepted "to address strict FDA regulations."
"This is safeguarded by the mandatory information and ingredients printed on the bottle," the company said in a March 24 Facebook post.
"The ingredients declaration is an assurance that the previous content of the bottle is same as what we have in our Refillery and that when bottles are cleaned and dried, reuse will not affect overall product integrity due to possible presence of other contaminants," it added.
"We would be glad to take in bottles of other brands or variants, and we'll give you a free bottle for you to refill. You can also drop off clean and dry sachets ready for upcycling," it continued.
According to an Ellen MacArthur Foundation report launched at the World Economic Forum in 2016, every year "at least 8 million [tons] of plastics leak into the ocean – which is equivalent to dumping the contents of one garbage truck into the ocean every minute. If no action is taken, this is expected to increase to two per minute by 2030 and four per minute by 2050.
"In a business-as-usual scenario, the ocean is expected to contain one ton of plastic for every three tons of fish by 2025, and by 2050, more plastics than fish [by weight]."
Early this month, a whale with 40 kilos of plastic trash in its stomach died after being washed ashore in the Philippines — which activists described as one of the worst cases of poisoning they have seen.
A recent report by the Global Alliance for Incinerator Alternative flagged the "shocking" amount of single-use plastic in the Philippines, including nearly 60 billion sachets a year.
"Some people say that one person making a change won't make a difference. I don't really believe that," SWEEP's Ledesma said in the same sustainability talk in El Nido.
"We don't need a handful of people doing zero-waste perfectly. Actually, we need millions of people do it imperfectly," she added. — With a report from AFP
Editor's note: The tour to El Nido, Palawan was hosted by Lio Tourism Estate to promote the third annual Lio Beach Festival. At no stage does the host organization have a say on the stories generated from the coverage, interviews conducted, publication date and story treatment. Content is produced solely by Philstar.com following editorial guidelines.