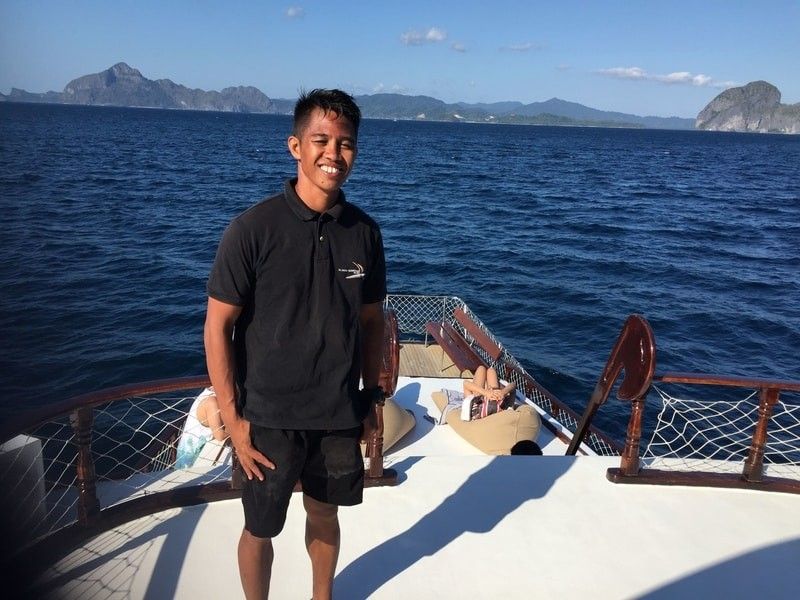 Omar Badillo, 27,has been working as tour guide for the El Nido Yachting Club for four years and said that the training he received helped him to educate the tourists about the local conservation efforts.
Philstar.com/Matikas Santos
The young man and the El Nido sea
EL NIDO, Palawan, Philippines — On board a 3-story luxury yacht in the pristine waters of El Nido's Bacuit Bay, a 27-year-old island hopping tour guide remembers how he was able to rise out of poverty because of the booming tourism industry of the once quiet town.
"I used to be a fisherman at the mercy of the sea," Mamar Badillo, nicknamed "Omar," recounted in Filipino.
"I come from a family of fishermen," the eldest of nine siblings said.
Dark-skinned and with squinting eyes accustomed to life on the water and under clear blue skies, Omar spoke affectionately about the sea when asked about how much he earns as a fisherman.
"You know when it comes to the sea, it really is just 'weather-weather lang,'" he said referring to how sometimes they can catch plenty of fish, but sometimes there would be none.
Omar only finished high school before he had to start working different jobs and eventually deciding to take his chances with the flotilla of outrigger boats that serve mostly foreign tourists in El Nido.
El Nido is among the most highly-ranked beach destinations in the Philippines getting recognition from Condé Nast Traveler Magazine and CNNGo along with Boracay Island.
It boasts of thousand-year-old limestone cliff formations, fine white sand beaches, marine wildlife sanctuaries, and lagoons with clear waters.
"I used to be a freelancer on outrigger boats as a tour guide. El Nido has several tours and it depends on the guest which tour they want. I just get calls from the boat captains who ask if I am available to be their guide," he said.
"As a freelancer, it can be good because you are in control of your time. It also provides enough money to make a living," Omar added.
Aside from being a guide, Omar also had to take on other jobs such as being a gardener or construction worker in the many resorts in El Nido.
Amid the tourism boom, the El Nido government, people, and businesses have worked together to ensure that their natural environment is protected from waste and pollution.
Omar had to undergo training to become a tour guide for the El Nido Yachting Club that services the upscale leisure market of tourists mostly from Europe.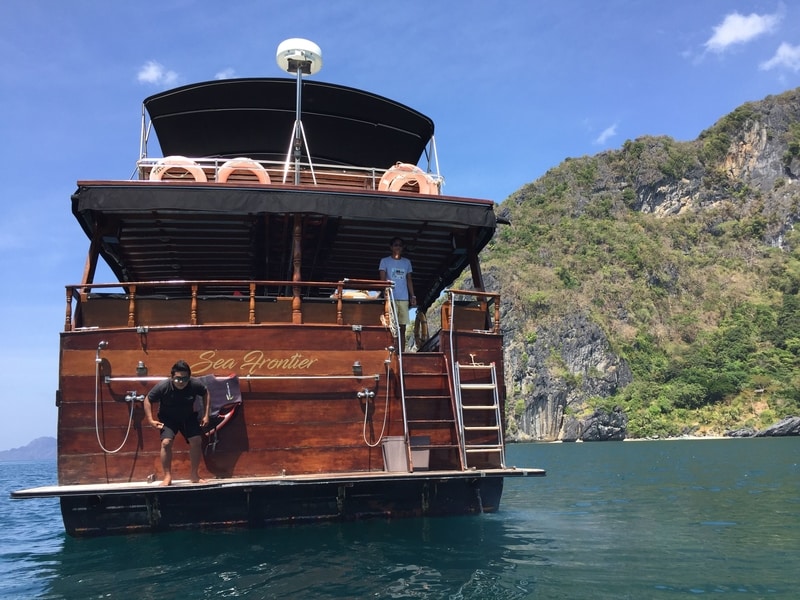 The 3-story "Sea Frontier" luxury yacht was the same yacht used by Nadine Lustre and Floyd Mayweather Jr. when they toured El Nido, according to Omar.
He has been working as a tour guide on the yachts for four years and said that the training he received helped him to educate the tourists about local conservation efforts.
"I admit that when I was just a fisherman, I had no idea how to take care of the environment. We would just anchor wherever and throw trash anywhere," he said.
"Only when I started working in tourism did I realize that every little thing we do has an impact. It helped a lot that there really are strict rules and laws to protect the environment," Omar added.
Among the largest businesses in El Nido is the 325-hectare Lio Tourism Estate where Seda Lio hotel, opened in August 2018, and the commercial Lio Shops are located.
It recently held the Lio Beach Festival that celebrates love for the environment through band performances, environmental conservation activities and talks about zero waste lifestyle and waste management.
The Lio Tourism Estate is being developed as an integrated and sustainable resort with around half of the land being preserved as a natural forest environment.
Seda group General Manager Brett Hickey, a Canadian who has decades of experience in the hotel business, said in a separate interview that they have established their overall corporate direction to reduce their carbon footprint and to respect the natural landscape as much as possible.
"What we are doing all the time is educating the public on what our practices are. Like getting them to understand why we are doing certain things," he said.
The hotel has partnered with fishermen's cooperatives within El Nido to buy whatever they catch on a daily basis so the fishermen don't have to spend hours trying to sell their catch.
The hotel was also built without cutting trees for the roads and the beach area.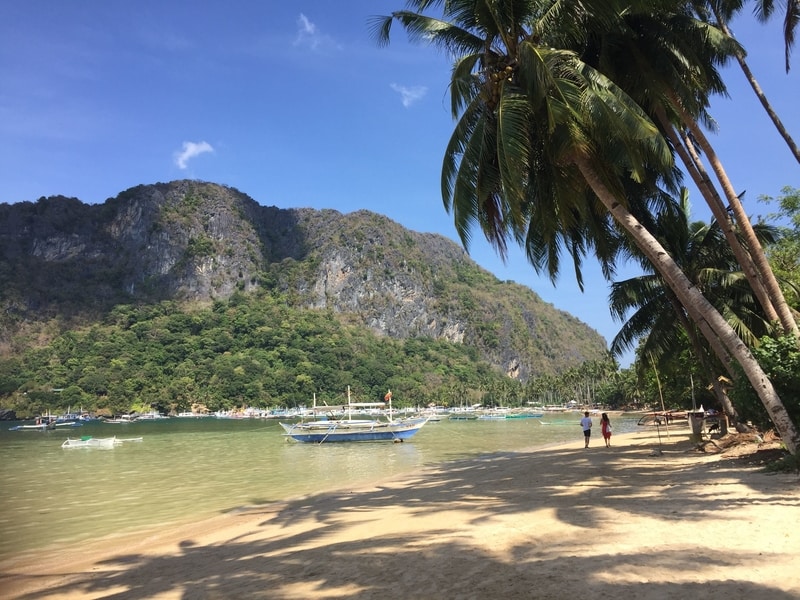 El Nido is popular worldwide for its limestone cliffs that are thousands of years old and its many beaches with pristine waters.
Hickey also highlighted the importance of training and employing the locals so they can become empowered with new skills and new knowledge just like how Omar had become a tour guide for a luxury yacht company.
"I came to realize that here in El Nido, being environmentally conscious does not just make the tourists happy, it also makes those who live here happy," he said.
"There are very few crime incidents here because everyone has a good livelihood that they would not think of stealing or doing bad things," Omar added.
Sometimes tourists would ask Omar whether he has toured other places in the Philippines or abroad and he would candidly admit he has not.
"They tell me 'don't bother leaving El Nido because this is what we look for,'" he shared.