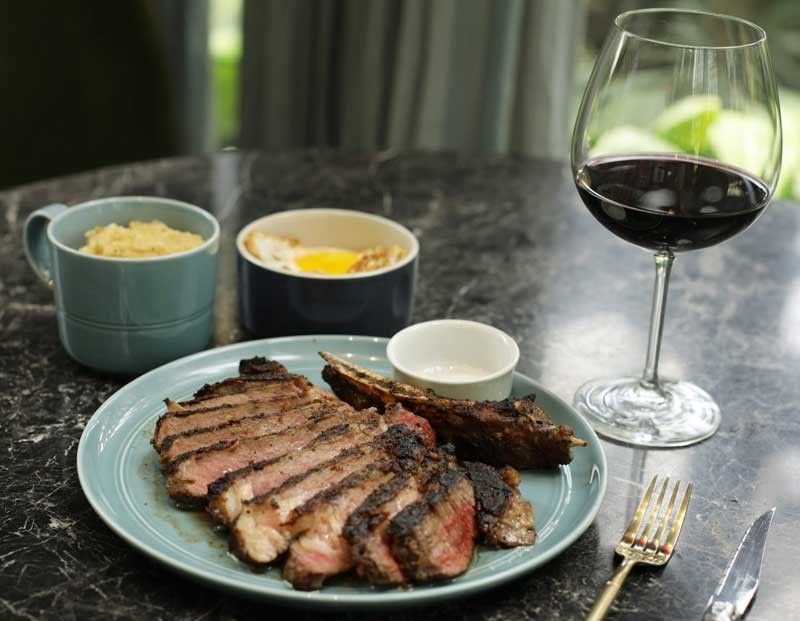 Seared to your desired doneness: The USDA Prime Angus Ribeye Cowboy Steak at The Glasshouse by Harlan+Holden
This glass house serves yummy steaks
Most of the time I'm happy to live like a rabbit. Carrots, fresh veggies, nibbling on my preferred greens, going through the week with a variety of stir fries, hearty soups and grain bowls. However, every so often I do get a real craving for meat. The sensation is almost primal. It's as if my canine incisors had transformed overnight to be extra-pointy, inciting an almost lustful desire to sink my teeth into a juicy piece of of well-charred and extra-savory flesh.
I've always learned to listen to my body and its cravings, which most nutritionists will tell you translates into minor deficiencies and, in such a case, more often than not, my cravings for beef are accompanied by a need for iron. Armed with the guilt-effacing notion that, yes, I am doing my body good, I will allow myself to go on a carnivorous prowl in search of a good steak.
I won't deny that the city is now home to a variety of very good steak joints and grills, most of which come with their classic dark and broody, masculine interiors. Hunter-green walls, brass touches and, more often than not, fancy, white glove-style service. Or on the opposite side of the spectrum, family-style joints, noisy and chaotic, perfect for Sunday dinners, complete with the little bambinis running around.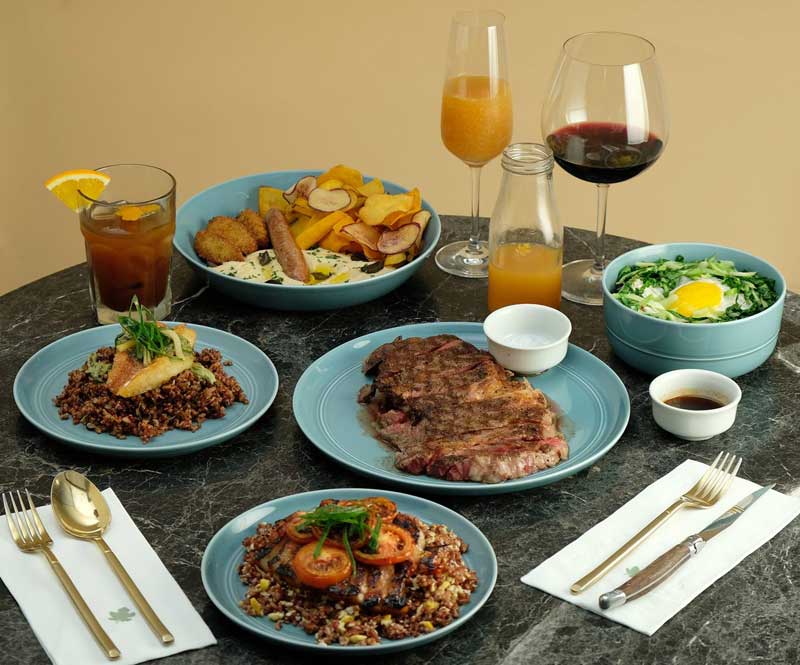 For those who like fattier meat: The Snake River Farms Wagyu Gold together with delicious, honey recipes elevated with the best ingredients such as classic favorites like their healthy Caesar Salad made with yogurt. Other comfort food offerings are their mezze platter, pan seared fish with salsa verde and barbecued bacon with rice.
The quintessential steak dinner has so often been portrayed as being a part of a man's world. In pop culture, it's almost an exclusive club where women don't partake. Hey, I'm a woman and I enjoy a good steak. Alas, as age would have it, I can no longer digest meat in the evenings and would prefer to have an indulgent steak lunch. And the truth is, I don't want to hole myself up in cozy, dark interiors for lunch.
Here's where The Glasshouse by Harlan+Holden comes in. They are breaking stereotypes by serving a really good steak in a bright, airy and contemporary setting that, if I may, is decidedly feminine. The restaurant itself is a beautiful space, filled with natural light, which is absolutely perfect for that girly group photo. I also love how they serve honest, good food that's akin to elevated home cooking. Much like their clothing line, it's all about simple but great quality. I personally love their Caesar salad that's made with yogurt instead of the usual mayo base and their Iberian chicken is a favorite: falling off the bone, served with lots of slow-roasted garlic cloves and made with good olive oil.
They also serve a really great steak. Steak, when it's good, does not need any accouterments. No sauce. No fancy marinades. Just a generous smattering of sea salt to bring out all that gorgeous, meaty flavor. Heck, a good steak does not need a million-peso fancy grill. All one needs is a beautiful cut of beef and a really hot cast-iron pan. While a charcoal grill can impart that smoky charred flavor, really, a good cut and quality of meat should bring its own flavor game.
The Glasshouse does just that. Focusing on rib eye — which by the way is my favorite cut — they keep things straightforward with only two options. The USDA Prime Angus Ribeye Cowboy Steak and the Snake River Farms Wagyu Gold for those who prefer even fattier meat. Both are simply seared to your desired doneness on a hot, cast-iron pan and served straight away. They are absolutely consistent with their browning, turning out steaks with that desired glistening dark-brown crust. Personally, I prefer the Angus cowboy steak as I prefer less-fatty meat. I also love that they crisp up the tiny bits of steak fat and sprinkle it on top. Oh, be still my heart! (Figuratively and literally!) I was told they will be coming up with a Tomahawk Steak very soon, so do drop by with a couple of ravenous friends to try that.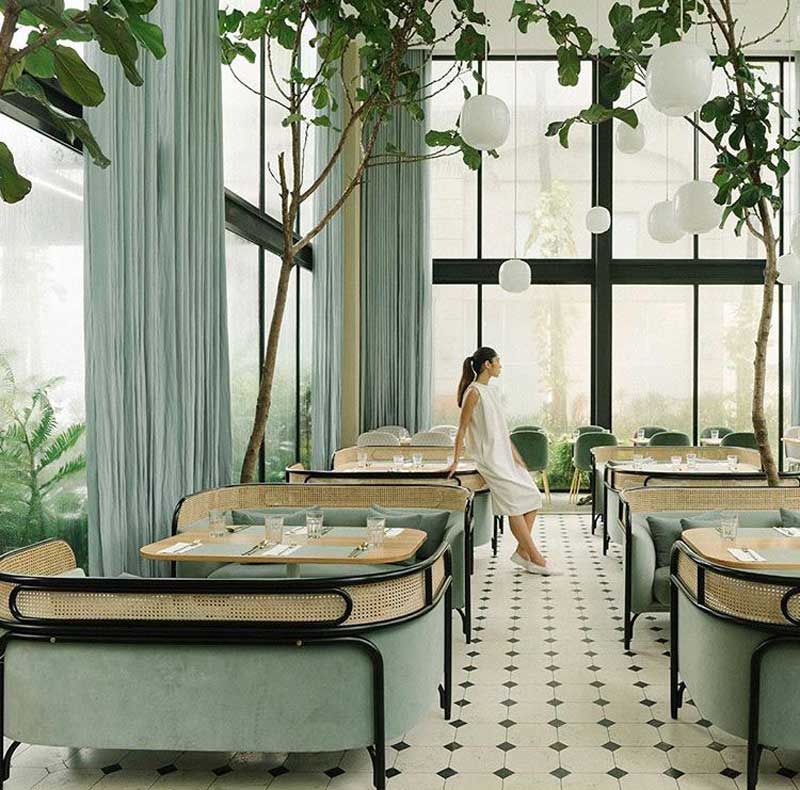 Nothing to hide: The interiors of The Glasshouse by Harlan+Holden
Let's be clear. There are high stakes in a steak game. Everyone is entitled to their own personal opinion and preference. Heck, if the same piece of meat can have different levels of doneness, then the whole plethora of steak cuts and cooking styles is a free-for-all. In my opinion, however, I do find it really nice to be able to go out with my girlfriends for a nice steak in a really pretty place. Although their wine list is limited, they do have a delicious Rioja Reserva by the glass that pairs wonderfully with the meats. In fact, the combination of the meat and red wine was so good the last time I was there that maybe, just maybe, I'll take my husband out for a steak dinner, on my turf.
Kidding aside, I think gentlemen would also be pleased to dine here and particularly pleased to know that it is an excellent first-date option. What could be a more perfect place than a menu with both healthy and indulgent offerings, an unfussy but good wine list and an excellent steak in stylish interiors with excellent lighting for that picture-perfect, Instagrammable moment of when you fell in love? If the date doesn't work out, just order their fudgy, decadent brownie and let the chocolate goodness heal your broken heart.
* * *
The Glasshouse by Harlan+Holden is located at Rockwell Center, Makati. Call 0917-109-2156 for reservations and follow IG @harlanholdendine.