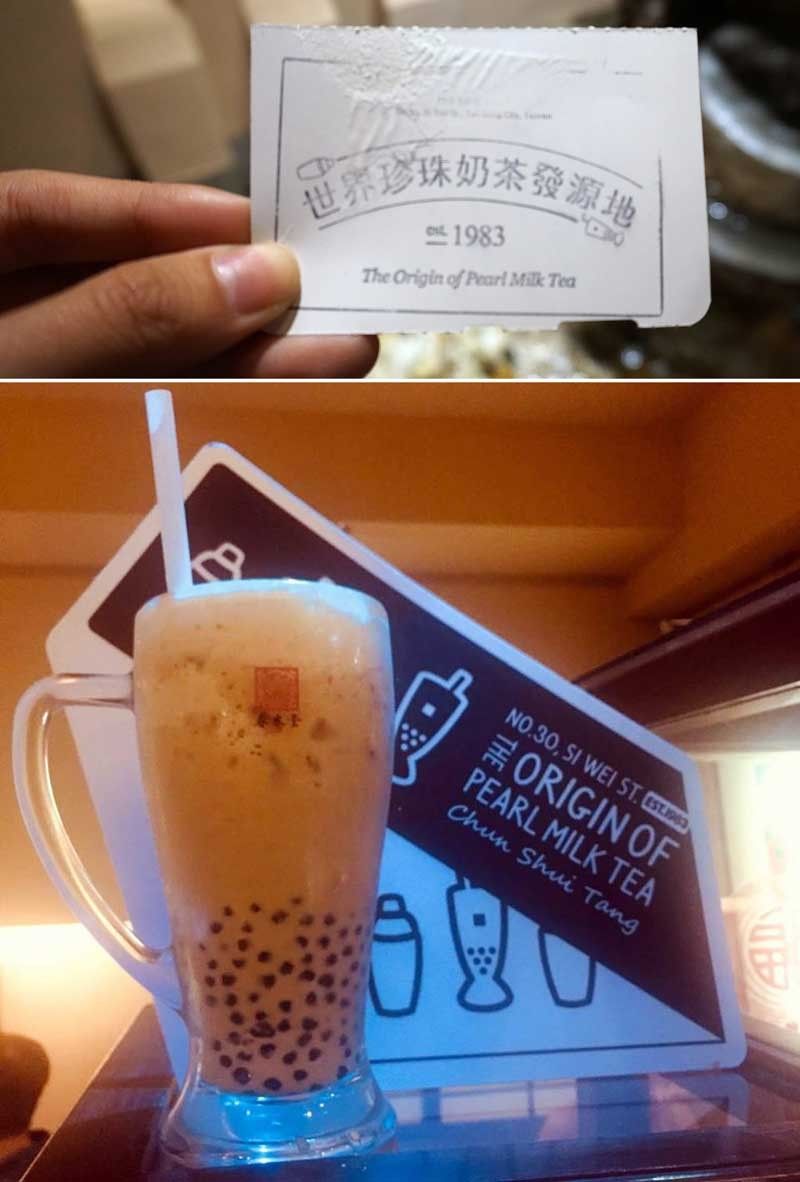 Souvenir stamping is a thing in Taiwan. Got my first stamp at the Original Store of Chun Sui, the house that invented the milk tea.
Rubber-stamp your way through Taiwan
Discovering interesting sites where history, nature, art and technology are combined in a way that makes each city unique and gives tourists every reason to visit.
When it comes to food and shopping, everything they say about Taiwan is true. Here, every night market is a food mecca, and shopping for clothes is made more interesting if you're ready to do some digging. Because for every good find, you'll have to rummage through about 100 pieces of crap.
But there's one interesting thing I discovered during my recent visit to Taiwan: Souvenir stamping.
It's a thing here. Every landmark has its own souvenir stamp. The stamp stations are really low-key — good old wood-mounted rubber stamp and an inkpad on a table or podium — so you have to keep an eye out for them.
And just like Pokemon Go addicts, we, a boisterous mix of lifestyle journalists and bloggers from Manila, had to allow extra time to find stamps everywhere we went in Taiwan during our six-day "Panahon sa Taiwan" familiarization trip hosted by the Taiwan Tourism Board.
Yes, we gotta catch 'em all! And while at it, we discovered interesting sites in this country where history, nature, art and technology are combined in a way that makes each city unique and gives tourists every reason to visit.
The Original Store of Chun Sui. This is the place to go for your milk tea fix. Established in 1983, The Original Store of Chun Sui is the house that invented milk tea. Its founder Liu Han Jie used the xue ke (shaker cup used by baristas) to transform traditional hot tea into an iced sweet tea concoction. In 1987, his store manager Lin Xiu Hui added her favorite tapioca balls into the milk tea. The milk tea is good, but the Beef Tendon Noodles is better. This spicy, tomato-based noodle soup oozes with meaty goodness. The teahouse has two floors. The ground floor serves as the dining area, while the basement showcases tea accessories and infusers with detailed descriptions for better tea appreciation. You can also check out the founder's favorite corner, the spot where he spent most of his time entertaining guests. Who knows? You might meet Liu Han Jie on your next visit as he still visits the original store. The stamp station is located at the basement, right in front of the staircase.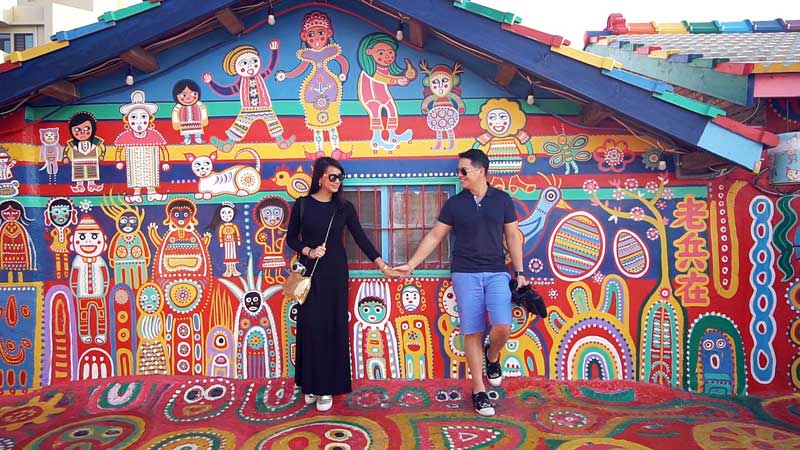 Influencers Chuckie Dreyfus and wife Aileen at the Rainbow Village
The Rainbow Village. A landmark in Taichung, Taiwan, the Rainbow Village is a former military settlement in Nantun District. Many houses became rundown and developers began buying up the land for redevelopment. To save the remaining houses for demolition, soldier Huang Yung-Fu started painting the houses. Soon, the whole place was covered in characters, words and numbers in all colors of the rainbow. This attracted many people, mostly children, to keep coming back to the place and in turn, the government declared it a treasure worth preserving. The retired soldier who saved this little village is known by the people as Grandpa Rainbow. The place is as beautiful, and as pure as Grandpa Rainbow's heart. He stayed in the village even after his neighbors had left. To date, only 11 homes remain.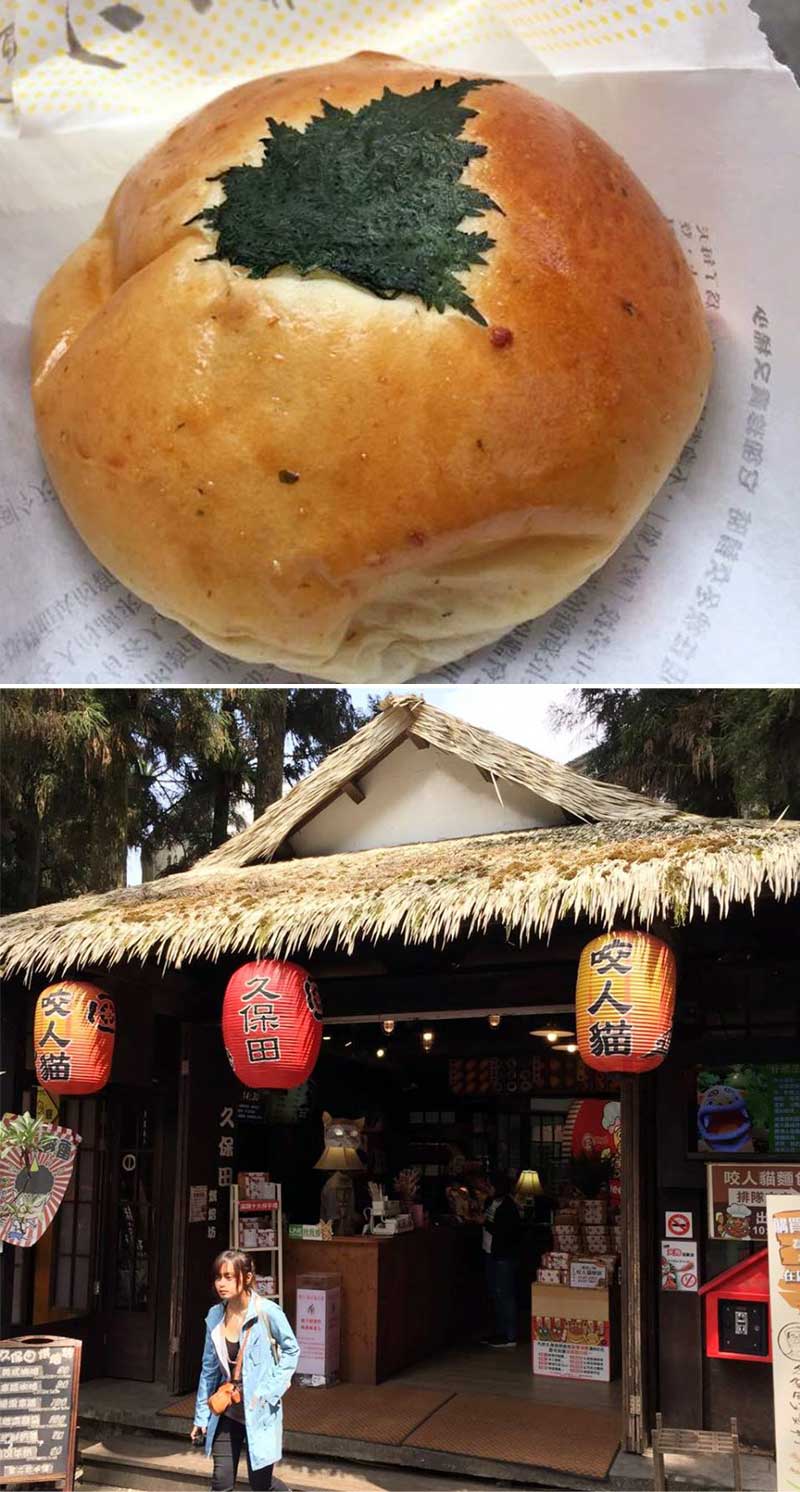 The famous "nettle" bread at Mr. Kubota Bakery at Xitou Monster Village
Xitou Monster Village. This Japanese-style village attracts young tourists simply because it's 'Gram worthy. Cute Japanese monster statues are scattered all over this small village — in front of souvenir shops, inside and on the roof of quaint restos — while red lanterns also hang on the eaves that make the village come alive at night. A tori, a traditional Japanese gate found within a Shinto shrine, greets guests at the entrance — symbolically marking the transition from the profane to the sacred. What's more interesting is the story of how this village came about. During Taiwan's time under the Japanese rule, a friendship developed between a Japanese (Kubota) and a Taiwanese (Katsuichi Matsubayashi). They both worked in Xitou. When the war ended, Kubota returned to Japan but their friendship stayed strong. Kubota put up a bakery, which he called Matsubayashi Kubota, with his wife but years later it was gutted by fire. When Matsubayashi heard of it, he sent some money to Kubota to help him get back on his feet. As a sign of his gratitude, Kubota sent Matsubayashi a wooden sculpture. Before Matsubayashi died, he told his descendants to place the wooden sculpture in Ming Shan Resort. And to commemorate their friendship, the Xitou Monster Village was built right beside the resort in 2011. Also, a bakery was put up inside the village, which was named after Kubot. It is open from 10:30 to 2:30 daily (Xitou Monster Village is at 2-3, Xingchan Rd., Lugu Township, Nantou County).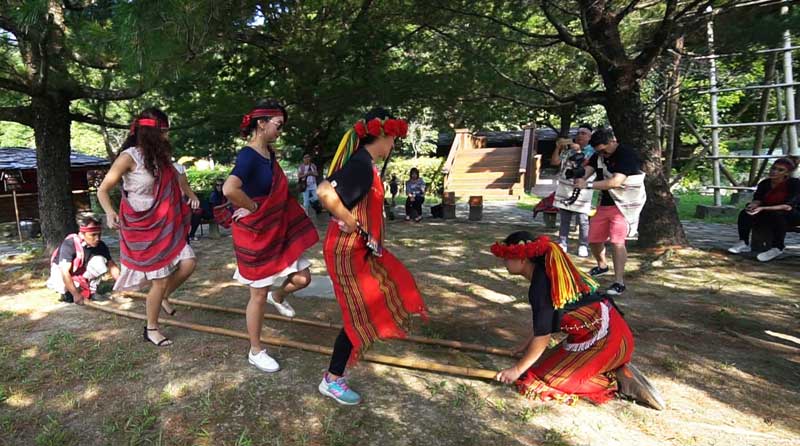 Immerse in the rich culture of the Atayal Tribe, a minority aboriginal tribe in Taiwan, at the Atayal Resort.
Atayal Resort. From Taichung, we traveled by bus for two hours to Gouxing Township to experience the rich culture of the Atayal tribe, a minority aboriginal tribe in Taiwan, at the Atayal Resort. The resort was founded by Kao Ai De, one of the survivors of the "Wushe Incident," the bombing with poisonous gas of the well-provisioned cave the Atayal tribe took shelter by the Japanese forces. Well, that explains why the preservation of aboriginal tribal culture is integral in the resort. Here, we got to interact with the aboriginal tribesmen who work in the resort. Atayal Resort also boasts a hot spring, a skywalk that hangs 500 meters above sea level where you can see the marvelous view of the mountainous landscape, and camping facilities for guests to enjoy. (Atayal Resort is at No. 45 Qingfeng Rd., Huzhu Village, Ren'ai Township, Nantou County)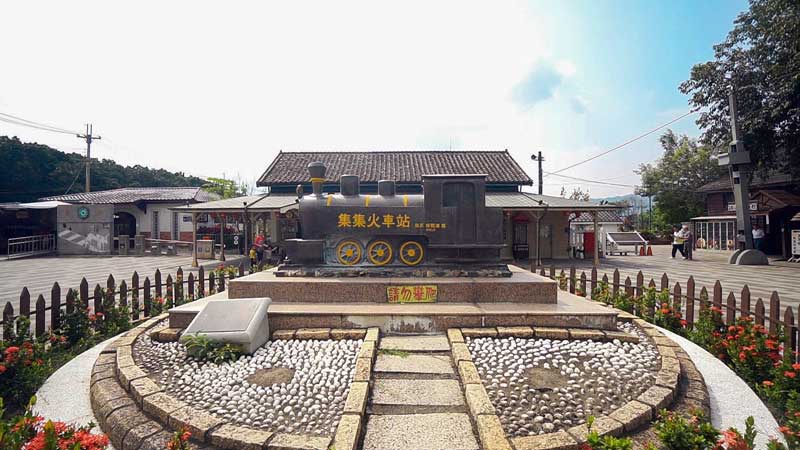 Known for its cypress design, Jiji Train Station is a famous landmark in Jiji Township.
Jiji Train Station. Known for its cypress design, Jiji Train Station is a famous landmark in Jiji township. According to our tour guide, Michelle, it was destroyed in the 1921 earthquake but was reconstructed and restored to its original look. In the beginning, the Jiji route was mostly used to transport materials of the power plant and later tourists. "The station is truly a functional monument as it has been part of the contribution of the route to the regional economy," explained Michelle. Shops selling dried fruits and candies for pasalubong are located beside the station. (Jiji Railway Station is at Jiji Township, Nantou Country)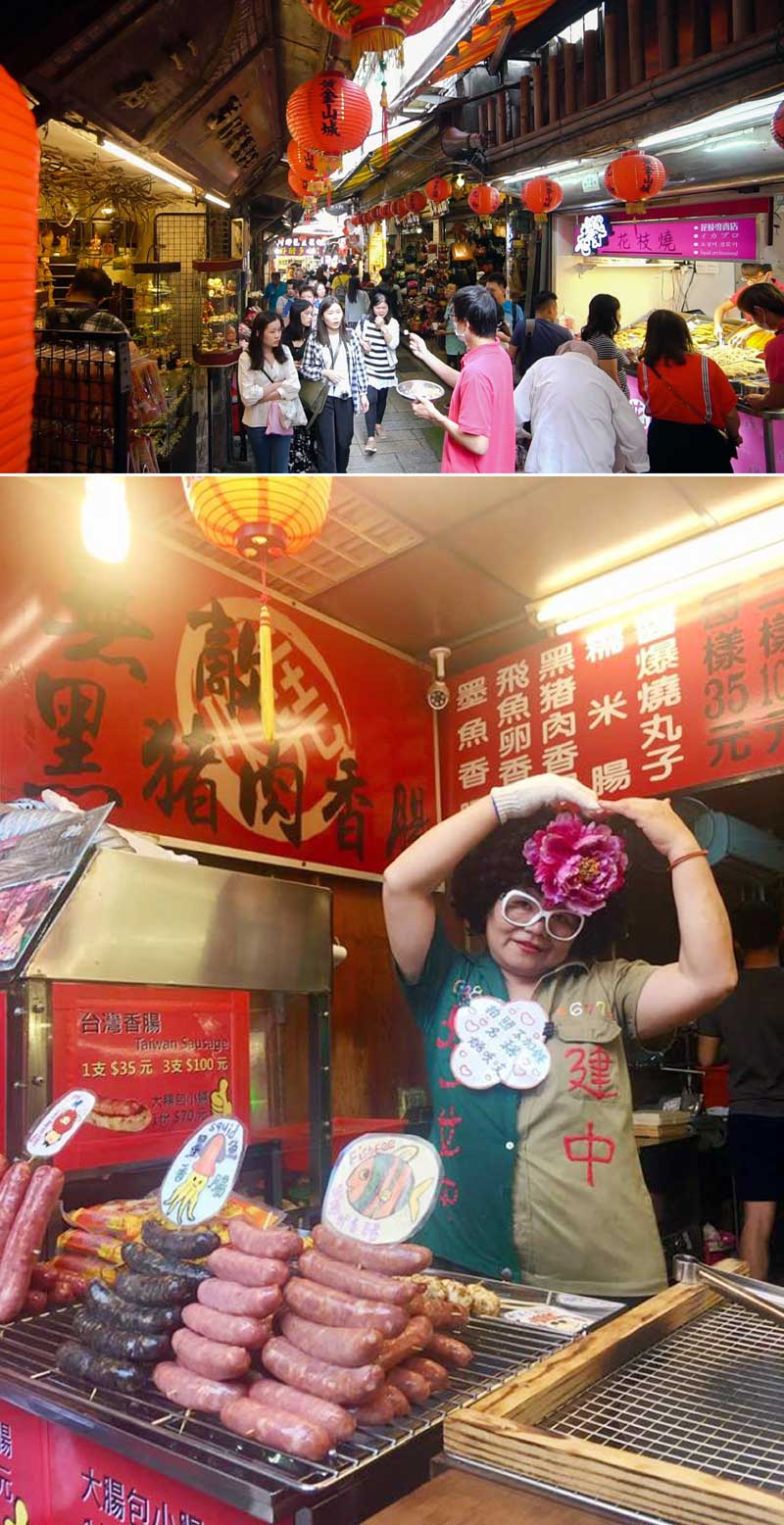 When in Jiufen, look for the Sausage Lady, have a selfie and take a bite of her delish sausages.
Jiufen. A mining town originally built by the Japanese, Jiufen is now a popular tourist spot in Taiwan. This maze is lined with retro Chinese and Japanese-style cafes, souvenir shops and teahouses. When in Jiufen, look for the Sausage Lady in her bright, funky attire, have a selfie and take a bite of her delish sausages cooked with love. (Jiufen is in the Ruifang District, New Taipei City, Taiwan)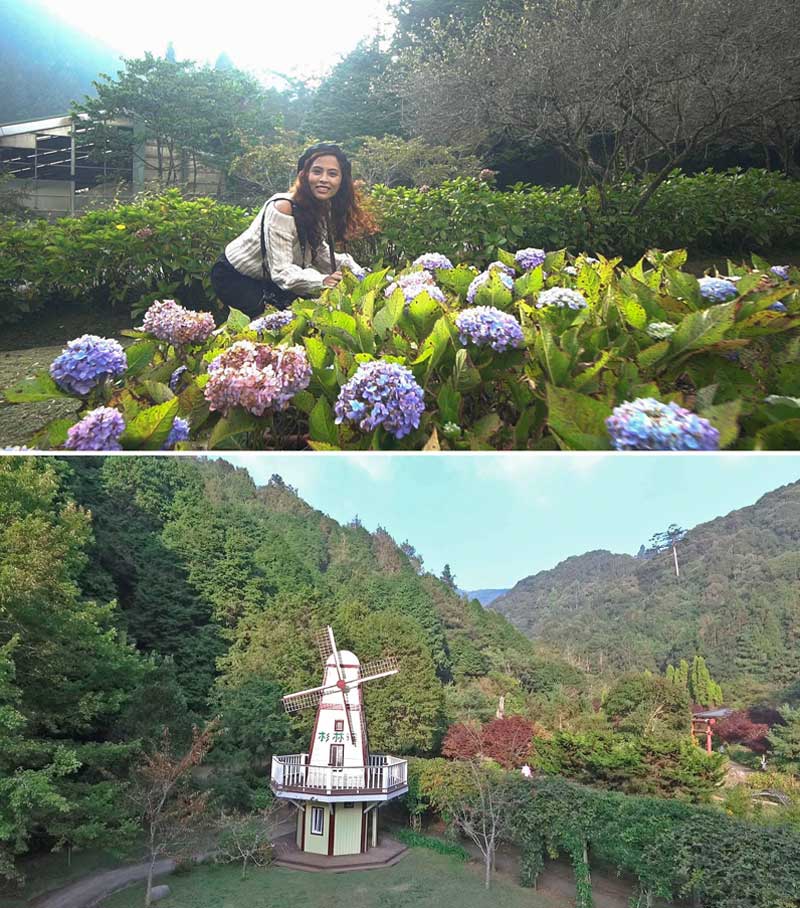 Influencer Mean Clemente stops and smells the flowers. Experience the green side of Taiwan at Sun-Link-Sea.
Sun-Link-Sea. We got to experience the "green" side of Taiwan at Sun-Link-Sea. Here, the landscapes change throughout the four seasons, particularly the sea of tulips that brighten up the forest park with its palette of colors in January. For hiking enthusiasts, there are several mountain trails around the park. At night, you can observe the stars on the view deck of Sun Link Sea Resort. (Sun Link Sea is at 6 Xishan Rd., Zhushan Township, Nantou Country)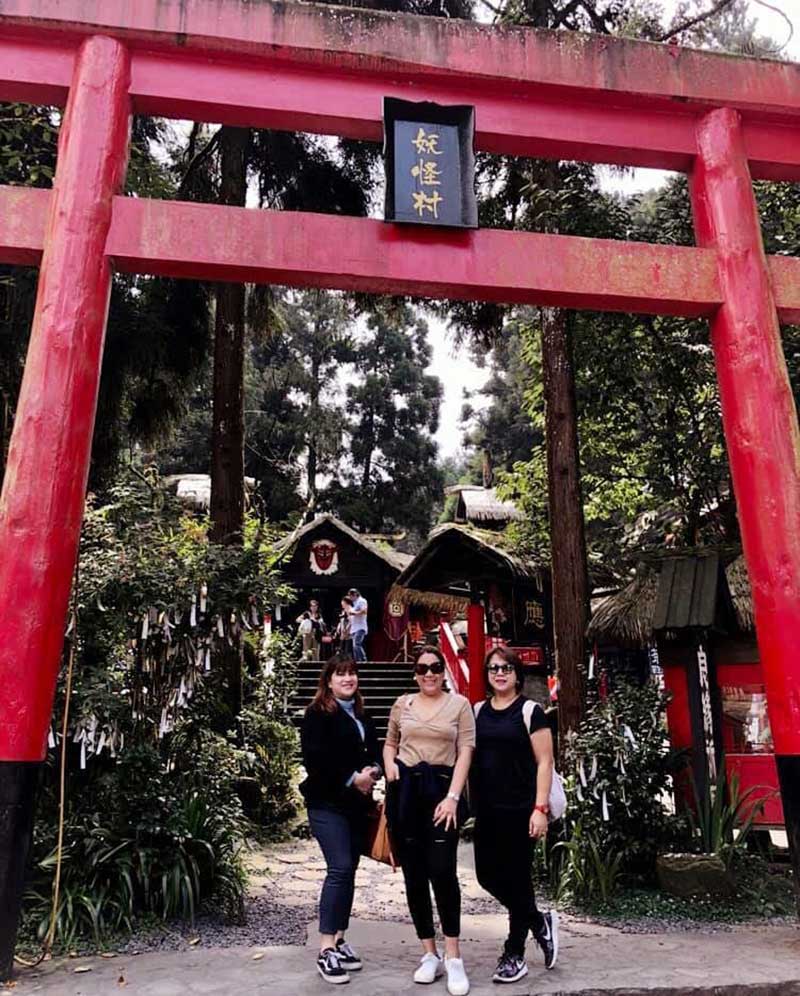 Author Lai Reyes (right) with Mode-Devi Inc. managing director Ana Manansala (left) and Dreamworld Travels VP for Asia Pacific Krissy Maga at the entrance of Xitou Monster Village.
Sun Moon Lake. Set high above sea level (748 meters), the Sun Moon Lake got its name because the eastern banks resemble the sun, while the western banks resemble the moon. It's one of the most scenic places in Taiwan that's frequented by bikers, picnic-goers, and would-be couples where many pre-nuptial photo shoots take place. (Sun Moon Lake is at Yuchi, Nantou County)
Transportation is so reliable in Taiwan. We reached these places mostly by bus and high-speed trains. The train ride is a delight for both nature lovers (as it offers a glimpse of Taiwanese countryside) and techies (as the high-speed train travels at a top speed of 300-km. per hour).
Even their MRT station is so advanced. Before flying back to Manila, we checked-in our luggage at the MRT Metro Taipei Station, got our boarding passes for the flight, then boarded the train to Taoyuan Airport. We got reunited with our luggage at the baggage carousel back home in Manila.
If you're planning a trip to Taiwan, do it now as visa-free access for Filipinos is offered until July 31.
Don't forget to bring a notebook or travel journal with you as you rubber-stamp your way through Taiwan and take part in the country's creative culture.
* * *
For inquiries, call Taiwan Tourism Board at 0925-7887039, email mnl2taiwan@gmail.com, joannewu@kingspread.com.tw.