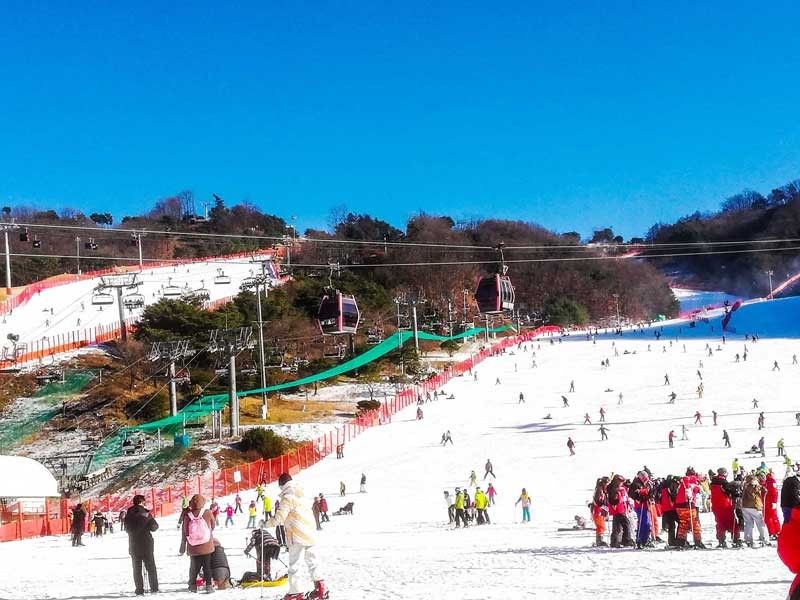 The Vivaldi Ski Park teems with local and foreign tourists at its most magical time: winter.
K-pop, K-drama, and now It's also k-snow that pinoys love
South Korea, which is 70 percent mountainous terrain, beckons at its most magical time — in winter when hills are cloaked in snow.
Filipinos who have a never-ending love affair with K-pop and K-drama see South Korea as dreamy and magical. It's a place where they want to see the scenic spots where all their favorite Korean TV dramas were shot or simply visit the land where their favorite K-pop stars dwell.
According to local tour operators, South Korea tops many Filipinos' travel wish list. It's the second most visited tour destination among Filipinos last year, they added.
Pinoy tourists like to visit all four seasons. But South Korea, which consists of 70 percent mountainous terrain, beckons at its most magical time — in winter when hills are cloaked in snow.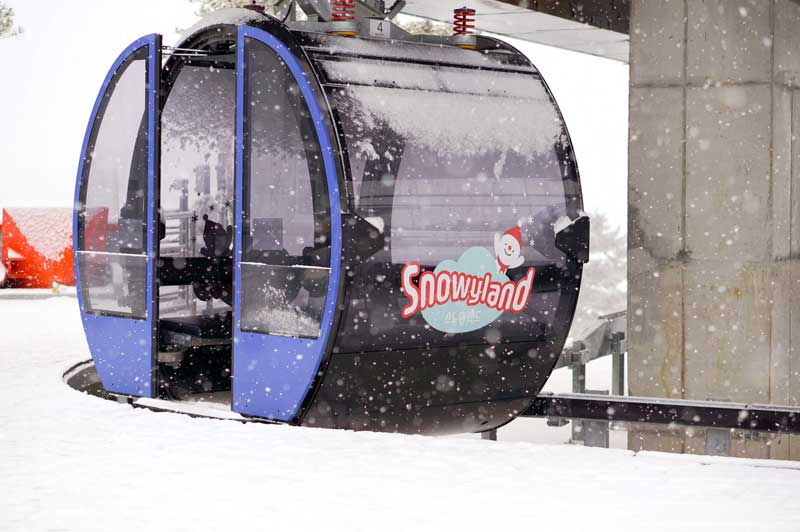 The gondola that takes you to Snowy Land
Coming from a tropical country, Pinoy families like a taste of winter and want their children to experience snow, snowfall, skiing, sledding, throwing snowballs or making a snowman. Such activities make for great family bonding. Or they simply like to take pictures in a winter wonderland.
Travel agencies said Pinoy tourists choose Korea for the winter experience because it is very near Manila. It takes less than four hours to fly there, and contrary to what people think, a five-day, four-night trip to Korea in winter is affordable.
When it comes to a winter adventure, South Korea has top-rated ski resorts that are perfect for Filipino families.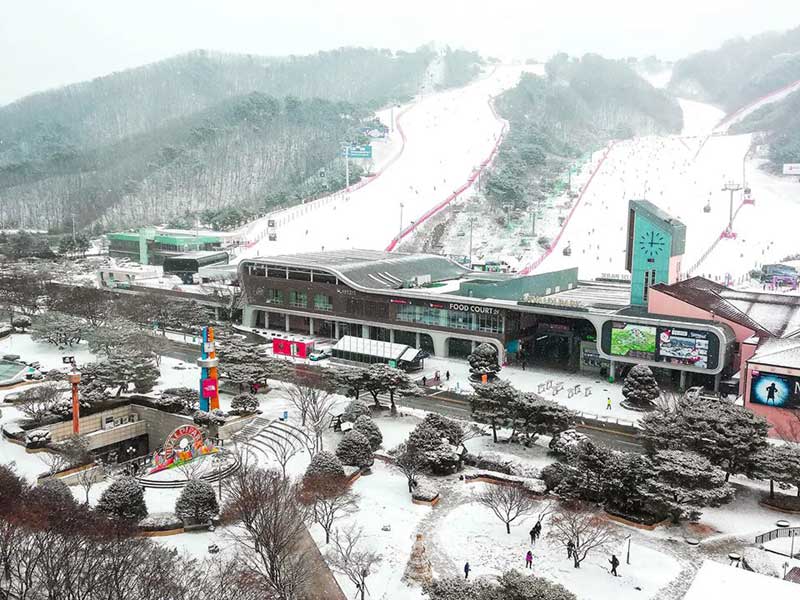 A spectacular view of the Daemyung Vivaldi Ski Park in winter. Photos by Kristelle May Corona
One of them is the Daemyung Vivaldi Ski Park, one of South Korea's best leisure town complexes and a favorite of local and foreign tourists.
Recently, the Korea Tourism Organization (KTO) organized and sponsored a familiarization tour for the press and travel agencies to attend the first Viva Ski Festival at the Vivaldi Ski Park in Gangwon. The festival began Dec. 11 and lasts until Jan. 27.
We pulled into a dream that is the Vivaldi Ski Park, a leisure complex spread over 11 million square meters of land. It has 20 ballrooms, including a grand ballroom that can accommodate up to 2,400 people. It has various F&B facilities and other spots for leisure activities such as Ski World, Ocean World, Snowy Land, K-1 speed and two golf courses.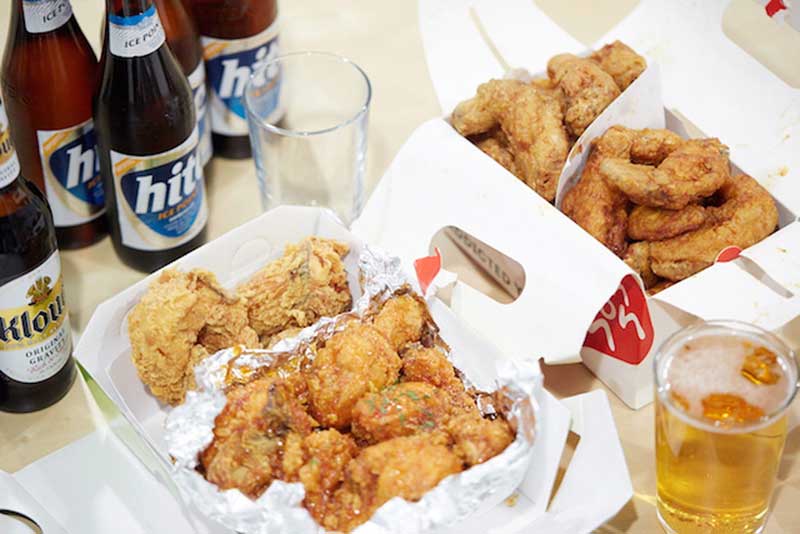 Chimaek, a pairing of fried chicken and beer, is served at many South Korean restaurants.
The Ski World, the largest ski resort nearest to the metropolitan area, can host up to 20,000 people a day on its 1.3 million-sqm slopes.
Ski World takes pride in its slopes, which, at a total length of 6.784 meters, are perfect for adventure skiing. Along with a high-speed gondola, it operates 10 lifts, including Asia's first eight-seater express chairlift, with 12 courses to choose from and cutting-edge facilities. A little trivia: the Vivaldi Ski Park was also the filming location of the hit Korean drama The Legend of the Blue Sea.
We spent three days at Vivaldi Ski Park where, on our first day, we had ski lessons in the morning and lots of picture taking on the slopes. The first time you glide through the snow is exhilarating — especially when you come from a humid country. At night, we had a cooking class where we whipped up a Korean dish called deokbukki, a spicy rice cake. Then at night, we had chimaek, a combo of fried chicken and beer, considered a culturally significant force in the South Korean drinking culture. Chimaek is best remembered from a scene in the K-drama My Love from the Stars, where the lead star Jun Ji-hyun says: "It's snowing, how can you not have chimaek?"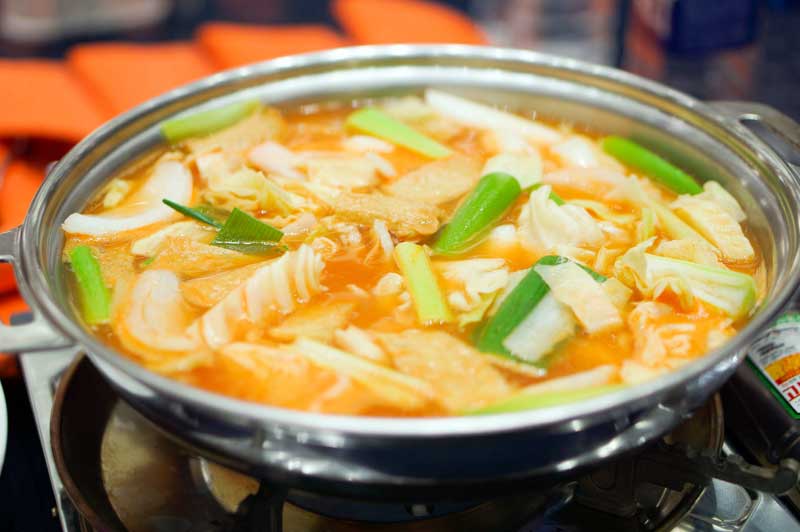 Deokbukki, Korean spicy rice cake
The following day, we toured Snowy Land at the park and rode a gondola. The vista from above the gondola is like a reverie. It was snowing and down below you could see skiers and snowboarders navigating the trails of the mountain carpeted in beautiful white.
When it comes to accommodations, the resort has four high-rise buildings. You can take residence in three condotel-type accommodations or in the brand-new Park Hotel. Maple, Pine and Oak are condotels for families who want the feel of home-away-from-home experience, complete with hotel-like amenities and the floors are heated during winter.
According to Yousin Seong, part leader, sales and marketing division of Daemyung Corp., Vivaldi Ski Park resort has long been a favorite resort of Koreans. He said Vivaldi Park stays seasonally relevant with all its amenities and facilities.
"It's a family friendly resort and Koreans come here all the time. The park boasts state-of-the-art facilities with a huge hotel, condo and mall development, a massive water park and ski slopes," Seong said in an interview.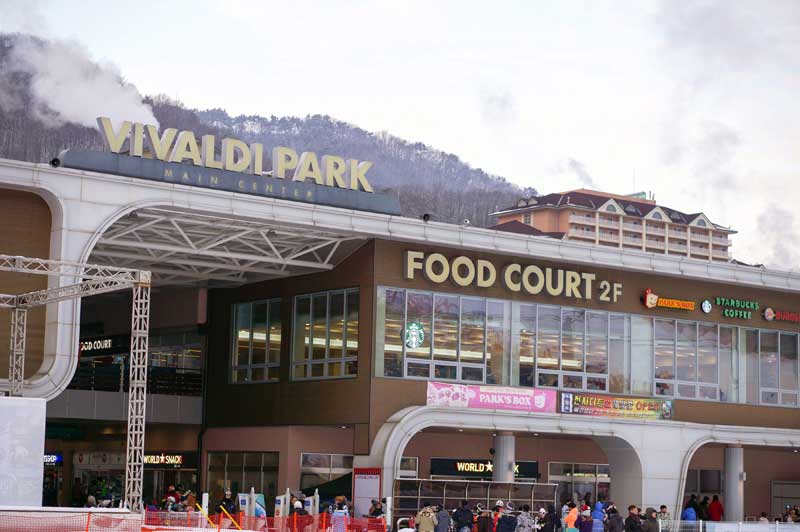 The Vivaldi Ski Park has a slew of eateries, coffee shops and restaurants to choose from.
Nami island
When you're in Gangwon, it's a must to visit Nami Island, one of Korea's true gems. Nami, which is popular during autumn for its yellow ginkgo leaves, is beautiful even in winter. It was freezing cold but the island was teeming with tourists.
Filipinos remember Nami Island in a scene from the Liza Soberano-Enrique Gil film My Exs and Whys. Maria Nelia "Pinky" Restrivera of Adam's Express Travel explained how Nami's scene in the movie contributed to Filipinos' fascination with visiting the picturesque island.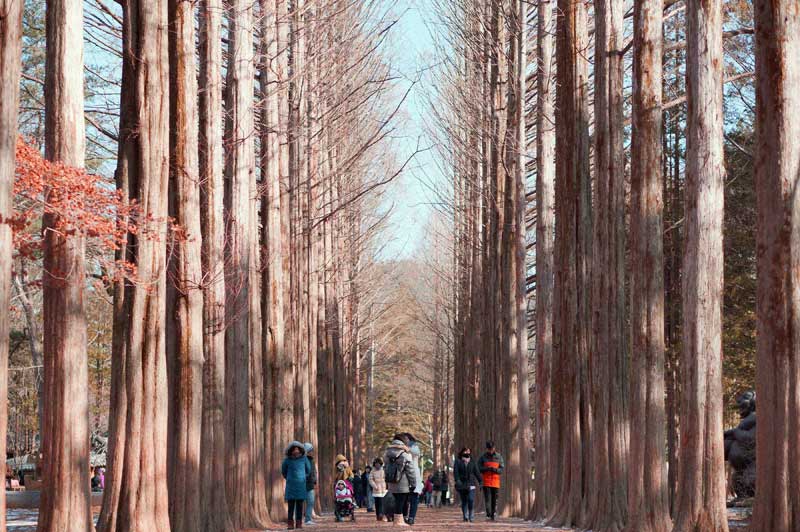 Nami Island is one of Korea's true gems.
Nami is also a popular winter destination and the key setting for another favorite Korean drama, Winter Sonata.
After visiting Nami island, we headed to South Korea's capital, Seoul. One thing about Filipino tourists, they love to shop, whatever country they're in. In Seoul, the go-to place for Korean street food, makeup, face masks, jewelry, clothes, shoes, K-pop posters and skin care is Myeongdong.
Korean makeup and facemasks, which are all the rage these days, are sold at discounted prices. For 10,000 won ($9), you can buy 20 facemasks and for 20,000 won, you can buy a coveted Mishka or Innisfree BB cream or foundation.
After a brief stay in Seoul, we headed to Ganghwa to visit the Hwanmunseok Cultural Center and the Peace Observatory. The Hwanmunseok Cultural Center is Korea's only rush-weaving handicraft, a cultural legacy inherited from the Goryeo Dynasty.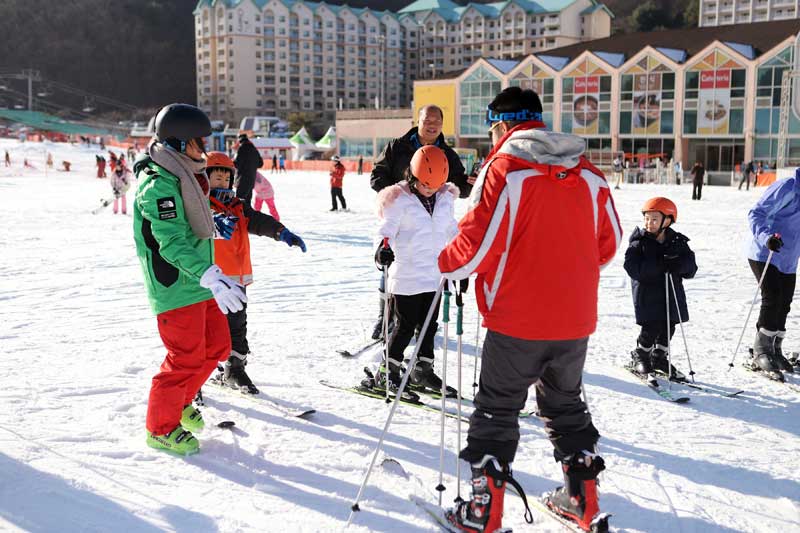 Tourists take beginner ski lessons at the Vivaldi Ski Park.
At the observatory, we saw North Korea through powerful, high-tech binoculars. From the observatory, which is just 2.8 kilometers from North Korea, visitors can observe aspects of North Korean people's life, including farms, homes, schools and village center.
Our next stop was at this quaint, popular coffee shop called Joyang Bangjik, an old textile factory that has been turned into a cool café complex. For 12,000 won, you can have a divine strawberry cheesecake and coffee.
Then we headed to the Ganghwa seaside resort where we took the gondola going up the mountains. The resort has a luge and a gondola with a view of the frozen seashore in Incheon, the third largest city in South Korea.
On our fifth day, we visited the Songdo International Business District in Incheon, a MICE (Meetings, Incentives, Conferences and Exhibitions) city with abundant and multi-function infrastructures. The business district provides one-stop service for participants of international conferences. We dined at one of the Hanok restaurants in Songdo and went to Triple Street Mall where we tried the Virtual Reality (VR) Games.
KTO support
Meanwhile, Filipino travel and tour operators credit KTO for helping them bring a large number of Filipino tourists to South Korea every year.
Restrivera, Angeline Cua of Horizon Travel Tours, Denise Maglinao of Aerial Travel and Tours, and Agnes Arevalo of Pan Pacific Travel Corporation credit KTO's savvy marketing strategies for enticing more Filipino tourists to visit South Korea.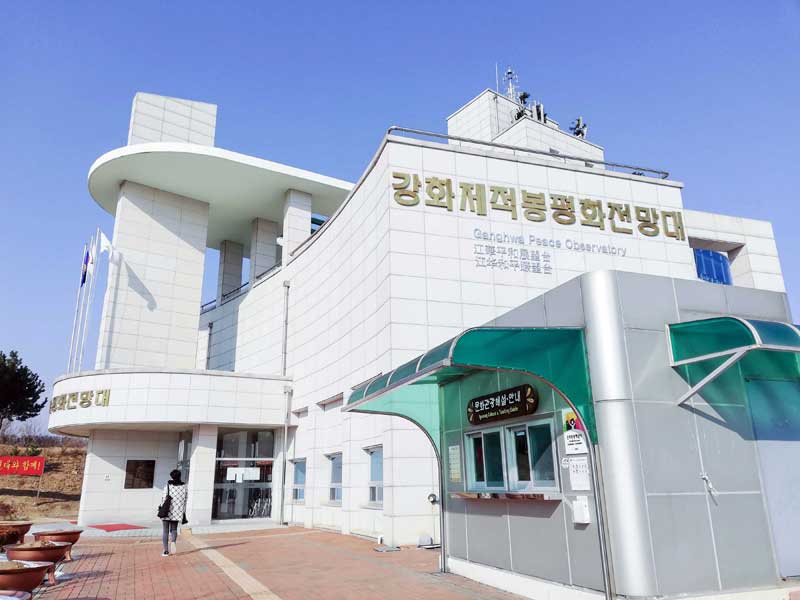 The Ganghwa Peace Observatory
"Yung KTO sobra ang support nila sa amin. They're the best. During travel expos, they give out all the brochures and other promotional materials and also provide a consortium to travel agents every year where they sell one product at cheap and affordable prices," they said.
Restrivera said the volume of tourists visiting Korea has been increasing annually.
"Pinoys love K-pop and K-drama and now Korean makeup and food (samgyeupsal) add to why they want to see Korea. They come during spring for the cherry blossoms and autumn for the lush colorful foliage and also in summer and winter. Filipino tourists love to visit during the winter season because they are looking for something new," Restrivera said.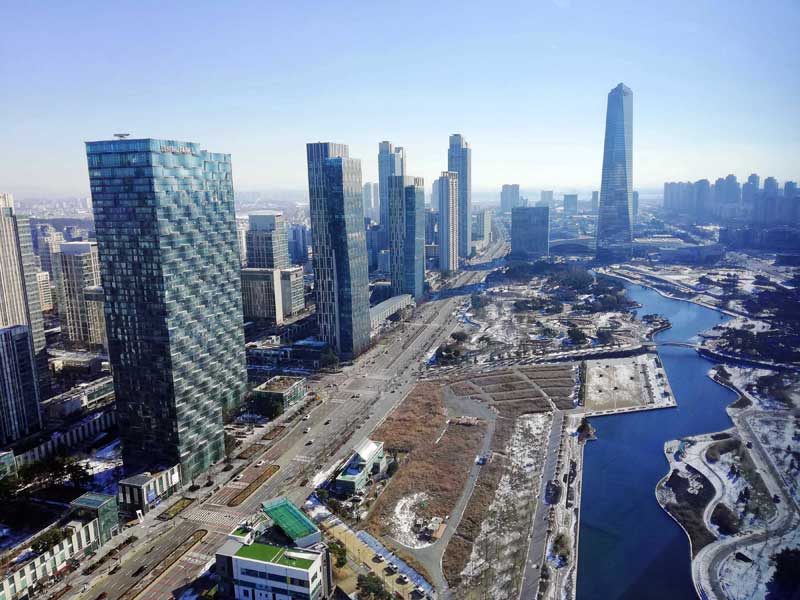 An aerial view of Incheon, South Korea's third largest city
* * *
For inquiries, call Korea Tourism Organization(KTO) Manila office at (02) 3580856 or e-mail at ktomanila@knto.or.kr.