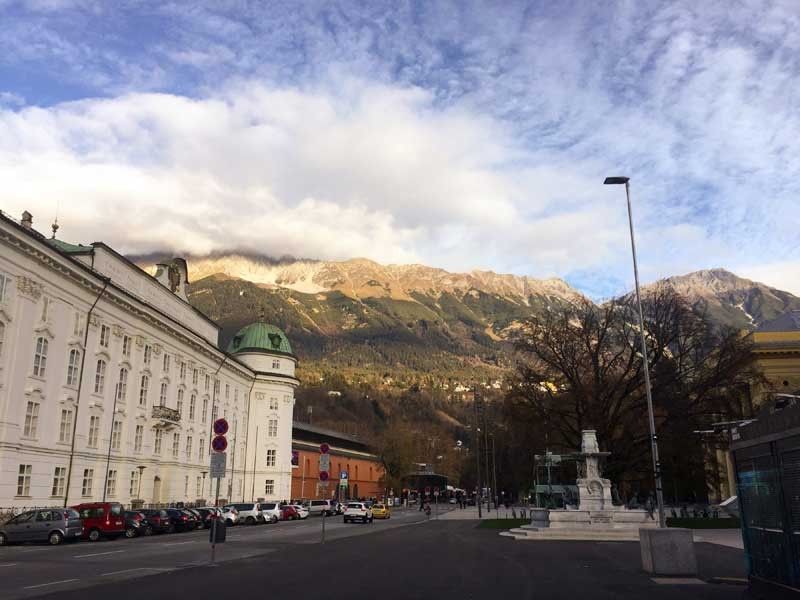 Views of the mountain range is a key part of Innsbruck, Austria.
The great Bavarian escape
Finding fairytale drama and romance in Munich, Salzburg and Innsbruck.
In Elizabeth Gilbert's book Eat Pray Love, she writes that every city has a single word that defines it.
"If you can read people's thoughts as they're passing you on the streets of any given place, you would discover that most of them are thinking the same thoughts," Gilbert says in the book. "Whatever that majority thought might be — that word is the word of the city."
In my recent travels to Germany and Austria, I visited many towns and met many people — enough to wonder: What is the word for each of these places? The Jewels of Romantic Europe tour took me to three cities: Munich, Innsbruck and Salzburg. While they exist in such close proximity to one another, each one presents a very different idea of how life ought to be lived.
Munich moves fast; it's one of the biggest cities in the European Union (12th biggest, to be exact), and it's known for its thriving businesses (BMW headquarters are located there) and for its cultural holidays (it's home to Oktoberfest). Just hours away, Innsbruck is a completely different world; tied close to its rich imperial history, it's a small but very proud city. Salzburg, unsurprisingly, seems to come with its own musical score; walking around town feels like you're following a cheery beat.
For me, Munich's word is "expertise" — or maybe "beer,"
depending on the time of year. Innsbruck is "pride" — not quite hubris, but a strong sense of dignity and honor. Salzburg is "rhythm," and there I can say that (as corny as it sounds) the hills really are alive.
But in searching for the true spirit of each city, I learned that while they have their own identities, one thing unites them: a love for life's simplest pleasures. Amid the drama of fairytale castles and sloping, mountainous villages are some of the warmest, most unassuming people I've ever met. Life is good, they all seem to say. And after seeing how much joy they have for the littlest things — for good weather, for being able to take home the newspaper at their favorite café, and even for bumping into an old musician friend in the park who shares a bag of walnuts — man, what else do you need in life?
I won't lie; from here in the Philippines, the flight to Munich might feel like forever. But there are only so many journeys one can take in life, so it's important to choose the ones that are worthwhile.
Believe me, this is one of those.
The journey begins
It made perfect sense to go to Munich in the best possible way. Our group was fortunate enough to ride with the number one in the skies — Singapore Airlines. They fly direct to Munich from Singapore seven days a week. Coming from Manila, it only takes a brief layover at Changi Airport. To be honest, stopovers at Changi are always too short. Staying at the Singapore Airlines Kris Lounge always means the best food and ultimate comfort — not only are the bathrooms stocked, but there are also showers so you can freshen up in between flights. Personally, I love the comfy couches so I can nap before the next leg of the trip.
To the surprise of myself and our media group, Singapore Airlines actually has something called Changi Transit Rewards. All Singapore Airlines passengers in transit in Singapore are entitled to a voucher worth SGD20 that they can use in most retail outlets at the transit and public areas of the airport. (You read that right: extra shopping money.) For those flying Economy, the voucher can also be used for a two-hour access to the Ambassador Lounge at Terminals 2 and 3. To claim the voucher, they simply have to go to the iShop Changi Collection Centres, situated near the GST Refund counters in Terminal 2 and 3.
Getting ahead to the last part of our trip, we actually claimed our Changi Transit Rewards on the trip back to Manila (You can claim it either on the way to your destination, or the way back home). We had some delays in the first leg of the trip, so we only had to time to claim the vouchers and jump to our next plane — literal jetsetters. But the best part is that the vouchers are valid until April 30, 2019. So I'm already thinking of what to shop with, the next time I visit Singapore. (Makeup, obviously.)
But it was the plane ride itself I looked forward to the most. And on the journey from Singapore to Munich, we took the Airbus A350-900 — a real luxury up in the sky. Singapore Airlines CEO Goh Choon Phong has described the A350-900 as a real game-changer for the airline, and has allowed them to serve long-haul destinations (such as Munich) on a non-stop basis.
The Business Class cabin has 42 seats, and each one feels like its own apartment. Each Business Class seat has ample legroom (you can even put up your feet on the leather bench), and a pitch that's unlike no other. Not only do the seats recline to ideal movie-bingeing position — this is very important for long haul flights — but they can fold down to full single beds that you can easily recline yourself. (There's a helpful video tutorial on how to do it.)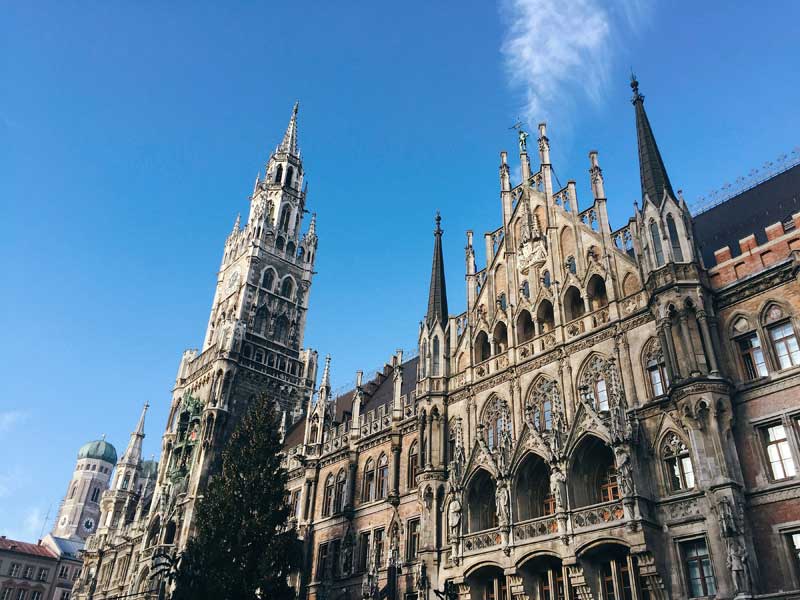 Munich City Hall is a great example of gothic revival architecture.
Once I found my preferred horizontal position, I looked for my first movie or show to watch on KrisWorld, Singapore Airlines' advanced in-flight entertainment system. Not only can you control the system via a remote that looks like a gaming console, it also allows passengers to mark their favorites, so you can easily come back to your preferred films or shows throughout the flight. I was tempted to watch something new or go back to old favorites (rewatching films was, for me, the perfect time to use the complimentary Wi-Fi on board), so I did a bit of both. We also had the pleasure of enjoying food from start to finish — delicious Singaporean fare on the way to Munich, and hearty Bavarian dishes on the way back. We could also order noodles at any point in the flight, and at one point I really had to stop myself: if I ate anymore, I would have to be rolled out of the plane.
Once we got to Munich, I realized this was not to be the end of our gastronomic and cultural adventure. There was so much more to see.
Munich my dreams come true
Munich Airport was, naturally, our first stop. It's that rare European airport that is equal parts bustling and calm. According to Munich Airport's Florian Pötsch, Europe's first number one airport has a quiet section at Terminal 2 near their restaurants, one that isn't riddled with airport announcements and other noise. It gives travel-weary passengers a place to relax, which is the kind of next-level concern that more airports really ought to think of.
Our trip to Munich was brief, as we had a lot more to see in the region, but what we did see shows Munich's modern life exists alongside its history. Nymphenburg Palace is a particularly special place — modest in size, but its Baroque grandeur is unparalleled. Best to visit late in the afternoon, so that the sun filters through the windows of the grand ballroom just right. (A pro-tip for any Insta addict.)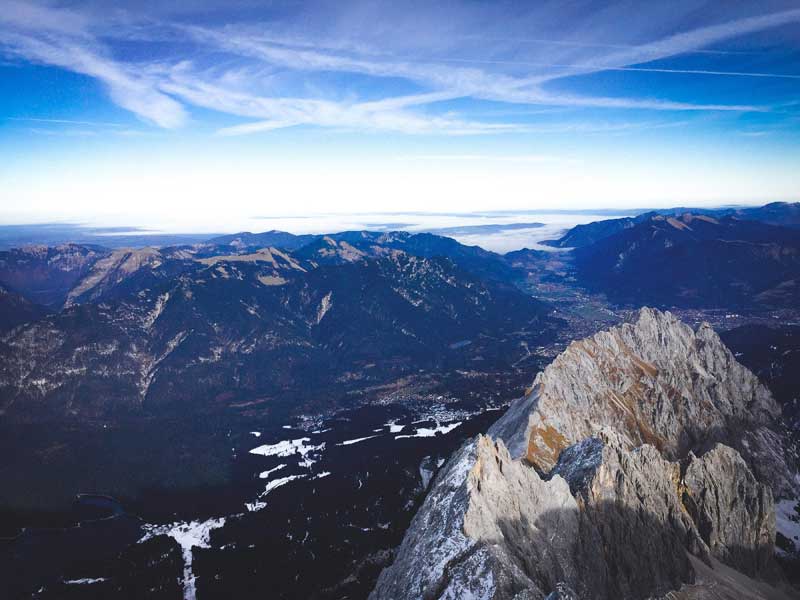 Zugspitze, Germany's tallest mountain, offers views of both Germany and Austria.
Climb every mountain
A short drive away from Munich is Zugspitze — the highest peak in Germany. At almost 3,000 meters above sea level, it's a natural wonder that's worth visiting, even if one isn't particularly into skiing. Hiking is also not a requirement; at the foot of the mountain is a cogwheel train that takes you up the mountain (they built tunnels within Zugspitze). It's a fairly long train ride, and our guide Janine recommended that we remove our jackets so that when we get to the top, we'd get the full Zugspitze experience. And we did. All -4 degrees Celsius of it.
At the end of the train ride is a wonderful view of the mountains around Zugspitze, but the cable car continues on to the summit, and while these new heights can feel intimidating, seeing both Germany and Austria at your feet is unforgettable. When you get to the viewing deck that offers a glimpse of both countries, remember to bring gloves that allow you to use your touchscreens — going gloveless just for a photo is a challenge on its own.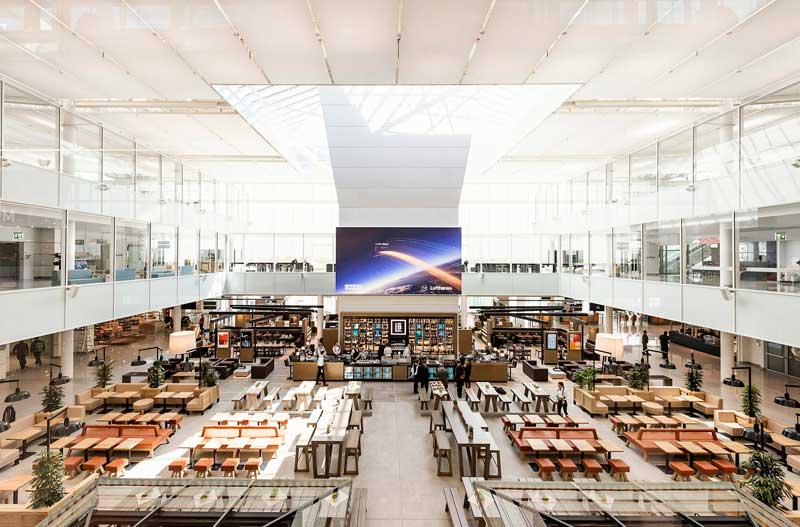 Munich Airport is Europe's first five-star airport.
Royally flushed
Innsbruck feels like a small town, despite it being the fifth largest city in Austria. Located near the German border, it's known for its winter sports and its many churches (following Austrian tradition, Innsbruck is very Catholic). Two minutes away from our hotel is Innsbruck's Old Town, where the yearly Christmas markets are found. But it's the Imperial Palace that is, quite literally, Innsbruck's crowning jewel. This piece of Austrian history has been so well preserved that even the carpeting in the Hofburgs' private rooms has been maintained. Fair warning: this may inspire you to redecorate your minimalist home interiors into something a little more ornate.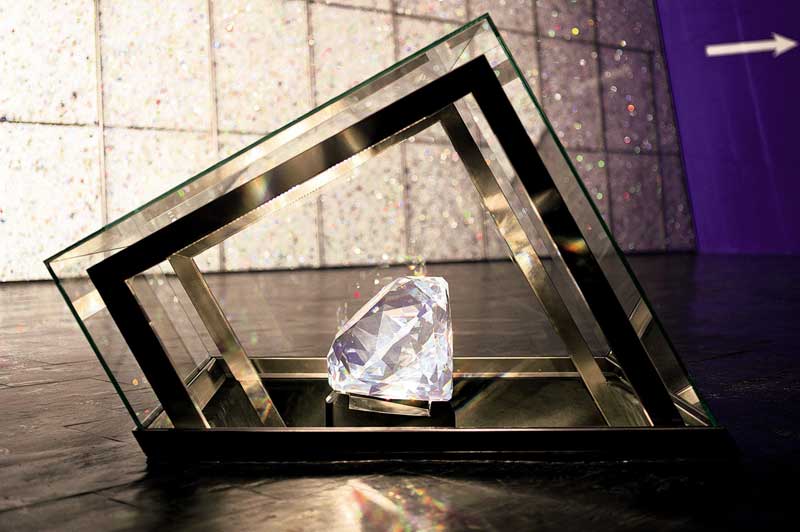 At Swarovski Crystal Worlds is the world's largest cut crystal.
Crystal clear
Speaking of crown jewels, a trip to Austria would not be complete without seeing Swarovski Crystal Worlds. It's a sprawling indoor and outdoor exhibition of Swarovski's collaborations with some of the world's most famous artists. We spent a few minutes walking around the garden, which I'm sure would be lovely in much warmer weather — but at the entrance, we were met with some pretty sparkly things that caught our attention: a huge Keith Haring piece in black crystal, set against a gorgeous International Klein Blue wall. There's a crystal display of Salvador Dalí's "Persistence of Time," and further down the exhibit is a lovely new chamber by Yayoi Kusama called "Chandelier of Grief."
Of course, for many shoppers, the real highlight of the trip is a visit to the huge Swarovski store at the end of the exhibit. But it's a great place for lovers of art and jewelry — one realizes how closely entwined the two actually are.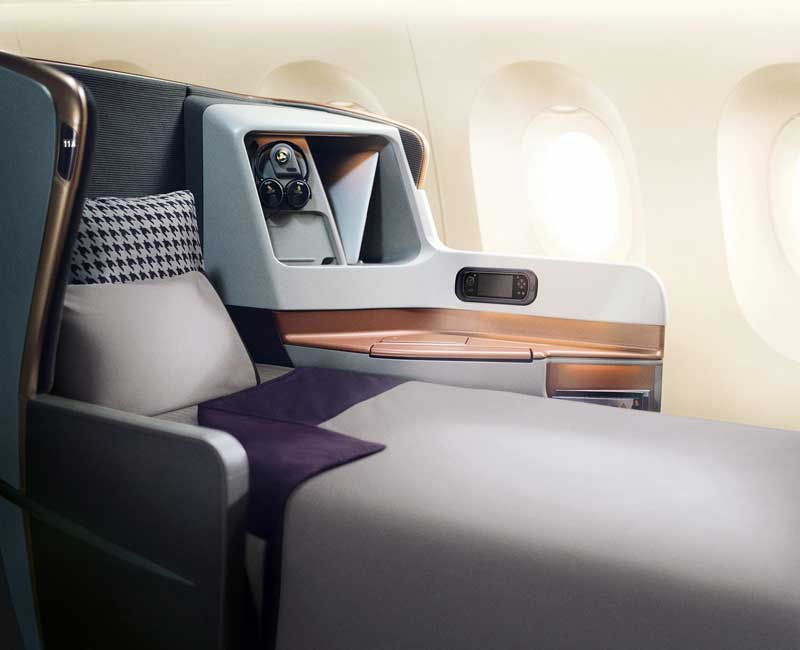 The Singapore Airlines Business Class cabin has 42 seats, and each one feels like its own apartment.
The hills are alive
Perhaps my favorite part of the trip was the visit to Salzburg. (I'm a huge Sound of Music fan, okay?) As I said, the city really does feel as musical as its reputation suggests, and that, to me, makes the place even more special. Of course, we visited Mirabell Gardens, where they shot the Do Re Mi sequence in the film. Our tour guide made us perform the song, by the way, and I was assigned to lead the group to run around the fountain. (This footage may have been lost, perhaps to be found in the woods one day, Blair Witch-style.)
When we visited, the town was full of holiday shoppers, but it was quiet enough that we could still walk around smaller streets in relative peace. Among a rather busy shopping street was Mozart's birthplace, another well-preserved part of Austria's past, which felt like a trip back to Mozart's actual life. To be honest, it's not so senior- or child-friendly because of all the stairs and fragile displays, but Mozart's life is actually pretty interesting, and they managed to show how a place like Salzburg could inspire his music.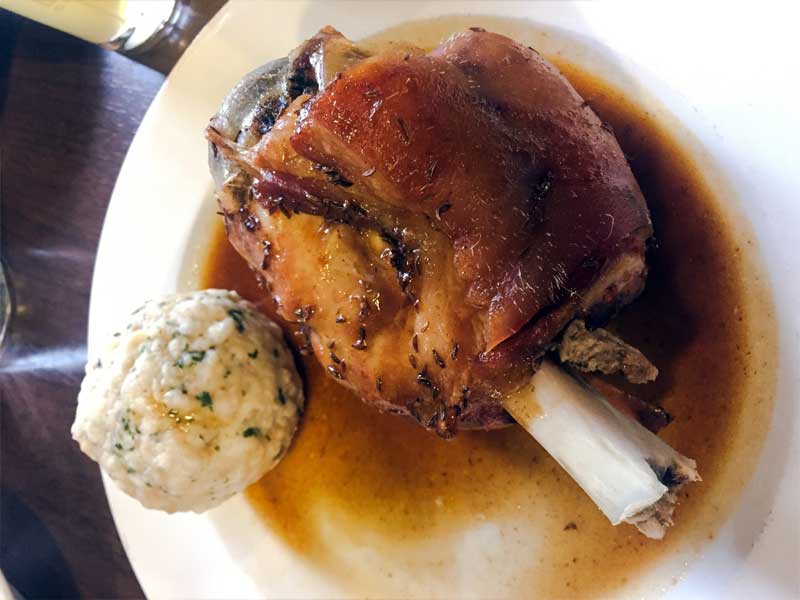 Pork Knuckle, served at The Salt Mines Berchtesgaden, is a typical dish in German cuisine.
A pinch of salt
Capping off our long trip was a visit to the mines, and like the dwarves in Snow White, we were dressed for the occasion — jumpsuits and all. We weren't allowed to take photos inside, but the Salt Mines Berchtesgaden is perhaps the most kid-friendly part of the trip. After a long train ride that takes you deep into the mines, you get to take a giant wooden slide that brings you deeper down. (Imagine a slide so tall, you will feel like you left your insides at the top of it.) Talking about it might spoil the fun, but apart from learning how the Germans have managed to find salt, not in the sea, but in the mountains, is a pretty interesting story. Who knew salt was so interesting? As I've learned, it actually is.
* * *
Singapore Airlines flies to Munich daily from Manila via Singapore. For more information on flights and Changi Transit Rewards, visit singaporeair.com.