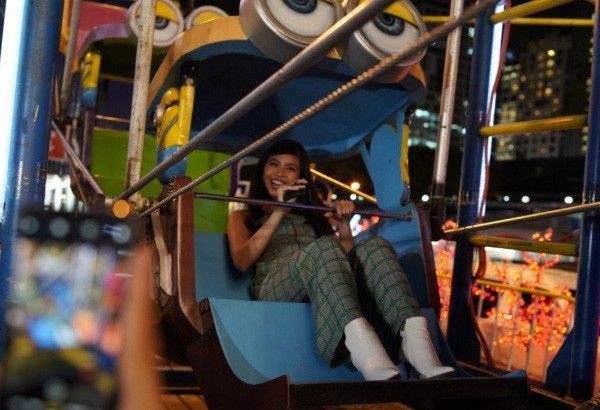 Actress-TV host Maine Mendoza enjoying an amusement park ride at the newly revived COD.
Twitter/Araneta Center
LIST: 12 must-see Christmas destinations
MANILA, Philippines — Looking for places to feel the holidays, from the first day of Christmas and beyond?
Tug along one's family and friends to these 12 Christmas hangouts.
Celebrity bazaar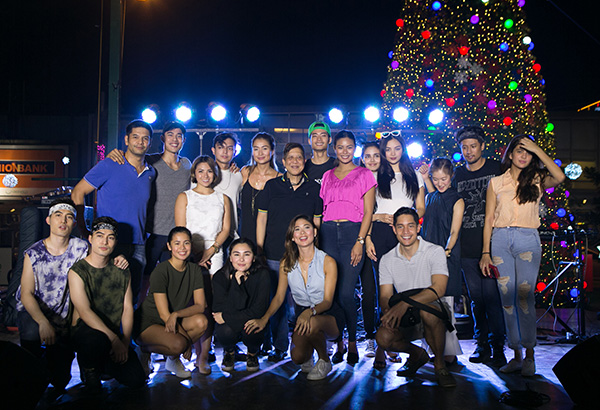 Ara Mina, Gwen Zamora, Teresa Loyzaga, Ryza Cenon, Andrea del Rosario, Mika Lagdameo, Phoemela Baranda and other celebrities will be in Sta. Rosa, Laguna on December 2, selling their products in the bazaar.
Celebrities will light up the grand year-end events of Greenfield Development Corporation as they headline the Christmas Market and Bazaar at Greenfield District in Sta. Rosa, Laguna and Greenfield District in Mandaluyong.
Ara Mina, Gwen Zamora, Teresa Loyzaga, Ryza Cenon, Andrea del Rosario, Mika Lagdameo, Phoemela Baranda and other celebrities will be in Sta. Rosa, Laguna on December 2, selling their products in the bazaar.
Meanwhile, in Mandaluyong on December 9, celebrities Fabio Ide, Brent Javier, Troy Montero, Will Devaughn, Carla Humphries, Marco Gumabao, Diego Loyzaga, Gretchen Fullido, Ruffa Mae Quinto, Phoemala Baranda, Michelle Gumabao and others will also have their own booths in the bazaar.
Apart from celebrities, brands like Nike, adidas, Converse, Levi's, Giordano, Oakley Vault and many more will have their biggest sale this year in the Paseo Outlets' Black Friday Weekend Sale.
As Atty. Duane A.X Santos, General Manager of Greenfield Development Corporation, proudly puts it: "Helping forge a stronger bond—one that can stand for generations—is at the heart of what we do at Greenfield. From our developments to our events, it has always been about creating idyllic moments for the family. This Christmas, we are pleased to be able to gift families with exactly these kinds of moments through these exciting events."
Giant Christmas tree by the bay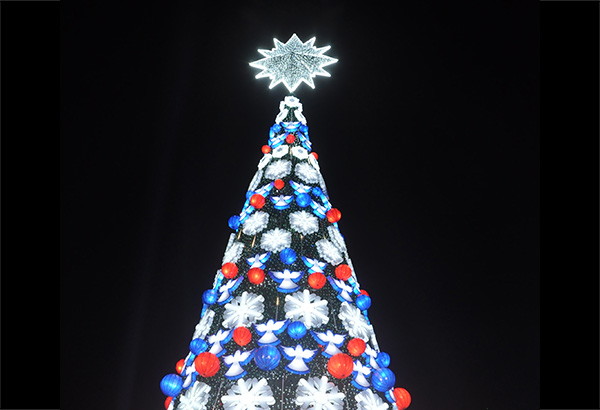 One of the most powerful symbols this Christmas, the giant Christmas tree at the SM Mall of Asia By The Bay is now lit up to the delight of mall goers.
The lighting company Firefly LED once again illuminates the 71-foot Christmas tree for the holidays as it brings joy to families who are spending their time in the bay area.
With its human-size ornaments and glittering lights, the Christmas tree is decorated by over 40,000 Firefly Le 71-foot C ED Bright Christmas Lights and Firefly LED bulbs. It is a favorite of Filipino families as it mirrors our own traits such as resiliency and unity and values such as filial piety and generosity.
The company also launched their LED's Bright Christmas Lights and bulbs, only branded Christmas lights in the market today as it is safe and affordable
Apart from SM By the Bay in Mall of Asia, Firefly also lit up SM City North Edsa, Ayala Cebu, and other Christmas Installations in Tiendesitas (Ortigas East) , Bradco Ave., Aseana City and Ayala Circuit Makati.
Futuristic Christmas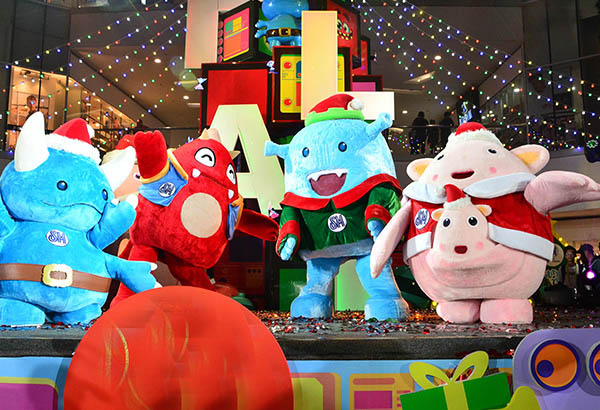 The Christmas display at SM North Edsa
Christmas celebration in the northern part of Edsa is now in full bloom as mallgoers can travel to the future as SM North Edsa celebrate the yuletide season in futuristic way.
Leading the festivities are the mall's Glitter Critter Characters from the Planet Hapitu, who led by Cap, with Boom, Chum, Lox, Oola and Lala, Puchik, Ching, Twinkle, Mick, Baloo, and Baba.
The Glitter Critters characters transformed The Block and Skygarden into a happy play park in glittering lights where the Glitter Critters play around and enjoy the holiday season.
At the Skygarden, one can find Glitter Critter play park installations: the KIDS Mountain, the Space Shuttle Sleigh which Baloo and Baba pilot to deliver gifts and Christmas magic; and the Fun Christmas Roller Coaster Ride, which kids can share with their new-found friends.
Likewise, SM City North EDSA will make the world go RAWR Christmas during the special Meet and Greet sessions with the Glitter Critter Characters on December 1, 8, 15, 22, and 29 at The Block and Skygarden.
Colorful Christmas
Rainbows and candy-colored dreams and the mysterious creature unicorns are the main attractions in the Christmas celebration in SM Megamall.
The Dreamagination: A Magical Holiday Spectacle celebration was launched recently at the mall's Mega Fashion Hall.
"Every year we challenge ourselves to come up with a theme that surpasses the grandess of the preious year. We are excited with this holiday season because we know our customers would love this year's colorful and magical theme," SM Supermalls assistant vice president for mall operations Christian Mathay said.
The mall also unveiled irs 45-foot Christmas centerpiece with candy-colored jewels, rainbows, toy soldier dolls and unicorns.
The return of COD
The "Queen of Dubsmash", @Mainecdm is here in Times Square Food Park for the Grand Launch of C.O.D! #CODAranetaCenter #AranetaChristmasOnDisplay#ChristmasisHome pic.twitter.com/go0lx04tnu

— Araneta Center (@AranetaCenter) November 23, 2018
After 16 years, Christmas on Display finally returned at the Times Food Park in Araneta Center.
Thousands of visitors attended the launch of the COD, a nostalgic moment especially for those people who grew up watching the shows from 1966 until 2002.
"I am sure that I share this with many people who have been coming here in the past every year to witness Christmas on Display. I am sure they will be pleased that they can see it again here with us at the Araneta Center and can recall memories of the past," Judy Araneta-Roxas said.
"Eat Bulaga" host Maine Mendoza and Baeby Baste performed in the opening ceremony, which brought fans to their feet.
On stage, Maine Mendoza for #CODAranetaCenter!#AranetaChristmasOnDisplay#ChristmasisHome pic.twitter.com/JKCydf31tw

— Araneta Center (@AranetaCenter) November 23, 2018
The cute Bae-by Baste is now on stage to sing "Have yourself a Merry little Christmas"!#CODAranetaCenter #AranetaChristmasOnDisplay#ChristmasisHome pic.twitter.com/HSw0RLtxPA

— Araneta Center (@AranetaCenter) November 23, 2018
Look who enjoyed #CODAranetaCenter! #AranetaChristmasOnDisplay#ChristmasisHome pic.twitter.com/Kqym0RG7pr

— Araneta Center (@AranetaCenter) November 23, 2018
Miss Universe Philippines 2018 Catriona Gray hosted the event, while her Binibining Pilipinas sisters Eva Patalinjug, Karen Gallman, Michelle Gumabao and Athisa Manalo also graced the event.
Our hosts for the night!#CODAranetaCenter #AranetaChristmasOnDisplay#ChristmasisHome pic.twitter.com/5IckHqLEO0

— Araneta Center (@AranetaCenter) November 23, 2018
Our @RealBbPilipinas queens 2018 are here for #CODAranetaCenter!#AranetaChristmasOnDisplay#ChristmasisHome pic.twitter.com/BNdewD9DPo

— Araneta Center (@AranetaCenter) November 23, 2018
The Christmas on Display will have 15-minute shows from 6 pm to 10:30 p.m. every Sunday to Thursday and 6 p.m. to 11:30 every Friday to Saturday until January 6.
Christmas traditions light up Makati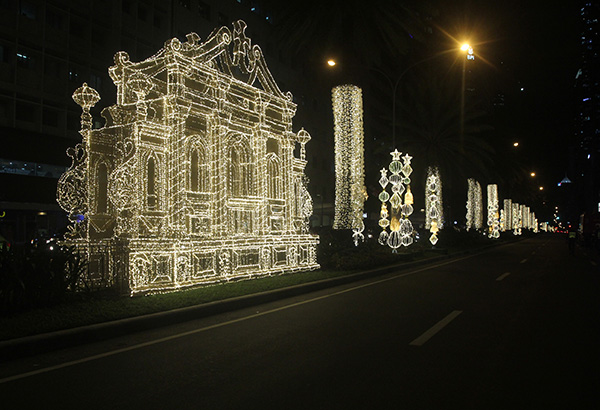 To capture the symbols that make the Filipino Christmas memorable and meaningful, Ayala Land lit up the heart of Makati once more with beautiful light installations depicting the altars of the Philippines' most iconic churches.
For Filipinos, Christmas is the most wonderful time of the year. It's the time when people come together in friendship, celebration and worship. Festivities and traditions such as the much-awaited Simbang Gabi and Misa de Gallo highlight the importance of the church and the community. As Christmas draws near, Philippine churches come alive, their altars covered in magnificent lights that proclaim the birth of Christ.
To capture the symbols that make the Filipino Christmas memorable and meaningful, Ayala Land lit up the heart of Makati once more with beautiful light installations depicting the altars of the Philippines' most iconic churches. Building on a yuletide tradition it has started several decades ago, Ayala Land marks its 30th anniversary by once again bringing the Filipino community together for a joyous event where well-loved and new traditions intersect.
Crafted by Zenas Pineda, seasoned interior designer specializing in visual merchandising and who has been designing the street lights of Ayala Land for seven years now, the light installations are sure to capture the historic and cultural richness of the altars of selected Philippine churches across the archipelago. Capiz installations are likewise wrapped around the trees that line the main street to complement the altars. To lend more color and whimsical elements to the overall design, totem poles symbolizing the 12 days of Christmas will be installed between the altars.
Among the altars to be featured are those of the iconic San Sebastian in Manila; the San Miguel Archangel Parish, Cebu and Molo Church, Iloilo in Visayas; the Immaculate Conception Church of Jasaan, Northern Mindanao; and the Santuario de San Antonio of Makati.
"Christmas is always special for Filipinos because it's about bonding with family and loved ones. We realize that for many Filipinos, experiencing Makati's holiday displays have become part of their Christmas celebrations, alongside revered Filipino Christmas traditions such as the simbang gabi, family reunions, and Noche Buena. This is why Ayala Land ensures that our Christmas celebrations in Makati are truly inspiring and memorable. We'd like to bring the community together and give them all the opportunities to create new and wonderful memories," said Shiella Aguilar, Makati Project Development Head for Ayala Land.
Makati's streets will bring Christmas cheer through its dazzling lights until January 8.
The Makati Christmas Street Lighting is a toast to Filipino traditions. It will also usher in a spectacular Christmas celebration by Ayala Land, including Reimagine the Magic: Festival of Lights, anticipated novena masses at Ayala Triangle Gardens, holiday bazaars, and a whole range of cultural events that Filipinos have come to look forward to.
Pixar holiday in BGC
With Christmas just around the corner, Bonifacio Global City (BGC) kicks off the Christmas season with "Pixar Playtown: Unboxing Christmas," which features a variety of attractions that aims to remind both the young and young-at-heart of the best loved stories and characters from Disney Pixar films such as Toy Story, Cars, Finding Nemo, and Monsters, Inc.
The installation's centerpiece is a 50-foot Christmas tree surrounded by Woody, Buzz Lightyear, and other characters and a life-size Lightning McQueen light-up installation. Be welcomed by Sully to the world of Monsters Inc., and marvel in merry décor along several key structures in and around BGC.
A curated Christmas in Batangas
Well-known architects and designers collaborated to create a community envisioned as "The World's First Livable Art Park" in Nasugbu, Batangas.
Batulao Artscape has four villages; three of them are made by renowned Filipino architects and designers.
Architect Ed Calma's Polygonal Successions for the Cluster Village, designer Kenneth Cobonpue's Hedera Homes for the Commune Village, and Budji+Royal Architecture+Design of Budji Layug and Royal Pineda for the Collection Village featuring their Tranche and Facet Homes.
Meanwhile, the fourth section is called the Curated Village which features homes by international architects and designers.
The first Curated Village within the artscape features David Salle + AA Studio's "Billboard Home," Marcel Wanders' "Eden," Marmol Radziner & Kravitz Design's "Instrumental Home," Philip Johnson Alan Ritchie Architects' "Modular Glass House," Elizabeth de Portzamparc's "Butterfly Home," AFGH for Wallpaper's "We Home," Studio Libeskind Design's "Adaptation II," Daphne Guinness' "Daphne Skin Home," Pelli Clarke Pelli's "Cabin/Stack/Prefab," and PMR+Metro's "Modular Living."
Century Properties Group is expecting some P13 billion in presales proceeds as it pushes through with the second phase of its development.
"We are very excited to offer approximately 1,700 residential units, as part of the next phase of presale for Batulao Artscapes. This inventory represents the biggest bulk of the project and we expect the sales to be brisk due to the overwhelming demand for the project," president of Century Properties Leisure and Hospitality Inc. Tim Hallett said.
The community is located within an expansive 142-hectare property that boasts of designer homes and world-class amenities.
The company is also incorporating lifestyle investment properties into the Batulao project by means of a 500-room art-inspired condominium inside the 2.5-hectare Batulao Artscapes Art Park. The condominium will feature the designs of select artists in the building's façade and exterior walls.
Related video: 'Kami Naman' Christmas tribute for overseas Filipino workers
— Video from YouTube/Century Properties
A piece of Disneyland in the Philippines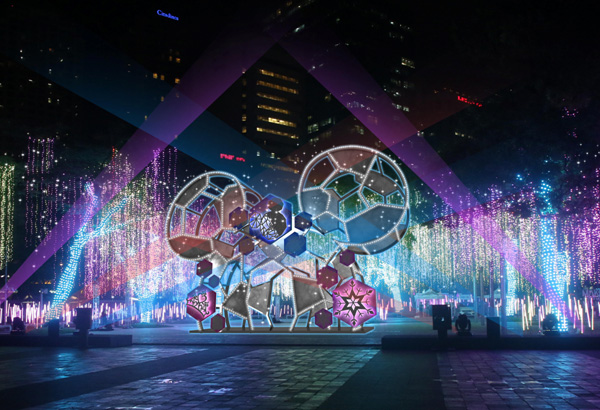 Lights and sounds show in Ayala Triangle Gardens
Christmas celebrations in the Philippines are filled with traditions and a visit to Ayala Land's Festival of Lights is among those that Filipinos have come to love. Now on its 10th year of lighting up the Philippines, Ayala Land, Inc. teams up with The Walt Disney Company, Philippines, in bringing a magical holiday to remember through "Reimagine The Magic: A Festival of Lights."
The magic of Disney is reimagined in this year's light show featuring well-loved Disney soundtracks such as "When You Wish Upon a Star," "Beauty and the Beast," and "Let It Go" in orchestral rendition arranged by the seasoned composer and former musical director of Hong Kong Disneyland, Mr. Rony Fortich. The medley is complemented by the spectacular lighting effects once again by Voltaire de Jesus.
Senior Vice President of Ayala Land Meean Dy shares, "The whole country is always at its most festive this time of year and we at Ayala Land continue to find ways to elevate our customers' holiday experience. The partnership with Disney comes at a most momentous time for us as we celebrate our 30th year as a company and the 10th year of the Festival of Lights. Disney's music and stories span generations and there is no better soundtrack to define the well-loved traditions that mark the Filipino holidays and Ayala Land's commitment to nurturing vibrant communities."
"It truly excites us at Disney Philippines to kick-off the Christmas celebrations in the country through this collaboration with Ayala Land. Being able to reimagine the annual Ayala Land Festival of Lights with Disney's brand of world-class entertainment is truly a great experience," shares the Country Head of The Walt Disney Company, Philippines, Veronica Cabalinan. "By weaving our well-loved soundtracks to Ayala Land's festivities, we hope to bring magical moments to families and Disney fans of all ages. This forms part of our commitment to build lasting memories and powerful connections with Filipinos."
"Reimagine The Magic: A Festival of Lights" will be present in six Ayala Land estates all over the country starting on these dates:
November 9 – Ayala Triangle Gardens, Makati
November 9 – Ayala Malls Centrio, Cagayan de Oro
November 10 - Ayala Center Cebu
November 15 – Bonifacio High Street, Bonifacio Global City
November 24 – Nuvali, Sta. Rosa, Laguna
November 29 – Vertis North, Quezon City
"We reaffirm our commitment to further evolve and innovate through meaningful experiences and traditions. This is our way of giving back to the community and co-creating the future with our customers," said Meean Dy.
See the beauty of Jeju Island with K-pop boyband Wanna One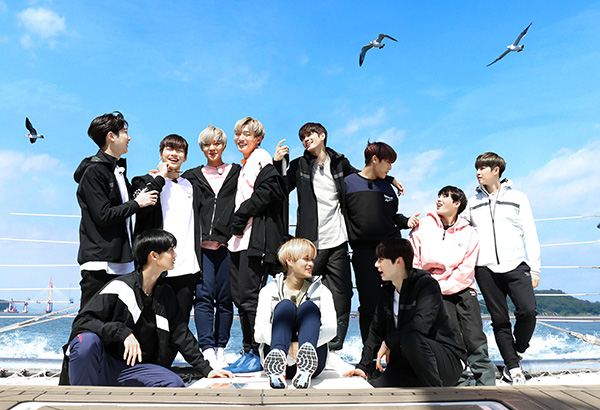 Wanna One in Jeju Island
Join Wanna One as they embark on a special two-day trip together to Jeju Island. See the dorky and cute sides of the members of Wanna One in where they travel together for the first time as a whole group in variety show. Watch the members of Wanna One enjoying themselves playing Go Kart, eating nice food, driving around, playing games, being goofy in their interactions, fishing, enjoying at theme park and more.
Wanna One is a South Korean boy band formed through the 2017 survival competition Produce 101 Season 2. The group is composed of 11 members: Kang Daniel, Park Ji-hoon, Lee Dae-hwi, Kim Jae-hwan, Ong Seong-wu, Park Woo-jin, Lai Kuan-lin, Yoon Ji-sung, Hwang Min-hyun, Bae Jin-young and Ha Sung-woon.
Out of an initial 101 trainees representing various agencies, the final 11 were chosen by audience voting and announced via live television broadcast. Wanna One is a project group unlike the usual idol groups and Wanna One became one of the most popular idol groups in Korea. In the latest group reputation ranking Wanna One maintains top 3, and member Kang Daniel ranked top among individual idols for consecutive 11 months.
"Wanna Travel S1" is a 12-episode travel variety with the members of Wanna One.
"Wanna Travel S1" airs on K-Plus every Saturday and Sunday at 9:15 p.m. Korean idols are featured on K-Plus, seen on channel 11 on Easy TV.
Holiday concept cruises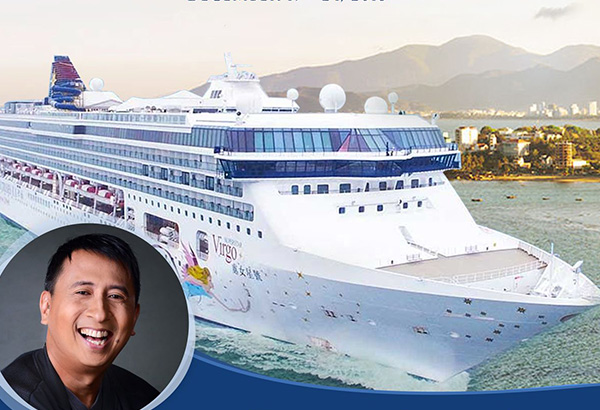 Preacher Bo Sanchez will be sending a Christmas message aboard a SuperStar Virgo cruise.
Experience a one-of-a-kind holiday celebration while you cruise the Asian seas on five-to-six-day roundtrip cruise itineraries.
The deployment kicks off on December 4 to 9 with the holiday concert at sea by The CompanY, a vocal harmony group that excels in performing a wide range of music genres, from classical choral music to alternative pop. Formed in 1985, The CompanY has now released 24 studio albums and garnered 54 music industry awards, making them the most awarded recording vocal group in the land. Guests of all ages will be swooned and crooned on the high seas with this versatile quintet.
Imbibe the holiday spirit through a concerto at sea, as the widely-acclaimed Manila PhilHarmonic Orchestra will make her cruise debut aboard SuperStar Virgo from December 9 to 14 in Halong Bay, Vietnam and Sanya, China. With over more than a decade of showcasing a solid passion for music through well-applauded live performances, records, tours, innovative programs of bringing the orchestra closer to the communities, guests of the cruise will be presented the musical masterpieces by one of the leading orchestras in the country.
Celebrity Chef Sandy Daza, also known as host of TV shows FootPrints and Casa Daza, will host cooking demonstrations on how to perfect his signature dishes specific for the holiday family festivities with guests from December 14 to 19 on board the cruise in Ho Chi Minh and Nha Trang, Vietnam. As a toting dad of four young adults, Chef Daza will also share personal tips on how to bond with children over the love of food and cooking, as cruises also sail through the wondrous country of Vietnam.
Presented in partnership with Executive Resources, Inc., world-renowned best-selling author, entrepreneur, and preacher Bo Sanchez will bring a unique flavor to this holiday sailing to Vietnam with inspirational sessions from December 19 to 24 aimed to bring out the best of you during the most wonderful time of the year. Guests onboard will also be treated to special daily masses mirroring the Filipino Simbang Gabi tradition scheduled throughout the cruise.
Christmas in Hong Kong and Macau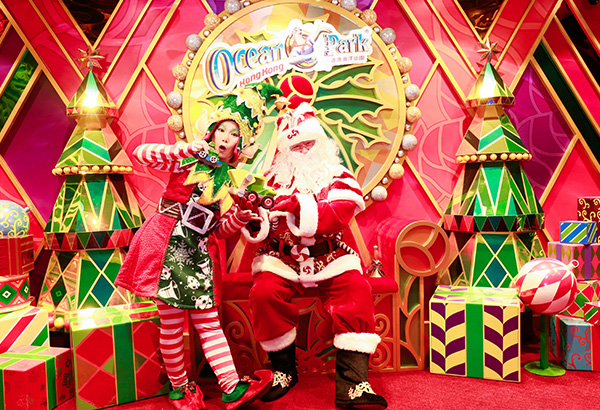 Holiday festivities in Ocean Park Hong Kong
The world's longest bridge and tunnel sea crossing, the Hong Kong-Zhuhai-Macao Bridge, opened last October 24, providing a major boost to regional tourism. The bridge connects Hong Kong to cities throughout the Greater Bay Area of southern China, bringing the attractions of Macao and Guangdong within easy reach and making Hong Kong a hub for visitors from around the world including Filipinos to explore the fascinating and diverse region.
The bridge is the first major combined road and tunnel sea-crossing in the Greater Bay Area, spanning the sea from an artificial island near Hong Kong International Airport to Macao and the mainland Chinese city of Zhuhai. At 55 km, it is 20 times longer than San Francisco's Golden Gate Bridge.
It contains enough steel to build 60 Eiffel Towers and is designed to last 120 years, two decades longer than the lifespan of most major cross-sea bridges. The mega-project will become an instant and iconic landmark for Hong Kong and the Greater Bay area and has already been named by the Guardian as one of the architectural Seven Wonders of the Modern World.
The bridge will consolidate Hong Kong's position as a hub for multi-destination travel within the Greater Bay Area, which includes nine cities in the Guangdong Province and two Special Administrative Regions. It shortens the journey from Hong Kong International Airport to Zhuhai from four hours to just 45 minutes.
The first port of call for travellers using the new bridge is Hong Kong's Lantau Island, home of the city's international airport and Disneyland and an enthralling and beautiful destination in itself. Visitors can ride the famous Ngong Ping 360 cable car to the Big Buddha statue and Po Lin Monastery and take a walk along Wisdom Path, a peaceful and spiritual trail featuring carved wooden pillars.
For an authentic cultural experience, visitors can call in on Tai O Fishing Village with its distinctive stilt houses. The bridge will be clearly visible during the boat trip from Tung Chung to Tai O or from a ride on the cable car.
The Hong Kong-Zhuhai-Macau Bridge puts a wealth of diverse cultural attractions in Macao and Guangdong within easy reach of Hong Kong, including the stunning ruins of St. Paul's in Macao, the Statue of Fisher Girl in Zhuhai, the Kaiping Diaolou, the Seven Star Crags in Zhaoqing and many more. Visitors can now more conveniently than ever combine Hong Kong and attractions across Greater Bay Area into a single multi-destination itinerary.
A fast and convenient cross-border bus service is available to take pioneering travelers over the iconic new bridge between Hong Kong, Macao and Zhuhai. Contact your travel agent to plan your visit to the Greater Bay Area today.
In Hong Kong, Harbour City is known around the world for being a haven for the best of dining in Hong Kong, housing Michelin-starred and recommended restaurants and gorgeous harbor views that complete the experience. The Ocean Terminal new extension building recently introduced a wide range of new restaurants with stunning Victoria Harbour views, allowing guests to enjoy the breathtaking scenery of the bay while savoring world-class cuisine.
This month, Harbour City hosts the Great November Feast organized by the Hong Kong Tourism Board, with special offers throughout the duration of the festivities.
Enjoy a breathtaking sunset like no other as Harbour City's Sunset Cheers Tasting Party overlooking Victoria Harbour at the Ocean Terminal deck offers you the chance to sample fine wine selections and special cocktails curated to your taste. Put your vino discernment to the test at the Wine Sensory Station, where guests will be challenged to distinguish different wines according to their scent.
For those seeking even more seafood, Harbour City's Seafood Cheers Tasting Party features 24 restaurants putting their best fish forward, paired with select wines. Tokyo-based Michelin-starred French restaurant à nuretrouvez-vousserves a tailor-made 8-course Matsutake Menu with seasonal ingredients, Michelin-recommended restaurant China Tang presents a number of its signature refined Chinese offerings, Michelin-starred French restaurant Épure hosts a sommelier to select a number of wines to pair with their finest dishes, while Paper Moonwelcomes their executive chef Giuseppe Palmieri from Milan to bring an authentic taste of Italy until November 30, 2018.
Other renowned restaurants on the roster include XiheYa Yuan Beijing Duck Restaurant, ye shanghai, ANA Ten, HAKU Curated By Hideaki Matsuo, Nishimura, Sushi Tokam, Thai Brasserie by Blue Elephant, UmaiSushiKan, Al Molo Ristorante Italiano, Artisan De La Truffe Paris, BLT Steak, Cucina, Jamie's Italian, LE CAFÉ de Joël Robuchon, La Locanda by Giancarlo Perbellini,Niji Bistro, and Harbour View Restaurant.
More delectable ocean offerings are also available as Happy Sunset Hour features nine restaurants at Harbour City that allow guests to choose their favorite style of seafood tapas paired with cocktails, red wine, white wine, or beer basking in the glorious sunset of Victoria Harbour.