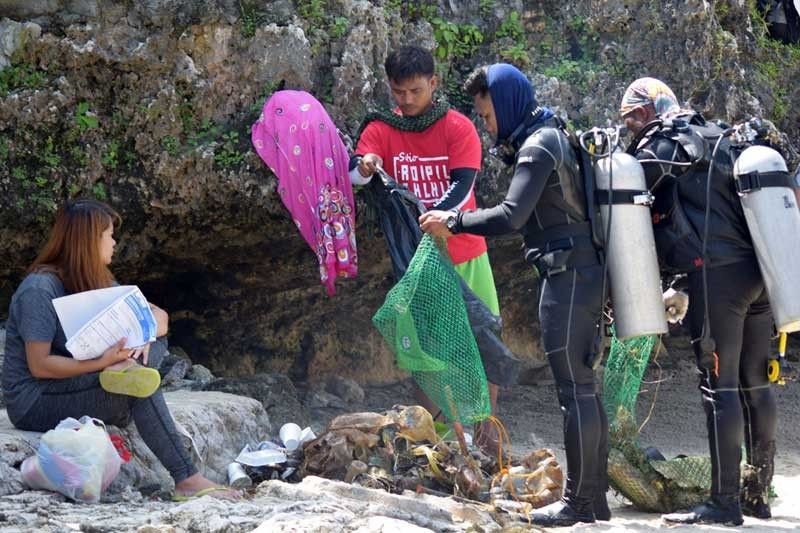 Scuba divers unload the garbage they gathered in the waters of the Hundred Islands National Park in Alaminos City, Pangasinan under the innovative "Scubasurero" project.
'Scubasureros' keep Pangasinan waters clean
Eva Visperas
(The Philippine Star) - November 9, 2018 - 12:00am
MANILA, Philippines — Licensed scuba divers keep the waters at the Hundred Islands National Park (HINP) in Alaminos City free from garbage to enable tourists and locals to enjoy a clean environment.
The "Scubasurero" project, a brainchild of Mayor Arthur Celeste, was launched in 2016 and has divers conducting clean-up every month to protect this premier tourist attraction of Pangasinan.
Mamerto Viray, 64, a resident of Barangay Lucap who is one of the divers, said visitors laud the project, saying it is only here where a monthly clean-up of the waters is being done.
The project has gained more supporters as licensed divers from national government agencies and private organizations have joined the program.
Among those who are partnering with the city government are divers from the Philippine National Police, Maritime Police, Coast Guard, Department of Environment and Natural Resources, Bureau of Fisheries and Aquatic Resources, among others.
They gather every month when weather permits and collect garbage indiscriminately thrown by some visitors, especially those trapped in seagrass beds.
Alvin Domondon, 34, a licensed diver from Barangay Victoria, said the project has done wonders as it tremendously decreased the volume of underwater garbage. From 15 full garbage bags collected every clean-up to only five garbage bags collected on the latest dive.
The areas targeted for clean-up include Quezon Island, Governor's Island, Children's Island and Cuenco Island, which are frequently visited by tourists.
Meanwhile, another project for a litter-free park is the "Basura Mo, Iuwi Mo (Your garbage, bring it home)."
Assistant tourism officer Rosalie Aruelo said a P200 refundable group bond is required of visitors going to the HINP.
The group will be given two bags: one for biodegradable trash and another for non-biodegradable garbage.
Once the visitors return to the wharf or the mainland and turn in their garage for proper disposal by the Alaminos Tourism Office, they get back the P200 deposit. They would also be given a gift certificate good for two persons for free entrance and free environmental fee on their next visit to the HINP.
"Tourists become our island rangers because we imbibe in their consciousness the care for the environment while they're enjoying their HINP trip," Aruelo said.