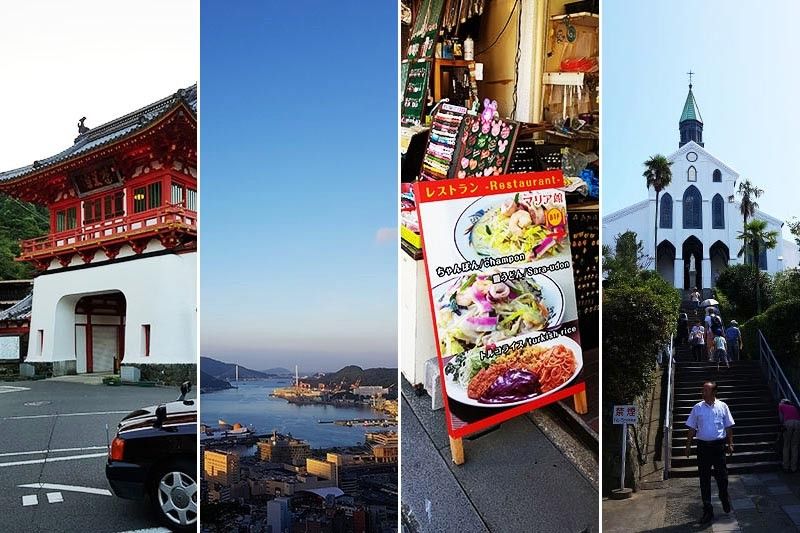 L-R: Takeo Onsen's Sakura mon gate, dawn skyline of Nagasaki City, food stall sign of Nagasaki's champon local delicacy and the Oura Cathedral, a UNESCO World Heritage site.
Philstar.com/Mikas Matsuzawa
4 days 3 nights in Japan: What to do, where to go in Saga and Nagasaki
MANILA, Philippines — Many international tourists may equate Nagasaki with the atomic bombing and may be unaware of its historic global character and its secret Catholic past.
For centuries, Nagasaki has been Japan's gateway to the world and this inevitably resulted in its unique identity that has embraced Western and Eastern influences while remaining true to its roots.
The prefecture was the first in Japan to have contact with the West when Portuguese traders arrived in 1543 bringing with them new weapons and later Catholicism.
The prefecture was hailed as "Little Rome" after converting tens of thousands including powerful feudal lords, some of whom only interested in gunpowder and the profit from overseas trade.
But the spread of Catholicism came to a halt starting in 1587 after Japanese leaders saw the growing religion as a threat and implemented a crackdown. A dark period of persecution that spanned for 250 years followed.
Priests were banished and Catholics were tortured, their ears and noses publicly mutilated, or killed by throwing them off boiling hot springs.
Many, however, refused to renounce their faith and covertly celebrated Catholic feasts in caves or in hidden rooms inside their homes.
Although Bibles were unavailable, they orally passed down prayers called orasho through generations while outwardly pretending to be Buddhist or Shinto practitioners.
Due to its oral tradition, many words in the orasho, which is a mix of Portuguese, Latin and Japanese, were corrupted. Maria became Maruya using the kanji maru (round) and ya (house), San Juan became San Jiwan using the kanji san (three) and ji (next) and the hiragana wan, and amen became anmen.
Those who remained steadfast in their faith later resurfaced when the ban on Catholicism was lifted and along with them the story of the "hidden Christians."
Immerse yourself in the culture and history of Saga and Nagasaki. Here are some things you can do in Nagasaki prefecture's capital—named as one of the 10 best places to visit in Asia this year by Lonely Planet—with a stop at the nearby Saga prefecture whose hot spring town carries a thousand-year history.
Day one: Saga
First things first
Get yourself a JR Kyushu Rail Pass (Northern Kyushu Area or All Kyushu Area) which can save you a lot as you travel around Kyushu. A five-day Northern Kyushu Area pass costs JPY 10,000 (around P4,766). It allows you unlimited rides for five days on major trains of JR Kyushu and seat reservations of up to 16 times. You can also score discounts on entrance fees of some tourist spots using your pass.
You can expertly navigate Japan's punctual train network by checking their routes and schedule on HyperDia. You can also download the NaviTime app on Android and iOS to check your transportation options and their first and last trips per day.
Also, check opening and closing time of the sites you will be visiting.
Arrival
If you take the 9:45 a.m. flight from Manila, you will arrive at Fukuoka Airport by around 2:30 p.m.
A Tokyo connection
First stop will be Saga prefecture where Japanese porcelain originated. Also in Saga is the 1,300-year-old hot spring destination of Takeo Onsen.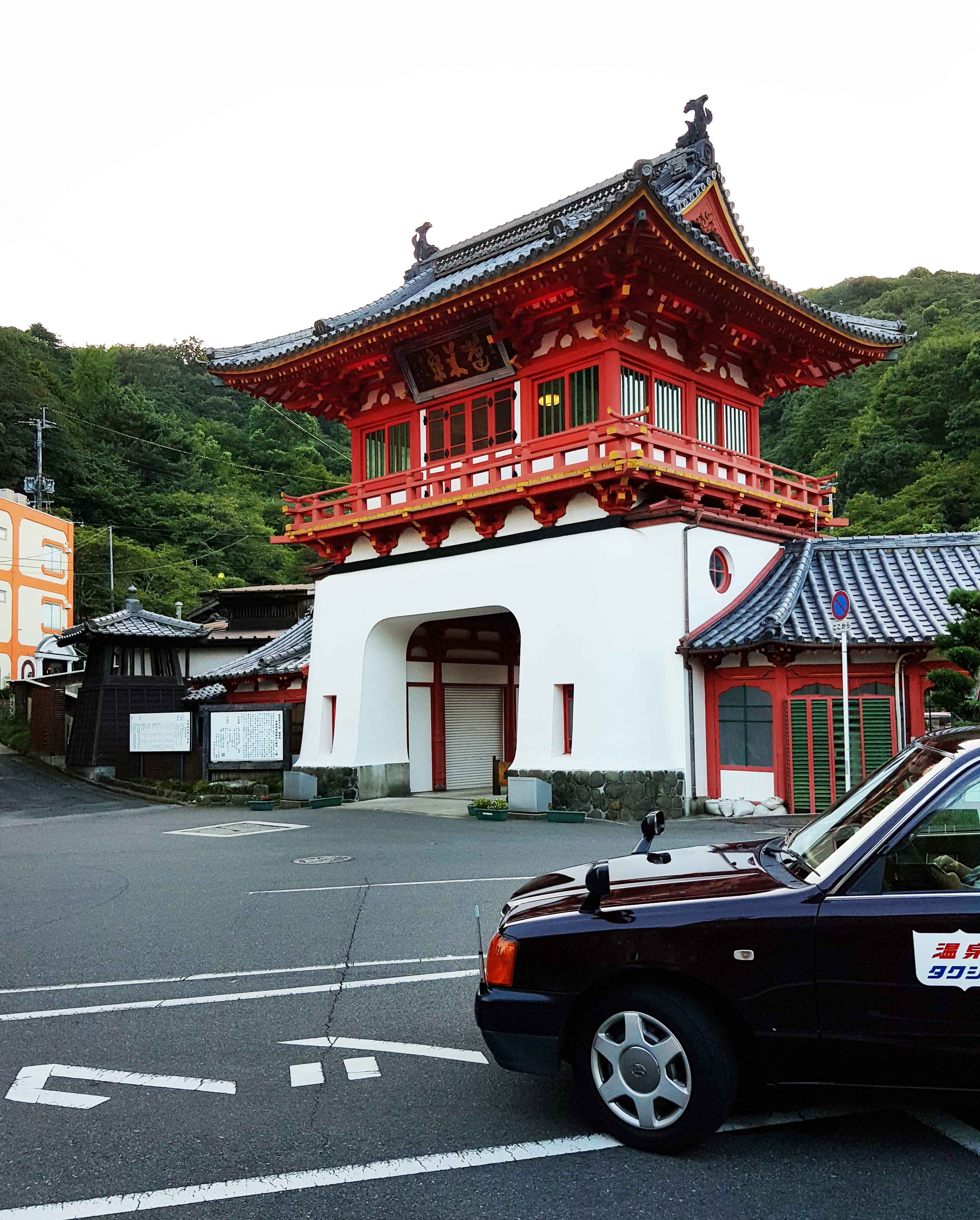 According to Japanese folklore, hot water sprouted when the deified Empress Jingu poked the ground with her spear. Since then, the silky hot spring water of Takeo Onsen—claimed to have beautifying and rejuvenating qualities—had attracted many notable figures.
The hot spring resort has open-air rotenburo baths and private kashikiri baths for those not used to bathing nude with others.
You can also try looking for the four Chinese zodiac signs on the second floor of the Takeo Onsen resort's gate. The other eight are on the ceiling of the iconic Tokyo Station Marunouchi Building.
For years, many wondered why Kingo Tatsuno who designed the red-bricked Tokyo Station building only featured eight of the 12 signs of the Chinese zodiac. Tatsuno was also the architect of Takeo Onsen Shinkan and its iconic vermillion Sakura-mon entrance.
How to get there: To get to Takeo Onsen Shinkan, you can take the Fukuoka City Subway Kuko Line for a six-minute ride from Fukuoka Airport to Hakata Station. From there, you can transfer to the Limited Express Midori to get to Takeo Onsen Station. The train ride takes around an hour. The hot spring resort of Takeo Onsen Shinkan is just an eight-minute walk away from the station.
Nighttime stroll
Your stay in Saga will not be complete without enjoying the breathtaking beauty of nature at Mifuneyama Rakuen. Resting at the foot of Mt. Mifuneyama is the vast garden covered with hundreds of thousands of flowers and trees which changes color through the season.
Although it usually closes at 5 p.m., the garden has yearly events for nighttime visitors like this summer's "A Forest Where Gods Live."
The light and sound project transforms the whole garden into a labyrinth that whisks you to a journey to the spirit world. It is everything you would imagine a world crafted in a Ghibli studio would look like.
How to get there: Take the JR Kyushu bus service at JR Takeo Onsen Station. The garden is a five-minute walk away from the Mifuneyama Rakuen bus stop.
Where to stay:
Central Hotel Takeo (from P4,567) - One minute walk from JR Takeo Onsen Station and all rooms have free breakfast buffet offerings

Takeo Onsen Kyotoya (from P9,691) - 10 minutes walk from JR Takeo Onsen Station

Takeo Century Hotel (from P5,691) - Seven minutes by bus from JR Takeo Onsen Station bound for Ureshino. You should get off at the Karekinoto stop.
A bonus for bargain hunters
If you want to score bargains on Day 1. You can drop by Tosu Premium Outlets before heading to Takeo Onsen. You can present your passport at the Information Center for coupons that can get you extra savings on top of the normal discounts.
How to get there: From JR Hakata Station, you can take the JR Kagoshima Line Rapid to Tosu Station which takes around 30 minutes. You can then take a 15-minute bus ride to Tosu Premium Outlets.
Day two: Nagasaki
Hidden Christians
Start your day early and head to the rural town of Sotome whose villages of Ono and Shitsu had been a refuge to "hidden Christians" from other areas in Nagasaki seeking to practice the religion in secret.
In the village of Ono, Christians outwardly behaved like Shinto and Buddhist followers to hide their faith. It is not uncommon to find statues of the Virgin Mary disguised as the Buddhist goddess Kannon or Jesus as Buddha.
Meanwhile, Christians in the village of Shitsu secretly kept a Catholic liturgical calendar and catechism to guide their religious practices.
After Japan lifted the ban on Christianity in the late 1800s, French missionary Father Marc Marie de Rotz re-established the religion in the area and soon built churches in the villages of Shitsu and Ono, which are UNESCO World Heritage sites.
If planning a visit to Sotome, you go to Ono Church, Shitsu Church and the Father de Rotz Memorial Museum. You can also drop by the Endo Shusaku Literary Museum dedicated to the award-winning Catholic novelist whose book "Silence" became a Hollywood film.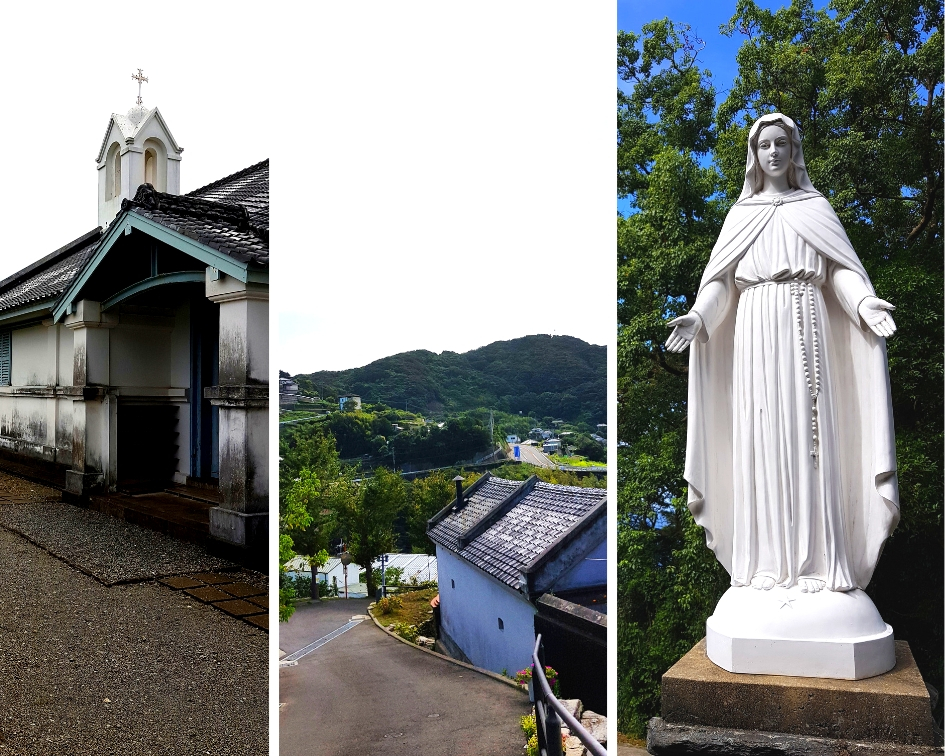 If you're visiting churches, however, keep note of the code of etiquette and refrain from wearing a hat, taking photos, talking on the phone or eating inside. Visitors are also advised to avoid talking loudly in respect to the spiritual atmosphere.
How to get there: From JR Takeo Onsen Station, take the Limited Express Midori to Hizenyamaguchi Station which takes 12 minutes. Transfer to the Limited Express Kamome to Nagasaki (Nagasaki) Station. The ride will take an hour and seven minutes. From there, you can take the Nagasaki Bus for an hour and 20-minute ride to the Shitsu Bunka-mura bus stop. Shitsu Church is a 15-minute walk from the stop. You can get a one-day pass worth JPY 500 (around P240) for unlimited rides on the Nagasaki Bus for a day.
The Father de Rotz Memorial Museum is a 10-minute walk from Shitsu Bunka-mura bus stop.
To get to Ono Church, you can take the Nagasaki Bus from Shitsu Bunka-mura bus stop to Ono bus stop which is a four-minute ride. The church is a 20-minute walk away from the stop.
The Endo Shusaku Literary Museum is a one-minute walk from Michi-no-eki bus stop of Nagasaki Bus.
Era of isolation
The man-made island of Dejima was built in 1634 at the tip of the cape of Nagasaki to isolate the Portuguese and stop the spread of Christianity. But after the uprising of Japanese Roman Catholics during the failed Shimabara Rebellion from 1637 to 1638, the Portuguese and Spanish were expelled.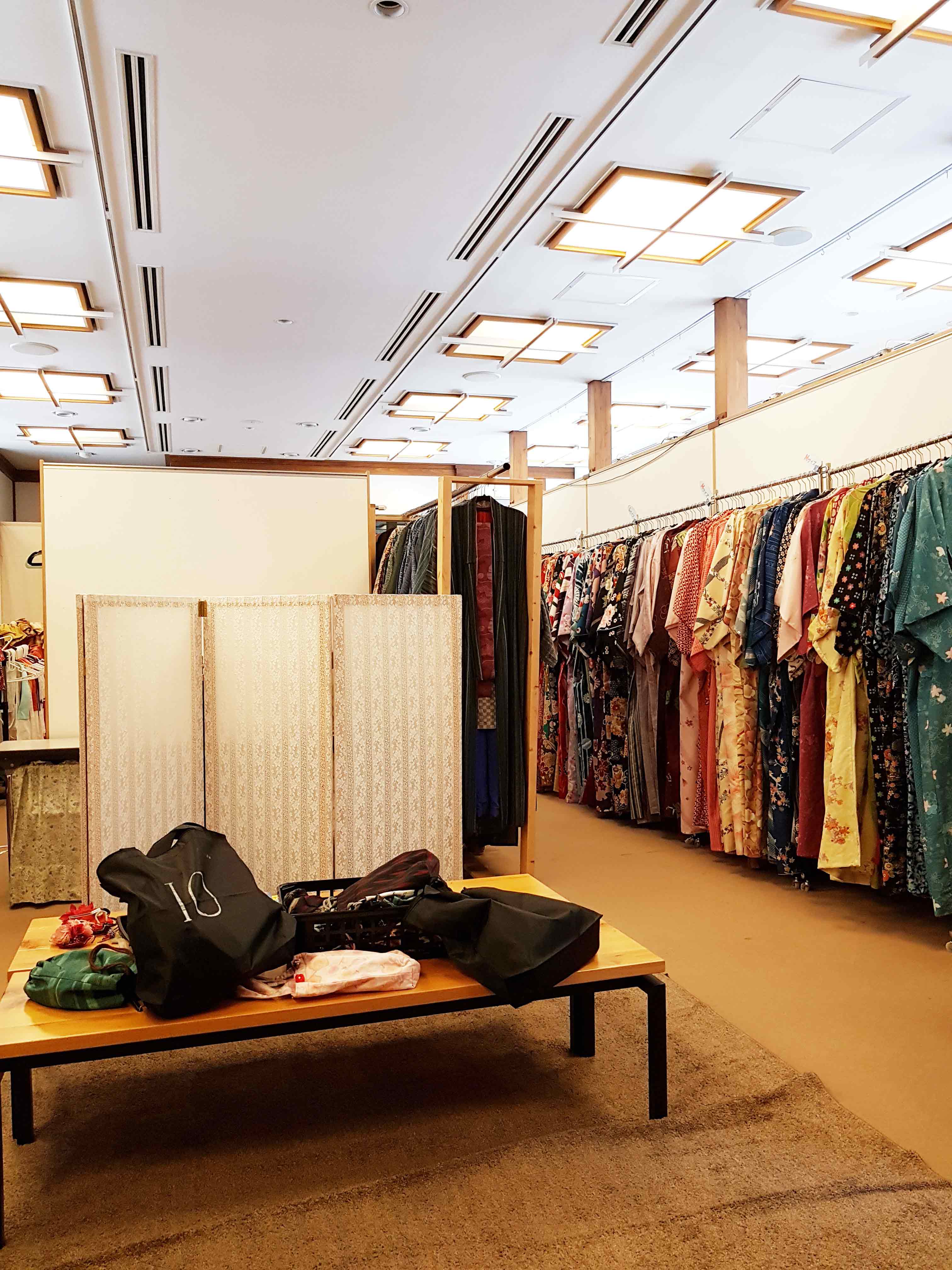 Dutch traders from Hirado were then moved to Dejima so the shogunate can keep an eye on foreigners. It served as Japan's window to the world in the next two centuries during its isolation policy.
Entrance to Dejima costs JPY 510 (around P244) and you can wear a kimono, which you can rent inside, while touring. The rental includes styling.
Right in front of Dejima is Shinchi Chinatown, one of Japan's largest and oldest Chinatowns. You can stop by here to slurp champon, a distinctly Nagasaki cuisine with a Fujian touch, before you start your tour of the man-made island.
How to get there: From Nagasaki Station, take the streetcar bound for Shokakuji-shita. The main gate is a three-minute walk from Ohato, the second stop of the streetcar. You can get one day of unlimited rides by purchasing the one-day streetcar pass for JPY 500 (around P240).
Best night views
Get a spectacular view of Nagasaki's night skyline, voted in 2012 as one of the three cities with the best night views in the world, from the summit of Mt. Inasa. You can access it via ropeway, the lower station of which is less than a 10-minute ride away by Nagasaki Bus from Nagasaki Station. A roundtrip ropeway ticket costs JPY 1,230 (around P590).

How to get there: Nagasaki Bus runs up to two buses per hour between Nagasaki Station and Inasayama bus stop. The bus ride takes 15 minutes. From the bus stop, it will take 15 minutes to climb the summit of Mt. Inasa by foot.
Where to stay:
Toyoko Inn Nagasaki Ekimae (from P3,750) - Six minutes walk from JR Nagasaki Station

Nagasaki Washington Hotel (from P4,422) - From JR Nagasaki Station, take a tram bound for Shokakuji-Shita Station and get off at Tsukimachi Station. The ride takes around seven minutes. The hotel is a one minute walk from the station.

Hotel Wingport (from P3,594) - Three minutes walk from JR Nagasaki Station

Belleview Nagasaki Dejima (from P2,987) - Twelve minutes walk from JR Nagasaki Station

APA Hotel Nagasaki-Ekimae (from P3,185) - Three minutes walk from JR Nagasaki Station
Day three: Nagasaki
Story of faith
The 26 Martyrs site was turned into a park over a decade after the atomic bomb devastated the whole city of Nagasaki in 1945 to serve as a symbol of hope and endurance amid disasters.
The museum is a must-visit site to get a glimpse of the great faith of "hidden Christians" amid certain death if discovered. Entrance to the museum is at JPY 500 (around P240).
Philippine link
A short walk from the 26 Martyrs site is the Nakamachi Church. The original Nakamachi Church was destroyed by the atomic bomb in 1945 but was rebuilt in 1951.
Nearly four decades later, monuments to the 16 Martyrs was constructed in the church's garden. Cardinal Jaime Sin attended the unveiling ceremony for the monument of San Lorenzo Ruiz, the first Filipino saint.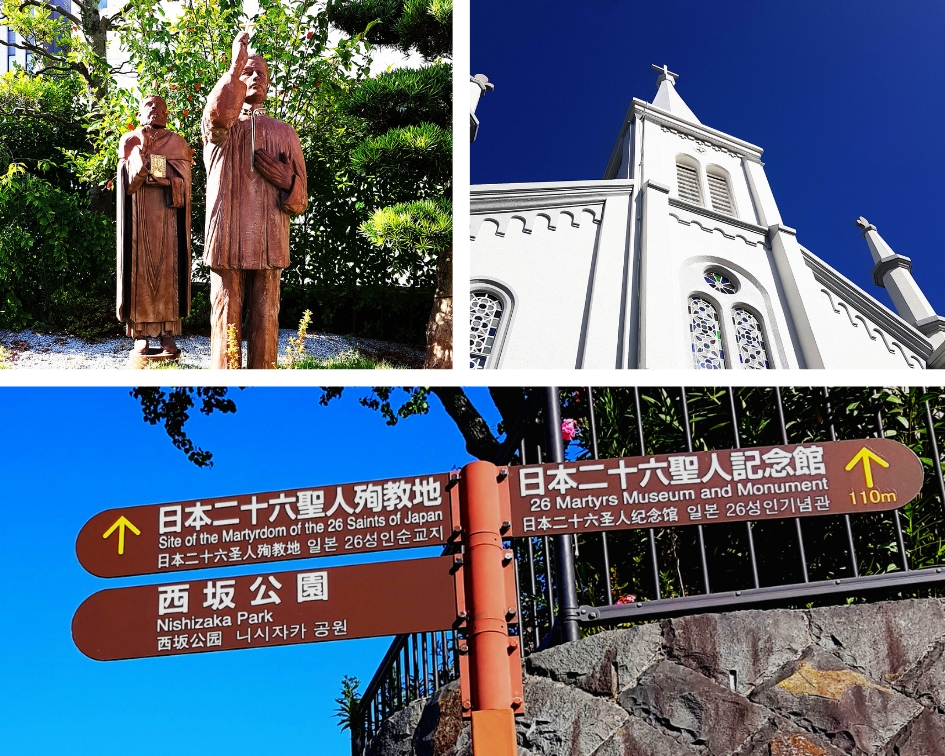 How to get there: It is a five-minute walk from Nagasaki Ekimae Streetcar stop.
Miracle of the Orient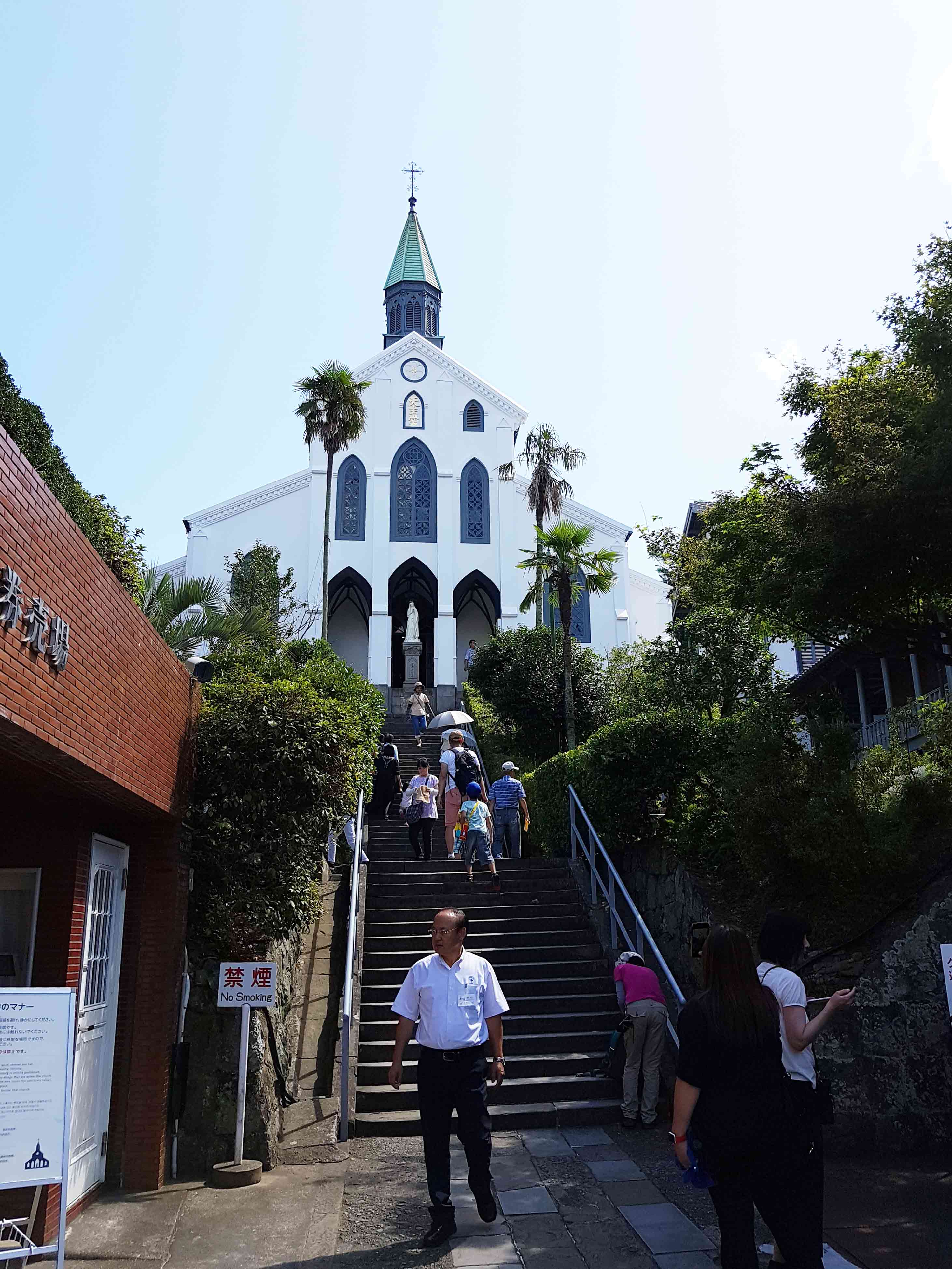 For 219 years, no priest was present in Japan but "hidden Christians" were able to pass down their Catholic faith through generations.
When Japan reopened, the Oura Cathedral, now Japan's oldest Catholic church and a national treasure, was built. In 1865, a year after it was completed, it became the site of "the miracle of the Orient" when descendants of the first Japanese Catholics resurfaced and confessed to the priest: "We have the same heart as you."
Oura Cathedral is one of the many "hidden Christian" sites added on the Unesco World Heritage list. You can stop by one of the many shops lining the path on the way there and grab iconic Nagasaki delicacies that have international origins like the kakuni manju (pork belly bun) which has Chinese roots and the castella that has Portuguese fingerprints.
Another UNESCO site
Next to Oura Cathedral is another UNESCO World Heritage site, the Glover Garden. It is among the sites of Japan's Meiji Industrial Revolution after the era of seclusion. The Glover House, constructed in 1863, was a center of cultural exchange.
It is now an open-air museum of the mansions of former foreign residents and has a fantastic view of the cityscape. You can also rent historic costumes worn in the 19th century at JPY 600 (around P287) per half hour.
How to get there: You can take a streetcar from Nagasaki ekimae near the Nagasaki Station. Oura Cathedral is a five-minute walk from the Ouratenshudo-shita tram station on tram line number 5. It is next to the entrance of Glover Garden.
Day four: Nagasaki
A powerful reminder
In 1945, the atomic bomb has destroyed Nagasaki and some tourists may have only known the city as the site of this catastrophe. Nagasaki, however, has transcended from that image and built the Atomic Bomb Museum and Peace Park as a grim testament on the true nature of nuclear weapons and the need for world peace.
Inside the museum, you can find a partly melted wall clock whose hands stopped at 11:02 a.m., the time the bomb fell on the city, a silent yet impactful reminder of the tragedy on August 9.
How to get there: Take the streetcar bound for Shokakuji-shita and get off at the Hamaguchi-machi stop. The Atomic Bomb Museum is just a five-minute walk from there. The Peace Park is near the museum.
You can also take the Nagasaki Bus and get off the Matsuyamamachi stop which is a four-minute walk away from the museum.
Departure
Just be conscious of the time so you can make it to your afternoon flight. It takes two hours and 10 minutes to travel from Nagasaki City to Fukuoka Airport via train. The museum is open from 8:30 a.m.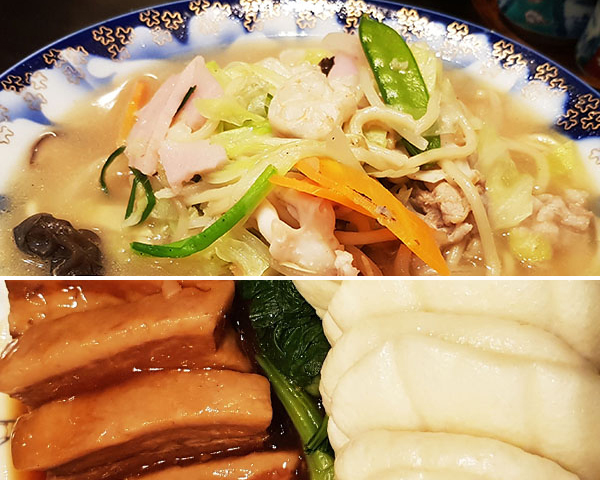 How to get there: Take the Limited Express Kamome on Nagasaki (Nagasaki) Station to Hakata Station which is a nearly two-hour ride. Then transfer to the Fukuoka City Subway Kuko Line to Fukuoka Airport which takes five minutes.
RELATED: 4 days 3 nights in Japan: What to do, where to go in Nagasaki, Kumamoto and Fukuoka
---
Editor's note: The trip to Kyushu was hosted by Media International Co., Ltd. to promote tourism. At no stage does the host have a say on the stories generated from the coverage, interviews conducted, publication date and story treatment. Content is produced solely by Philstar.com following editorial guidelines.
The itinerary above is a model you can pattern your trip on. You can choose to adjust your tour depending on your schedule. The itineraries are based on 8 a.m. checkouts at hotels. Room fees are computed based on a two-person per room occupancy. Some hotels charge the rooms on a per head basis.