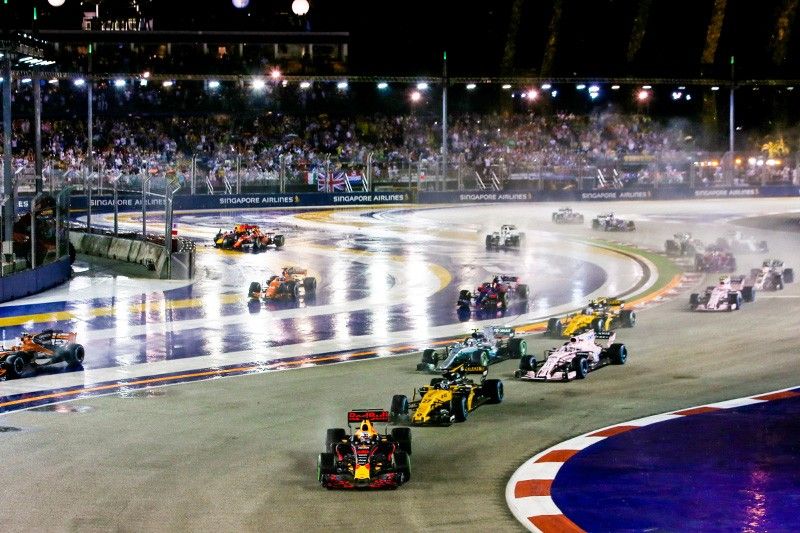 Bringing together premier racecar drivers and teams, Formula 1 Singapore Grand Prix is revving up for the most exciting season yet.
Released
Singapore hot on the 'wheels' of the Grand Prix
(Philstar.com) - September 3, 2018 - 6:25pm
Bringing more adrenaline and energy to the already vibrant Lion City this September is the high-octane, highly anticipated Formula 1 Singapore Airlines Singapore Grand Prix, one of the world's most incredible sporting spectacles.
In 2008, Singapore made history for hosting the world's first Formula 1 night race and has since continued to attract fans from across the globe as the "jewel in the Formula 1 crown."
This year, the Formula 1 Singapore Grand Prix hosts its 11th edition at the Marina Bay Street Circuit, from September 14 to 16.
Bringing together premier racecar drivers and teams, Formula 1 Singapore Grand Prix is revving up for the most exciting season yet with the beautiful Singapore skyline and iconic heritage sites as its impressive backdrop.
Since its first run, over 200,000 spectators have attended the Singapore Grand Prix each year—and it's no surprise with the chance to see the world's finest drivers go wheel-to-wheel at speeds of up to320 kilometers per hour, threading the barriers around Singapore's picturesque Marina Bay.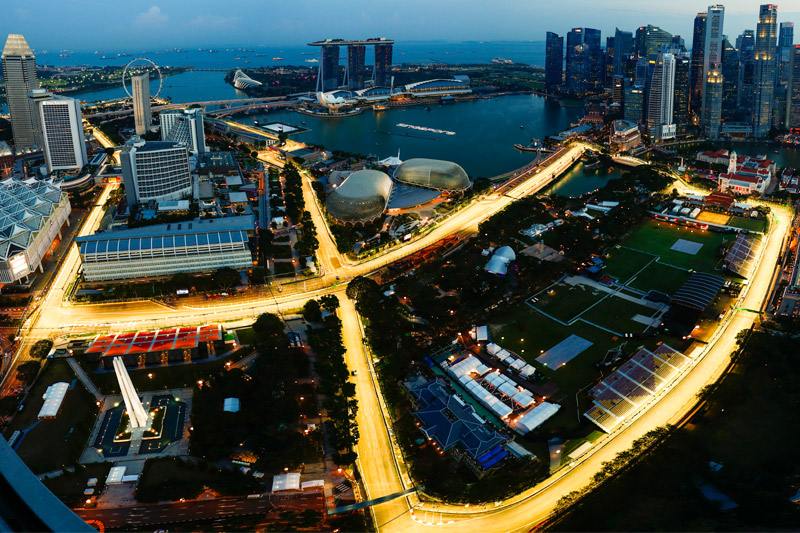 A bird's eye view of the illuminated Marina Bay Street Circuit where the 11th edition of the Formula 1 Singapore Grand Prix will be held. Released
The Marina Bay Street Circuit will feature a challenging 5.065-kilometer lap, which includes 23 corners and death-defying turns with barriers.
"The track is really impressive with some technical parts and some classic street circuit 90-degree turns. There are a few decent straights but it is mainly busy, busy, busy for us, with cornerafter corner. Going over landmarks like the (Anderson) Bridge and down the Raffles Boulevard makefor a fantastic sight from both the cockpit and also for the TV viewers," shares Romain Grosjean, Formula 1 driver of Haas F1 Team.
Daniel Ricciardo, premier Formula 1 driver of Aston Martin Red Bull Racing, adds, "There is something about night races, which makes them just different. Visibility is still the same, butyou just see the sparks that come off the car better and it really is a good atmosphere in Singapore . . . for concentration it's really impressive how much you need to stay focused for this race in particular."
This will be one of the last few chances to watch Ricciardo drive for Red Bull Racing before he moves on to Renault next season.
Since 2008, Singapore has always provided a truly stunning spectacle thatshowcases what Formula 1 is all about: the most advanced technology in the world, under the spotlights. It's an event that's truly electrifying.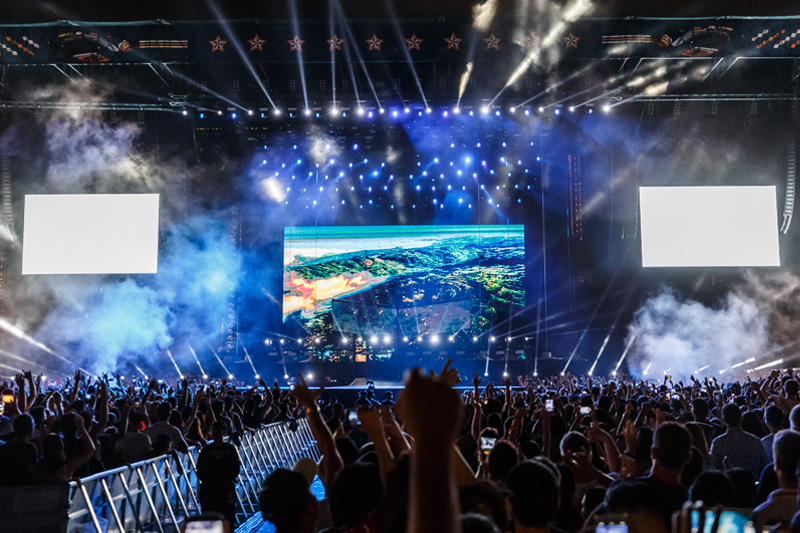 Fans get the opportunity to get up close with the international artistes at the Padang Stage. Released
And matching the thrill of the race, the Singapore Grand Prix will roll out three days of exciting race action includingthe FIA Formula 1 World Champions hip, Ferrari Challenge and Porsche Carrrera Cup Asia, as well as host concerts across the city by headlined by international acts like The Killers, Liam Gallagher, Dua Lipa, Martin Garrix, Jay Chou, Simply Red, Joe Hahn of Linkin Park, The Sugarhill Gang and many more.
More critically acclaimed international acts include Zambia-born Botswana-based poet and singer-songwriter Sampa The Great, European and African-basedcollective Afro Celt Sound System, UK's House Gospel Choir, Indonesia's folk-pop duo Stars and Rabbit, Manchester's DJ Naoi, China's rising star DJ Lizzy Wang, Australia's charismatic Boys in the Band, bone-breaking dance duo Bonesthemachine & Drewdollaz, street percussionist TheBucket Boyfrom the US and knife-juggling duo Two Gentlemen from the UK.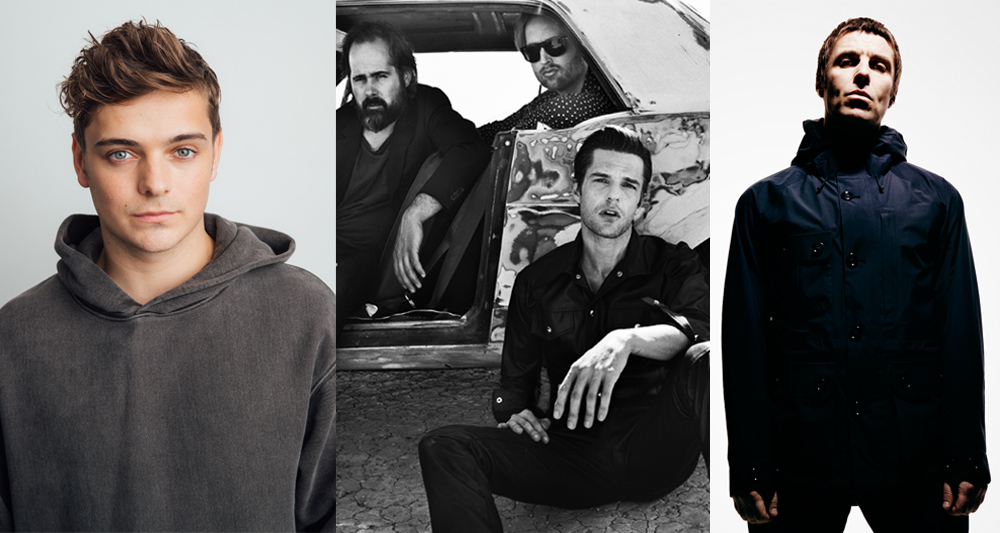 Martin Garrix, The Killers and Liam Gallagher are just some of the international acts performing at this year's Singapore Grand Prix. Released
Add on roving acts that include acrobats, dancers, drummers and fire breathers; activities that includerace simulators, interactive games, free tattoos, merchandise retail therapy; an extensive selection of local and international cuisine; the new Pitstop@Empress Lawn featuring fun activities for the whole family, the festivities culminate in an
When Grand Prix Season Singapore kicks off on September 7, guests and tourists can also look forward to parties hosted at the hippest clubs and destinations in the metro like the Amber Lounge, a celebrity and F1 driver hotspot; Podium Lounge, an ultra-glamorous haunt which will be celebrating its 10th year anniversary; Get Juiced, with its outdoor arcade at Clarke Quay, Fountain Square that boasts a plethora of exhilarating games centered around racing; Zouk hosts CHECKPOINT, an after-party inspired by 8-bit retro video games; and All That Matters, a conference-cum-music festival held at Clarke Quay.
Get into the thick of Formula 1 fun and delight in the full racing and concert experience at the Singapore Grand Prix this September 14 to 16! See you there!
For more information and to book tickets, visit www.singaporegp.sg.