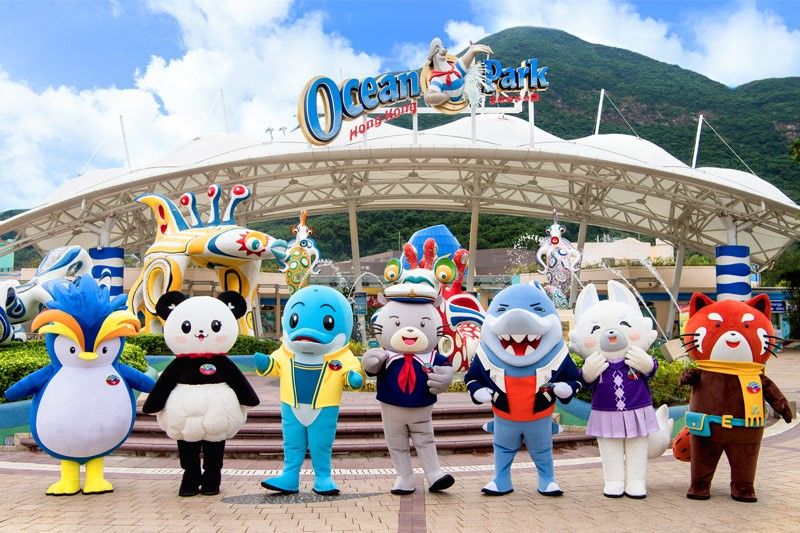 Combining educational marine shows with high-octane rides, Ocean Park Hong Kong has something that will delight visitors of all ages.
Released
Top attractions for the little learners, thrill seekers at Ocean Park Hong Kong
(philstar.com) - July 23, 2018 - 10:25am
Hong Kong is a city of curiosities, writes the National Geographic. There is always something new to discover in the highly progressive city, something exquisite to taste in its diverse cuisine and something unforgettable to experience from countless destinations.
If visiting for the first, the second or even the 22nd time, there is a place that will offer the best of Hong Kong. This is Ocean Park, where young families and group of friends will surely enjoy a much-awaited holiday together.
Combining educational marine shows and exhibitions perfect for the young ones along with high-octane and thrilling rides made for the adventurous types, Ocean Park Hong Kong has something that will delight visitors of all ages.
For the little learners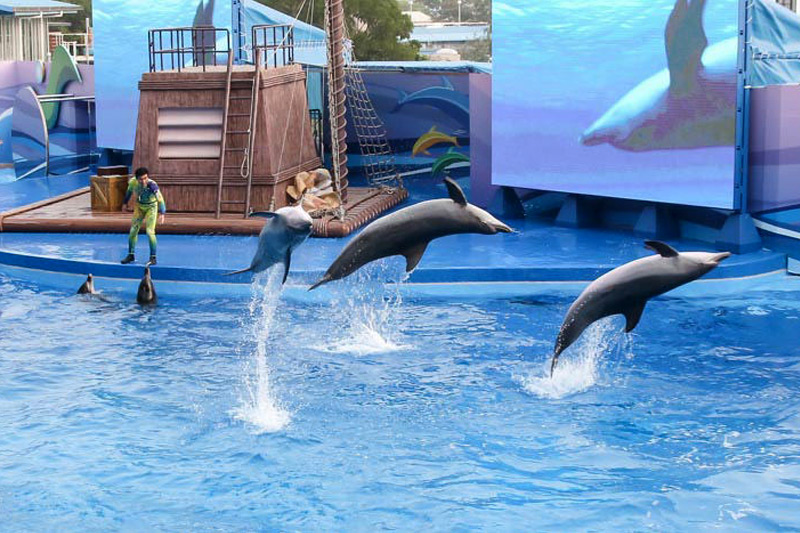 To show kids and parents alike the need to protect the oceans and its marine mammals, watch the "Ocean Wonders" at Ocean Theatre. Released
In their early and formative years, children are always curious and eager. Ocean Park Hong Kong shows them the wonders of the environment and those that dwell upon it.
1. Grand Aquarium
A day at a marine-themed park will never be complete without a visit to the Grand Aquarium where you and your kids can experience a multisensory journey from the shore to the darkest depths of the ocean.
There is a 5.5-meter aquarium dome where expansive windows and viewing panels show a collection of 5,000 fishes of over 400 species as well as a pool filled with sea cucumbers and starfish that will excite toddlers. The Reef Tunnel showcases the coral reefs' beautiful ecosystem, among many others.
Location: Aqua City at the Waterfront
2. Whiskers Harbour
Over at Whiskers Harbour, your little ones will be entertained by carnival games, age-appropriate rides and encounters with Whiskers & Friends. The newest playground they can visit is the Jungle Giants where they get to team up with Whiskers, Mark, Fluffi and Dougie. Together, they will climb around the racks and rope course, but beware of giant insects as big as them!
Other rides include the Merry-Go-Round, Balloons Up-Up-And-Away and Frog Hopper, each crafted specially to suit the size of Ocean Park's smallest guests.
Location: Whiskers Harbour at the Waterfront
3. Ocean Theatre
To show kids and parents alike the need to protect the oceans and its marine mammals, watch the "Ocean Wonders" at Ocean Theatre. This 20-minute presentation features a brave adventurer who will share his discovery with the visitors, especially the little ones via a close encounter with the marine mammals.
Complete the family's learning experience with a side trip to the nearby Marine Mammal Breeding and Research Centre where a Dolphin Trainer's Talk takes place.
Location: Marine World at the Summit
4. Rainforest
You and your families are also invited to take the Expedition Trail into the heart of a rainforestwhere strange and beautiful creatures roam.
Hear the calls of world's largest and smallest toucans, the toco toucan and the green aracari, and spot the brilliantly colored poison frogs. Discover one of the world's largest freshwater fish, the arapaima, and the wide-eyed kinkajou. More of the world's most astounding animals lurk beneath the leaves, like the pygmy marmoset and the capybara, whose incredible adaptations to their habitats make them interesting to learn about and crucial to protect.
Location: Rainforest at the Summit
For the thrill-seekers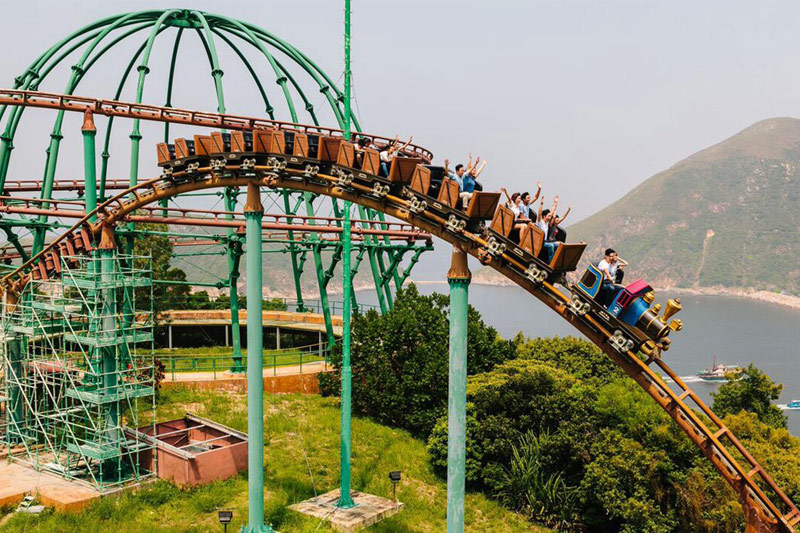 Ocean Park's thrilling rides are not for the faint of heart. Released
When a group of friends travel together, they bring with them a sense of adventure. Ocean Park Hong Kong quenches this with its plethora of thrilling, action-packed rides. Challenge the whole barkada in these attractions and have an unforgettable time together.
5. Hair Raiser
The Hair Raiser doesn't just make the hair stand on end; it hurtles, plunges, loops and dangles riders around at a massive 4G — while mercilessly suspending you high above the South China Sea! This literally floorless ride is a no-holds-barred experience for the ultimate thrill seeker: faster, wilder and more exciting than you could imagine!
Location: Thrill Mountain at the Summit
6. Rev Booster
Young adults (and older ones too!) can't stop whirling at this candy-colored ride with an unmistakable circus feel. The Rev Booster features three sensational levels of orbital motion while rocking to and fro to a lively beat. It might be impossible to tap your feet and sway up and down at the same time – but this is a ride that'll surely make you try.
Location: Thrill Mountain at the Summit
7. The Rapids
Deep within the jungle, an adventure takes you through darkened zones, patches of blinding sun and undulating terrain. There might even be sudden water gun attacks from overhanging suspension bridges, so look up as you pass.
Prepare yourself to get wet and strap yourself into your raft. Now off to The Rapids!
Location: Rainforestat the Summit
8. The Abyss
Ocean Park's ultimate thrill ride is not for the faint of heart. Get ready to plunge 20 stories straight to the ground — you'll only have seconds to admire the view on the way up. Whether this exhilarating free fall ends as quickly as a dream or lingers in your screams is something you'll have to find out yourself.
Location: Marine World at the Summit
Book with Klook
Book tickets to Ocean Park Hong Kong via Klook! Released
Whether bringing the whole family to a holiday or traveling with friends to somewhere new, don't wait and book tickets to Ocean Park Hong Kong via Klook!
The one-stop booking app makes it easier and simpler to discover activities, attractions and things to do wherever you travel. It lets you skip regular ticketing lines, instantly confirm bookings via QR codes using your phone, and book with open dates in case of change of plans or weather disturbances.
With a few taps or clicks, book in-destination services at the best prices at Klook!
For more information and updates on Ocean Park Hong Kong, visit www.oceanpark.com.hk. To book with Klook, visit https://www.klook.com.