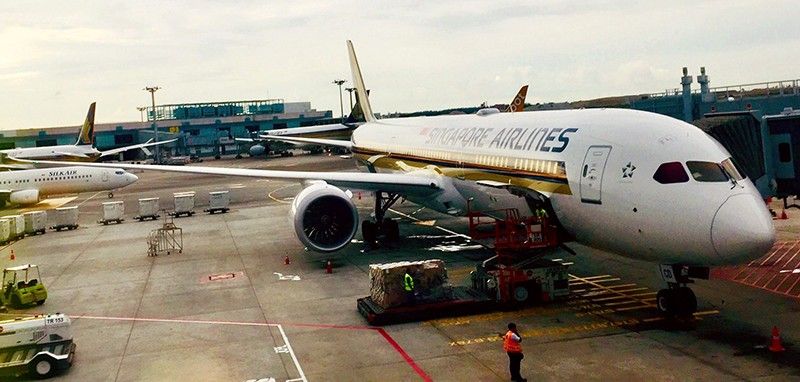 The Boeing Dreamliner 787-10 is ready to fly you in new Business Class comfort.
SIA comfort goes even further with 'Dash 10' fleet
Sometimes an extra dash makes all the difference.
When Singapore Airlines rolled out its first Boeing 787-10 last March, it promised a new era of business travel comfort: longer, fully-flat beds and direct aisle access for all Business Class customers, ergonomically-designed contour backrests with six-way adjustable headrests in Economy Class, personalized in-flight entertainment experience for all customers through myKrisWorld.
Now, investing $350 million in outfitting 20 of its 787-10s, SIA offers a whole new fleet dubbed the "Dash 10s."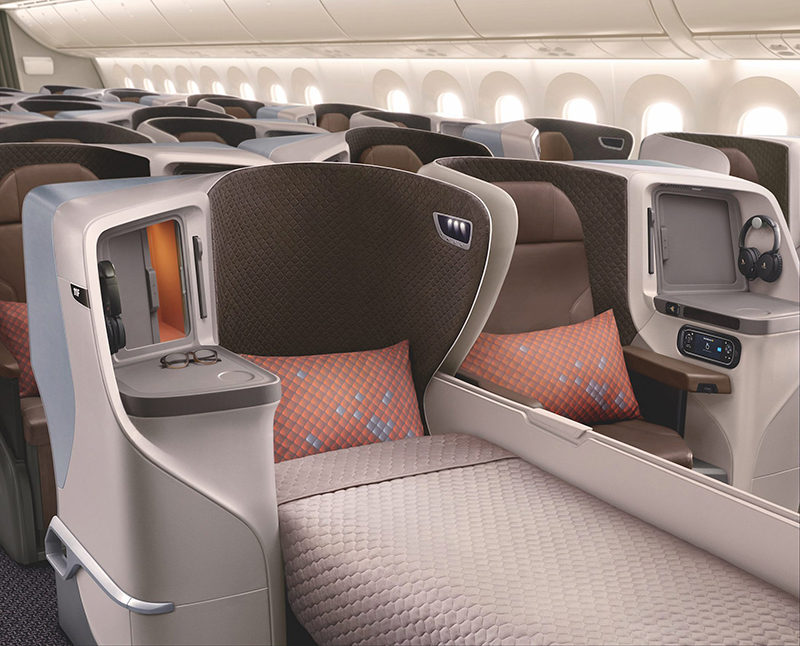 With a 1-2-1 configuration, everyone in Business has complete aisle access on the Dash 10; there's a separator panel between adjoining seats, and fully-flat 76-inch beds for resting.
Sent to Singapore by the airline to check out its training center (and staying in the very comfortable Crowne Plaza suites at Changi Airport, ranked Best Airport Hotel four years running by Skytrax), we got a closer look at how the 787-10 pushes SIA into a new era of travel.
Climbing aboard its inaugural flight to Manila from Changi, the first thing that hits you is the new car smell. This is a brand-new Boeing, fresh from its delivery flight from Charleston, South Carolina. The smell comes from Alcantara, the synthetic suede-like material Boeing designers chose for Business Class seats. It's used in yachts and sports cars; easy to clean, and yes — it gives off a wonderful showroom smell.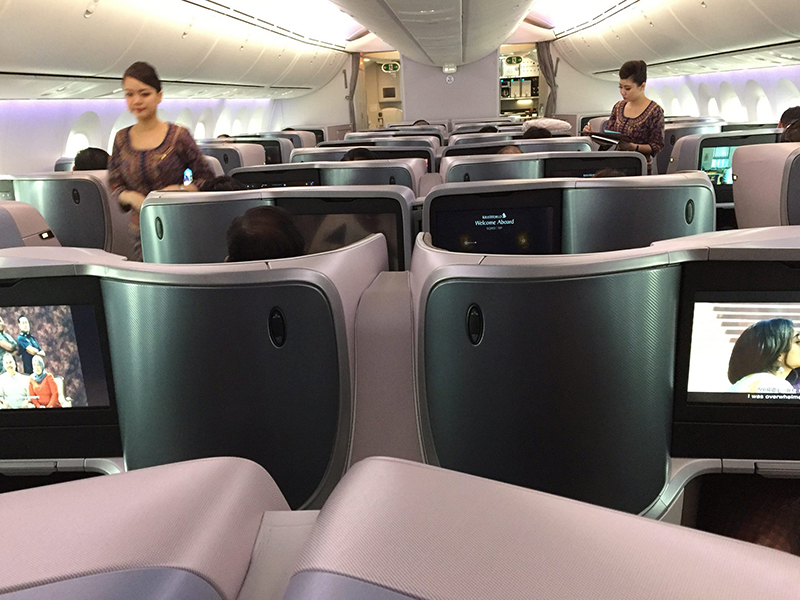 Singapore Airlines prepares us for takeoff in the new Dreamliner.
Other goodies:
• The separation panels between alternating middle rows because, as Robert Frost noted, good fences make good neighbors — at least in luxury travel.
• The fully-flat now extends to a PBA-friendly 76 inches. No more curling up into a ball while sleeping with the Dash 10.
• There's a novel window-dimming feature on all 787s, which means you control personal cabin lighting to your own preferred levels by pushing a button. Think of it as adjustable sunglasses that adjust to your comfort level, any time you fly.
• There are extra USB outlets (a plus for multi-device users), a 110v outlet for plugging in, and 30MB free WiFi during flight (enough to shoot off a few posts or emails).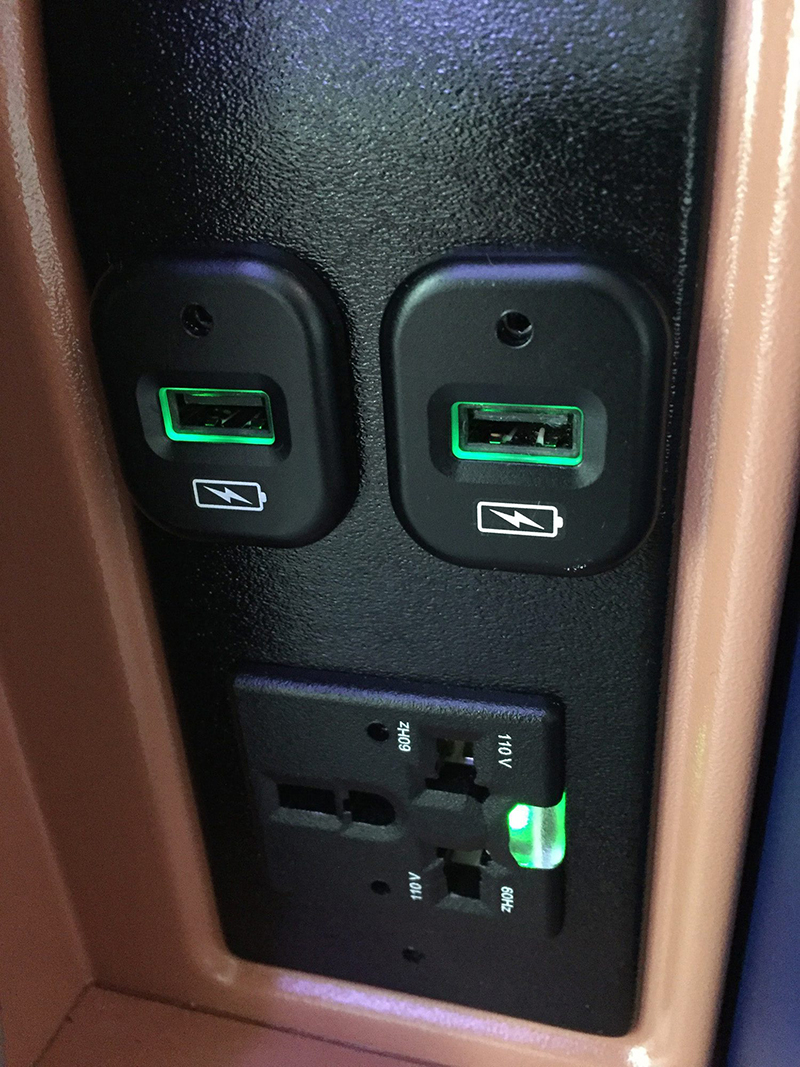 Extra USB inputs and plugs in each seat means you're fully recharged.
• The 1-2-1 configuration of the Business seats means everybody now has full access to the aisle — no more climbing over other passengers in Business!
• The inflight movie screen is a big 18 inches, fully touchscreen. You can even pick up on whatever movie or show you started watching on a previous flight by entering your KrisFlyer number.
• On longer flights, you can also Book The Cook during check-in — allowing greater selection of inflight meals in Business Class from international chefs such as Matthew Moran, Carlo Cracco, Alfred Portale, George Blanc and Yoshihiro Murata.
• There's a spacious nook next to the TV screen, great for storing bags, bassinets or working materials; a side mirror to check your look on long flights; and the armrests retract, converting seat width from 20 to 26 inches, great for sleeping.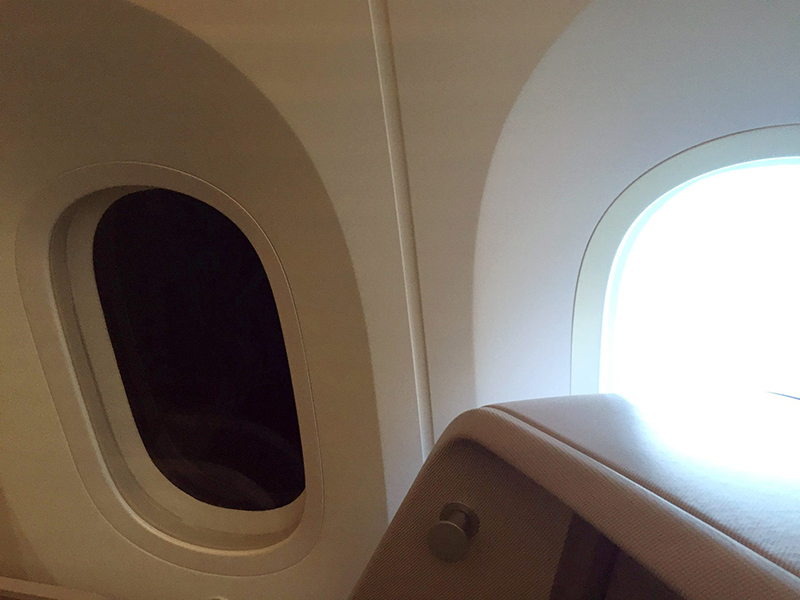 Touchscreen dimmers allow you to change your personal window lighting.
With 16 extra feet of space, most of it devoted to Business Class comfort, the 787-10 is the latest Boeing upgrade on wide-body flight. But for SIA, the Dash 10 will mostly fly short hauls in Asia — flights of six to eight hours such as Osaka, India, Perth, Bali, KL and Bangkok.
"The 787-10 will mostly serve the regional market," says SIA general manager for the Philippines Balagopal Kunduvara, though it's fully capable of a 16-hour flight from South Carolina; that's because local markets are "workhorse" routes with heavier daily traffic. Starting now, the first SIA daily flight out of Manila and last flight out of Singapore will be on a Dash 10. The older 777s and A380s out of Manila are slated to be replaced by 787s, with SIA purchasing 49 Dash-10s from Boeing and orders for a further 20 pending.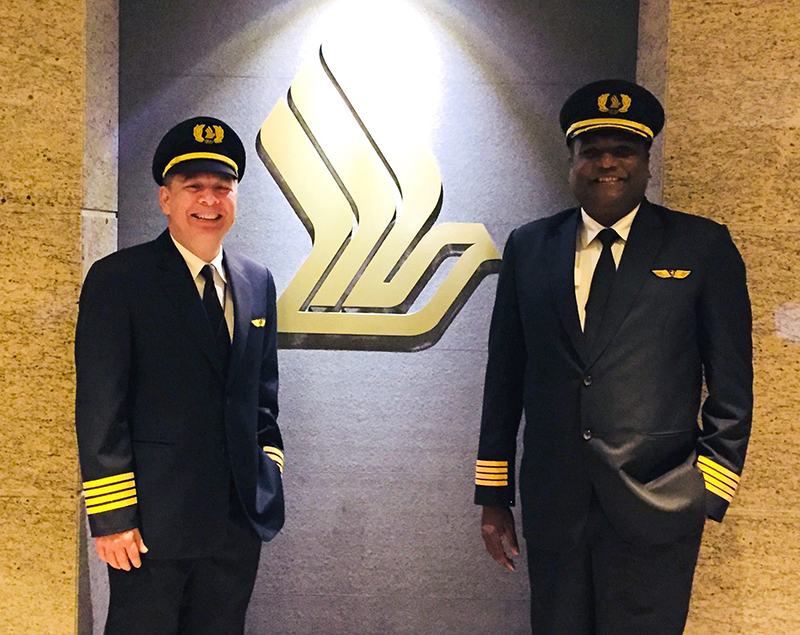 SIA pilots Julio Rosales and Bosco Xavier
We observed crew training sessions with SIA assistant manager of Safety Training Celine Kwah, observing how safety drills are routinely carried out. We see inflatable evacuation chutes deployed, and even simulated waves for emergency exits at sea.
At SIA's Heritage Gallery, we get an overview of SIA Business cabins through history. (Most impressive, if you have the spare scratch, are the First Class Suites on the A380s, which feature fold-down double-bed service and a Singapore-London ticket that will set you back US$12,000.)
Behind the scenes, SIA engineers take customer feedback to Boeing engineers to improve the Business Class experience.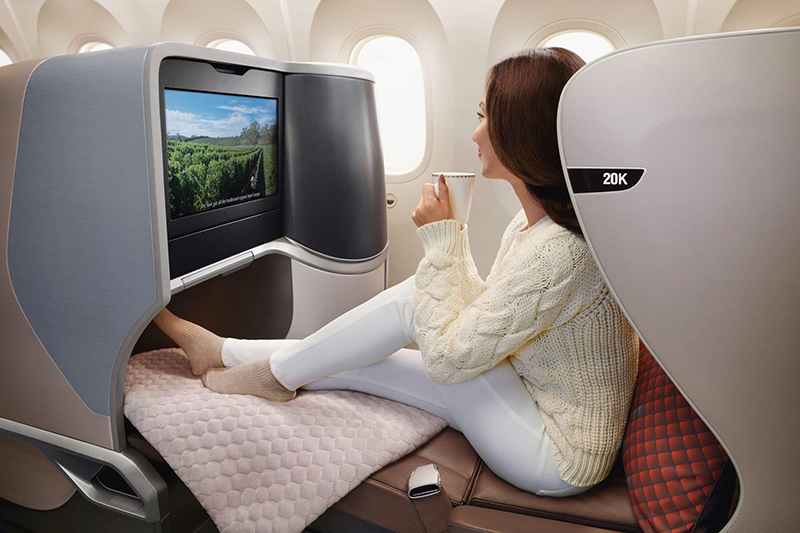 Snuggle in: SIA's 787-10s allow you to cocoon with 18-inch touchscreens, WiFi connectivity and the KrisWorld option to continue watching the movie you started on earlier flights.
"When coming up with improvements for the 787-10, two things emerged," says Yung Han Ng, SIA VP of Product Innovations. "People wanted comfort, even for six-hour flights, so a fully-flat bed is important. Expectations were getting higher! Secondly was convenience: people wanted direct-aisle access."
For the Dash 10, the 787 model was reconfigured to add 16 extra feet to the Business section, so its 36 seats are now even more comfortable.
Talking with SIA pilots Julio Rosales and Bosco Xavier just before our flight to Manila, Captain Bosco compared the 787-10 to driving a sports car: "The plane itself is very sleek and efficient. It's more responsive, almost like a sports car. You point it and turn, and it goes."

At SIA's training center and Heritage Gallery, we saw how flight crews are trained for emergency landings.
Captain Rosales (a Filipino) noted the handling characteristics are similar to the 777, so less training was needed to move to the 787 line.
"Also the 787 has a lot more automation, and the cabin altitude is lower, giving you more oxygen," which means less fatigue and tiredness for pilots and passengers on flights.
Flight fatigue? No worries. With fully-flat 76-inch seats, the Dreamliner Dash 10 even has your dreams covered.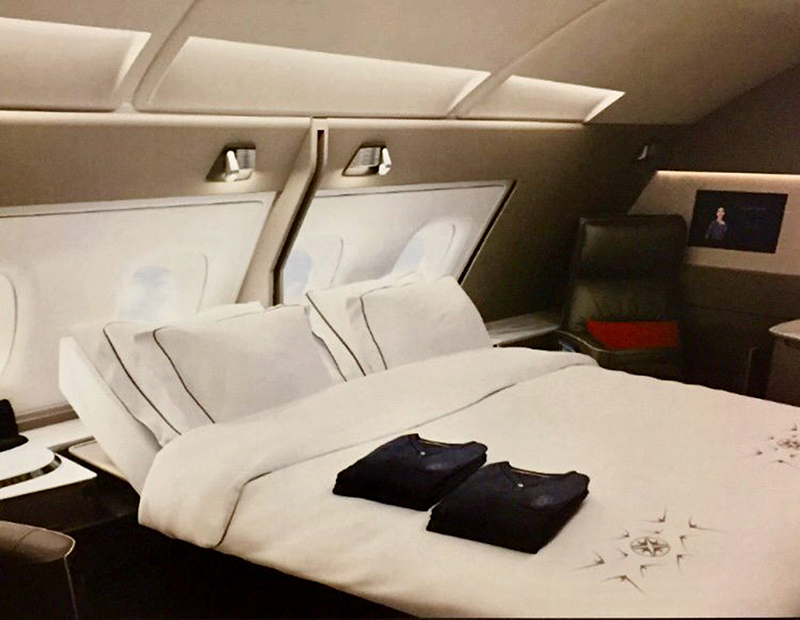 Our visit to SIA's Heritage Gallery included a mock-up of the First Class Suites on long-haul flights, as spacious as a sea cruise cabin, with fold-down beds and a personal bathroom.
* * *
Singapore Airlines now flies the new 787-10s departing from Ninoy Aquino International Airport Terminal 3 at 7:40 a.m. and arriving at Singapore Changi Airport at 11:20 a.m. daily with several flights daily.